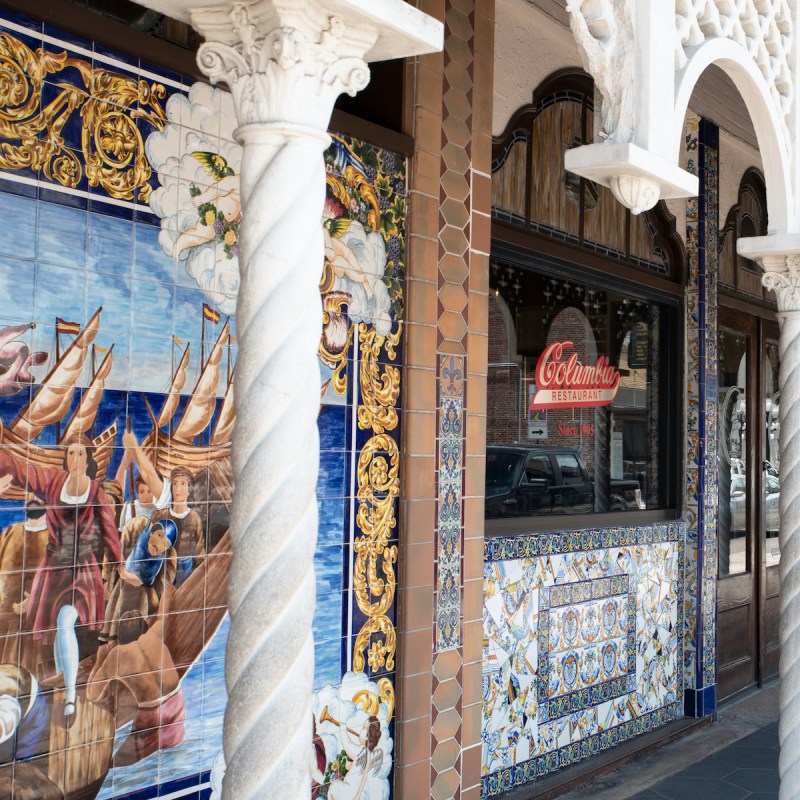 Ybor City is a small city within a city. It's part of Tampa Bay but Ybor City, once a separate city, differs greatly from the rest of Tampa. Ybor City began in 1886 when Don Vicente Martinez Ybor, a well-to-do Spanish cigar manufacturer, came to Florida from Cuba. He first set up in Key West, but later moved to the Florida Gulf Coast and built his own town. He invited other cigar manufacturers to come and together they made Ybor City, the Cigar Capital of the World.
History
In 1905, a young Cuban immigrant named Casimiro Hernandez, Sr. opened a small 60-seat corner cafe in Ybor City where he sold Cuban coffee and his special type of sandwiches to the cigar factory workers. He named it Columbia Restaurant.  Legitimate sources claim Hernandez invented the Cuban Sandwich. Of the many nationalities that settled Ybor City because of well-paying jobs revolving around the cigar business, each had their own social club and retained much of their original culture. Each part of the sandwich represents one of the nationalities that settled in Ybor City. The ham came from the Spanish, Sicilians contributed salami, the Cubans roast pork, and the Germans and Jews brought the tradition of the Swiss cheese, pickle, and mustard. All are placed on Cuban bread, which is pressed to melt the cheese and heat the other ingredients.
Cuban bread is a tradition of its own. It was invented in Ybor City at La Joven Francesca bakery. Francisco Ferlita, a Cuban-Spanish-Italian immigrant, opened the bakery in 1896 and it operated until the 1960s. The Ybor City Museum State Park is housed in the former bakery and has a display showing its oven and much more about Ybor City. Do visit the museum before or after you dine at Columbia Restaurant.
Dining At Columbia
I dined there a few days ago with Jeff Houck, Marketing & PR manager. We sampled Columbia's famous 1905 Salad. One of the original servers, Tony Noriega, invented it in the 1940s. It was tossed at our table with crisp iceberg lettuce, Julienne of baked ham, natural Swiss cheese, tomato, olives, grated Romano cheese, Lea & Perrins® Worcestershire sauce, and Columbia's own famous garlic dressing. It is the reason USA Today named Columbia as "One of 10 Great Places to Make a Meal Out of a Salad."
Another dish I sampled was the Ybor City Deviled Crab Croquettes called Croqueta de Jaiba. This dish grew out of hard times for cigar workers. During a strike in the late-1920s, the workers were hard-pressed for cheap dining alternatives. Since blue crabs were plentiful in Tampa Bay and Cuban bread was cheap, individuals and street vendors combined crab with enchilada mix, and a tomato-based Cuban/Italian spice known locally as chilau. They covered that mixture with stale bread and the soft section of Cuban bread. They dredged in a mixture of stale Cuban bread crumbs or Cuban cracker meal and deep-fried it. The ones I sampled at Columbia are delicious.
Gambas Al Ajillo is one of Spain's most popular tapa dishes. It features large shrimp sautéed in extra-virgin Spanish olive oil, fresh garlic, and chili pepper. The shrimp were huge, and the seasoning was perfect.
The Calamares Fritos Romana I tried is a fried calamari recipe created by the restaurant's third chef, Miguel Bejines, from Sevilla, Spain.
The Shrimp and Crabmeat Alcachofas served with Cuban crackers is a baked casserole of shrimp, crabmeat, and artichoke hearts topped with grated Romano cheese. I don't think it has a specific history, but it tastes delicious.
Dessert had me loving something I thought I didn't like, guava. Columbia's Guava Turnover Carmita is a tasty turnover of guava and melted sweet cream cheese baked in a soft, crispy pastry, dusted with sugar granules, and drizzled with vanilla bean sauce. Carmen Hernandez, Casimiro Jr.'s wife, baked this dessert for the family on Sundays at her home. It is out of this world.
After all the tapas, there was no room left for the Cuban Sandwich, but I have had it at other times in the Columbia Restaurant in Saint Augustine. Over the years, as Columbia's fame spread, owners opened several other Columbia Restaurants. Besides St. Augustine, you can find one in Sarasota, Sand Key at Clearwater Beach, Central Florida's town of Celebration, the Columbia Restaurant Cafe at Tampa International Airport, and the Columbia Cafe on the Riverwalk in Tampa Bay. The one on the Riverwalk is in the same building as the Tampa Bay History Center, which is worth a visit.
Touring The Columbia
Jeff gave me a private tour of the restaurant, including many behind-the-scenes stories. One interesting item displayed near the front entrance is a search warrant issued during prohibition. Officials posted the warrant on what seems to be just another panel in the wall. Jeff opened it to reveal a stairway and large storage space where the booze got stored for a few days. It paid even then to have friends in high places. The search warrant gave owners a 3-day warning when the G-Men planned to search the premises.
The original restaurant was just one small corner building. Today, the Ybor City Columbia has 15 dining rooms and a seating capacity of 1,700. Each of the rooms is unique and almost museum-like. I loved the mix of cultures shown in the architectural style. There was a definite hint of Moorish architecture in the curved door and many of the tile murals.
Today, fourth and fifth-generation family members still own and operate Columbia, Florida's oldest restaurant and the largest Spanish restaurant in the world. I met two of the current owners, Casey Gonzmart, Sr. — and his son, Casey, Jr. — dining at a table in the Spanish courtyard dining room where I dined. It was opened in 1937 as an open-air dining room to replicate a Spanish courtyard with a fountain in the center. Florida weather made a skylight roof a necessity. They seemed justifiably proud of their family restaurant.
The bar, still in operation, is the original, dating back to 1905. Another dining room has the largest and most gorgeous chandelier I have ever seen. The chandelier has over 300 crystals shimmering in reflected light. That room, named the Don Quixote dining room, was Tampa's first air-conditioned dining room when it opened in 1935. The chandelier there now replaced a smaller one and came from the Eden Roc hotel in 1972.  
The King's Room is a private dining room upstairs that would work wonderfully for meetings. It's decorated with the portraits of the Gonzmart family and friends in their regalia as El Rey (King) or La Reina (Queen) in the Gasparilla Krewe of the Knights of Sant Yago. Similar to New Orleans Mardi Gras krewes, this one began in 1972. The krewe's mission is the preservation and enhancement of Tampa's rich Latin heritage and culture.
The restaurant wine cellar is one of the largest private Spanish wine collections in the world.
Visit
Many of the richest and most famous have visited over the years. Marilyn Monroe, George Clooney, Stephen King, Babe Ruth, Liberace, Bruce Springsteen, and dozens more. If you visit at night, you will be treated to a performance by a troop of Flamenco Dancers, the Columbia Restaurant Dance Troupe. There is live music on Fridays and Saturdays. Dress is pretty casual but sleeveless shirts for men are not allowed.
Columbia Restaurant is more than just another restaurant. Celebrity chef Rachael Ray had this to say about the food at Columbia: "The Cuban sandwiches are melty masterpieces, the 1905 Salad, a citywide obsession."
Ybor City offers much to explore, but don't forget to experience other Tampa Bay-area cities: