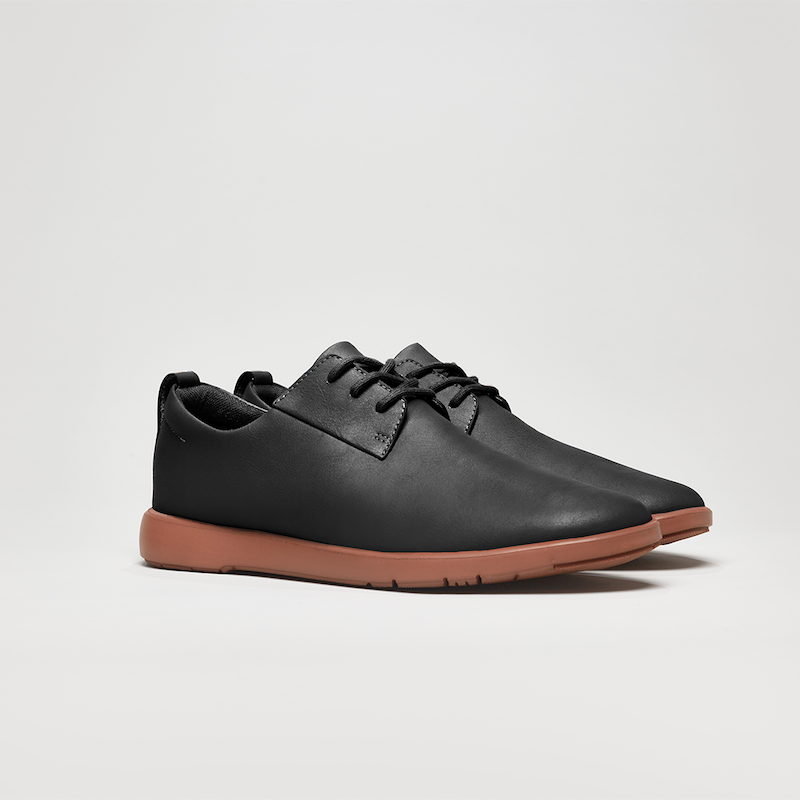 After writing about Ponto footwear, I had to try a pair for myself. Sustainably made shoes that are comfy, slip-resistant, water-repellent, and can be worn for all sorts of occasions? Sign me up!
The fine folks at Ponto Footwear were nice enough to send me a pair of the women's shoes to review. Are these all-purpose shoes too good to be true? Find out by reading about my experience with Ponto shoes below!
1. Available In Several Colors
I chose Desert Orange, but Ponto shoes for both men and women currently come in several colors, including black, brown, white, and gray. The orange ones I got are perfect for fall, but any of the other colors would go with more outfits. I paired mine with an orange Halloween t-shirt and black skinny jeans.
2. Made With High-Quality Materials
As soon as I slipped on my new Pontos, I could tell they were well made. As someone who works from home and barely has to wear shoes, I'm pretty picky about the shoes I do don. The soft leather slid on my foot with a slight tug of the loop that is firmly fastened to the back of the shoe. They felt lightweight and flexible yet sturdy and durable.
3. Classic, 'Seasonless' Style
Part of Ponto's mission is to avoid wasteful, trendy, fast fashion trends. Their classic, "seasonless" style is designed to be dressed up or down for any occasion. This way, you can purchase fewer pairs of shoes. It will also come in handy for travel, when I can throw one pair of shoes in my suitcase in place of three different ones!
4. Versatile
Given their minimalist design, my Pontos were a fabulous choice for everywhere I had to go last Saturday. First, I stopped by the park to see my friends and their kids who were in for our 20-year high school reunion. Everyone noticed my orange shoes and complimented me on them. They were great for running around the mulched park with the kiddos. Next, my girlfriends and I headed to brunch, where we ran into more friends who were in town for the reunion who also commented on my orange shoes. After brunch, I headed to my massage appointment.
5. No Socks Needed
When I arrived for my massage, I had the realization that I'd been running around in these shoes without socks, because that's how Pontos are designed to be worn. Eep — my bare feet were about to be in my favorite masseuse's face! When I removed my shoes, I found that my quick panic was unnecessary as my feet didn't stink at all, even after being sockless.
6. Odor-Resistant
Thankfully, Ponto shoes are odor-resistant, sweat-absorbant, and anti-microbial, so you can wear them sans socks. Plus, the insoles are removable and can be washed with soap and water.
Pro Tip: Order a half size up from what you usually wear so you can wear them with socks if desired.
7. Removable Insoles
Not only are the removable insoles washable, but you can take them out and use your own inserts instead. Those with foot problems, rejoice!
8. Sustainable
I want to be a more conscious consumer, but it can become cumbersome to do your due diligence. Ponto Footwear makes it easy by fashioning its shoes almost entirely out of recycled and bio-based materials.
Scrap leather gets repurposed in Ponto shoe uppers instead of going to the landfill.
The removable foam insoles are composed of 30 percent natural bio-based and 25 percent post-consumer recycled materials.
The certified slip-resistant outsoles are made from sugarcane, a responsibly sourced and fully renewable resource.
9. Circular Product Cycle
Speaking of landfills, keep your pair of Pontos out of a landfill when you're ready to part with them by sending them to Soles4Souls, a Nashville-based non-profit that puts used goods to good use. If you do, Ponto will give you a $20 credit to use on your next pair.
10. Water-Repellant
Usually you want to stay out of the rain in leather shoes, but Ponto shoes are made with certified water-repellent recycled leather that is highly durable. If they do get wet, simply dry them with a cloth.
11. Easy To Clean
The insoles are removable and can be washed with soap and water, but the outsides are easy to keep clean as well. Small spots and dirt can be cleaned with a damp rag or sponge. Ponto recommends using Leather Honey to condition the leather if needed.
12. All-Day Comfort
After my massage, I ran an errand in town then went over to my friend's house until it was time to get ready for the reunion. I must say, my Ponto shoes were super comfy all day long. You would think there would be some kind of breaking-in period, but they felt great right out of the box. Ponto is also in the t-shirt making business now, and I bet their shirts are super comfortable, too!
Get Your Pair Of Pontos Today
With a versatile design for all occasions, supreme comfort, and water- and slip-resistant durability, there's no reason not to add a pair of Pontos to your shoe collection. Shop men's and women's to find your perfect pair today!
Related Reading: