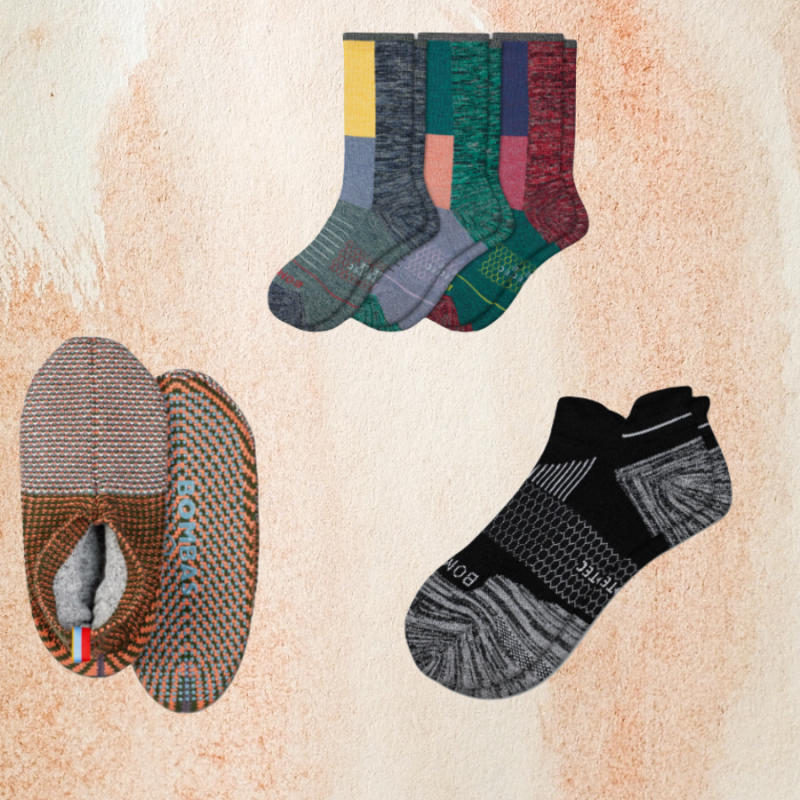 I don't know about you, but my biggest gripe in the winter is that my feet are always cold. It doesn't matter if I'm trekking outside or relaxing on the couch by a cozy fireplace — they're cold! Because of this, my number one gift request continues to be extra-warm socks and cozy slippers. Finally, a gifter heard my pleas and introduced me to my new favorite winter companion: Bombas socks (and slippers).
Bombas began in 2013 with the mission to transform the everyday sock. They are self-professed "quality-obsessed" and back each pair of socks and slippers with their 100% satisfaction guaranteed. Each product is made with moisture-wicking natural fibers, like cotton and merino wool, to keep feet warm and dry. Bombas designs specific socks for all types of winter activities, including hiking, running or walking, skiing or snowboarding, and simply lounging around the house.
Whether your cold winter days will be spent hiking in the snow, hitting the slopes, or daydreaming about warmer weather, Bombas has you covered. Check out my recommendations to remedy cold feet below.
Best Winter Hiking Socks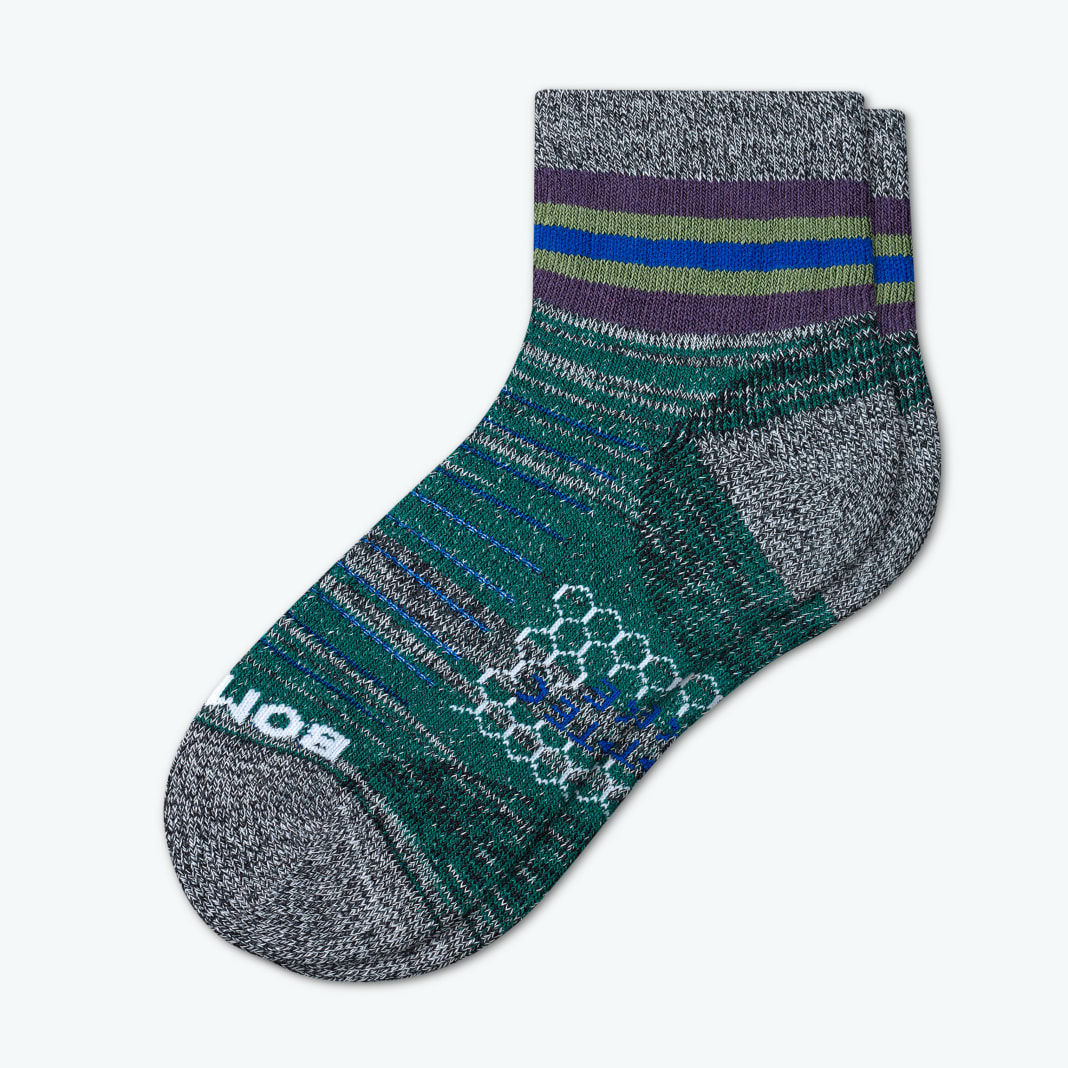 Buy Now
If, like me, you prefer shorter socks for hiking, you're in luck! The Women's Hiking Quarter Socks use thermoregulating ventilation and moisture-wicking materials to keep feet nice and comfy during a winter hike, regardless of how cold it is. The full cushion and Honeycomb Support System, designed to "hug" the arch of your foot, protect from painful blisters.
Color Options:
Indigo Sapphire, Huckleberry, Jewel Pine
Materials:
63% Polyester, 32% Cotton, 3% Nylon, 2% Spandex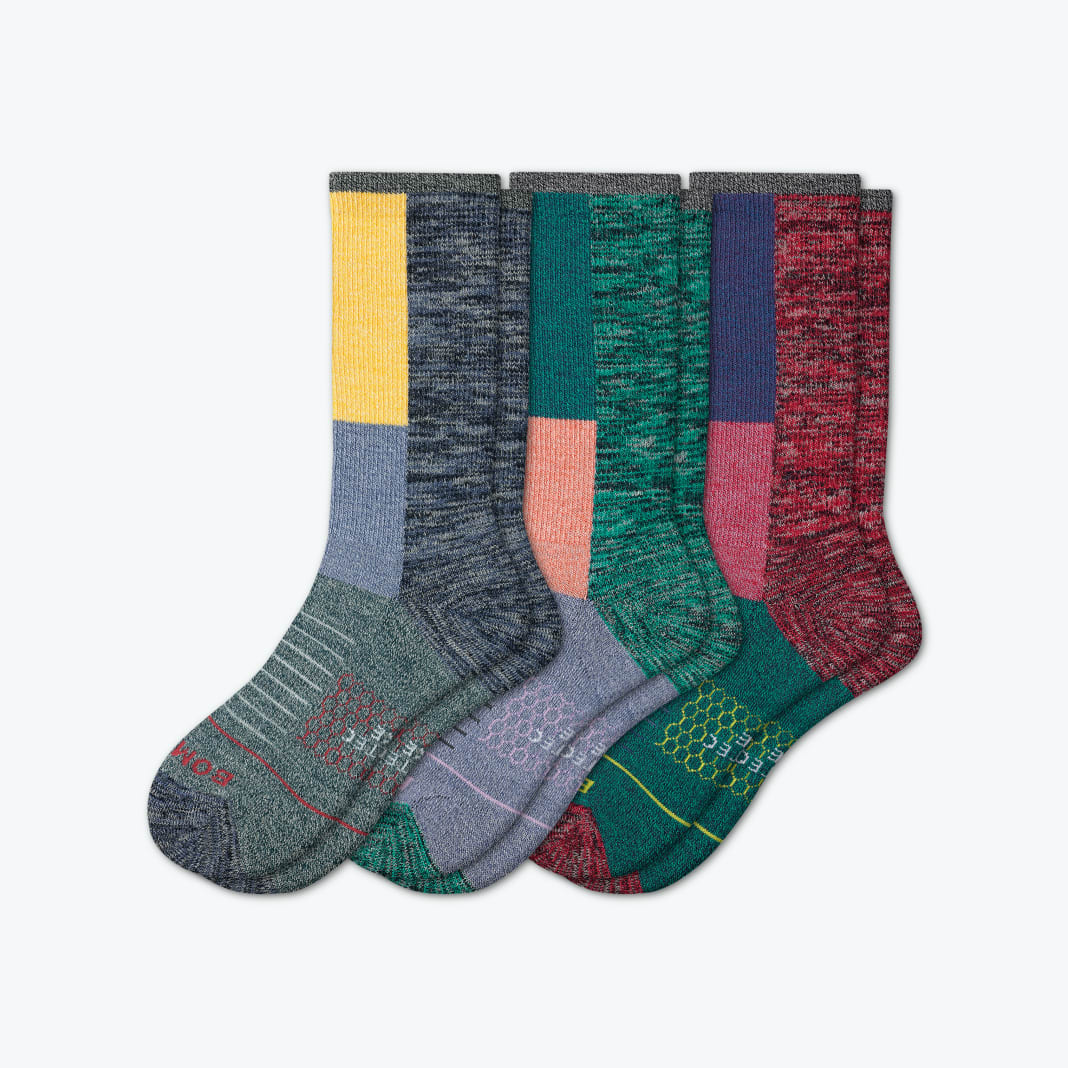 Buy Now
Comfort meets functionality with the Men's Merino Wool Hiking Calf Socks. Made from quick-drying merino wool, these socks create the perfect fit and arch support system for all-day wear. Be sure to pack a pair for your next hiking outing.
Color Options:
Colorblock Mix
Materials:
63% Merino Wool, 35% Nylon, 2% Spandex
Best Winter Running Socks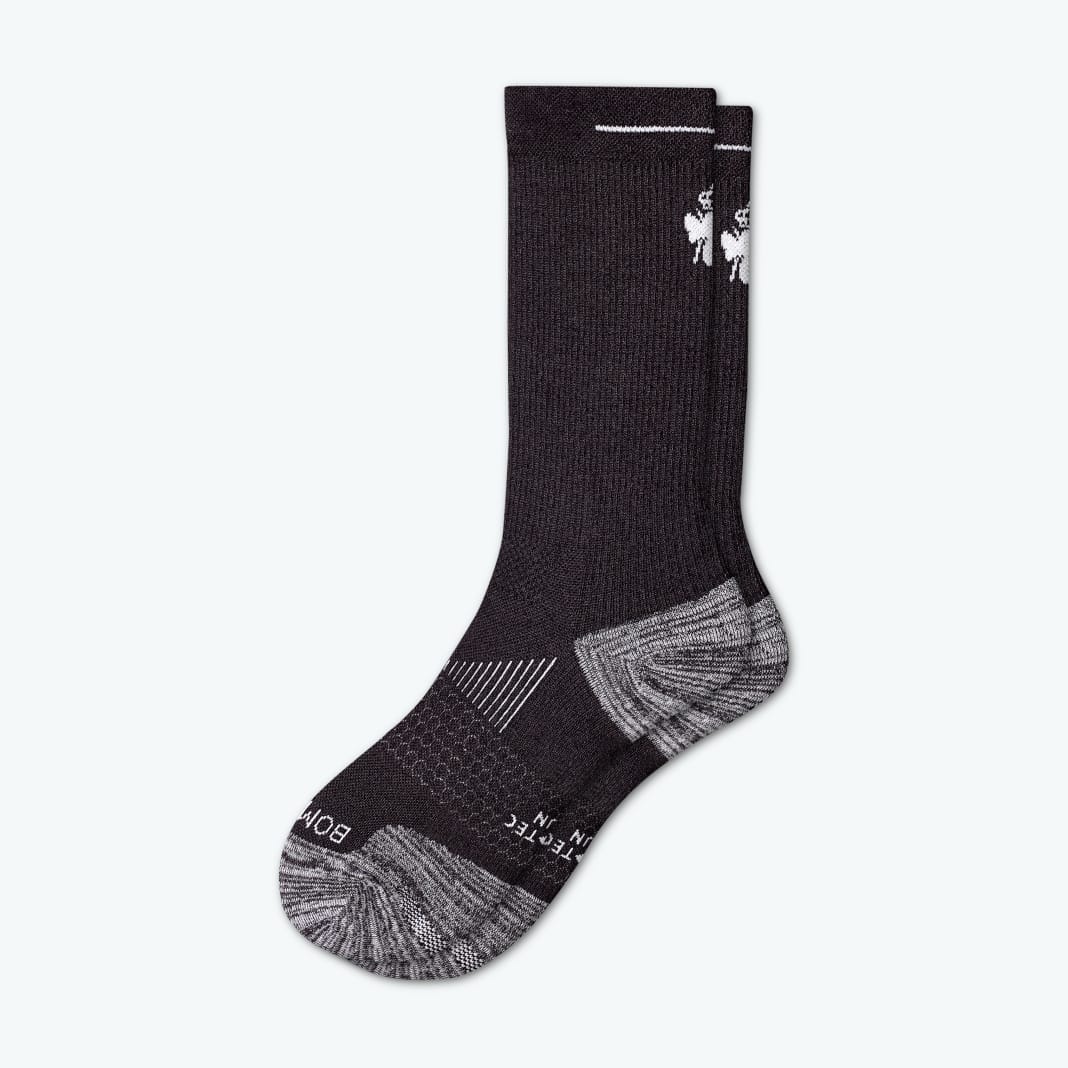 Buy Now
These calf-high running socks are perfect for taking a winter run or walk. Bombas Hex Tec uses moisture-wicking fabric to ensure your feet stay dry and warm, while the Stay-Up technology prevents slippage. Plus, how cute is that bee on the back? Make sure to snag these before heading out on your next outdoor trek.
Color Options:
White With Bee, Black With Bee, Charcoal With Bee
Materials:
51% Polyester, 33% Nylon, 12% Cotton, 4% Spandex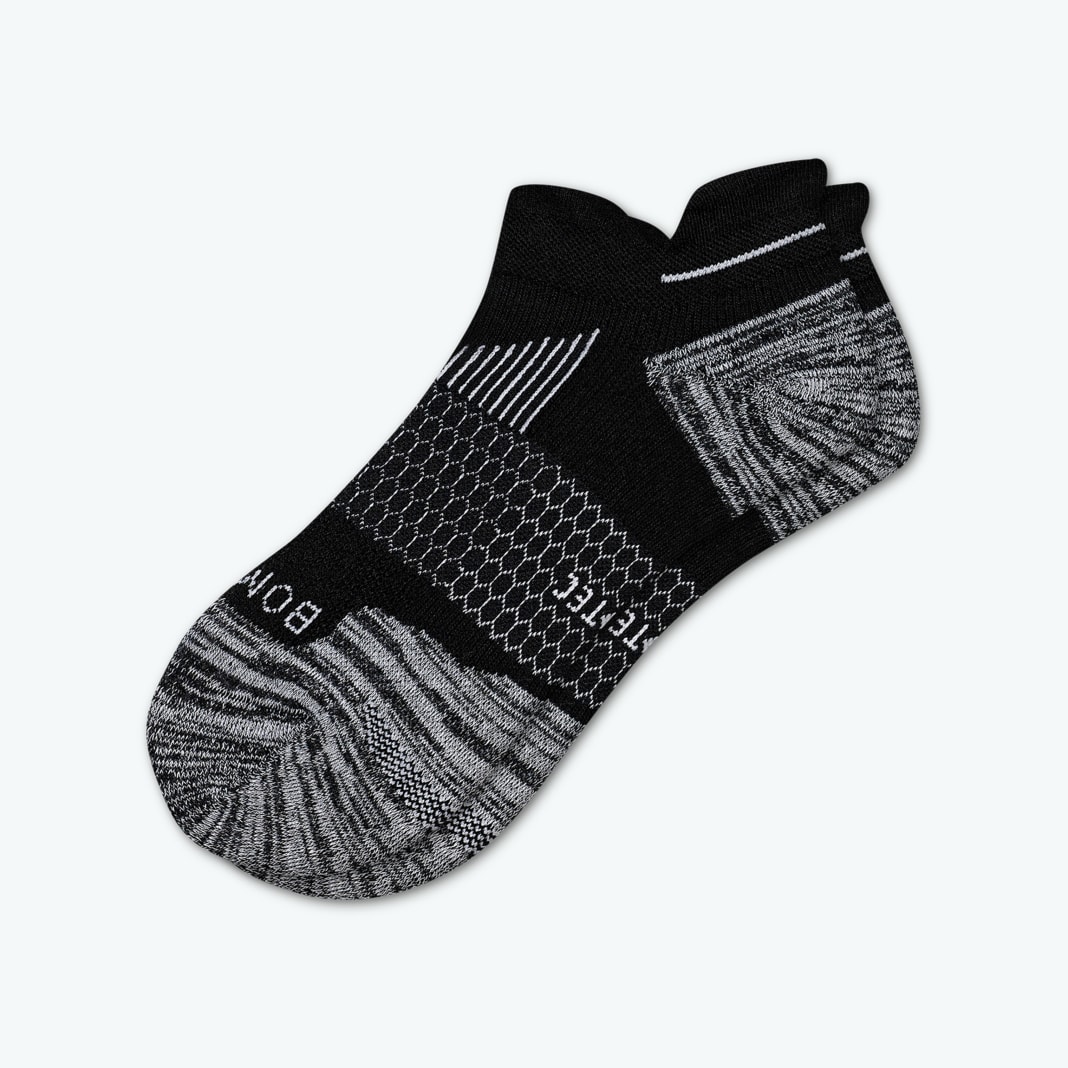 Buy Now
Combining wool and spandex, these running socks provide a stable arch support system and a contoured fit. The merino wool is naturally soft and moisture-wicking, and the Hex Tec supports breathability and performance, keeping sweaty feet at bay.
Color Options:
Red Sky, Jade, Black, Charcoal, Light Grey Heather
Materials:
51% Wool, 45% Nylon, 4% Spandex
Best Ski Socks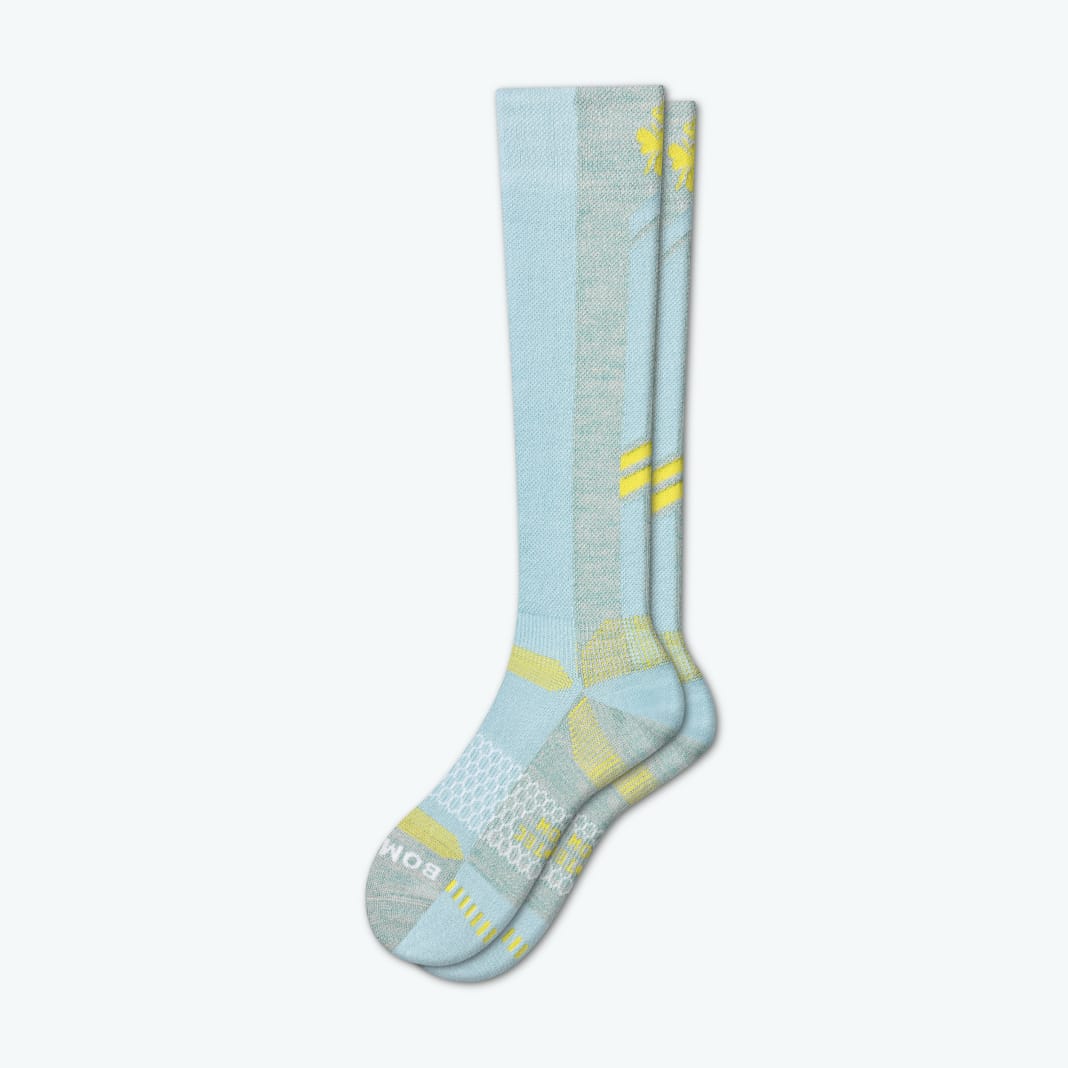 Buy Now
Although lighter than the full cushion ski and snowboard sock, the Midweight Merino Wool Ski & Snowboard Sock is ideal for a day on the slopes. The merino wool and spandex blend keeps your feet dry and the sock snug without shifting in your boots. The midweight style minimizes boot bulk by removing padding in the footbed. Instead, this sock uses strategic zone cushioning along the front leg to ensure comfort all day long.
Color Options:
Black, Frost Blue, Jewel Pine
Materials:
60% Merino Wool, 19% Polyester, 18% Nylon, 3% Elastane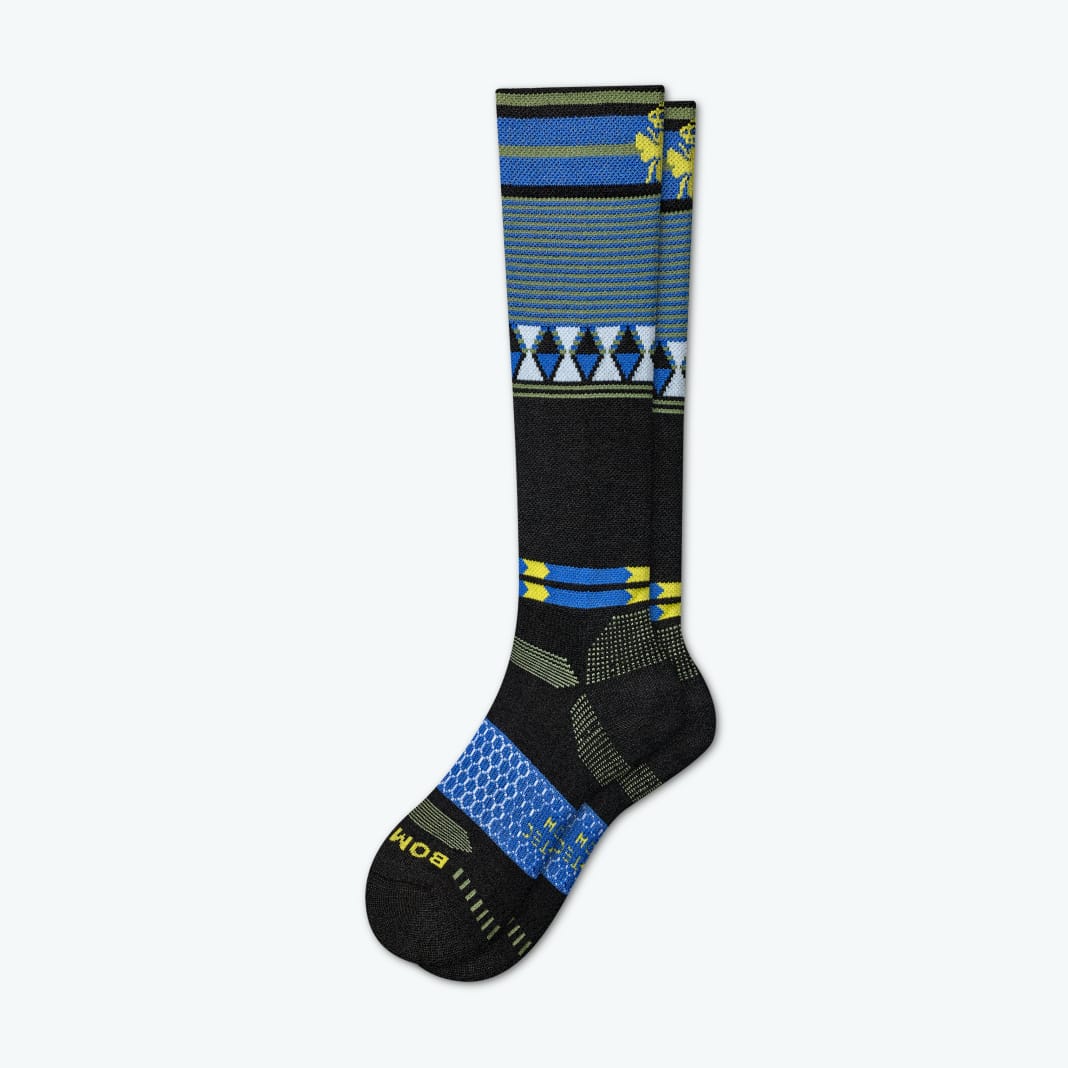 Buy Now
The Men's Heavyweight Ski & Snowboard Sock design is perfect for those who prefer pro-level full cushion. However, these recently redesigned socks now utilize merino wool to minimize sock shifting and bulk in your boot. The full calf support is designed to increase ski and snowboard performance, making these the perfect socks to bring on your next mountain getaway.
Color Options:
Blue Bird, Navy, Black
Materials:
55% Merino Wool, 26% Polyester, 16% Nylon, 3% Elastane
Best Cozy Socks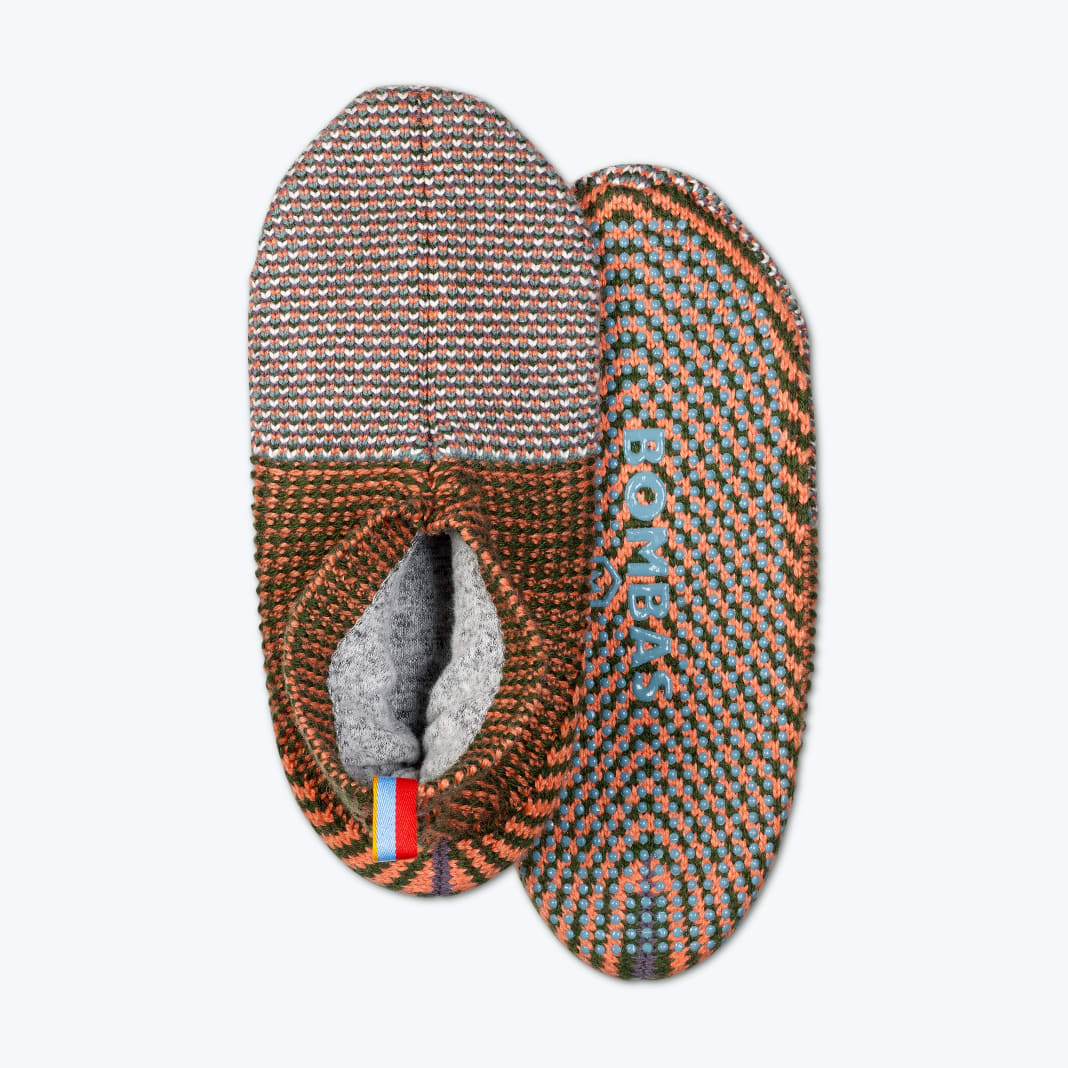 Buy Now
These 4.5-star-rated gripper slippers have 13,000 positive reviews, and I can personally attest to why! Lined with a blanket-like fuzzy material, these slippers finally cured my cold feet and have been the coziest addition to my daily wardrobe. Yes, working from home allows such luxuries as working in my slippers. The outside is lined with grippers to prevent slipping, a lifesaver on my hardwood floors, and as a bonus, each pair comes with a travel bag for packing.
Color Options:
Maroon Midnight Plum, Moon Lagoon Bristol Blue, Taupe, Navy, Frost Blue, Huckleberry, Dark Elm Jacquard
Materials:
Outer, 50% Acrylic, 30% Nylon, 20% Wool, Lining, 72% Rayon, 22% Polyester , 6% Spandex, Silicone Gripper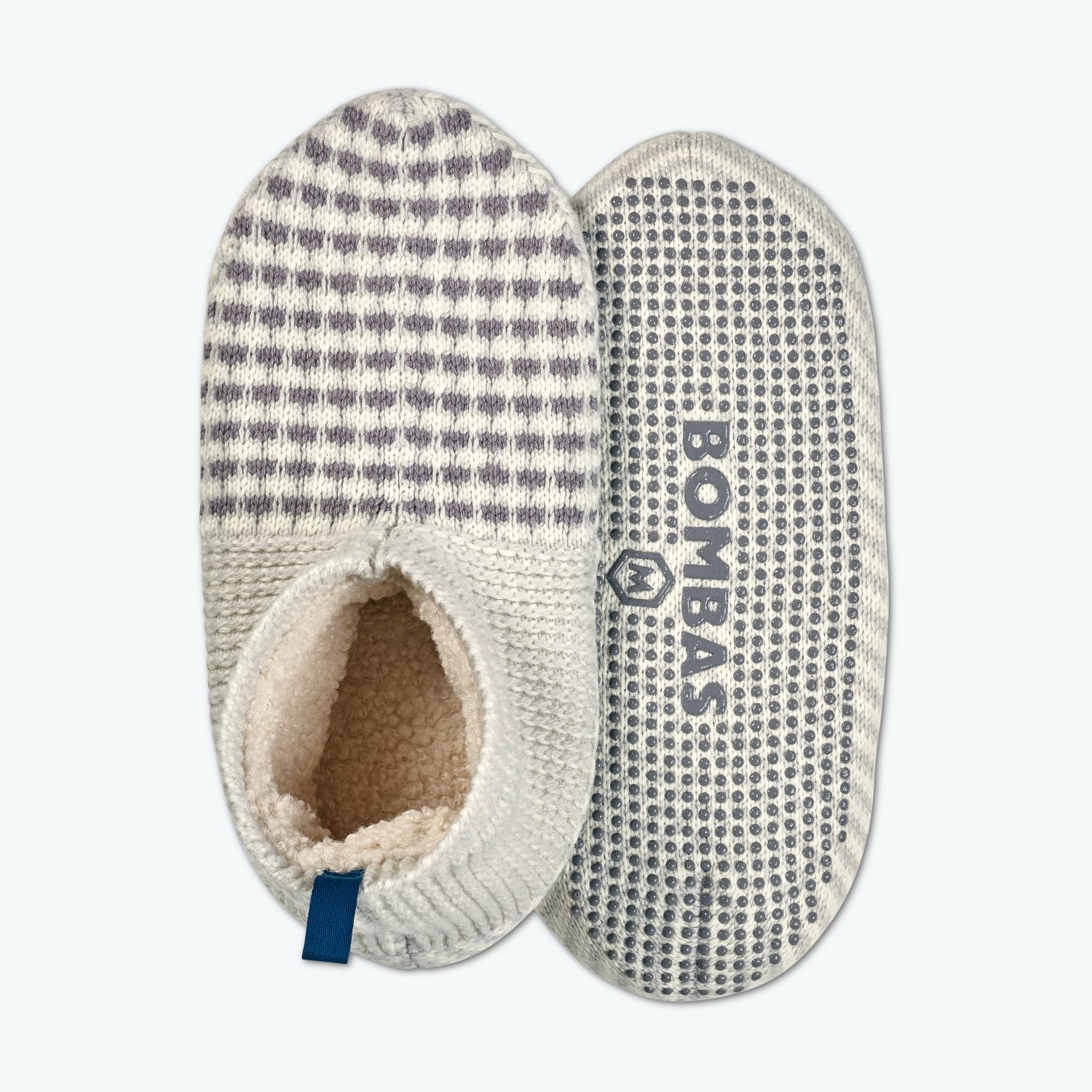 Buy Now
Who doesn't love the soft feeling of sherpa, especially in the cold of winter? These cozy sherpa-lined slippers are also ideal for daily wear around the house, and the grippers on the bottom help to prevent falling. Plus, their fold-flat design makes packing them a breeze, so you can bring these on your next winter getaway.
Color Options:
Harbor Grey, Frost Blue, Maroon, Charcoal
Materials:
Shell, 80% Cotton, 20% Wool, Lining, 100% Polyester
The Bombas Mission
If their expertly high-quality products still aren't enough to convince you to try Bombas, how about supporting a company that dedicates itself to helping others? Bombas was founded with the philanthropic intent to give back to those in need. For every product sold, Bombas donates one to a charitable organization. They have proudly donated over 50 million pieces of clothing to over 3,500 nonprofits and shelters around the U.S. since their 2013 launch. Want to help with their mission? Simply make your purchase and they will handle the rest!
Looking for more comfort-based travel products? Check out our recommendations below: