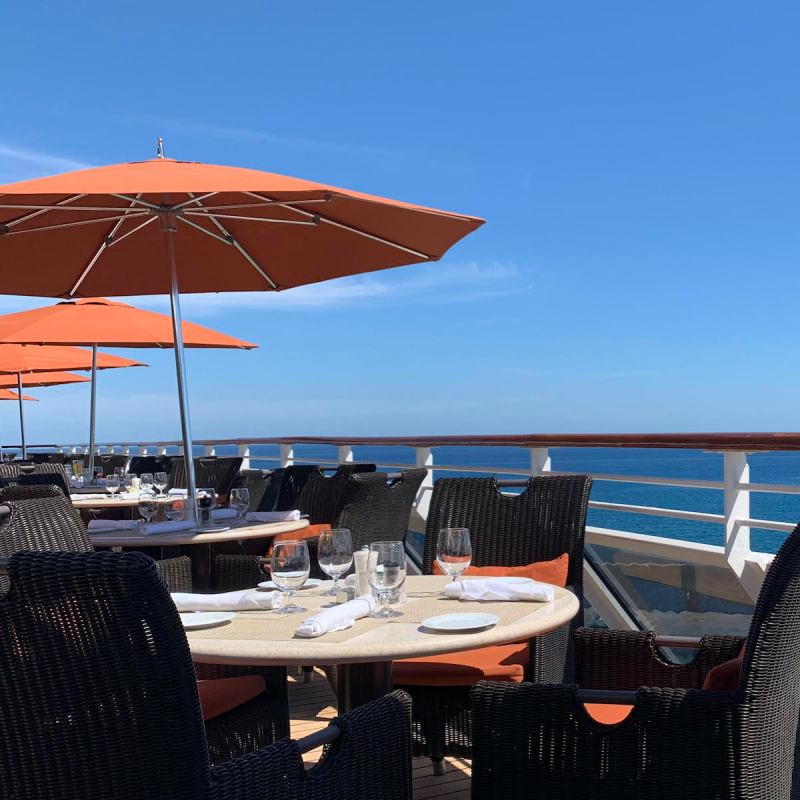 Luxurious staterooms, crystal chandeliers, superb service, and amazing cuisine — everything you want in a grand cruise. I recently had the opportunity to travel aboard the Riviera, one of Oceania Cruises' gorgeous ships. Exploring new foodie experiences is a highlight of my travel adventures and I was delighted to explore Oceania Cruises' culinary world views.
With the exception of La Reserve and Privée, one reservation per restaurant is included in your cruise. You should pre-reserve your dining nights and times before you embark. Your reservation can be made for the exact number in your party or you can book a table to share — a fun way to make new cruise friends.
I had the pleasure of dining in many of these restaurants over the course of a 17-day Mediterranean and Aegean cruise. The menus reflect elevated regional dishes and classic cuisine all beautifully presented showcasing the fine artisan style of the chefs and their staff.
Note: Some information in this piece was obtained during a sponsored press trip, but all recommendations are my own.
1. La Reserve
La Reserve is an intimate and elegant dining space that seats about two dozen guests. The wine pairing dinner is a collaboration between Oceania Cruises and Wine Spectator, the renowned wine connoisseur magazine. La Reserve offers several dining options served during your voyage.
We enjoyed the amazing seven-course dinner and wine pairing — La Cuisine Bourgeoise. Designed by Jacques Pépin, Oceania Cruises' Executive Culinary Director, the experience is a masterpiece of French cuisine representing the traditional dishes mothers and grandmothers perfected through the years.
Dinner began with a Kir Royale as diners gathered and milled around with anticipation of an evening filled with delectable bites. After being seated, we began with Velouté Reine-Margot — a poultry cream with julienne vegetables and pistachio diamonds. This was followed closely by the delicate soufflé de homard Plaza Athénée — Maine lobster and cheese souffle. The fish course was one of the best bites I have ever eaten, ever. The filet de sole Brillat-Savarin — Dover sole fillet with crustacean mousse and french black truffles — almost made me swoon.
Each course was described and delivered along with a perfectly matched wine, elevating each other in perfect harmony. The beef course — filet de boeuf rôti Richelieu — roasted beef tenderloin with stuffed mushrooms, tomatoes, braised lettuce, chateau potatoes, and Madeira sauce. The cheese course was rich and decadent — Brie de Meaux aux noix et laitue — nut-crusted Brie de Meaux with Boston lettuce hearts. The grand finale — omelette Siberienne — baked Alaska with Williams pears and chestnut ice cream. Served alongside were sweet chouquette aux pralines roses — Parisian-style pink praline cream puffs.
As you can imagine, a long walk was on the agenda for the following day to work off all the wonderfully delicious calories.
Pro Tip: Sit back, relax, and let the waves of the delightful and delicious meal take you on a journey.
2. Privée
Privée is Oceania Cruises' private dining experience. With seating up to ten guests, you can enjoy an exclusive culinary experience. Choose your perfect menu and enjoy a dinner party with your friends and family.
For a memorable private dinner party of up to 10 privileged guests, Privée is a lovely location. Choose from several different gourmet menus for your intimate culinary celebrations.
3. Red Ginger
Red Ginger is the restaurant everyone wants to visit. The ambiance transports you to an Asian oasis with rich, saturated tones and stunning artwork.
What To Order At Red Ginger
The spicy duck and watermelon salad — crispy duck, watermelon, cashew nuts, mint, basil, and sweet fish sauce — is my favorite appetizer. Running a close second is the caramelized tiger prawns with onions, chili garlic sauce, and scallions.
Their signature dish, miso-glazed seabass with den miso and hoba leaf, received rave reviews from my dining partners. The Malaysian beef penaeng — a beef short rib with a nutty curry paste, coconut, and paratha roti — was over-the-top delicious.
Their selection of teas offers guests a steeped flavor adventure. Try the white ginger pear or raspberry nectar tea for a nice accompaniment to your dinner.
Pro Tip: Red Ginger is on the Marina, Riviera, and Sirena ships.
4. Toscana
Mangia! Everyone loves Italian. Toscana celebrates everything Italy. Be prepared to indulge in an explosion of bold flavors. Take a journey around Italy fueled by regional cuisine.
What To Order At Toscana
I am addicted to truffles, so I had to start with the sformatino di carciofi con salsa tartufata e olio aromatizzato all'arugula artichoke and Parmesan cheese timbale. It's served with black truffle sauce and arugula-infused oil — I wonder how difficult it would be to recreate this at home.
If you are hungry, order a pasta course like the linguine cioppino or gnocchi di patate al pesto. The array of secondi options like osso buco alla Milanese or scaloppine di vitello a modo tuo is the best way to celebrate Italy's culinary passion and a decadent main course.
I couldn't choose between all the amazing desserts, so I ordered the Toscana Quintet to share. The beautiful plate held a cannoli di ricotta, crème brûlée, tiramisú, panna cotta, and fruit minestrone in apricot-basil syrup topped with sherbet. I tried them all — it was dessert nirvana.
Pro Tip: You will find Toscana on the Marina, Riviera, Regatta, Insignia, and Nautica ships.
5. Polo Grill
Polo Grill's classic steakhouse club vibe with comfy leather chairs and white tablecloths sets the mood for an elegant yet casual dining experience.
What To Order At Polo Grill
One of the prettiest dishes at the Polo Grill is the roasted beetroot and garlic goat cheese Napoleon with Champagne and truffle vinaigrette appetizer. It is the perfect light starter for a steak dinner. Another traditional grill starter is their Colossal Chilled Shrimp Trio with spicy cocktail sauce.
Prime rib, porterhouse, rib rye, New York strip, or filet mignon with a side of lobster mac & cheese is a decadent clubhouse dinner. You can up the ante with their Surf & Turf — Florida lobster tail and filet mignon or indulge in a whole Maine lobster steamed with drawn butter.
I highly recommend the zesty Key lime pie with Florida orange butter sauce for dessert.
Pro Tip: Polo Grill is on board the Marina, Riviera, Regatta, Insignia, and Nautica ships.
6. Jacques
Dining at the elegantly charming Jacques is like dining at a fancy Parisian bistro. Master Chef Jacques Pépin has taken classic French dishes and reinvented them for your dining pleasure.
What To Order At Jacques
Your dinner begins with an amuse-bouche; a sampling plate of Assiette Provençale, the tartlet of the day and Saint-Nectaire choux. The abundant selection of hot and cold appetizers makes it extremely difficult to choose where to begin. I enjoyed the pressé de foie gras aux cerises confites — duck foie gras terrine with candied black cherries. It was simultaneously delicate and rich.
The bouillabaisse Mediterranean fish and lobster stew with saffron broth and rouille sauce served tableside was divine. Another wonderful option is the carré de veau mariné à la tapenade — black olive Provençal tapenade and garlic-marinated veal rack. So many mouthwatering options, so little time.
The deliciously creamy crème brûlée à la pistache — pistachio crème brûlée — was the talk of the restaurant.
Pro Tip: Book your reservation at Jacques for a special night; it is the perfect spot for a celebratory dinner. It is available on the Marina and Riviera ships.
7. Grand Dining Room
When you don't have a reservation at one of the specialty restaurants but still want to enjoy an evening of fine dining, the Grand Dining Room's staff is ready to deliver. With a menu that changes daily, you will have fresh new dishes to try every time you visit.
Pro Tip: The Grand Dining Room is open for lunch and dinner; reservations are not required.
8. Terrace Café
Beautiful and casual, the Terrace Café features a wide variety of buffet stations offering traditional dishes and locally inspired specialties. Dine indoors or alfresco on the terrace where the view is stunning. It is a lovely spot for a relaxing dinner with a stunning view.
What To Order At Terrace Café
Stations include an extensive salad bar, cheese and nibbles section, a bread station, pasta-to-order, a grilled-to-order station, a specialty of the day, and an astonishing array of desserts.
Pro Tip: The Terrace Café is a wonderful place to keep your calorie consumption under control. Order a salad with some grilled chicken and you have a lunch that allows you to indulge at dinner. It is also available for dinner when you want a casual meal.
Explore The Finest Cuisine At Sea With Oceania Cruises
The popularity of cruising is booming. You can travel to different ports each day in your floating hotel room; it is the most comfortable way to see the world. Add in a masterfully prepared mouthwatering menu delivered as a leisurely dining experience and you have the Oceania Cruises dining adventure.