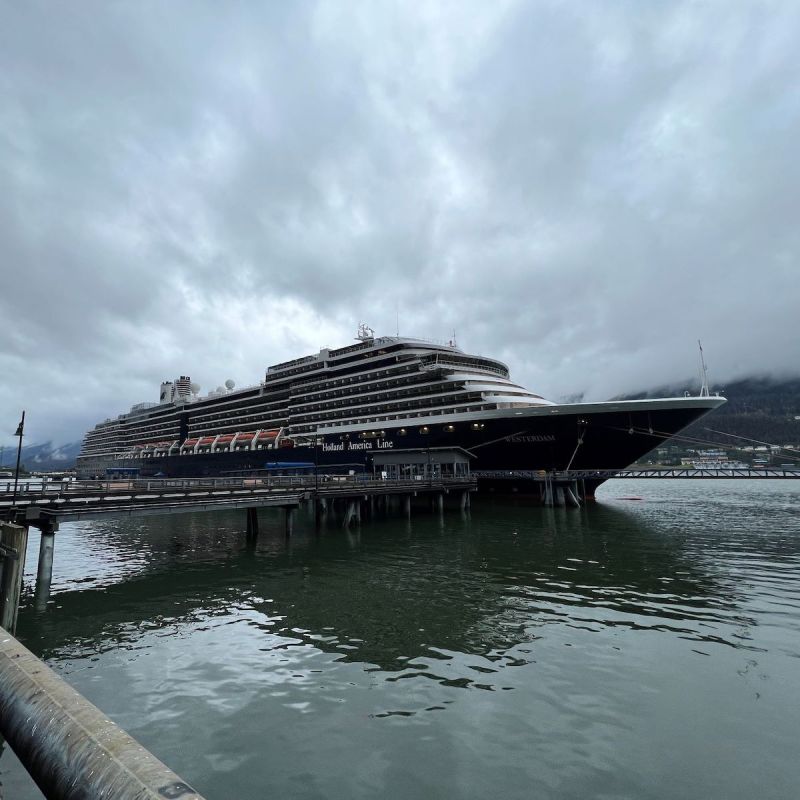 I am a big fan of off-season travel, and a fall cruise to Alaska is no exception. There are so many perks to cruising to Alaska during fall, which is during what is known as the shoulder season. Any cruise that runs before or after Alaska's main cruise season — Memorial Day to Labor Day — is during the shoulder season. You can now book an Alaska cruise for as early as April and as late as October.
I was recently hosted on a fall cruise by Holland America (HAL) on their Westerdam ship, and I cruised on this same ship 6 years ago and booked it on my own. I highly recommend Holland America for cruising to Alaska. It was the first cruise line in Alaska and it translates into great relationships throughout Alaska, the most cruising days in Glacier Bay, and other perks. Cruising Alaska for over 75 years means HAL knows Alaska and shares that knowledge with tailored experiences aboard its ships including local cuisine, special presentations, and even a naturalist on board.
1. Fabulous Savings And Discounts On Your Alaska Cruise
Prices plunge when sailing in the shoulder season. You can save even more money by waiting until a few weeks out to book. Usually, that means a risk of not getting the cabin you want or the shore excursions you want. On my recent HAL cruise, a few weeks from departure there were still suites available.
Alaska Cruises are discounted anywhere from 50–86 percent on sites such as Vacations To Go. Return visitors to cruise lines often receive sale mailings for last-minute cruises. Check a variety of sources to receive the best deal on price as well as other perks, such as shipboard credit, drink packages, free internet, and much more. Also, some cruise lines offer discounts to members of the military, people aged 55+, first responders, teachers, and singles, and these discounts tend to be higher for ships that are not filled.
2. Less Crowds
The biggest perk of traveling in the shoulder season is fewer people. It is so nice being on a ship that is not fully booked. On my recent cruise on the Westerdam, I never waited for anything while on board. No lines at the food stations on the lido deck, no waits for a drink at the many bars onboard, and I often enjoyed luxurious soaks in the spa's hydro mineral pool with just my husband. I was able to book all the premium restaurants at the times I wanted, except for Rudi's Sel De Mar. which on the Westerdam is only available once on a 7-night cruise. Even though I couldn't get the time I wanted, I was still able to book this one-day-only premium restaurant. I also found a great selection of shore excursions still available up to a few days before the cruise.
During fall, you will still find 5 to 7 cruise ships depending on the port of call, but most are half full, so the crowds are much less as you explore the shops and restaurants on shore. My husband and I did a popular hike in the Sitka National Historical Park, and although there were others hiking, it was pretty spread out. We passed a quiet cove and observed a golden eagle eyeing the spawning salmon in the still waters. I know we would not have enjoyed moments like this during a summer Alaska cruise.
3. Fall Foliage
Fall Alaska cruises have the benefit of fall foliage. Juneau is a port stop on many cruise itineraries, and it is surrounded by the Tongass National Forest, the largest national forest in the United States. It can also be accessed from Ketchikan.
The best way to see the fall foliage is to get out on a hike. The Mendenhall Glacier is very popular as a shore excursion and a must-see on a Juneau port call. There are a variety of hiking opportunities. The trails are well maintained, and some are accessible. The hike to Nugget Falls is 2 miles round trip on a gravel trail. It is rated moderate, and hikers are rewarded with beautiful fall foliage and a stunning waterfall.
For a more strenuous hike, take the 3.5-mile East Glacier loop. This is challenging, with a gravel trail, rocks, and stairs. The effort is worth it, though, with the changing colors of the leaves, waterfalls, and glacier views. You might even see a bear. There are several places in Ketchikan to access trailheads into the Tongass National Forest. Many shore excursions offer opportunities to explore the forest as well.
Other fall foliage options can be found exploring the Chugach National Forest, which is about an hour's drive (or Alaska Railroad trip) from Anchorage. Those on Alaska Cruisetours will have the opportunity to see fall foliage in Denali National Park.
4. Northern Lights
During the regular Alaska Cruise season, sailings take place during the time of the midnight sun. This is when Alaska's daylight hours are extended. During this time, you won't be able to see the northern lights. The viewing season stretches from late August through late April. In shoulder season, the best time to see the northern lights on a cruise is during the fall, beginning in September. The nights are long and dark.
5. Wildlife
HAL provides a nature expert on their Alaska cruises. Natalie Tan, a naturalist and wildlife photographer, was on the cruise I took and was very knowledgeable.
Fall brings a variety of Alaska wildlife-viewing opportunities. According to Tan, "The fall season is great for bears, as they go through hyperphagia [during this time] and will be feeding along salmon streams. Some humpback whales start their journey back to warmer waters, but some still stay around, while even a few stay here in Alaska year round. Resident sea lions and sea otters remain. Raptors and eagles will be here foraging for salmon leftovers from bears. Inland, elk, moose, caribou, and deer may be seen."
6. Annual Salmon Run
The annual salmon run is when these majestic fish return to the streams of their birth from miles away in the Pacific Ocean. It is an epic battle of life and death as they climb treacherous waterfalls and avoid predators before dying once they spawn. The fish carcasses are devoured by shorebirds and draw bald eagles and other raptors. You can often see bears consuming salmon as well. It is an incredible experience and one you will never forget.
I saw the salmon run at the Sitka National Historical Park and in Ketchikan from Creek Street. It was pretty incredible to view this from the middle of town in Ketchikan. It started with watching two sea lions frolicking near a bridge by Creek Street and gorging on salmon. At the end of Creek Street, Ketchikan Creek narrows into a small gorge where you can witness the salmon jumping up the small waterfalls or climbing the fish ladder. There are multiple varieties of salmon, which spawn at different times; in this area, the run begins in late August and goes until the beginning of October.
7. Sales
You won't find big sales on the first cruises at the beginning of the Alaska cruise season. If you travel in the fall toward the last cruises of the year you will find sales. Many shops at port stops will dramatically discount items before they shut down for the season. Even the cruise ships will offer sales on their Alaska items at the end of the season.
I truly enjoyed my cruise on the HAL Westerdam, and although the weather report called for rain every day, we had plenty of days without it. The tradeoff for wearing a raincoat was enjoying a less crowded experience, and it was well worth it.
8. Looking Ahead To Alaska's Spring Green-Up
Alaska's "Green-Up" usually takes place at the beginning of May (Fairbanks) and early June (Denali) and is better experienced in the interior such as Denali National Park or Fairbanks. If you have never experienced it, it is a must see.
The Green-Up is when Alaska sheds its winter coat, the locals flock outdoors, and you can almost see plants growing. Seriously! Due to the extended daylight hours as Alaska enters the midnight sun season, plants and trees grow extremely fast. I arrived on a trip to Fairbanks one year to bare foliage on the trees and saw fully green, lush leaves in a matter of days. It was truly amazing. Flowers burst into bloom, as well, and are just beautiful. Denali National Park is included on the land portion of HAL Alaska Cruisetours, and the longer tours include Fairbanks.