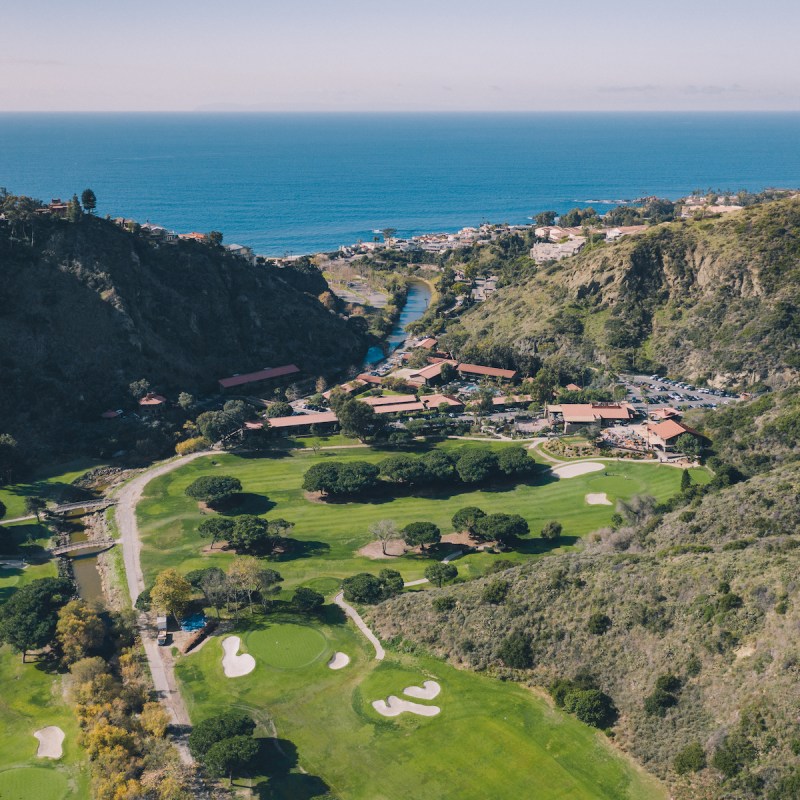 Laguna Beach is well known for its luxury resorts perched on the edge of the Pacific Ocean. After all, the ocean is often the first thing that comes to mind for visitors to this seaside town. It's also known for expansive canyons filled with native flora and fauna and is popular with local hikers and cyclists.
Set in one of these quiet canyons is a lesser-known luxury resort called The Ranch at Laguna Beach. Located at the southern tip of Laguna Beach, The Ranch is tucked away from the busy Pacific Coast Highway and can easily be missed. Just follow the short, private road to the resort's entrance and you'll be greeted with lush grounds surrounded by brown-green canyon walls.
My husband, Jason, and I live just thirty minutes from The Ranch but had never visited before. So, we were excited to spend a weekend here and explore this secluded spot in one of our favorite beach towns in California.
Our stay was hosted by The Ranch at Laguna Beach, but all opinions are my own.
Large, Stylish, And Comfortable Rooms
As we stepped inside our canyon room, I immediately noticed the neutral color palette, the spaciousness of the room, oversized sliding glass doors, and an outdoor terrace with two wooden rocking chairs. Next, I saw the large bathroom with a large, walk-in shower. When I opened the closet door, there were two plush, white robes waiting for us along with slippers. I already knew this was going to be a very relaxing weekend.
After getting settled, we decided it was time to enjoy our terrace. I grabbed my book and sat in the rocking chair for the next hour. Occasionally, I took breaks from reading to enjoy the view and listen to the chirping birds in the trees.
A small bar area in the room included a tea kettle, mini fridge, and ice bucket along with mugs and glasses. In the morning, I boiled some water and made us a coffee using the provided coffee bags — an environmentally friendly alternative to plastic coffee pods found in Keurig machines. Once again, I found myself on the terrace just appreciating the view.
Farm-To-Table Dining
Many restaurants claim to be farm-to-table establishments, but typically I just have to take their word for it. During our stay at The Ranch, they were kind enough to arrange a tour of their farm located on the property so I could personally see the types of fruits, vegetables, and flowers being grown and then used at the restaurant, Harvest.
Farmer Makena walked us through the half-acre farm currently planted with tomatoes, fairytale eggplants, giant pumpkins, sunflowers, herbs, and much more. Dozens of chickens filled the coop in the corner of the farm. All the harvested fruits, veggies, and seeds along with any eggs gathered supply the restaurant nearby. Knowing where our food came from made our dinner at Harvest even more enjoyable later in the evening. 
We arrived for our dinner reservation at Harvest around sunset, which is a perfect time to appreciate this warm and inviting space. The dining room features high ceilings surrounded by windows overlooking the golf course. We were seated near the fireplace, the central focal point of the back wall.
Jason ordered the achiote braised lamb shank and I had the forbidden fried rice (a dish very similar to kimchi fried rice). A couple of cocktails rounded out our excellent meal. Even if you're not staying at The Ranch, I'd still recommend coming here for dinner.
Harvest serves breakfast, lunch, and dinner. Also, their bar is a great area to grab a drink or snack.
Ben Brown's 9-Hole Golf Course
Both experienced and newer golfers give Ben Brown's nine-hole course at The Ranch high marks. I don't play golf — and Jason opted not to during our weekend getaway — but the course is a central part of the resort.
Golfers we talked to during our stay raved about the views during play. Some had even seen deer grazing on a hole. Everyone agreed that the greens are in excellent condition. This is an ideal destination for golfing couples.
Relaxing Pool And Outdoor Activities
One of the more difficult decisions to be made while staying at The Ranch is whether to go to the beach or the pool. Although, you could do both. We opted for the beach, but the pool area is lovely and features a saline water pool, hot tub, and a palapa bar.
If you're looking for something more active, that's available too. There's a bocce ball court and a sand volleyball court. You could also participate in one of the classes offered throughout the week including restorative yoga and HIIT fitness class.
Short Walk To The Beach
After we checked out, we walked the path from the resort to Aliso Beach, which took about ten minutes. If you're not up for the walk, the resort will happily send a golf cart to your room to drive you most of the way.
If you're looking to hang out on the beach for the day, chairs, towels, and umbrellas are available for guests to borrow. This is a popular spot for locals, so expect the beach to be busy, especially if you're visiting on a weekend. Regardless, it is a lovely spot to spend a few hours or the entire day.
We had primarily come in search of lunch. Fortunately, The Ranch has a casual spot here called The Lost Pier Cafe. Named for the former pier that was wiped out by a storm in 1998, the cafe serves a wide variety of food and beverages. I ordered ceviche and Jason had the short rib burrito, both washed down with a local beer. Everything was tasty and we will definitely be back. The café, like the beach, is a popular spot with locals, so get here early if you want a table.
The outdoor seating is nothing fancy, but the views are the real draw. On the day we visited, the waves were so large that they frequently crashed on the rocks just below the patio and we could feel the resulting spray.
Focus On Sustainability
I was impressed with The Ranch's commitment to sustainability throughout our stay. First, when offered water at check-in, it was in reusable aluminum, not plastic water bottles. I applaud this trend at higher-end hotels and hope it will expand to all types of accommodations.
Next, when presented with our keycard, it was wood and not plastic. Now, this was new to me. I'll admit that I never questioned plastic keycards, but I have no doubt many get tossed into the trash only to end up in landfills.
All irrigation of the landscape and golf course on the property is with reclaimed water. It's estimated that this saves 21 million gallons of water each year. Since California is in a drought — something very common in this state — I certainly appreciate the wise use of water.
The list of other sustainable practices is long, impressive, and certainly sets The Ranch apart from other luxury resorts.
I love discovering something new and close to home. Jason and I found ourselves leaving The Ranch relaxed and happy. Whether you're looking for an active weekend, or like us, something quiet and easygoing, you'll find it here. Even if you're not looking for an overnight stay, this is a lovely destination for brunch or dinner. We will be back soon.