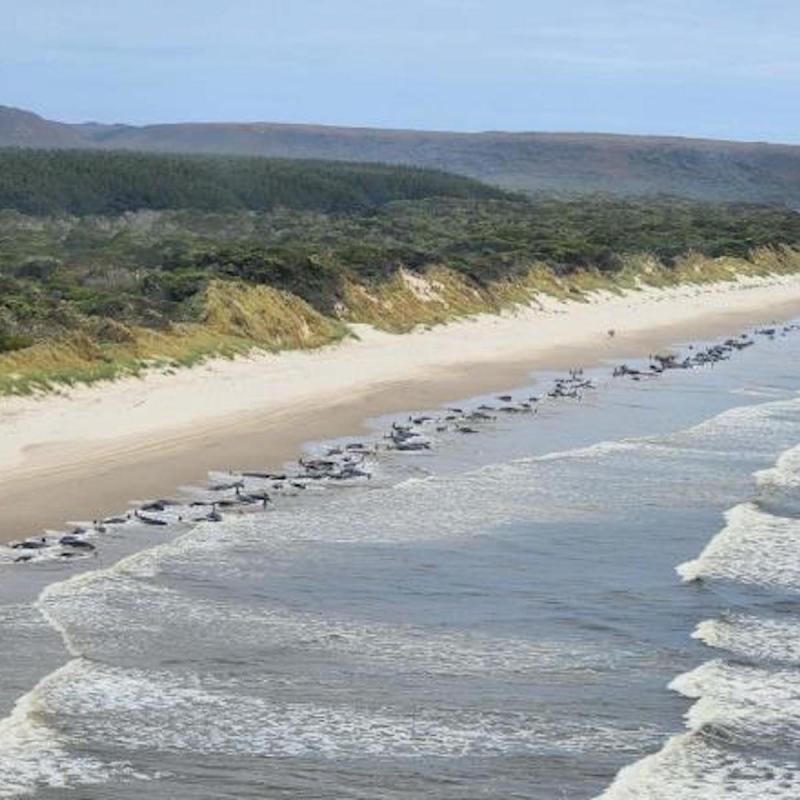 A massive rescue attempt is about to begin on Tasmania's west coast, where as many as 230 stranded pilot whales have been spotted.
"It appears about half of the animals are alive," the Department of Natural Resources and Environment Tasmania said in a statement.
"A team from the Department of Natural Resources and Environment Tasmania Marine Conservation Program is assembling whale rescue gear and heading to the area," the Department of Natural Resources and Environment Tasmania explains. "Once there, marine wildlife experts will assess the scene and the situation to plan an appropriate response."
Sadly, the stranding occurred in the same spot — on Tasmania's Ocean Beach and a sand flat inside Macquarie Harbour — exactly 2 years after Australia's worst whale stranding on record.
In that incident, on September 21, 2020, 470 long-finned pilot whales were found beached on sandbars. After a week-long rescue effort, authorities were able to save 111 whales, according to The Guardian. Unfortunately, the rest of the whales died.
Long-Finned Pilot Whales
It's believed that this time, yet again, the stranded whales are long-finned pilot whales.
Amazingly, these whales can dive to depths of about 2,000 feet for somewhere between 10 and 16 minutes. They dive to feed on cod, dogfish, hake, herring, mackerel, turbot fish, squid, octopus, and crustaceans such as shrimp, according to National Oceanic and Atmospheric Administration (NOAA) Fisheries. They typically feed at night, in water between 650 and 1,650 feet deep.
Long-finned pilot whales, which usually weigh between 2,900 and 5,000 pounds, generally reach a length of between 19 and 25 feet. While the lifespan of male long-finned pilot whales is 35 to 45 years, females are known to live at least 60 years.
Although long-finned pilot whales generally live in tight, social pods of 10 to 20, they have been spotted in groupings of several hundred — or even up to a thousand whales.
"The strong social structure of these animals has been suggested by mass strandings on beaches," NOAA Fisheries explains.
Starting The Rescue Operation
Marine conservation experts from the Department of Natural Resources and Environment Tasmania are on their way to Macquarie Harbour. For reference, Macquarie Harbour is 630 miles south of Melbourne, Australia, and can be reached by air in a little over an hour, or by ferry in around 9 hours.
Once there, they will work alongside staff from the Tasmania Parks and Wildlife Service and Tasmanian Police at Strahan while following the department's Cetacean Incident Manual — a guide to the department's response to stranding incidents.
Tom Mountney, of Petuna aquaculture, was a rescuer during the 2020 mass stranding. He was also at the site today with five colleagues to help with the rescue.
"It's a surreal scene," Mountney said, according to The Guardian.
"I'm seeing about 200 whales here on the beach. I'd say about half are alive," Mountney said. "We are kicking off our rescue effort — getting them onto special blankets to right them. The biggest are over 2–3 tons. We are triaging the smaller ones."
Images provided by the Associated Press of the stranded pilot whales can be found here.
Vanessa Pirotta, a wildlife scientist specializing in marine mammals, said it is too early to explain why the stranding occurred.
However, "the fact that we've seen similar species stranding at the same time, in the same location, might provide some sort of indication that there might be something environmental here," Pirotta said, according to the Associated Press.
For more stories on whales, be sure to visit our wildlife content, including: