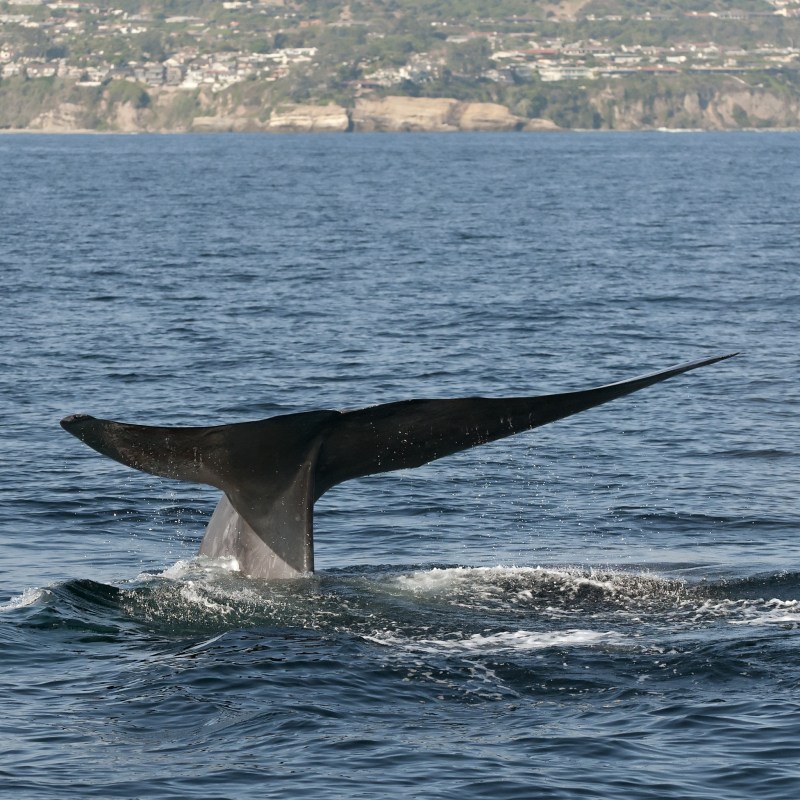 Dana Point, California, has long been recognized as one of the best places in the world for whale watching. Two local businesswomen even worked to trademark Dana Point as Dolphin and Whale Watching Capital of the World.
Now Dana Point has another significant title: Whale Heritage Site. It joins only three other places in the world with that status: Hervey Bay, Australia; The Bluff, South Africa; and Tenerife-La Gomera Marine Area, Spain.
Responsible Whale Watching
People love to watch whales and dolphins. Indeed, each year, nearly 50 million people go watch shows featuring captive marine mammals, whereas only roughly 20 million visitors go to whale-watching destinations, according to the World Cetacean Alliance. The alliance hopes to reverse those numbers.
Whale Heritage Sites promote whale watching in a responsible and sustainable manner, explains the World Cetacean Alliance, which established the Whale Heritage Sites certification program and now manages it in partnership with World Animal Protection. The designated destinations "support and demonstrate the importance of cetaceans through culture, education, research and conservation," World Cetacean Alliance explains.
"Whale Heritage Sites are becoming the gold standard for responsible whale-watching destinations worldwide, but they also have so much more to offer," says Jean-Michel Cousteau, honorary president of the World Cetacean Alliance and founder of the Ocean Futures Society. "By interweaving natural and cultural elements and placing communities at their very heart, these sites will become places where people respect, celebrate, and protect cetaceans and their habitats long into the future."
Dana Point Whale Watching
The appeal of visiting Dana Point to watch dolphins and whales is that the experience is managed by a tourism industry that is protective of the marine mammals and responsible, rather than simply viewing them as entertainers.
The whales and dolphins aren't "forced for many trips, there's no cheesy music being piped in, there's no dancing, there's no reward of thawed frozen fish," Ben Williamson, U.S. programs director for World Animal Protection, said in a USA Today article. "It's just dolphins and whales being themselves in their natural habitats where they belong."
Working so Dana Point could become a Whale Heritage Site has been a labor of love for Gisele Anderson and Donna Kalez, who operate competing whale-watching services but worked together to secure the Dolphin and Whale Watching Capital of the World trademark. Now the two will also work together as stewards of Dana Point's Whale Heritage Site status.
"To have Dana Point recognized by the world as a Whale Heritage Site is a dream and has been a goal of mine for some time," Kalez, who also is co-president of Dana Wharf Sportfishing and Whale Watching, said in a Dana Point Times article.
Know Before You Go
While whales can be seen all year near Dana Point, tours from now until May offer a unique opportunity. That's because visitors can take a short tour to watch gray whales on their round-trip migration from Alaska to the warmer waters of Mexico, Kalez told the Los Angeles Times.
Dana Point is also known for its annual Dana Point Festival of Whales, and this year is the 50th anniversary of the event. In the past, the festival was held over two weekends, but this year it will be condensed to March 6 and 7 due to the COVID-19 pandemic.
Festival organizers note that whale-watching excursions can operate following COVID-19 protocols, and other events will also follow health restrictions and guidelines.
More information may be found at the Festival of Whales website. For more whale watching inspiration, consider: