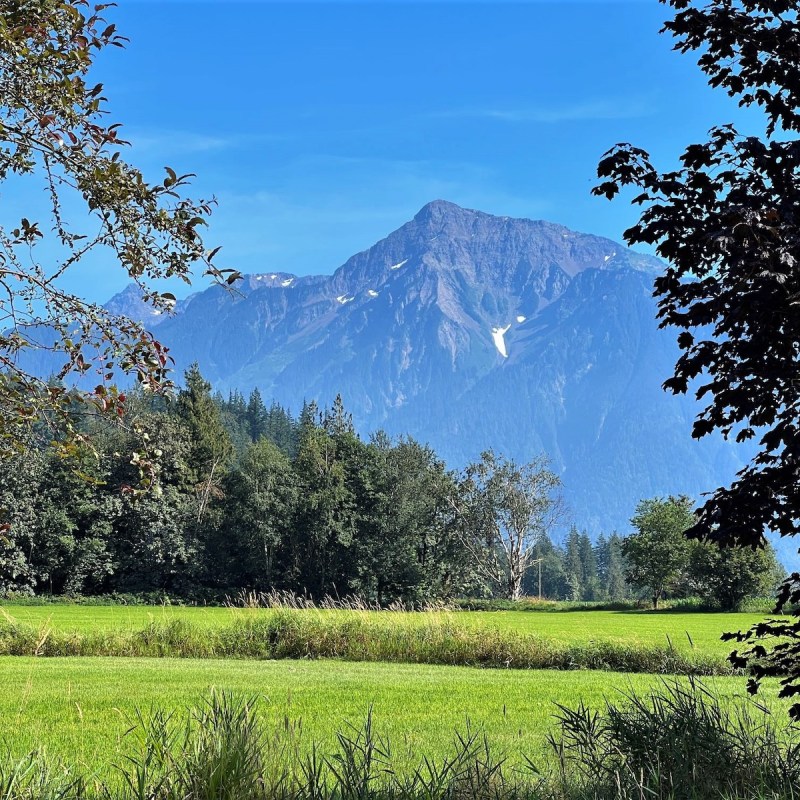 Just an hour's drive east of Vancouver, British Columbia, is the beautiful Fraser Valley. This fruitful agricultural area is filled with sprawling fields flanked by majestic mountains. Agritourism opportunities abound. You'll find farm-to-table restaurants, wineries, breweries, farm visits, and so much more.
On my trip through the Fraser Valley, each stop was unique, and I met so many great people who are so passionate about the land and their communities. You'll find charming small towns throughout the valley, with everything just a short drive from each other.
I recommend establishing a base camp for your visit. Everything is so close together, and driving country roads is part of the fun. Langley — adjacent to but politically independent from the Township of Langley — is one of the larger cities and has a variety of chain hotels to stay at. Another option is to stay at the Sandpiper Resort, in either Rowena's Inn on the River or one of the luxury cabins. Located in Harrison Mills, this property is stunning and overlooks the Harrison River. The cabins have full luxury kitchens, which are perfect for making a meal from the ingredients you purchased while touring the valley. The full-service resort has a cute restaurant overlooking the golf course.
Note: I was on a press trip hosted by Destination British Columbia and their partners. All opinions are my own.
1. Restaurant 62
Abbotsford
Chef Jeff Massey has mastered the art of farm-to-table meals at his restaurant in Abbotsford. I enjoyed a four-course chef's tasting menu paired with British Columbia wines. Farm fresh Fraser Valley produce and ingredients drive the menu, which changes frequently to reflect what's in season. The simple, delectable salad we enjoyed incorporated produce from Local Harvest Market, which we visited the next day. It was such an interesting experience dining on such great food and then getting to see where it comes from.
2. Agassiz-Harrison Circle Farm Tour By E-Bike
Harrison Hot Springs
Rent e-bikes at Harrison Eco Tours in Harrison Hot Springs to explore the surrounding farmland on the Agassiz-Harrison Circle Farm Tour. This self-guided tour will take you to farms, artisan cheese makers, a coffee roastery and pottery studio, a historic site, and more. I just had time to check out a few, but you can easily make a full day of it. My first stop was Harrison Lavender, where owner Pavol Palovic grows and distills lavender into a variety of natural products. Everything is handcrafted right at the farm.
Step next door to the Back Porch and meet Dan, who roasts coffee beans in a 1919 flame roaster. His wife Lynda creates beautiful pottery, including coffee mugs. What a great gift: Dan's coffee with one of Lynda's mugs to sip it in. Hop back on your e-bike for a scenic ride — really the views are stunning — to Farmhouse Natural Cheeses to try some artisan farmstead cheeses. The shop at the dairy farm offers a variety of dairy products and a surprisingly large selection of cheeses.
3. Local Harvest Market
Greendale, Chilliwack
I really enjoyed meeting Dan Oostenbrink, the owner of Local Harvest Market, and touring this family-run business. Located at a busy crossroads, the market is a vibrant community farm where guests can purchase fresh produce year round. It is on the edge of Greendale, an agricultural community within Chilliwack.
Farmer Dan is a proponent of biodiverse, no-till farming. The techniques he has learned from experts and old-timers have helped him to heal this land and create a nutrient-rich soil upon which his produce thrives. The farm is hand weeded and harvested with no spray and is chemical-free. The market bakery sells the best scones I have ever eaten, and they were so yummy with a cup of coffee. It was so interesting to walk the fields and peer into greenhouses to see where some of the ingredients for my farm-to-table meal at Restaurant 62 came from.
4. Farmhouse Brewing
Greendale, Chilliwack
What a great stop for lunch. Farmhouse Brewing is the first brewery I have been to that is on a farm, and they grow hops and barley. Josh and Colleen broke ground on their business the day the COVID-19 lockdown began, and they faced challenges. But their beautiful outdoor spaces were a perfect fit during the pandemic, and Farmhouse Brewing has become a very successful business.
During my visit on a summer weekday, it was very busy, with many regulars stopping by. This former goat farm turned brewery is such a fun, family-friendly place to sip a brew or enjoy a lunch with everything cooked in their wood-fired oven. The ingredients are locally sourced, with unique pizzas even created from the bounty of local produce. Delicious!
5. Chilliwack Sunflower Festival
Chilliwack
Crowds flock to the Chilliwack Sunflower Festival, which first ran in 2018. Founder Kate Onos-Gilberts' vision delights guests from far and wide. You'll find 50 varieties of sunflowers, 50 varieties of dahlias, and eight varieties of gladiolus in a garden filled with rustic farm equipment and other props that will spur the creativity of many an Instagrammer.
The gardens are planted in stages so there is always something blooming throughout the season. There is a cute gift shop offering everything sunflower, and there are food trucks if you want to enjoy a meal. This property is also the site of a popular tulip festival in the spring.
6. Field House Brewing
Abbotsford
If you are a beer lover, you will definitely want to stop at Field House Brewing. They offer creative beers such as the Blueberry Basil Sour, described on the menu as "ice cream meets sour beer in this creamy, tart fruit forward creation in a collaboration with Banter Ice Cream." Of course, I had to try it and a few others with a tasting flight.
The brewery has its own farm, so the food is surprisingly good. The farm lead, Evan, works with the chefs and the brew crew in planning how to use all the fresh, seasonal ingredients. They try to use every sprig, stem, and edible piece of the plants to reduce waste. It results in a very creative menu. I just had a simple grilled cheese sandwich with a side salad, and it was so good. Ooey, gooey cheese on fresh bread — and nothing tastes like fresh greens from a farm. Well worth a visit.
7. Krause Berry Farms & Estate Winery
Langley Township
Since 1974, Krause Berry Farms in the Township of Langley has been a local favorite, with u-pick berry fields, restaurants, a farm fresh bakery, a home and garden market, and an estate winery. There really is something for everyone.
I visited for one thing: their yummy waffles. Oh, my goodness, they are good. They drizzle a crisp waffle with maple syrup, then cover it with blueberries, and then top it with mounds of whipped cream. So good — and the berries right from the fields really elevated this dish.
8. Sage & Solace Farm
Langley
I visited Sage & Solace Farm in Langley for a private floral workshop with owner Barbara Pearson. She is an extremely talented artist who has added florals to her mediums. During the workshop, she gave plenty of tips on how to create a more natural-looking bouquet and keep flowers fresh. The property is just darling, and in addition to flowers, you'll find ducks, geese, and chickens free ranging.
Most activities are by appointment, but the farm does have scheduled events open to the public. If you are lucky, you can snag one of their two vacation rentals. Barbara has guests who come to visit and rarely leave the property.
9. Down 2 Earth Plant Parlour
Langley Township
Lunch at the Down 2 Earth Plant Parlour was the first time I have eaten at a vegan restaurant. I did find it confusing at first when a waiter mentioned a fish sandwich for the special. It took me a while to realize it was a fried eggplant sandwich. Confusion aside, the food was very good, and there was much more variety than I expected. Owner Alysa Ferguson is just darling, and she takes eating healthy very seriously due to health scares in her family. She is very knowledgeable about the vegan lifestyle, and her food reflects her passion.
10. Into Chocolate Candy & Confections
Fort Langley
What a great name for a candy company. Delaine and Doug Willms opened Into Chocolate in November 2009, as it had always been Delaine's dream to open a candy store. She imports chocolate and candy from around the world, and she makes her own chocolates as well.
Delaine is not your ordinary candy maker. She has over 20 years of experience and has the professional chocolatier designation from the prestigious Ecole Chocolat. And the darling young ladies that work in the shop wear vintage uniforms that are so precious. Everyone is so happy, because who doesn't love candy?
Fort Langley, by the way, is a village community in Langley Township full of shops, museums, and a former trading post designated a national historic site.
11. Valley Commons Bistro & Tasting Room
Fort Langley
The Valley Commons Bistro & Tasting Room has a great location right in the midst of Fort Langley's shops, boutiques, and restaurants. They specialize in imaginative wines created from local British Columbia grapes. You'll find varietals from the fertile Fraser and Okanagan valleys. I loved the 2019 Harvest Table Red, which is an unusual blend of 60 percent pinotage and 40 percent pinot noir. The tasting room feels like a Parisian garden, with the pastel wall mural dominating the main wall.
The bistro offers a simple menu and also has three different boards: the Baked Brie Board, the Farmer Board, and the Salmon Board, which are perfect to nosh on while sipping on Valley Commons wines.
12. Sabà Café And Bistro
Fort Langley
What a memorable meal at Sabà Café and Bistro, the grand finale of the press trip I was on. Owner Simone Hurwitz has a varied background, having lived in South Africa, the United States, Italy, Israel, and British Columbia. All these cultures come together at Saba Bistro — the colors and flavors of the Middle East and the Mediterranean create a unique fusion cuisine unlike any you'll find anywhere else.
This community gathering space has become so popular, people are driving from Vancouver to eat here. The menu is seasonal, highlighting local flavors and ingredients. Located in charming Fort Langley it is easy to see why people are drawn to eat here.
13. Hilltop Diner
Langley Township
This local favorite has been in business since 1946. The Hilltop Diner is located in the Township of Langley, near Aldergrove. Opening the door, you step back in time, with vintage furnishings and scratch-made foods from local ingredients awaiting.
I always try to order something from the menu I haven't seen anywhere else. I tried the apple fritter breakfast sandwich, which was an apple fritter split in two and stuffed with sausage, egg, and cheese, then pan fried to cheese-oozing yumminess. Unusual, but oh-so good.
For more British Columbia travel inspiration, read: