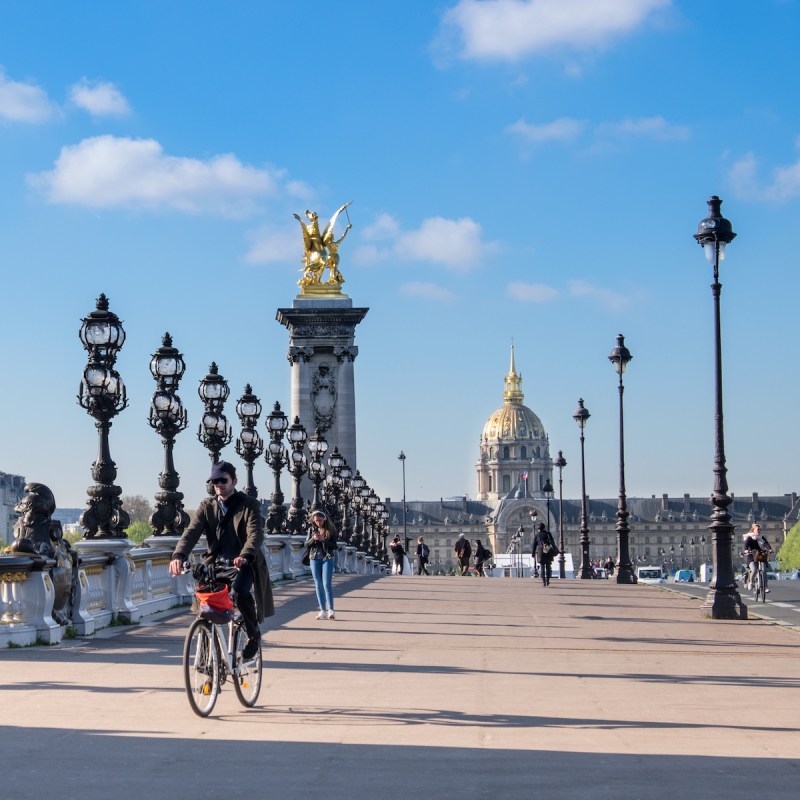 The best way to discover a city is on foot, there is no doubt about it. The slower you go, the more you see, the more details you notice, and the more relaxed you are. But a close second is renting a bicycle and leaving the traffic on the streets as well as the pedestrians on the sidewalks behind.
European cities have always been cycle-friendly; growing up in Germany, I rarely ever used public transport, let alone taxis, because I always had my bicycle with me when going to school or seeing friends. And today, with a push toward greener living and trying to not only make cities more liveable by opening up streets and avenues to pedestrians while closing them to cars, and (thereby reducing toxic fumes), more and more cycle lanes are springing up, offering a great and much safer way to explore the inner cities.
A recent survey by Jorvik Tricycles, one of the leading, global tricycle providers, highlighted the best European cities to be explored by bicycle and tricycle, looking at numerous factors considered to make a city rider-friendly, including
routes
mapped cycleways
air pollution
popular landmarks
the number of cycle tours available within each city
Taking first place: A city you'd not immediately expect.
Having visited all and even lived in one of these cities, and having cycled in a fair few of them, I can attest to the bicycle-friendliness of these cities and recommend either cycle trips following your own itinerary or organized cycle tours as a superb way to experience each destination.
1. Rome
I must admit that I never expected Rome to come in at first place. Amsterdam, or Paris, yes. But Rome? Rome has always been a bit of a challenging city to get around. Yet, not only is riding a bicycle much faster than getting stuck in car traffic, and as the city is also quite sprawling, if you are time-poor, then cycling is certainly better than walking, trying to reach as many of Rome's stunning sights as possible.
Add to that all the tiny lanes, hidden piazzas, and narrow alleyways, which you cannot even reach by car, and you stand a much better chance of discovering more "secret" and wonderful little places in Rome by bicycle.
While it is not necessarily known for its cycle lanes, there are some great routes which you can follow to get the most out of the city.
Pro Tip: With Rome being rather hilly, maybe rent an e-bike, or an old-fashioned Vespa, for that true Italian feeling.
2. Paris
Paris has an estimated 600+ miles of cycle lanes, and during COVID gained many more, with important throughways such as Rue de Rivoli having been closed to normal traffic, except buses and taxis, and opened to cyclists instead. You will find Velib stands throughout the city, and these rental bikes are easy to use, offering both mechanical as well as electric-assisted bikes, with green being the normal ones, and the light blue bicycles the electric ones. All you need is the app.
Pro Tip: You can also forgo the Velib cycles, and simply join a cycle sightseeing tour with bicycles provided. There are plenty of tours and routes to choose from.
3. Amsterdam
The city that springs to mind immediately when thinking of cycle-friendly European cities "only" comes in third place according to Jorvik's survey. There are actually more bikes than people in Amsterdam — 1.33 bikes per person, and according to Jorvik, Amsterdam has more than half a million miles of mapped cycleways (many overlapping) and 7,923 cycle routes throughout the city.
There are a wide variety of cycle tours in and around Amsterdam, including entire bicycle vacations in the Netherlands, so you have choices, choices, choices.
Pro Tip: Just like in Germany, in the Netherlands, you brake by reverse pedaling rather than using hand brakes. It takes a little bit of practice, but you'll get there.
4. Prague
Prague is another city where a bicycle saves you time and effort. And, if the weather is nice, you can cycle along the river Vltava and into the countryside, with plenty of mapped routes and organized sightseeing tours available. There are not half as many cycle lanes in this city as in others, but the traffic is not that bad either, so you feel a lot safer on the roads, and you are — at the time of writing — still allowed to ride throughout the Old Town, although there has been talk about banning it. Just be very careful with all the tourists around stopping unexpectedly for selfies.
Pro Tip: To save you from having to cycle up to Prague Castle, you can in fact take your bicycle on the funicular, as well as buses and the metro, for free.
5. Vienna
If you're planning to cycle in Prague, know that you can actually ride from there all the way to Vienna, through stunning countryside, for a really special trip with plenty of sightseeing stops along the way. But you can also fly in and then check out Vienna on two wheels.
The old Imperial city is very bicycle friendly and perfect for being discovered by cycling with tours ranging from inner city sightseeing to trips through the winelands surrounding Vienna. While the tours will provide you with bicycles, you can also go it alone with WienMobil, the public rental service with 185 rental stations throughout the city, which is very easy to use.
Pro Tip: While in the city, don't miss out on a tour along the Donaukanal, the Danube canal, be it on foot or on your bike, or, indeed, by boat.
6. Berlin
As I mentioned, growing up in Germany (quite a while ago!), everybody was always on bicycles, something that has only become more so over the last few years. Running close behind Amsterdam, there are some 72 million bicycles in Germany, nearly one per person, and the country has the infrastructure to match. In the capital, Berlin, it is no different. Just last year a detailed plan for more than 1,800 miles of cycle lanes was unveiled, and pretty much all roads and sidewalks already have cycle lanes in place.
To explore the city, which is large, with rivers, lakes, and extensive woodlands within the city limits, there are a plethora of organized tours, from the highlights of the sights to a ride along the (former) wall.
Pro Tip: While it is tempting to stop at every Biergarten along the route, beware that although much more lenient than the alcohol levels when driving a car (0.05%), there is still a maximum alcohol level of 0.16%, and you can end up being fined for drunk cycling.
7. Lisbon
In Lisbon, you will be torn between hopping on the cute trams, taking the elevators that dot the city to save your breath, or walking within the pedestrian zones. But, there are a few sights lying outside the city, such as the Aquarium on one side and Belem Tower on the other, that are best reached by renting and riding a bicycle.
Ride alongside the Tagus River down to Belem, and you can then eat your Pastel de Nata guilt-free. You can even take the ferry from Belem, and take your bike on it, to hop across to the beach of Costa da Caparica on the other side of the river to make a day of it. For more ideas, there are plenty of organized tours that are worth joining.
Pro Tip: One of the highlights of any Portugal vacation is the food you find locally. So, why not combine cycling and eating on this food tour?
8. Copenhagen
If you are interested in European royalty, you will have come across the (originally Australian) Crown Princess Mary taking her children to school in a tricycle. In Copenhagen some 50 percent of all residents commute by bike, regardless of the weather, or season.
The Danes' enthusiasm for the humble bicycle as a mode of transport is such that they even managed to get the Tour de France to Denmark in summer 2022. Riding your bike is simply the best way to get around here, and you can ride from the city to the green countryside and even the stunning Baltic coastline.
Pro Tip: Being "green" and sustainable is an important part of Denmark's approach to life — one of the reasons that Copenhagen keeps being selected as most liveable city in the world — so why not go on a tour searching out the city's many superb sustainable attractions?
9. Budapest
Budapest is an ideal city to explore on a bicycle, as it's easier to reach the spread-out sights, cross the river Danube on the various beautiful bridges, and really enjoy the wide Danube by following it along for a few miles out of the city.
With Pest being relatively level, riding is easy. While the Buda side is steep, you can either take your bike up on the funicular and then slowly wind your way back down again to river level, or opt for an e-bike, making the experience that much easier.
Pro Tip: You can either grab one of the MOL Bubi bikes from almost anywhere in the city, rent an e-bike, or join a sightseeing tour.