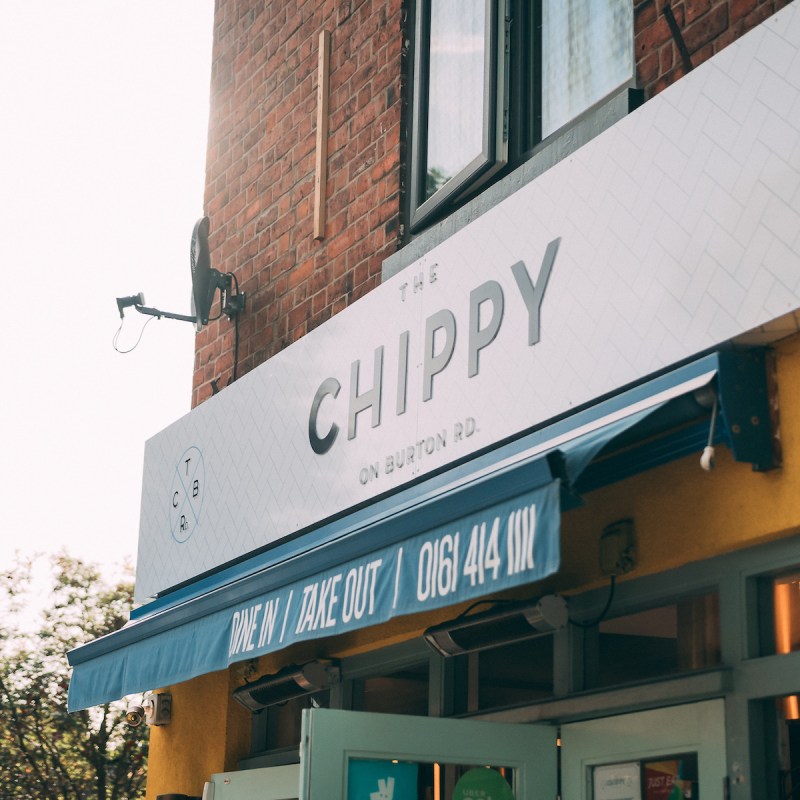 Fish and chips is pretty much the national dish of the UK, and you can get it in every village, town, city, and every place in between throughout the country. Many fish and chip shops and restaurants claim to be the best in their city, the best in the UK, even the best in the world, which is a bold claim. You might think you can't go far wrong at cooking fish and chips, but dry chips, cold chips, stale fish, and tough batter are all regular disappointments for anyone who loves trying out different "chippies."
To help you find the best one near you, with hot soft chips and crisp battered fish, in no particular order here are six amazing places to get fish and chips in the UK.
1. The Chippy On Burton Road
Manchester
The Chippy on Burton Road, which, if the name didn't give it away, is on Burton Road in Manchester. This is a modern fish and chip restaurant and takeaway that sells traditional fish and chips. The fish and chips are good, and ethically fried in sunflower oil, but the menu also includes a whole range of other dishes. At The Chippy on Burton Road, they pride themselves on locally sourced ingredients where possible — so the pies are from a local producer and the sausages from a local butcher. Plus this is a licensed restaurant, so you can enjoy your fish and chips with a glass of wine.
What To Order At The Chippy On Burton Road
With a fish and chip menu this diverse, you have to try something other than, or as well as, the fish and chips. Though, the fish and chips are really good! If you want to try a few of the other fish items too, the fish platter, either for one person or two, allows you to sample the fish dishes without committing to just one. The platter includes fishcake bites and squid, which are really tasty!
2. The Fried Fish Dealer At Blist Hill Victorian Town, Ironbridge
Shropshire
If you're looking for traditional fish and chips, The Fried Fish Dealer at Blist Hill Victorian Town still cooks their fish and chips the old way in beef fat, which you'll struggle to find in many chippies these days. This is a living museum, full of small streets and authentic Victorian experiences, so it's no wonder this is where you'll find fish and chips still being cooked in this way. All the fixtures and fittings inside the chippy are authentically Victorian, too, including the old-style cash register, and the staff are dressed up in Victorian clothing. It's a fun day out and the fish and chips are unique.
What To Order At The Fried Fish Dealer
This fish and chip shop is part of the Victorian experience at Ironbridge, and, as a very traditional old fish and chip shop, you won't find any modern dishes or many choices on the menu. In fact, you can order either fish and chips, chips on their own, or fish on its own. They do also sell individual bottles of traditional drinks, including cloudy lemonade, rose lemonade, and ginger beer. These Victorian-style drinks go perfectly with the fish and chips and with the whole atmosphere of this fish and chip experience.
3. The Noisy Lobster
Dorset
The Noisy Lobster is a family-run business on Avon Beach in Mudeford, Dorset, which includes a seafood restaurant, fish and chip takeaway, beach huts to hire (rent), takeaway coffee cabin, and the recent addition of a deli, shop, and bakery.
This is much more than just a fish and chip shop, but the fish and chips here are really good! Their fish is freshly caught each day and it arrives on your plate as haddock in beer batter served with chips, peas, tartare sauce, and crispy caper scraps. You can enjoy it either in The Noisy Lobster restaurant or from their takeaway, The Lobster Hatch. Either way, you'll have incredible views of Avon beach and all the way out to The Isle of Wight as you enjoy your food from the sea.
What To Order At The Noisy Lobster
It might be obvious, but while visiting The Noisy Lobster, if you want to splash out, consider ordering the lobster! It comes as a whole lobster or half a lobster with garlic and herb butter, a green salad, and chips. You won't find many better opportunities to eat lobster than in this restaurant named after it! Alternatively, the fish and chips here are cooked in beer batter, making them extra crispy. You can even get vegan fish and chips, which is battered banana blossom served with vegan tartare sauce.
4. Trenchers
Whitby
While many fish and chip shops claim to be the best, Trenchers can actually back the claim up. In 2019, they won best fish and chip restaurant at the national fish and chip awards. Their position on Whitby's harborside, in North Yorkshire, is perfect for a taste of the sea with a view. The diner-style booths bring a relaxed and welcoming atmosphere to the restaurant, and you can enjoy your food with a glass of wine if you like, as the restaurant is licensed. There's also a takeaway section next to the restaurant if you'd rather eat out by the sea.
What To Order At Trenchers
There's a choice of different fish for your fish and chip meal at Trenchers. You can choose between cod, haddock, plaice, and halibut steak — though check first as the halibut isn't always available. They are all good, and it's really down to personal preference as to which you choose. For me, the battered king prawns and fish bites with chili jam are a winner. There's an impressive selection of desserts too, and all are homemade. For a traditional seaside dessert, the Knickerbocker Glory is the one to go for. If you don't know what that is, it's a huge ice cream sundae with fruit, jelly, and lots of cream.
5. Mr Fish
London
Before you even step in the door, you can tell Mr Fish is a fish and chip restaurant with style. It is traditional fish and chips, but in a restaurant setting, and definitely with a restaurant menu. There's a nice little bar behind the counter where you can order wine and beer, or you can enjoy your fish and chips with a good cup of tea. What really stands out at Mr Fish is the service. The staff here are very friendly and will go out of their way to make sure you have what you need. You can also order fish and chips to take away.
What To Order At Mr Fish
There is an extensive menu here, so you have a lot of choice. For your fish and chips, you can choose cod, haddock, plaice, rock, lemon sole, or skate, all battered in the traditional way or grilled if you prefer. I don't think I've seen a choice like this at any other fish and chip shop. There's also grilled salmon and sea bass fillets, so a lot of different fish. They also have a very impressive vegan range, including vegan wraps and two types of vegan burgers. For something different, definitely try the fish burger. It's breadcrumbed, fried cod, served in a bread bun with salad and tartare sauce — a nice twist on your fish and chips.
6. The Mermaid Fish Bar
Barmouth, Wales
On this beautiful stretch of coastline in mid-Wales, The Mermaid Fish Bar has been producing their top quality fish and chips since 1964. This is a traditional seaside fish bar that uses the old ways of cooking fish and chips. The food is so good here, and so popular, there's often a line right down the street of people waiting to order. It's worth the wait though, as all those years of experience really do show in the taste of the food. Note, this is a takeaway fish bar, a very traditional fish and chip shop, so there's no seating inside. But with such a beautiful location and the beach nearby, there are plenty of places to enjoy your Mermaid fish and chips once you've bought them.
What To Order At The Mermaid Fish Bar
Because The Mermaid is so good at cooking traditional fish and chips, there's really only one thing you want here. There are also pasties and pies and burgers on the menu, but the cod and chips are certainly what most people come for. The batter is crispy, the fish is white and fluffy, and the chips are cooked perfectly. Be sure to order your fish and chips with mushy peas, and look for the mint sauce on the counter. The mint sauce is there free of charge for customers to add as much as they like. A dash of mint sauce in the mushy peas is delectable.
Inspired to get your fill of UK cuisine? Also read up on