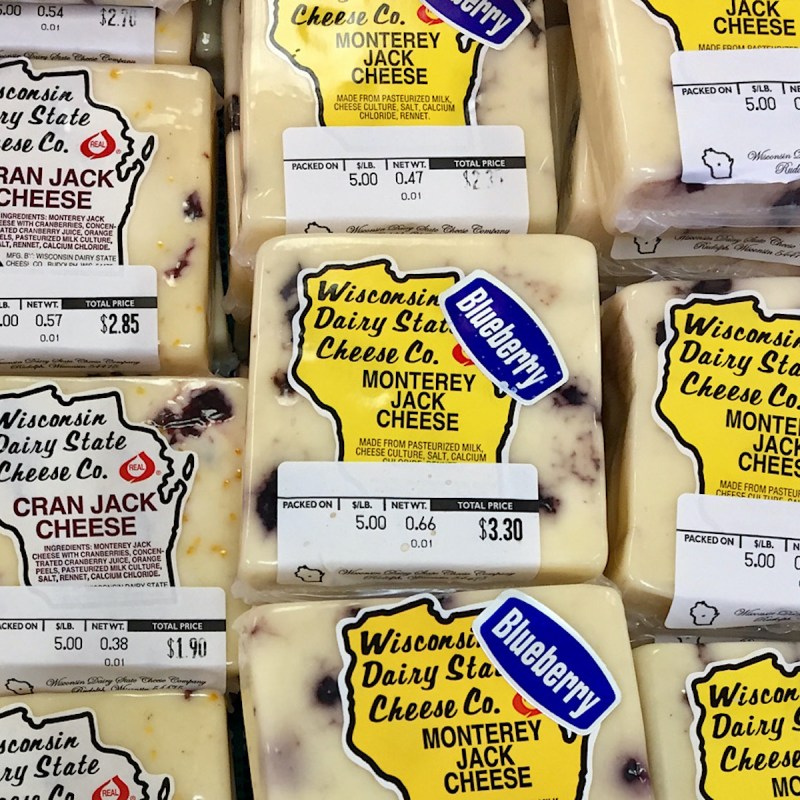 Wisconsin is known as the dairy state. So it's no surprise that the University of Wisconsin-Madison created America's first dairy school. The state ranks first for cheese production and fourth in world production behind the rest of the country, Germany, and France.
Since 90 percent of Wisconsin's immigrants came from northern Europe, the state benefited from their old-world cheesemaking skills and traditions. Now, Wisconsin is the only state that requires a license to make cheese and the only place outside of Switzerland where a Master Cheesemaker certificate, also known as a Ph.D. in cheese, exists. But still, only 90 people have achieved this difficult qualification in the United States.
Undoubtedly, many current cheesemakers are the descendants of European immigrants who moved to Wisconsin's small towns. Furthermore, many still use the same old-world traditions passed down through generations.
In no particular order, these Wisconsin shops offer a chance to experience some of Wisconsin's finest cheese rooted in a deep heritage.
1. Ellsworth Cooperative Creamery
Ellsworth
We enjoy a scenic drive through winding two-lane highways to Ellsworth Cooperative Creamery. As we enter the outskirts of town, a line of milk trucks emerges beside the factory, waiting to unload, signaling our arrival at a favorite cheese shop.
Ellsworth is 14 miles from Red Wing, Minnesota, the Great River Road, and about an hour's drive from downtown Minneapolis.
Granted, their store has a large selection of award-winning cheese and gifts, but this factory location only makes cheese curds. Some people prefer them fresh while others like them battered and deep fried. You can get Ellsworth's famous deep-fried cheese curds at the Wisconsin, Minnesota, Iowa, Alaska, and South Carolina state fairs.
We get a few different types of cheese each time we visit, along with flavored cheese curds.
Pro Tips: We buy Ellsworth take-and-bake pizzas. Employees make them with huge mounds of fresh cheese. Also, the cooler towards the back of the store has cheese on sale at terrific prices.
2. Marieke Gouda
Thorp
Marieke Gouda is right off Highway 29 in Thorp and about 30 minutes east of Chippewa Falls.
As the name implies, Gouda is their specialty and the only type of cheese they make. They make fresh batches every morning and have over 20 flavors.
Originally from Holland, Marieke Penterman and her husband moved to Thorp but missed having Gouda from home, so they decided to make it themselves. Four months after her first batch, she began winning awards and, in 2013, won the United States Grand Champion.
Marike applies old-world methods she learned in the Netherlands with materials and ingredients imported from her home country. We enjoyed watching employees make cheese through the cheese shop windows.
Along with their Gouda varieties, they sell other Wisconsin brands of cheese. They also have a large gift shop with specialty wines, local products, and imported Dutch products.
Although we didn't visit Cafe Dutchess at lunchtime, the tables in front of the aging room looked like a fun place to sit. As expected, two of their most popular items are the grilled Gouda sandwich and fresh deep-fried cheese curds hand battered with New Glarus Spotted Cow Beer Batter.
Pro Tip: Take a free self-guided tour of the dairy farm and factory year-round or a paid guided tour from June to August.
3. Nasonville Dairy
Marshfield
When it comes to Wisconsin cheese shops, Nasonville Dairy tops our list. However, with four Master Cheesemakers certified in 18 varieties (unheard of!), we're always looking for an excuse to visit the factory and nearby Marshfield.
Nasonville Dairy started making cheese in 1885, and the Heiman family has owned and operated the factory since the 1960s. A visit reminds us of how old-fashioned cheese shops looked when each factory sold its cheese from a small store onsite. Factories produced a specific cheese daily, so locals bought cheese according to its schedule. An employee cut your order fresh off the horn, block, or wheel, then wrapped it in white butcher paper.
Like in the old days, this narrow shop isn't fancy but is always busy. We like to visit in the early morning to watch the cheesemaking through the shop windows.
We always buy a bag of fresh cheese curds for our day trip snack. Then we'll purchase small blocks of cheese to take home. We have many favorites, but some top choices are bacon cheddar, two-year cheddar, Asiago, Baby Swiss, and Muenster.
We're not big fans of hot cheese flavors; however, some of their most popular selling flavors are hot pepper.
Pro Tip: Fresh cheese curds are made daily, except Sunday. To get the freshest, arrive before 9 a.m. Fresh cheese curds squeak when bitten into but lose their squeak after about 12 hours.
4. Hook's Cheese Company
Mineral Point
Look for Hook's Cheese Company's small factory in historic downtown Mineral Point on Highway 39. A common trait of award-winning Wisconsin cheese shops is a modest facility, and Hook's fits the role perfectly.
Tony and Julie Hook craft some of the best cheese in the world. Tony has over 50 years of cheesemaking experience, and in 1982 Julie beat the best competition in the world with colby to win the "World Champion Cheese" title against all other categories. She remains the only woman to accomplish this. Each year, Hook's Cheese consistently places at or near the top in the world's top competitions.
We like visiting Mineral Point as a day trip from Madison. Unfortunately, getting there early enough for fresh cheese curds becomes difficult. We've been there at 8:30 to find the curds have already sold out. However, we recommend trying the 15-year cheddar for a special treat.
Pro Tip: Enter through the back door, where an accessible ramp winds to the doorway.
5. Decatur Dairy
Brodhead
Travel 15 minutes east from Monroe to experience the world's first Master Cheesemaker of cheese curds. Steve Stettler, a third-generation cheesemaker, held Master Cheesemaker certifications in six varieties until he decided curds needed admission to the program. They listened, and now Steve owns seven Master Cheesemaker certifications. Unsurprisingly, his delectable treat won the 2022 World Champion Cheese Curds title.
We tried Steve's famous curds at Stoughton's SyttendeMai festival, where he volunteers at the Stoughton Lion's Club food tent. They serve his famous curds deep fried in a beer batter.
Granted, Muenster makes up half of Decatur Dairy's production; almost every shopper buys its colby Swiss. Customers rave about its delicate colby flavor with a trace of Swiss. Plus, it makes an excellent melting cheese.
6. La Grander's Hillside Dairy
Stanley
Tucked away on a quiet rural road 11 minutes southeast of Stanley, La Grander's quietly produces seven million pounds of cheese curds yearly for the popular Culver's restaurant chain to deep fry.
The La Grander family bought the plant in 1960 and has been producing high-quality cheese products ever since. With three Master Cheesemakers on staff, they make excellent cheddar, colby, colby jack, Gouda, Monterey jack, pepper jack, and curds.
A visit to their small store again reminds us of old-fashioned cheese shops. Staff cut your order from the horn, then wrap it. We bought a bag of delicious fresh cheese curds for the ride home, but new horns of pepper jack, made for the excellent Amish and Mennonite brand Troyer, tempted us, too.
7. Union Star Cheese
Fremont
Since 1911, four generations of Metzigs have owned and crafted cheese at Union Star Cheese. Dave and his son, John, earned their Master Cheesemaker certificates, Dave's in cheddar, and colby for John. John became Wisconsin's youngest Master Cheesemaker in April 2016
After graduating from college, John worked with cheesemakers in Ireland, Switzerland, and England. Now, he makes a variety of cheeses, from curds to specialty handcrafted European-influenced flavors.
Union Star's traditional cheese varieties include cheddar, colby, Muenster, Monterrey jack, string cheese, and feta. They have plenty of Artisan and European styles, too.
8. Widmer's Cheese Cellars
Theresa
Flags of Swiss cantons enhance Widmer's Cheese Cellars' 100-year-old building and signal that something special awaits inside the door. Just 25 minutes south of Fond du Lac, Master Cheesemaker Joe Widmer creates old-world style cheese the same way his family has for 100 years. Joe earned Master Cheesemaker certificates in the brick, colby, and cheddar categories.
Classic best describes Widmer's cheese. Joe's grandfather immigrated from Switzerland in 1905 and bought a cheese plant in 1922. Each generation of Widmers has lived in the house above the facility since. Throughout the years, little has changed with the family's cheese production. For instance, the same bricks, vats, and other original equipment from Joe's grandfather still make some of America's best-tasting cheese.
In addition, Joe is the only cheesemaker left in America who continues to use real bricks — the same bricks his grandfather used to separate whey from cheese by pressing them into forms.
Pro Tip: Widmer's consistently wins top awards but don't overlook the Aged Brick Spread, one of their best award-winning specialties.
9. Wisconsin Dairy State Cheese Company
Rudolph
One of the state's biggest and busiest factory cheese shops is 8 miles north of Wisconsin Rapids. Wisconsin Dairy State Cheese Company's large store carries over 300 different products making it a fun destination for a road trip. We took home a pack of string cheese, cranberry cheddar, Baby Swiss, and a bag of curds.
John Moran is the third-generation owner and Master Cheesemaker certified in cheddar and colby. His plant specializes in colby, Monterey jack, cheddar, and pepper jack cheese.
Editor's Note: Learn more about University of Wisconsin-Madison's dairy school and the facts mentioned in the first paragraph of this article here.