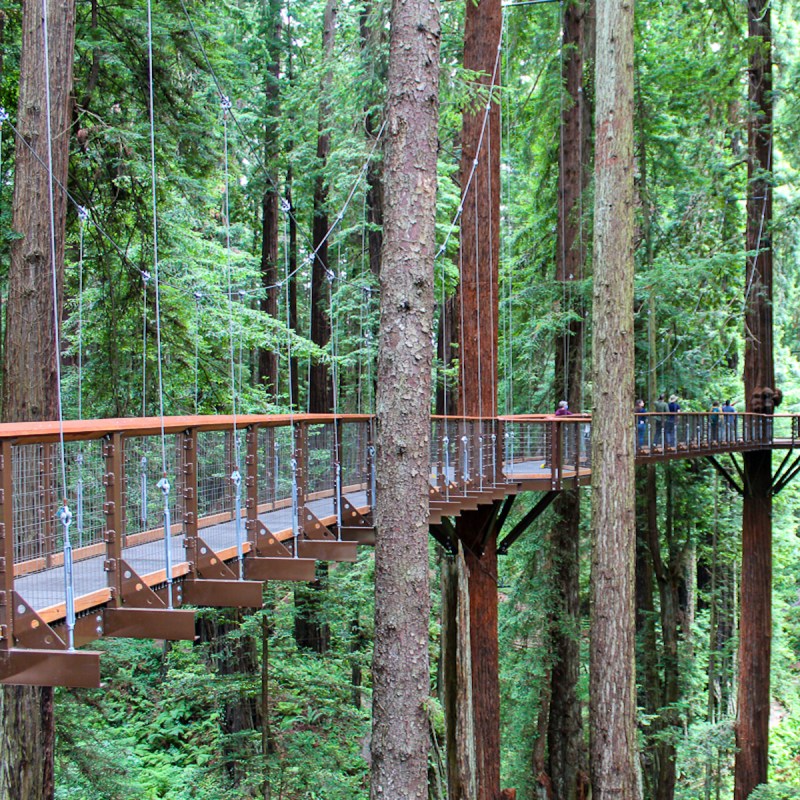 The highway to Eureka, one of California's oldest seaports, is lined with giant trees and crossed by wild rivers rushing to the Pacific. Millions of acres of redwood and conifer forest surround Eureka. Most of those acres are wilderness and public land.
However, evergreens aren't the only trees you will see. Oaks, maples, and Pepperwood are common and likely to put on a colorful show in fall.
Humboldt County's Eureka sits on Humboldt Bay. Wildlife fills the water, air, and shore. The 14-mile-long bay is the only deep-water port between San Francisco Bay and Coos Bay, Oregon. The bay is protected from the Pacific's storms by sand bars. The16,000 acres of surface water is a combination of navigable water and wetlands.
Fall is an ideal time to visit Eureka. Temperatures in the mid-60s and low rainfall make it perfect for a redwood forest walk, a harbor boat tour, a look at Victorian masterpieces, or a tour of outstanding street art. Nature, history, art, food, and libations that are uncrowded and budget-friendly make Eureka a great place for a fall getaway.
1. Redwood Sky Walk
Redwood Sky Walk is my top recommendation for things to do in Eureka. The experience of walking through an old-growth redwood forest on a walkway one hundred feet above the forest floor is exciting, inspiring, educational, and unmatchable.
The fully ADA-accessible engineering marvel is a one-quarter-mile loop. Walkways, platforms, and bridges meander through the trees, giving you a true birdseye view. In addition, a 369-foot rope bridge (not ADA accessible) offers a delightful route alternative for the adventurous.
The entrance to the Sky Walk is through the Sequoia Park Zoo. Sky Walk admission is included with your zoo ticket. For more information — Redwood Sky Walk.
2. Sequoia Park Zoo
The Sequoia Park Zoo is the oldest zoological garden in California. Opened in 1907, it is one of the smallest accredited zoos in the U.S.
The collection is small and well-curated. The zoo is in Sequoia Park, a 67-acre redwood forest in the middle of Eureka.
I especially enjoyed the walk-through aviary. It was a great photo-op for a brilliantly colored Golden Pheasant. However, for me and my camera, the zoo's star was a Red Panda that seemed to pose for the camera. Sequoia Park Zoo admission includes Redwood Sky Walk.
3. Sequoia Park
Sequoia Park is 67 acres of walking and cycling trails, redwood forests, meadows, creeks, ponds, and playgrounds. Located next to the zoo and Sky Walk, it's a lovely place to spend the day immersed in this urban redwood forest and the natural world.
4. Clarke Historical Museum
"The mission of the Clarke Historical Museum is to celebrate the rich and varied history of Northwestern California by preserving, sharing, and interpreting that history in ways that increase knowledge, enrich the spirit, engage the mind, and stimulate the imagination," the Clarke Historical Museum stated.
Located in Old Town, the Clarke accomplishes its mission beautifully. The Native American Collection has a spectacular selection of woven baskets from the Hupa, Karuk, Wiyot, and Yurok tribes. In addition, a museum gift shop is an excellent place for a souvenir of Eureka.
5. Eureka Victorian Walk
Much of Eureka maintains its Victorian-era architecture and Northern California's "boom and bust" golden age. Historic buildings are everywhere. That includes America's most photographed Victorian, Carson Mansion. All types of Victorian craftsmanship can be observed and photographed on this Victorian Walk.
6. Old Town
Old Town Eureka is a busy and beautiful district. Most Victorian-era commercial buildings have been lovingly maintained and remain in operation. Shops, galleries, eateries, breweries, bars, museums, and entertainment venues call this district home. It's made for walking. Give this Old Town Eureka California Walking Tour a try for a walking history lesson.
Another way to see this historic area is by horse and carriage. An Old Town Carriage Ride is a lovely "slow tour."
My heart jumped when I saw Just My Type. Seeing a letterpress in operation brought back the years I spent in the graphic arts world. Stop by the shop, and you may be lucky to see the mechanical device in use. There's a rhythmic dance between the operator, the paper, and the machine. Inside are paper treasures of every description.
7. Walk The Waterfront
Eureka Waterfront Trail is urban nature at its best. Six and a half miles of trail pass through Eureka's waterfront, sand dunes, salt marsh, and willows. Walkers, cyclists, rollerbladers, and paddlers are welcome to immerse in the natural world of Humboldt. Audubon bird walks of the trail are open to all. Meet at the foot of West Del Norte Street every third Sunday at 9 a.m.
Boat Tours
Tour boats ticket booths are on the Old Town Waterfront. There are nature viewing tours and cocktail cruises. Kayak rentals are available if you'd like to paddle Humboldt bay.
Eat At Humboldt Bay
An alfresco seafood lunch or dinner on the waterfront is the best way to get a taste of Humboldt Bay and its seafood bounty. Fishing is part of the economy in Northern California. Fresh fish is available daily, weather permitting.
Check waterfront menus for the catch of the day. It might be locally caught salmon, albacore, rockfish, ling cod, halibut, flounder, Petrole sole, or sand dabs. Crab is also harvested in this area. Crab season is typically from December until July. My favorite local seafood is the sand dabs, especially pan-fried and sauced with lemon-caper butter.
8. Humboldt Arts
The arts are alive and thriving in Eureka, California. Considered an artist colony by many, you can create a full itinerary of art events when visiting Eureka.
Morris Graves Museum Of Art
Home to the Humboldt Arts Council, the Morris Graves Museum Of Art is the center for Humboldt County arts. The goal of bringing art to everyone is accomplished through museum exhibitions, schools, tours, art camps, and family art days. In addition, changing and permanent exhibitions show local and global artists.
Carnegie Library
The Morris Graves Museum is housed in a Carnegie Library building. Like 2,508 other Carnegie libraries from around the world, this library was built with a $20,000 grant from Andrew Carnegie in 1901. I am fond of these buildings, and Eureka's is one of my favorites. The restored structure still has its two-story solid redwood columns.
Arts Alive
From 6-9 p.m. on the first Saturday of every month, Arts Alive hosts a live music performance and art exhibition at the Morris Graves Museum. Admission is free. All are welcome.
Eureka Mural Tour
I love street art and so does Eureka. New pieces are always being added to the collection. Eureka loves its street art so much they have an annual celebration — Eureka Street Art Festival. If you can't attend the August festival, try the Eureka Mural Tour.
9. Sidetrip To Ferndale
Ferndale, California, is called "Cream City." Surrounded by pastureland and dairies as far as the eye can see, the nickname makes sense.
Dairies started to prosper around Ferndale in the 1860s. Fortunes were accumulated by dairy owners. Many built Victorian houses known locally as "Butterfat Palaces." Today, Ferndale has one of California's best-maintained collections of Victorian architecture. Best of all, it's only 20 miles from Eureka.
Ferndale is an intact Victorian village. This tiny town is Americana at its best. Main Street has Victorian buildings housing hotels, shops, restaurants, and watering holes. Spend an afternoon or a weekend discovering the treasure chest of Victorian-era buildings. Stop into the Ferndale Museum for a look at how cows built an empire. Then go to Main Street and have a hot dog at Red Front Store.
Pro Tip: Take your hot dog to the bench in front of the store. It's a perfect place to watch the world pass by.
Getting There
Air
At 17 miles from Eureka, the closest domestic airport is Arcata-Eureka — California Redwood Coast Humboldt County Airport (ACV). ACV is served by United, American, and Avelo airlines.
Three international airports are less than 300 miles from Eureka. Sacramento (SAC) 281 miles, Oakland (OAK) 285 miles, and San Francisco (SFO) 292 miles.
Auto
Eureka is located on US Highway 101. The drive is one you will want to repeat many times. Conifer forests are the main scenery once you enter Mendocino and Humboldt Counties. You'll have many opportunities to stop and visit the state and national forest where the world's largest trees live — Coastal Redwoods.
Why Eureka?
This historic seaport played a significant role in California's early settlement and boom time. People from around the globe came to California during the gold rush of the mid-1800s. Many came to Eureka. The protected deep harbor made Eureka a prosperous seaport shipping lumber, fish, and farm goods to San Francisco.
Today Eureka is surrounded by protected lands and wildlife preserves. In fact, there is a protected redwood forest in the middle of the city. Visual and performing artists make the region home, providing visitors with beauty for eyes and ears. The community overflows with pride in the Victorian-era buildings and history.
To learn more about Eureka, go to Visit Eureka. For more about northern California fall trips see: