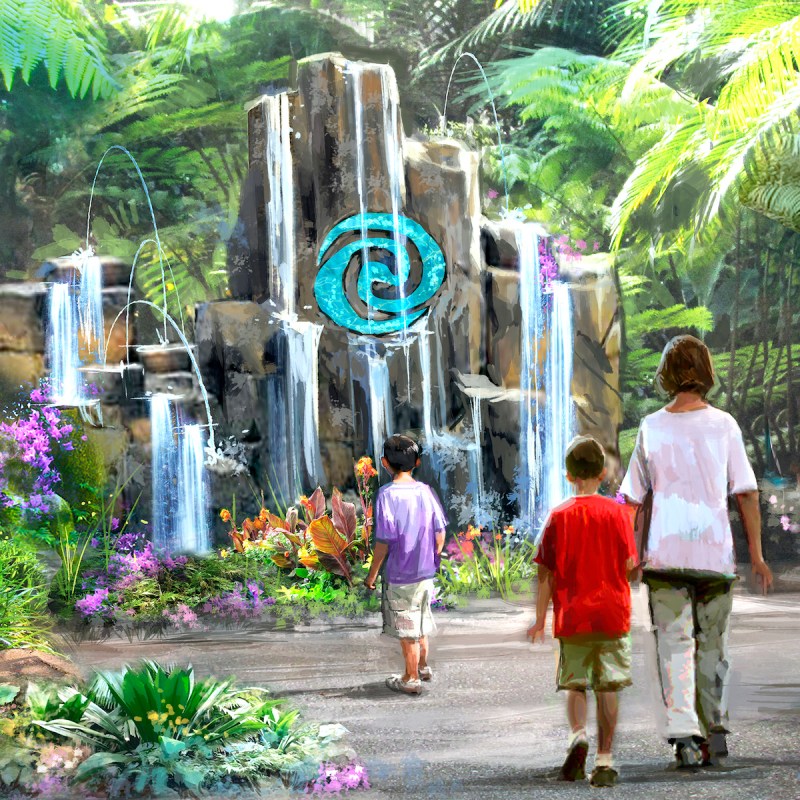 Walt Disney Imagineers are sharing the first look at a new attraction coming to EPCOT. In celebration of World Princess Week, we're seeing some design details within "Journey of Water, Inspired by Moana." When it opens, this will be the first-ever attraction based on the Walt Disney Animation Studios film Moana.
"We were also inspired by Moana's fierce determination to protect her environment," said Reid Ekman, lead concept designer for Walt Disney Imagineering, in a blog. "Her bond with water is unique, and we are excited for guests to learn about the importance of water and experience its playful personality just as she did."
Journey Of Water, Inspired By Moana
Designed for all ages, the new attraction will allow guests to explore and engage with water as it travels from the sky to the ocean and back again. Guests will see familiar shapes and characters from the film carved into rocks and waterways throughout the attraction.
Walt Disney Imagineering partnered with artists and cultural consultants from Walt Disney Animation Studios to bring the experience to life and capture the beauty of a natural water cycle.
"As part of our design process, Imagineers create models, mock-ups, and maquettes to bring our beloved characters and stories into the parks in sometimes unexpected ways," said Ekman.
The Park's Design
Photos on the Disney Parks Blog show the early stages of the design process before painting and other details have been finished. The experience is inspired by Moana's friendship with water and her devotion to protecting the environment.
Sculptors add detail and texture until the emotional expression of the character's carving is just right. Then, they do a paint study and create full-scale samples to test the final materials and carving techniques. This way, the production and creative vision come together.
One photo shows a sample from the mountain-like forms that will be the entrance to Journey of Water. Fans will be excited to see Moana's iconic spiral!
"Journey of Water, Inspired by Moana will be brought to life within World Nature — the EPCOT neighborhood dedicated to understanding and preserving the beauty, awe, and balance of the natural world," said Ekman. "Moana is the perfect role model to inspire us to protect and conserve water and guide us through the Journey of Water."
Creating The Rockwork
On Instagram, Zach Riddley, creative portfolio executive with Walt Disney Imagineering, explained the craft of creating the rockwork at the attraction. He described it as a blend of art and science.
"Seeing this carving and sculpting progress live is one of the things I love most about my role as an Imagineer," Riddley said in a post. "The range of textures are inspired by real-world formations — all the way down to the tiniest details and variation that, when finished, should be impossible to distinguish from the real thing."
Journey Of Water Opening
Journey of Water, Inspired by Moana was announced in 2019 with an opening date slated for 2021, but construction was delayed because of COVID-19. With construction underway, a confirmed opening date isn't expected until sometime in 2023.
Read more about EPCOT and Walt Disney World, including: