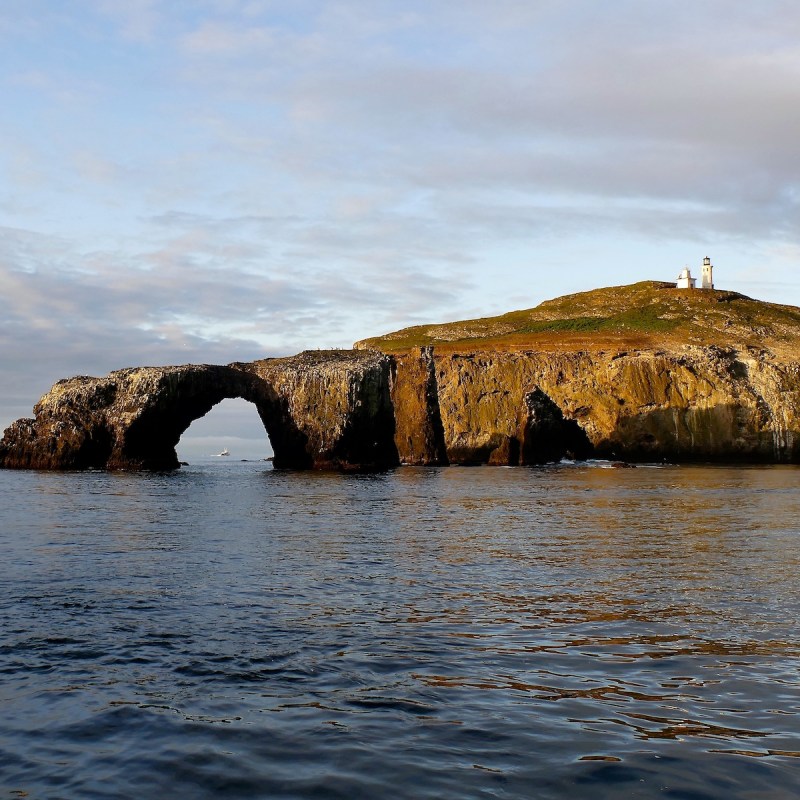 California is home to nine national parks and an additional 19 monuments, all showcasing a wide array of landscapes from the beach to desert and mountains to forests. Within this collection are some of the oldest and newest parks in the country.
Most of the parks get very busy in the summer, making them less pleasant to visit. Others may be restricted at certain times of the year due to hot and cold weather extremes. Turns out that fall is a great time to visit many of these parks. With smaller crowds and mild temperatures, this is a great time to hit the road and explore.
1. Channel Islands National Park
As one of the least visited national parks in the United States, visitors are really in for a treat when they make the trip to the Channel Islands. What makes it even better is the fact that it's bordered by a national marine sanctuary. Combined, this enormous swath of land and water is protecting a significant amount of endangered and at-risk plant and animal life.
Fall is a particularly great time to visit the Channel Islands because it's when fin whales and blue whales can be seen migrating through the region. While fin whale sightings are less common, this is home to the largest concentration of blue whales in the world, so there's an excellent chance of spotting them. Avid bird watchers will also find autumn to be a good time to spot a wide variety of seabirds.
Channel Islands National Park is located about an hour from the coast of Ventura, which is north of Los Angeles. There are a total of five islands in the park, with the most commonly visited being Santa Cruz. It takes planning to get here since most guests arrive by boat and advanced reservations are needed. Island Packers provide regular ferry service to most of the islands.
Pro Tip: There are no services in the park. Bring everything you'll need for the day and be prepared to take everything back to the mainland, including your trash.
2. Joshua Tree National Park
Joshua Tree National Park, located two hours east of Los Angeles, is well known for its namesake short and spiky trees found throughout the park and the surrounding area. As the park is part of two deserts — Colorado and Mojave — summer is not an ideal time to visit. As temperatures cool, fall is a terrific option. Also, while some of the popular viewpoints do get busy, there are always uncrowded areas to explore.
If you're looking for a short and easy hike there are two options: Barker's Dam and Hidden Valley. Each is a one-mile loop and relatively flat. The first trail features a dam built in 1900 by CO Barker along with Native American petroglyphs. Hidden Valley is supposedly the place where cattle rustlers hid their illicit herds. Along both routes, you'll see plenty of signage describing the flora and fauna.
For a longer and more challenging hike, head to the Fortynine Palms Oasis Trail. For 1.5 miles, you'll trek up and over a rocky ridge and into a cool, secluded valley of palm trees fed by an underwater spring. Take some time to rest and appreciate the scenery. Then, hike back out while enjoying the views of Joshua Tree and surrounding cities.
Definitely set aside time to drive to Key's View which looks out over the Coachella Valley. Other popular stops include Skull Rock, Cholla Cactus Garden, and Keys Ranch.
Pro Tip: There are no services in the park other than a visitor's center, gift shop, and restrooms. When you get hungry, head to the surrounding town of Joshua Tree. This funky unincorporated area is full of good restaurants, cafés, and vintage shops.
3. Sequoia And Kings Canyon National Parks
A trip to Sequoia and Kings Canyon National Parks (two parks that are managed as one unit) is all about the record-setting Giant Sequoia trees. These massive trees can grow up to 275 feet and live for as long as 3,000 years.
Early fall in these parks is ideal when temperatures are mild and summer crowds have declined. However, late fall may see some snowfall as these parks are at a higher elevation. Sequoia and Kings Canyon are approximately a four-hour drive north of Los Angeles or four and a half hours south of San Francisco.
In Sequoia National Park, you'll find the world's largest tree by volume, General Sherman. It's a whopping 52,508 cubic feet. No trip to the park is complete with a stop at the Congress Trail. It's here that you'll see the General Sherman Tree along with several other impressive specimens. The 2.7-mile trail is fairly easy and meanders through hundreds of trees and may include wildlife sightings. On your way to Congress Trail, you'll pass by the visitor's center and the Giant Forest Museum, both worth a stop.
For King's Canyon, head to General Grant Trail. This half-mile trail winds past the General Grant Tree, the Fallen Monarch, and the historic Gamlin Cabin. The visitor's center, a restaurant, and a gift shop are nearby, making this a great starting point for your visit.
Pro Tip: Sequoia and Kings Canyon National Parks have experienced wildfires for the past few years, causing closures and extensive damage. Be sure to check the park website before any visit to learn the best ways to enter and transit through the parks.
4. Redwood National Park
While the temperatures actually rise in Redwood National Park in autumn, they rarely exceed 80 degrees, making it a great destination at this time of year. Like most other parks, all the summer visitors have gone home. Most visitors drive to the park which is located about five and a half hours north of San Francisco.
Redwoods National Park has a very unique feature in the fall; the sight of migrating gray whales along the coast. While most people think only about the majestic trees in this park, it is located on the Pacific Coast. The main visitor center is located on the beach. Walk out the back door, onto the sand, and enjoy the ocean views.
For an easy, but scenic hike amongst giant ferns and Redwoods, head to Prairie Creek Trail, recently renamed Karl Knapp Trail, in honor of a long-time state parks employee. This easy 2.4-mile hike can be extended with interconnecting trails.
Be sure to look out for elk. In this region, there are about 1,000 Roosevelt elk, a breed that was hunted almost to extinction and has rebounded nicely thanks to conservation efforts.
Pro Tip: If you're approaching the park from the south, be sure to add Avenue of the Giants to your map. This 31-mile drive through Old 101 is lined with towering Redwoods, some coming remarkably close to the road.
5. Yosemite National Park
Among the oldest national parks in the United States, Yosemite is much beloved by Americans, and for good reason. This park is well known for its towering waterfalls, expansive meadows, and the granite cliffs of Half Dome. Yosemite can get seriously crowded in the summer, so waiting to visit until the fall is ideal. There's even the possibility of enjoying the colorful fall foliage. The park is three hours due east of San Francisco.
Some of the most popular destinations or viewpoints in the park include Yosemite Falls, Half Dome, El Capitan, Tunnel View, and Bridalveil Fall.
Hikers have many choices of scenic trails ranging from easy to difficult. If you're up for a real challenge, consider the hike and climb to Half Dome, a fifteen-mile round-trip adventure. The final 400 feet is a climb-up steel cable and requires a permit.
Easier trails include the 1.2-mile round trip hike to Bridalveil Fall and the 2.2-mile round trip walk through Lower Mariposa Grove.
Pro Tip: Unlike most of California's national parks, there are a large array of services in Yosemite including lodging, restaurants, and shops. There are several historic hotels worth staying for a few nights including The Ahwahnee and the Wawona Hotel.
6. Devils Postpile National Monument
Located just an hour south of Yosemite is Devils Postpile National Monument. Towering 60 feet in the air, this formation is one of the world's finest examples of columnar basalt rock. To the untrained eye, it looks like hundreds of logs standing on end just waiting to tip over. In reality, it's the result of a cooling lava flow that took place over 100,000 years ago. Early fall is the ideal time for a visit since the crowds have decreased and the weather is not yet too cold. Once it snows, the roads to this monument close.
The trail to Devils Postpile is just 0.8 miles and mostly flat. A 0.25-mile trail takes visitors to the top of the basalt rock for great views of the valley. The most popular hike in this area is to Rainbow Falls. Considered a moderately easy hike, the 5-mile round trip trail follows the river and ends at the 101-foot falls.
Pro Tip: There are no services in this park. So when you get hungry, head to the nearby town of Mammoth Lakes. Here you'll find plenty of restaurants, cafés, and breweries.
7. Death Valley National Park
With a name like Death Valley, it's hard to imagine why anyone would want to visit this park. However, it is indeed worth a visit after the heat of summer has passed. Once fall arrives and the weather has cooled, this park is full of otherworldly sites, massive sand dunes, colorful rock formations, and miles of scenic trails. Expect the drive to this park to take around three and a half hours from Los Angeles (it's just two hours from Las Vegas, making it a perfect day trip from the city).
A few of the highlights within the park include Zabriskie Point, Artists Palette, Mesquite Flats Sand Dunes, Devil's Golf Course, and Badwater Basin. Photography enthusiasts should definitely get up for the sunrise over the Badwater Basin salt flats — the lowest point in North America.
Hikers should head to the Golden Canyon trail, a 1.5-mile out and back hike that ends at the top of a rock formation called Red Cathedral. From here, you have expansive views of the surrounding canyon.

Pro Tip: While there are services in Death Valley, they are concentrated primarily in one part of the park. Be sure to arrive with a full tank of gas, and keep plenty of water in your car.
For more information on traveling to California, check out these articles: