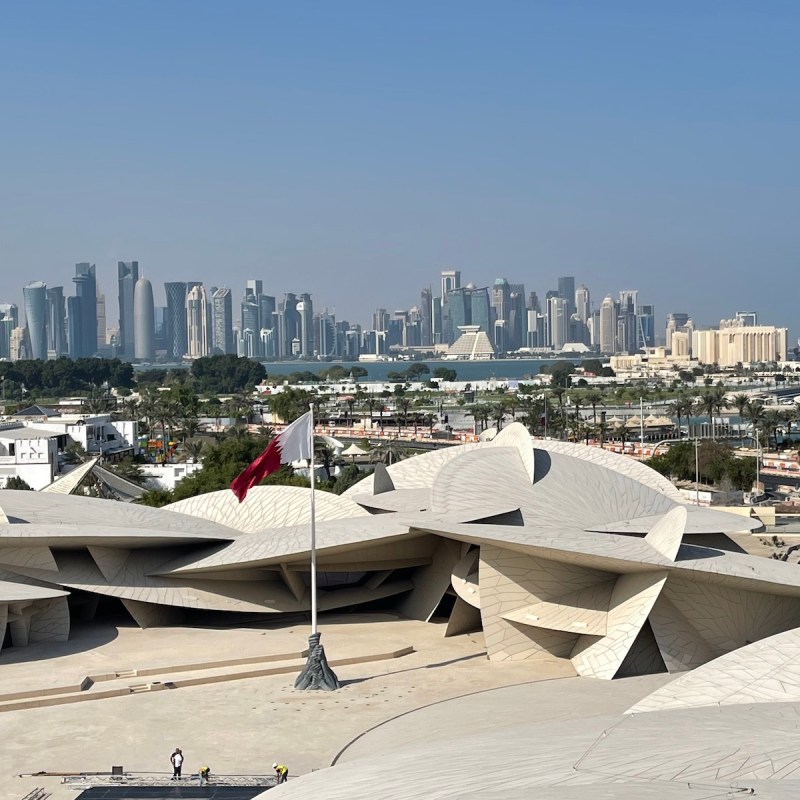 The small state of Qatar has people from around the globe living and working there, at the last count roughly 100 different nationalities. So, you can imagine that eating out is fun. You can eat your way around the world and sample a different cuisine every time you go out for a meal. In addition to the variety of cooking methods and recipes to try, you also have the choices of top-notch celebrity-chef lead restaurants and small cafés. From fine dining to street food vans and tiny juice stalls, you can pretty much spend as much or as little as you want.
Having lived in Qatar for a year now, I try to eat out at least once a week to sample new restaurants. That said, there are some definite favorites to which I return over and over again, and I want to share those with you. After all, one good meal can be a fluke, but enjoyable repeat performances are more reliable.
Here, I give you my current preferences, not in any order. They range from fancy restaurants, branches of which you might find in your city, to cafés; from local cuisine to tastes from around the world.
1. Jiwan
National Museum Of Qatar
Whenever someone asks me to recommend great Qatari food combined with a bit of a wow factor, I point them straight in the direction of this gorgeous place. Jiwan by Alain Ducasse is located in the beautiful National Museum of Qatar which was designed to look like a gigantic desert rose, a gypsum and sand formation you find in the desert. Inside the restaurant, you have the delicate 3,000-piece Swarovski crystal wave-like chandelier. Sit on the terrace in the cooler months and you can enjoy the views across the city and the turquoise bay.
What To Order At Jiwan
The cuisine is modern Qatari. You are welcomed with a turmeric shot, and the menu is probably full of things you have never heard of, but your server will explain all the dishes to you. For starters, try the leeks with walnuts or the beetroot tabbouleh. If they have hamour fish for the main, have that. Otherwise, try the confit lamb. For dessert, the house-own pistachio baklava is a must.
2. Nobu
Four Seasons Doha
Who doesn't know Nobu? I nearly feel like I am offering you an expensive version of a chain restaurant, but the Nobu Doha is not only the largest in the world but also one of the most spectacular. Set on its own peninsula by the Four Seasons Hotel Doha's marina, you get 360-degree views of Doha, surrounded by the light green waters of the bay. The architecture is great, the service is superb, and the food is excellent.
What To Order At Nobu
Come for Friday brunch. An institution in Qatar, Friday brunches involve plenty of the typical Nobu food. Plenty of sushi, signature dishes, and, depending on which package you choose, endless champagne, cocktails, or mocktails. It is the best and least expensive way to sample the Nobu cuisine and eat and drink for three hours in a fabulous location.
3. Hakkasan
St. Regis Doha
Hakkasan, another "chain," but a very nice chain restaurant indeed, has recently pushed Nobu off the top spot for me. The Asian food is simply delicious here. The interior décor is stylish, the service is wonderful, and the food is truly superb. You can enjoy brunch, similar to Nobu, with different packages available, or come for dinner. The interior's cozy little nooks are perfect for a romantic meal for two. There is a terrace, but without views, so you might as well enjoy the air conditioning inside.
What To Order At Hakkasan
Let me start with a strange piece of advice: order a la carte, or the brunch menu, but don't order the tasting or set menus. I know, normally that is exactly what you should do, but I found that I did not enjoy the tasting menu as much as the a la carte, and my friends agree. Instead, try the dim sum platter, the crispy tiger prawn, the Peking duck, and whatever you do, do not miss the sesame prawn toast with truffle. For dessert, have the spiky lemon cake.
4. BOHO Social
Katara Cultural Village
If you want hip, young, comfortable, and very colorful, then look no further than BOHO Social in Katara Cultural Village. This is one of my favorite places for a relaxed lunch, as you can lounge around on comfy sofas, looking out across the sea from the terrace, or find a nook inside where there is so much to see and take pictures of, you'll forget to eat.
What To Order At BOHO Social
While relaxing on your sofa, you can nibble on a variety of snack foods, from local dishes to sandwiches and salads. Must-orders are the truffle flatbread, the pulled beef bao, the grilled chicken and mushroom pasta, and the burgers. Plus, they have famous cakes and desserts, so try and leave some space.
5. Ralph's Café Van
The Fire Station
Whenever I have a morning meeting with someone, I tend to suggest Ralph's coffee van in the Fire Station. You sit surrounded by art and the many galleries that have taken over the old fire station. The little, cute coffee van serves a decent coffee. That's it, really. A coffee place, but a lovely place to sit, look at the art, look out across Al Bida Park toward Doha's skyline.
What To Order At Ralph's
Try the fresh croissants. They are crumbly, buttery, and perfect.
6. Rosemary Café
Al Hazm Mall
In Rosemary Café at the stunning Al Hazm shopping complex, where the rich Qataris come to shop for trinkets and normal mortals just window shop, you sit under a ceiling of pink flowers. This being a desert country, they are fake flowers, but the effect is still appreciated. With plenty of pink little details everywhere, it can get nearly too much, but only nearly. Come here for their spectacular cakes, for photographs, or simply to people-watch. Don't miss it because it is rather lovely.
What To Order At Rosemary Café
I come here for breakfast. The locals' favorite breakfast is karak and chapati, something you don't get everywhere, but is delicious. Karak is a ginger-spiced milky tea, and chapati is an Indian fried flatbread that is stuffed with cheese and honey for breakfast. You can get it around Doha, such as in the lovely MIA Park by the Museum of Islamic Art, where there is a little karak and chapati food truck, or you can sit here, under a pink canopy, and indulge. The French toast is rather lovely, too.
7. BiBo
Al Gassar Resort
Sometimes I simply don't feel like a large meal, and prefer smaller nibbles. That's when Spanish tapas hit the spot, and BiBo Dani Garcia is perfect. BiBo is a wonderfully over-designed restaurant full of stone columns, chandeliers, tiled bathrooms, a shiny bar, and pink flamingos. This is the best place to spend an evening with a good bottle of red wine, good company, simply ordering small dish after dish, until you're done.
What To Order At BiBo
I am a bit of a Tapas enthusiast, and wherever I spot a little tapas bar, I tend to try it out. Often though, at least a few tapas disappoint me. Here, I loved everything I ordered and ordered repeatedly. Definitely have the pan con tomate, the croquetas de puchero, and the Wagyu foodball. Wash it all down with a lovely bottle of Tempranillo, and you'll have a lovely night.
8. Parisa
Souq Waqif
In the traditional Souq Waqif, the most popular restaurant is probably Parisa Souq Waqif, an incredibly colorful Persian restaurant. While it is run by the Ritz Carlton, the prices are affordable, and the setting is unique. Mirrors, tiles, bright mosaics everywhere, a fountain tinkling in the room, and plenty of chatter in this always buzzing restaurant make for a great atmosphere.
What To Order At Paris Souq Waqif
The menu is extensive and typically Persian. The portions are enormous, so try and share a few platters of chicken and rice, or the prawn dishes. The watermelon salad with pomegranate is lovely, and the Koresht Fesenjan, a chicken stew with walnuts and pomegranate is tasty and very typical.
9. Orient Pearl
Corniche
The Orient Pearl is a vast restaurant right on the Doha Corniche, nothing fancy, and hugely popular with locals. Sit outside on the terrace or inside in the private dining corners and bring an empty stomach. The restaurant serves everything great about Middle Eastern food, from Qatari hamour fish grilled to perfection, Lebanese Shish Taook, a lean chicken skewer with garlic aioli, and Egyptian Foul Mouala, to grilled halloumi, Fatoush salad, great spicy potatoes, and more.
What To Order At Orient Pearl
Everything. Truly. If you love Middle Eastern food, or if you've never had it, try as much as you can. If you can't finish it, they pack it up for you to take. I often order meals from there, and we eat them all weekend.
For more information on traveling to Qatar, check out these articles: