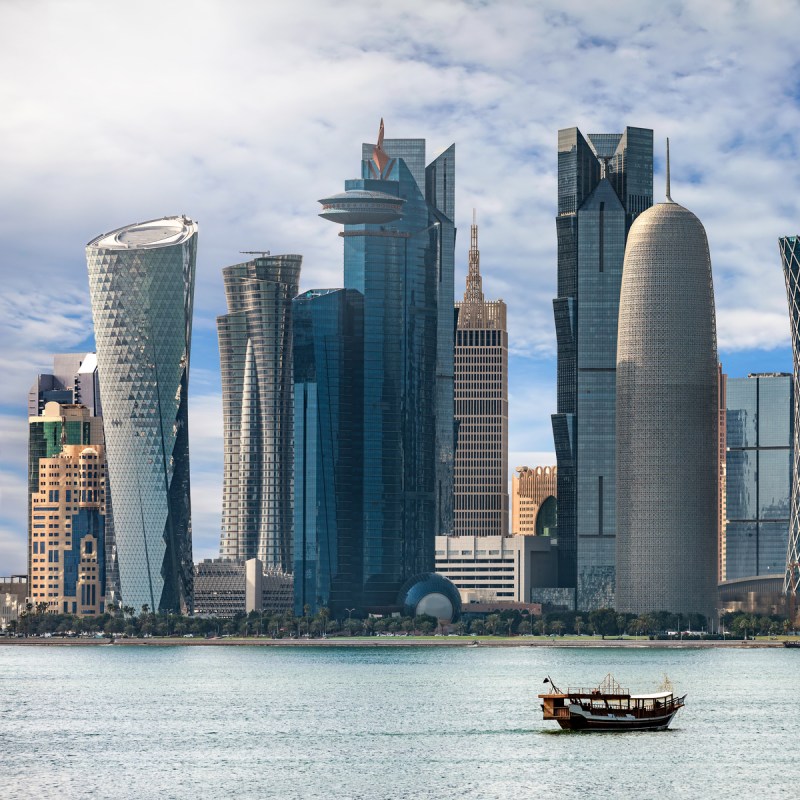 The desert state of Qatar, a tiny thumb-shape extension off the eastern coast of the Saudi Arabian Peninsula, is probably most famous for its airport, which has long been a transit hub between east and west. More recently, the country has garnered attention for being the host of the 2022 FIFA (Soccer) World Cup.
I have called Qatar home twice now and have seen incredible changes taking place over the last 20 years. Not only have remarkable historic finds been made quite recently, from archaeological treasures to petroglyphs, but this small country, which is just slightly smaller than Connecticut, has turned itself into a veritable art hub with superb art installations and world-class museums.
Qatar is a modern country that is embracing its ancient traditions and culture, offering a super-modern metropolis reflected in its capital Doha, desert escapes, a surprising number of natural wonders such as wildlife reserves home to the oryx (known as the unicorn of the desert), plenty of history, and a host of luxurious treats.
Here are my top reasons why you should not just transit through the airport but stay a few days and have a good look around. You'll be amazed at what you will find.
1. Delve Into Doha
The capital, Doha, is a great city where old and new come together very well, with plenty of things to see and do. An absolute must-do upon arrival is a walk along the 4.5-mile-long Corniche, the seaside promenade that has the beautiful Doha Bay on one side and the amazing skyline of the city on the other. Then there is Katara Village, a cultural hub filled with traditional architecture from old-fashioned pigeon towers to two superb mosques, one decorated in Persian-style blue tiles, the other completely covered in gold, which looks superb at sunset. There are galleries, murals, restaurants and cafes, and a lovely city beach, all ready to be explored. Don't miss BOHO Social at the end of Katara Beach, a perfect place for lunch with a view.
One of my favorite districts to walk through is Mshereib, a design and art area, held together by the same architecture throughout and home to countless great cafes (try Rusk for breakfast), art galleries such as M7 (which just hosted the Christian Dior exhibition), and a perfect small mall, Galleria.
2. Visit The Superb Museums
Ever since it was opened in 2008, the Museum of Islamic Art has been one of my favorite museums. Not only is the architecture by the late I.M. Pei of Paris Louvre Pyramid fame superb, but the museum houses incredible treasures dating back some 1,400 years, from early manuscripts and stunning jewelry to ancient ceramics and delicate textiles, each piece more stunning than the next. Just down from this museum, a mile along the Doha Corniche hemming the turquoise bay, lies a second gem, the National Museum of Qatar. This architectural jewel by Jean Nouvel and built in the shape of a desert rose — a gypsum formation found in the desert — tells the long history of Qatar, encompassing nature, traditions, culture, and the future. It also houses one of my favorite restaurants, Jiwan, which serves local cuisine in a stunning setting.
3. Explore Souq Waqif
Souq Waqif lies in the heart of the old town and is a traditional souk, or market quarter, that is humming with stalls selling everything from cloth to pearls, and countless cafes and restaurants. It is a bustling area where locals meet, shop, buy falcons, and stable their exquisite Arabian thoroughbred horses. There are even camels used by the national police. You can spend hours here weaving in and out of the warren-like lanes and just marvel at the many sights. For food and some great people-watching, stop at Damasca One, which makes the best hummus and shawarma in town.
4. Experience Local Customs
Arabian culture is a complex one, with many little details of local etiquette that are forever fascinating. To learn a little more, book yourself into an experience with a superb little community that works on bringing local customs and traditions closer to people. Embrace Doha is run by locals and offers meetings with locals to talk about anything and everything, from traditional fashion to the much-prized coffee ceremony.
5. Go Art Spotting
The art in Qatar starts in the airport upon landing. More than 20 art installations are dotted throughout Hamad International Airport, from the gigantic yellow Lamp Bear by Urs Fisher to the Small Lie by Kaws and many more. In Doha, you can find street art murals, quite a revolutionary concept in the Middle East, and installations by artists such as Damien Hirst, Louise Bourgeois, and Richard Serra. Richard Serra indeed has two major installations in Qatar including one called "7" in Doha's most beautiful park behind the Museum of Islamic Art, which invites for strolls with amazing views, as well as my personal favorite: East-West West-East, which is set in the remote desert reached after driving off-road far away from any city. Four large steel columns stand alone within a rocky otherworldly landscape and are of a stark beauty. They can be reached by driving oneself or by an organized tour.
6. Have Fun In The Desert
When in Qatar, a visit to the desert is a must, and while a drive to Zekreet to see art gives you a first impression, the UNESCO-listed Inland Sea has a much nicer desert full of undulating sand dunes rather than rocky outcrops. You can have so much fun there, from off-road driving (which is best left to experienced local drivers that will take you at steep angles up and down the dunes) to sandboarding or simply camping and stargazing. The Inland Sea is an inlet from the Gulf and in winter attracts countless visiting flamingos and other birds. It's also good for scuba diving or paddle boarding, and perfect for an all-around desert experience if you stay overnight in glamping tents.
7. Discover History
Just this month, one of the oldest natural pearls has been discovered in a tomb dating back some 4,600 years, but sadly, it is not on display yet. What the discovery shows is that there is a lot more history to Qatar than always thought, despite the nomadic nature of the Bedouins which long inhabited this part of the world. Qatar is full of archaeological digs and some quite stunning petroglyphs. In the northern region of Al Jassasiya, there are low-lying rocks that have been carved with many strange images: from fish to sailboats, and many games set-ups that are reminiscent of the game Mancala. You can visit on your own, as it is an open site, or come by a tour that would also take you to other nearby historic places, such as the UNESCO-listed Zubara Fort.
8. Stay In Luxury
Doha has examples of all the world's best luxury hotels, and you can stay in utter luxury complete with private beaches and superb spas. From inner-city luxury such as the Mandarin Oriental Doha in Mshereib to a more traditional resort feel at Sharq Village & Spa, the choices are endless. For one of the best places for a private beach, try the Intercontinental Doha, which has the longest private beach in town.
9. Eat Very Well
I have already mentioned a few favorite restaurants and cafes throughout this article, but there are so many more in Doha. There are celebrity names such as Nobu, Hakkasan, Morimoto, and Cut by Wolfgang Puck, and international restaurants ranging from Italian to Persian, from Japanese to Afghan, and from German to Peruvian. Doha is such an international community that pretty much every global cuisine is represented here. Personal favorites currently include La Mer at the Intercontinental for its food and gorgeous terrace, Jiwan at the National Museum for Qatari cuisine, and Nobu for its fantastic Friday brunches.
10. Shop Until You Drop
Shopping is a national pastime here, and other than the traditional Souq Waqif, the malls here are hyper-modern. Try Festival City, which is a great all-rounder, Villagio with Venetian gondolas running through the indoor canal, or Lagoona Mall for all the top luxury labels.
11. Be Pampered
When you are worn out from desert adventures and city trips, you can get yourself pampered in Doha. Try the Golden Opulence Ritual at the Al Messila Spa at the Al Messila, where you can enjoy a 24-karat gold hot stone massage complete with 24 karat gold body oil or an indulgent gold facial. One of the best spas in town is at the Mandarin Oriental, which offers a massage using pearl-powder-infused oil in the Harmony Pearl Treatment.
Pro Tip: A very simple tip, but rather useful, is that the weekend here falls on Friday and Saturday, so for a weekend brunch, you'd book yourself in for Friday. Also, make sure you know when Ramadan falls. The holy month shifts by around 10 days every year and whilst interesting to witness, it is not the best time to visit because eating and drinking are not allowed in public between sunrise and sunset, and many places are closed during the day.