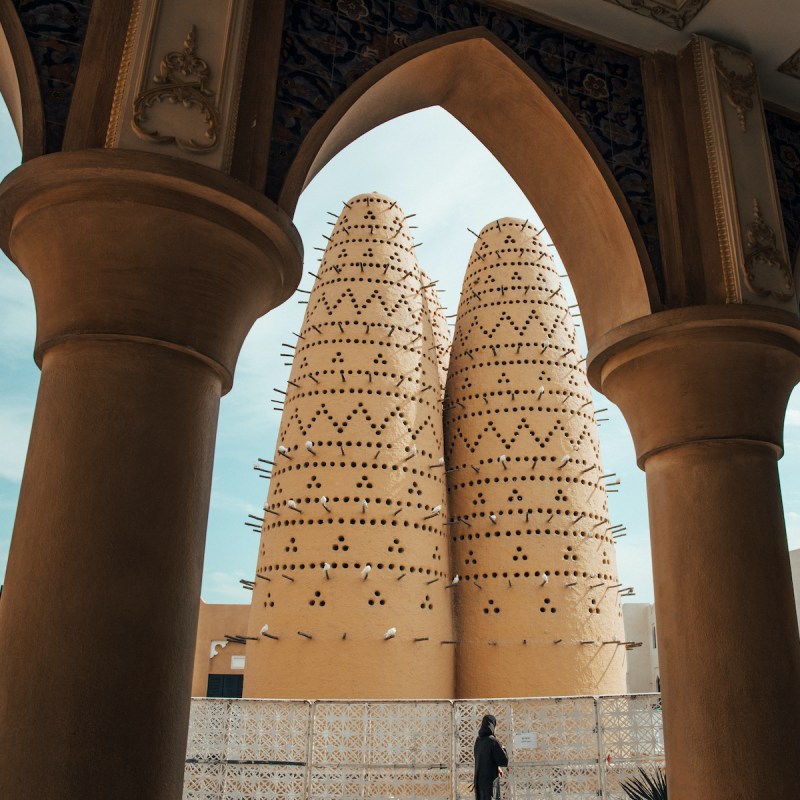 Twenty-two years ago, I moved to Qatar for the first time. Then, I had no idea where in the world this country was located, nor did my bewildered family. My husband had been offered a position there and our move set off an avalanche of worldwide relocations that have currently come full circle, with us living in Doha, Qatar, for a second time.
But what a change these last 20 years have brought. Qatar is currently on every sports fan's mind, with the FIFA World Cup coming in November. Many people have been through the Hamad International Airport, voted Best Airport in the World, transiting between east and west, while a recent tourism boom has brought many visitors to these shores, arriving either by plane or cruise ship.
Still, ask most people, and Qatar remains a bit of an unknown. So, here I will tackle some of the most often asked questions, to give you some background on this small desert state in the Middle East.
Where Is Qatar Located?
Look closely to the east of the vast Saudi Arabian Peninsula, and you'll see a tiny thumb-shaped protrusion sticking out into the Arabian Gulf, or Persian Gulf. Directly bordered only by Saudi Arabia, the island state of Bahrain lies just to the north, and the United Arab Emirates to the south.
What Is Qatar Known For?
In brief, Qatar is the world's third richest country according to GDP per capita, has vast gas and oil reserves, and will be hosting the FIFA soccer World Cup in November 2022. The small country initially made its wealth from pearl diving and the pearl trade. Today, Qatar is emerging as one of the most important art destinations in the Middle East, with world-renowned artists having public art installations here, from Richard Serra to Damien Hirst.
What Types Of Food Do People Eat In Qatar?
The cuisine of Qatar is, to put it simply, a mix of influences ranging from India to Lebanon, with rice, chicken, and lamb dishes being the most popular, such as Machboos, a richly spiced but not spicy rice dish. There is a great range of seafood, with hamour being a lovely white grouper that is not much known outside the region, and there is always a selection of honey-dripping sweets. The favorite local breakfast is a simple karak (ginger spiced milky tea) and chapati, an Indian flatbread. But in Doha, you will find restaurants from every corner of the world, with options ranging from celebrity chef restaurants to tiny fresh juice stalls and food trucks.
How To Get Around Qatar?
To explore the country, a car, or organized tour, is essential because once outside of the capital, the desert takes over. And without a car, you can only reach so far. Within Doha, a modern metro system takes you around, connecting most main parts of the capital, including the airport, stopping along places such as the Corniche, a 5-mile-long promenade along Doha Bay. Within certain inner city neighborhoods, such as Souq Waqif or the design district of Msheireb, you are best advised to explore on foot, while for other city journeys, there are taxis and Ubers available.
What Is The Currency In Qatar?
The currency is the Qatari Riyal, abbreviated to QR or QAR. One riyal, divided into 100 dirhams, is roughly equivalent to $0.27 USD, but all international cards are accepted in the majority of locations. The notes come in denominations of QAR1, QAR5, QAR10, QAR50, QAR100, QAR200, and QAR500. There are ATMs in the airport allowing you to have a bit of cash on hand for tips and small purchases.
What Are Some Of The Cultural Customs In Qatar?
Qatar is a Muslim country, and as such, both men and women should dress modestly. That means covering the shoulders and wearing clothes that reach the knee. You will see plenty of young people wearing tank tops and shorts, but if you intend to visit places where you can expect to meet locals, then it is simply polite to cover up a little. In some cases, you might even not be allowed entry if not dressed suitably. On the hotel beaches and in the pools, bikinis and swimming shorts are absolutely fine.
Traditionally, you should only eat food with your right hand, the left being used for more unsavory toilet business. You should also not sit in a way that you show the soles of your feet to locals, nor should you ever decline an offer of food or drink. That said, people are aware that you are foreign, and are very flexible and forgiving. Where eating with only the right hand is concerned, watch any local eating a burger, and that rule goes straight out of the window.
What Is The Weather Like?
Honestly? It gets very hot. My advice is not to visit during June or the end of September, as temperatures easily reach 122 degrees Fahrenheit in the shade, and the humidity is very high, making it at times unbearable. In the summer, people rarely move outside, only in their air-conditioned cars to go to air-conditioned stores, with many families simply leaving in summer when school is out.
In the spring and fall, as well as in the winter, the weather is beautiful, with a breeze coming in from the sea and the whole country bursting into outdoor life. Officially, there is a rainy season between December and March, but that tends to last 1–2 days max. The rain often comes in January, when the heavens can open for a couple of hours. But the "rainy season" should not put you off at all, as the rain is mostly made up of 10 drops that don't even join up on the ground.
Is It Safe?
Qatar is very safe; indeed, it has repeatedly been nominated the safest country in the world. Crime rates are extremely low, as is harassment and theft. I have always felt safe walking on my own or taking a taxi at night. That said, there is always an exception, and all you need is one bad case, so normal common sense precautions should always be taken.
Can I Drink Alcohol There?
Unlike Saudi Arabia, Qatar is not a "dry" country, but access to alcohol is limited mostly to the large international hotels, and the restaurants and bars inside those hotels. You will not be able to import alcohol or buy it in supermarkets, nor anywhere else, unless you are a resident and have been approved for a liquor license. Alcohol in the hotels is not cheap (with a 12-ounce beer costing around QAR40, or $10 USD), but you can get everything from champagne to spirits.
Are Women Allowed To Drive?
Yes, women are not restricted in any way. Women can rent a car on arrival, and there is even a limousine service driven by women for women. Women do not have to cover up, apart from wearing modest dress (see more below). Qatar is a safe country for female solo travelers.
Are There Religious Restrictions?
The most important factor to bear in mind is the holy month of Ramadan. This month, the timing of which changes by around 10–12 days each year, is the most important in the Muslim calendar. Throughout Ramadan, it is forbidden, even for non-Muslims, to eat and drink, or smoke and chew gum, in public between the hours of sunrise and sunset. Most restaurants, apart from a selection in most hotels, are closed during the day, and store timings change as well, with many shutting down during certain times and staying open late into the night. Ramadan can be an interesting, but inconvenient time to visit the country.
What Is There To Do?
While often touted as a brief stopover destination, there is in fact a lot to see and do in Qatar. Explore the desert, preferably via 4WD, hurtling up and down the sand dunes. Then, shop up a storm in the many super-fancy malls. There is the lovely Souq Waqif, a traditional bazaar, where you get anything from a falcon to bales of silk, spices to pretty trinkets, and plenty of gold jewelry. There are world-class museums, such as the Museum of Islamic Art and the National Museum of Qatar, and countless art galleries, many of which can be found in the Katara Cultural Village.
What Are Some Key Arabic Phrases?
While everybody speaks English in Qatar, because it is the common language between more than 100 nationalities living and working there, it is always appreciated if you try to use a few local phrases when, for example, in the souq.
The most common greeting is Salam-Alaikum, which is answered with Alaikum Salam, both meaning "peace be with you." "Good Morning" is Sabah al Khair, while a simple "hello" is Hala or Ahlan. "How are you?" is Kheef Halak? and "goodbye" is Massalama. "Please" is Min Fadlak and "Thank you" is Shukran, while "Yes" is Aiwa, and "No" is La.
Pro Tip: Weekends In Qatar
Please note that the weekend here falls on Friday and Saturday, with Sunday being a working day. So, if you want to go for one of those bottomless brunches, which are very popular in Doha, book it for Friday.