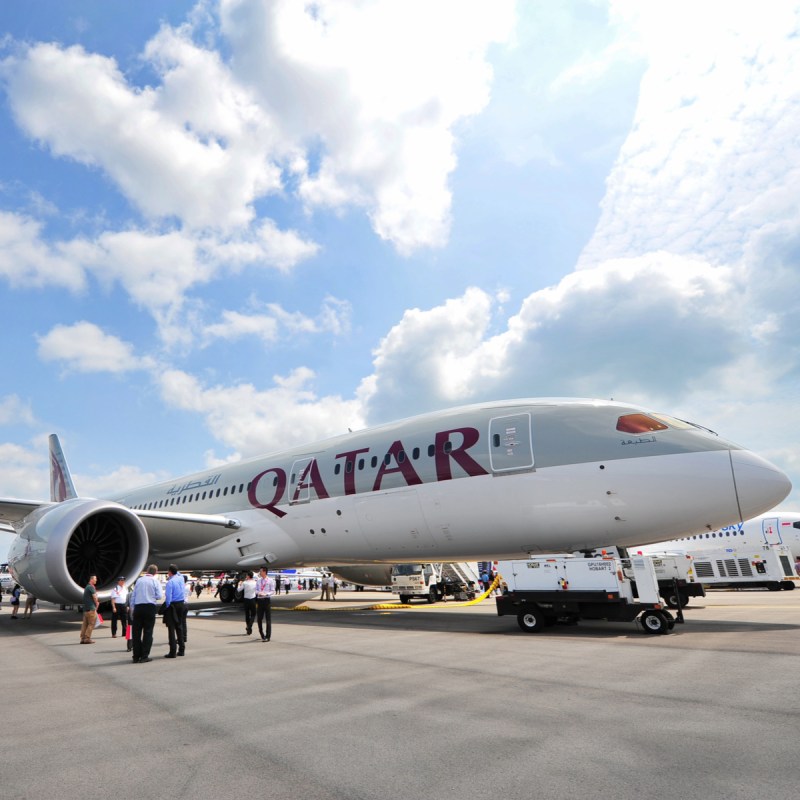 Qatar Airways is the airline that took me to the Middle East for the first time, when my then 4-year-old daughter and I flew out to join my husband for a new and exciting job abroad. This was 22 years ago. I still remember today how impressed I was with the food, despite being used to Lufthansa's service, and how lovely the cabin crew were to my daughter, taking pictures, bringing her toys, and providing her with a meal she enjoyed.
With life sometimes taking odd turns, I ended up working for Qatar Airways a few years later, looking after the inflight magazine, writing press releases, and traveling the world, taking media representatives on inaugural flights.
Having flown the airline countless times, in all three classes, from upstairs on the A380, being plied with champagne by the lovely crew at the stand-alone bar, to downstairs in economy. I find it difficult to fault Qatar Airways, and have pulled together some reasons why I love flying with them. And it's not just me, but Qatar Airways has been voted Best Airline by Skytrax several years running now. 
And, just in case you are wondering, no, I did not receive any free flights or other enticements for this article at all. Sadly.
1. The Non-Airplane Food
In 2021, Qatar Airways Catering Company served 16 million meals, and remember, this was during the COVID-19 pandemic. Preparing meals in a state-of-the-art catering complex that has the capacity of preparing some 175,000 meals per day, you can expect that the chefs know what they are doing by now; and they do. Even in economy, unless you are on a very short trip, a meal starts off with pre-dinner drinks, and your menu states specifically what options you have. You can expect vegan, vegetarian as well as calorie-controlled options, although with some, you need to book ahead. In business and first class, you can expect champagne served with warm nuts before take-off, and an extensive menu, with options that are often too difficult to choose from. So much so, that I have been known on one flight to sample two different main courses; and loved both.
2. The Many Destinations
Qatar Airways is lucky with its location on the Saudi Arabian Peninsula, making it a perfect transit hub for connections between America, Europe, Asia, and Australia. More than 160 international destinations take you pretty much everywhere. But I might as well put one big negative point in this section, as many of Qatar Airways' flights are scheduled right in the middle of the night with absolutely awful departure and arrival times, leaving you to feel pretty rough the next day.
3. The Sustainability Efforts
While flying is not good for the planet, living in a place like Qatar, where you basically can not get anywhere else unless you fly, it is a necessary part of life. As a travel writer, I am also very aware of traveling sustainably, so I am always pleased when I hear about Qatar Airways making efforts in that direction. For example, 80 percent of the food trays comply with the ban on single use plastics, while much of the unused food is redistributed rather than wasted. In the airport, recycled wastewater is used for irrigation, and the cleaning is done with water from air conditioning units. The Oryx Airport Hotel is striving toward 100 percent sustainability, with efforts including bamboo key cards, recyclable water boxes instead of plastic bottles, and little, biodegradable toiletries in the bathrooms.
4. The World's Best Airport
And talking about the airport, Hamad International Airport ranks within my favorite airport experiences, not only because it is a nice — and award-winning — airport, with all the amenities you could wish for, but because of all its art. It makes for a different experience when hanging around waiting for your gate to open than in most airports. Here you can saunter through the various concourses, looking at world-class installations, from Lamp Bear by Urs Fischer to Small Lie by KAWS, and a dozen or so more.
5. The Flexibility
Especially during the COVID-19 pandemic, I really appreciated Qatar Airways' flexibility. They have always been good with changes to your tickets because they seem to appreciate that things happen. But during the pandemic especially, when travel rules — and personal health status — often changed within hours, being able to change tickets, times, and dates at short notice without any extra cost was just wonderfully stress free.
6. The Chance Of A Stopover In Doha
Whenever you transit through a place you have never seen, it seems such a shame to not go and have a look. And with Doha being such a busy transit hub, many people pass through without that second look. But the chance of a stopover, even if it is just long enough for a brief city tour, is something Qatar Airways tries to promote. They offer stopovers ranging between hours and days, giving travelers a chance to either have a brief taster of the capital Doha, or a longer encounter with the desert and many other attractions.
7. The Traditional Approach
Apart from being welcomed on board with traditional cardamom coffee and dates, one thing I truly love is the traditional approach of Qatar Airways, representing its country as well as its culture. I have stepped onto a plane and found a falcon perching in business class before, and nobody blinked an eye. These national birds of Qatar are indeed allowed into the cabin, getting their own seat. But you are limited as to how many you can bring at any one time — just in case you were wondering!
Pro Tip: Qatar Airways' loyalty program, previously called Privilege Club, was changed in 2022 to Avios. If you have already collected Privilege Points, they will automatically be converted, but you can now also merge this account with the British Airways loyalty program. This allows you to the same card to collect and redeem Avios points on airlines such as British Airways, Iberia Plus, Aer Club and Vueling, as well as other members such as American Express, Nectar, Avis Budget Group, and Marriott.
While you're looking at flying, check out TravelAwaits' airport rankings: