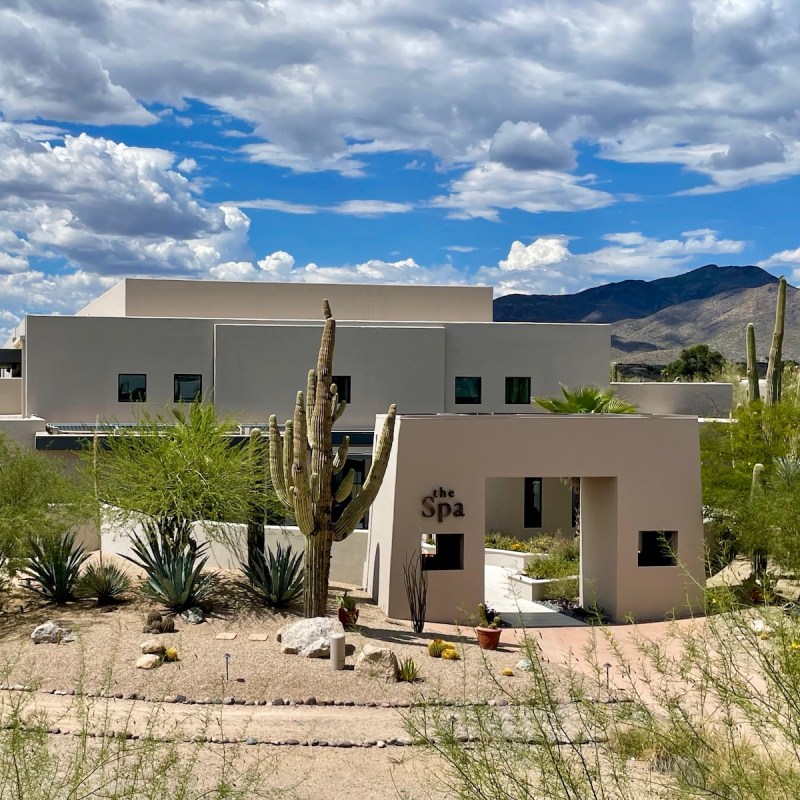 Scottsdale offers many resorts and other options for lodging while exploring the countless activities of this beautiful city. Luxury resorts provide indulgent spas and relaxing pools and landscapes. Experience Scottsdale arranged for a few of the top resorts to host me, but all opinions are my own. I enjoyed the sumptuous spa amenities and feasted on healthy, delicious food. Here are a few of my favorite experiences.
1. Mind And Body Wellness Classes
CIVANA Wellness Resort And Spa
While at most resorts I do not want to return to the outside world, at CIVANA, I forgot that the outside world existed. Located in the desert and surrounded by mountains, the resort is deeply set in the peace and beauty of nature.
The website piqued my interest with the descriptions of the classes the resort offers, and it was difficult to choose just a few. The Guided Labyrinth Walking Meditation helped me slow down and connect with the desert as three other guests and I walked barefoot along the sand path. At the early intention-setting ceremony, held each morning in the rose garden, a gentle breeze kept me entranced in the visualizations.
I then used the lively encouragement of the instructor of the trampoline class, Rebound, to enjoy a vigorous workout. I was a bit tentative at first and worried about falling off. By the end, I rarely held the bar and was jumping higher and higher. Breathing for Life, guided instruction in breathing techniques, brought my heart rate down and left me with skills I can use long-term. Each instructor was very knowledgeable and set the perfect mood for their activity.
CIVANA also has a luxurious spa where I experienced my first hot stone massage. This may be the perfect treatment for someone who loves heat as much as I do. As I waited for my massage, I ate berries while relaxing on a plush couch and staring out at the mountains and blue sky. I also tried out the Aqua Therapy Circuit, which entails moving from a hot pool into a frigid pool and then lounging in the warm pool. The heat of the sauna was more my speed.
Dining choices at CIVANA include Terras, focused on farm-to-table and sustainable meals, and Seed Café and Market for coffee and snacks. Both places offer many gluten-free and vegetarian options, including a fresh and colorful butternut squash salad and a gluten-free toaster pastry with a flaky crust.
Pro Tip: Visit in the warmer months when the resort is not busy. I felt like I knew the other guests and staff since I frequently crossed paths with the same people. This made the classes more intimate and effective.
2. Phoenix Rising Scrub And Massage
The Phoenician, A Luxury Collection Resort By Marriott
The Phoenician has been an icon of luxury in Scottsdale and Phoenix for over three decades. The renovation of the 577 guestrooms and 64 suites in 2016 created luxurious accommodations with spacious, comfortable rooms and elegant bathrooms with marble tile and countertops. My balcony — large enough for a table, two chairs, and a love seat — looked over the extensive pools.
A day at the spa includes a rooftop pool as well as a large hot tub, sauna, and steam room. A long, thick robe awaited my emergence from a private shower with every amenity I could need. I have had many massages over my life, so I decided to try something a little different. The Phoenix Rising Scrub was invigorating and the accompanying massage loosened my tight muscles. My therapist, Michael, was knowledgeable, very attentive, and personable. The relaxation room provided tea and small snack packs with trail mix and chocolate-covered cherries.
For dinner, I chose the outdoor porch of Mowry & Cotton. The misters kept me just cool enough to enjoy the evening while I listened to birds and watched a hummingbird flit around. The Summer Melon Salad was light and refreshing with tajin creme fraiche and vanilla lemon vinaigrette. I also chose the charred hangar steak with sunflower pesto, a signature dish of the restaurant, which focuses on fire, coal, and smoke cooking techniques. Salted butterscotch crème brulee added the perfect finish of sweet and savory.
ProTip: Leave yourself plenty of time to explore and enjoy the opulence of The Phoenician. There are many pools in which to loiter and several outdoor dining and drinking spots to enjoy the Arizona weather.
3. Fabulous Lunch With Amazing View
Omni Scottsdale Resort And Spa At Montelucia
As you enter the Omni Resort at Montelucia, gentle guitar music sets the mood. Spacious courtyards and bubbling fountains rest among Spanish architecture inviting you to lounge on cushioned chairs and enjoy the sun and breeze. This resort is more intimate and calming than most luxury resorts.
The relaxing Kasbah Pool's H-shape allows ample comfortable lounge chairs to edge the overflowing rim of the pool. I lay on my lounger gazing at the five fountains pouring out of the azure and baby blue tile wall. Camelback Mountain majestically overlooks the resort to remind you of the beautiful desert just beyond the walls. Tall palm trees and flowers ring the pool.
The "Summer of Water and Color" menu for poolside dining offer wellness-based, vibrant food. Colorful icons accompany the dishes to guide your selection for Energy, Positivity, Immunity, Tranquility, or Clarity. They offer 11 refreshing cocktails and 3 mocktails, and many options of beer, cider, and wine. I enjoyed the Rio Perdido Faux'rita, a sweet bright blue mocktail served over ice with a purple and white orchid flower on top. My pork al pastor tacos sported a flavorful avocado salsa to compliment the bright corn tortillas. I couldn't resist following this with a mango tango paleta. This rich, dense popsicle perfectly suited a warm day in the sun.
Pro Tip: The resort rests behind a high wall at the corner of Tatum and Lincoln and is not visible from the road. Turn south into the drive just east of Tatum.
4. Focus On Wellness
Andaz Scottsdale Resort & Bungalows
Even though Andaz Scottsdale Resort sits among a bustling urban area, its location down a winding road put me in a peaceful mood. Groups of one-story bungalows, with five rooms each, spread over the 23-acre resort. Each sidewalk curves along lawns, flowers, trees, bushes, and stones of various colors. Camelback Mountain provides a beautiful backdrop for this desert oasis.
Every aspect of the resort promotes wellness and relaxation. Multiple classes are offered daily, from aquatic workouts to aerial classes. My morning started with an hour-long morning yoga session, which was expertly led to accommodate each participant. The instructor then led us in a 25-minute meditation on the grass. These activities started my day in a restful yet invigorating way. The spa offers a steam room, hot tub, and pool. I lounged next to the pool, listening to birdsong and quiet music. The busy city faded from my mind.
The Weft & Warp Art Bar + Kitchen provided a hearty and healthy breakfast. My omelet with roasted tomatoes, mozzarella, and spinach was cooked to the perfect texture and topped with ripe avocado slices. Slices of heirloom tomatoes and a small bowl of melon and pineapple were fresh and flavorful. I sat and enjoyed my green tea while a singer with a guitar covered popular tunes.
5. Fun-Filled Day
The Westin Kierland Resort And Spa
You will never run out of interesting activities at the Westin Kierland Resort. My daughter and I enjoyed Adventure Water Park. We floated in the lazy river, cruised down the 110-foot-long waterslide, and laughed at the lifeguards' antics in the Kierland FlowRider. We were not brave enough ourselves to attempt the bodyboard simulator. The large main pool is ringed by plenty of loungers for relaxing and cabanas available to rent. The Adult Aguamiel Pool offers a quieter pool for lap swimming or escaping the joyful noise of the children. The Kids Club provides many fun activities for any children accompanying you.
Lunch at J. Swilling's Poolside Bar & Grill started with the refreshing Jack's Mai Tai for me and a virgin Tropical Tequila Sunrise for my daughter. My light but filling keto bowl included grilled chicken, heirloom cherry tomatoes, fire-roasted corn, avocado, and baby spinach with a balsamic vinaigrette. My daughter ordered her favorite, mac and cheese, and we split a fresh, colorful fruit salad. As we ate, we chatted with the resident falconer. His Harris hawk helps to reduce the birds bothering visitors.
The resort also boasts a lush 27-hole golf course with wide fairways for those of us who are mainly vacation golfers. There is also a posh spa and salon, a scotch library, and an expansive, beautiful patio for dining. A bagpiper welcomes each day's sunset. Within walking distance, Kierland Commons and Scottsdale Quarter contain dozens of restaurants and shops.
Scottsdale abounds with luxury resorts and experiences. A nice range of sizes and focus enables everyone to find the perfect vacation. Book a relaxing massage, lounge by a beautiful pool, and dine on fresh, interesting meals, all within reach of the many activities the city has to offer.
Pro Tip: Don't be afraid to visit Scottsdale resorts in the summer. You can avoid the tourist crowds and still enjoy the fabulous pools and the indoor activities.