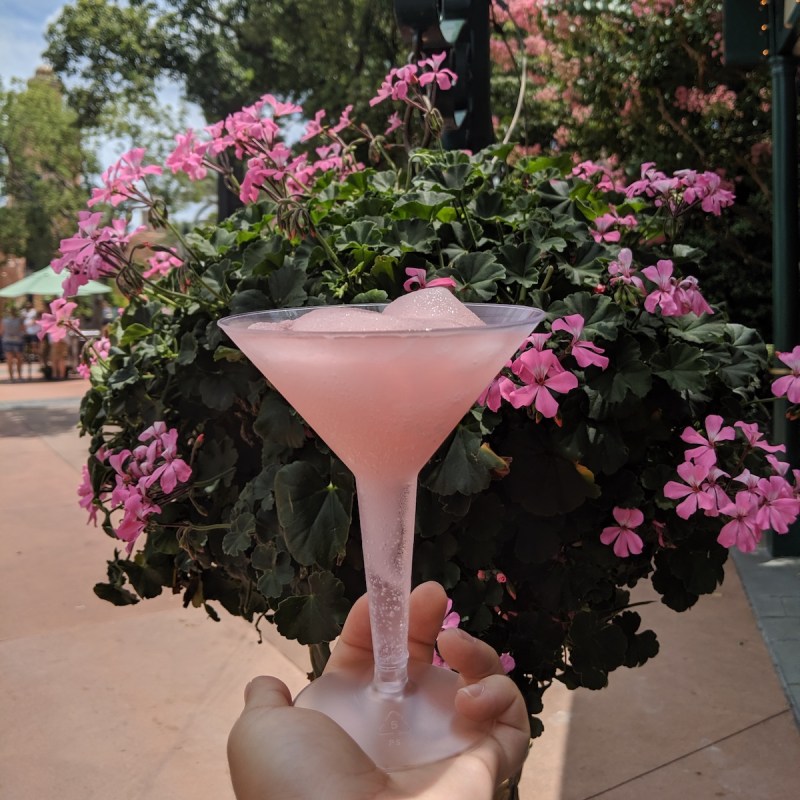 EPCOT's Food & Wine Festival is the most highly-anticipated festival of the year. Although other festivals, such as the Festival of the Arts and the Flower & Garden Festival, serve food and drink, this festival shines because of its attention to detail and taste. The foods presented during the festival partner wonderfully with wine, which is why there are so many meat dishes. Overall, the Food & Wine Festival has a more luxurious and unique feel to it when it comes to food and beverage.
Note: These reviews are inspired by my experience and the opinions and thoughts of others. The order I chose to review the foods is not specific.
1. Frozen Rosé
This refreshing and gorgeous drink can be found at The Alps booth in the world showcase. What's better than a frozen drink on a hot day in Orlando? This frozen rosé has a beautiful light pink color and is served in a clear, plastic Martini glass. This drink is a favorite at the festival year after year because of its sweet, fruity taste and aesthetically pleasing look. If you're at the festival looking for photogenic foods to post on your blog or social media account, this would be a great addition to your profile. You can enjoy this drink with friends and family for $9 a glass.
2. Braised Beef Poutine
The braised beef poutine is another returning favorite you can find at The Refreshment Port near Canada. This year, The Refreshment Port is hosted by Boursin Cheese. The poutine is a mix of french fries, Boursin garlic and cheese sauce, cheese curds, gherkin relish, and braised beef. This dish is great because the portion size is good for the price. The food is a little on the heavier side but that can be a good thing if you're feeling hungry from burning so many calories walking around the park. I'm not a fan of relish, but the other ingredients shine through and are delicious. You can try this mouth-watering dish for $9.50.
3. Adobo Yuca Fries
The adobo yuca fries are a new edition to the EPCOT Food & Wine Festival this year, and they have become incredibly popular. You can find this new dish at The Fry Basket booth in the walkway between Test Track and The Odyssey Events building. These fries seem to be the best-loved choice at The Fry Basket booth and have been described as garlic bread made into french fries. The adobo seasoning is a nostalgic taste for some and a delightful new experience for others. To top these fries off is a garlic-cilantro aїoli sauce that complements the adobo seasoning and yuca flavors. You can buy a basket of these fries for $5.50.
4. Impossible Meatballs
Another new dish at the festival is the impossible meatballs found at the Earth Eats booth by the Journey Into Imagination building. The Earth Eats booth is hosted by Impossible Burger and serves an array of plant-based foods. Plant-based diets are becoming increasingly popular. In the past, I have had guests ask me where they can find plant-based foods. Over the years, Disney has adapted to the needs of guests and provided more options for people on specific diets. The impossible meatballs are served with herbed polenta, rustic puttanesca sauce, and basil pesto. The mixture of all these ingredients has made it popular amongst parkgoers this year, even the ones who aren't following a plant-based diet. For $5.75, I highly recommend trying this dish, whether you eat meat or not.
5. Strawberry Rosé Mimosa
You can find this flavorful beverage at the France booth inside the France pavilion. This drink consists of Pol Remy sparkling wine, orange juice, and Monin strawberry rosé syrup. The sweet and fruity flavors and subtle floral notes make this drink special. The drink is served in a clear plastic, champagne glass. Similar to the frozen rosé mentioned on this list, this drink is photogenic and delicious. The yellow, orange, and slight pink tones shine brilliantly against the French pavilion backdrop making for a beautiful photo. You can enjoy this unique drink for $8.95.
6. Teriyaki Chicken Bun
The teriyaki chicken bun is found at the Japan booth in the Japan pavilion. This dish is a steamed bun filled with chicken, vegetables, and teriyaki sauce. Steamed buns and teriyaki chicken are both favorite Japanese foods, so it's no surprise that people love this combination. This dish proves that taking two simple but delicious foods and combining them may create a masterpiece. You can purchase a teriyaki chicken bun for $7.50.
7. Spanakopita
The Greece booth is back at the EPCOT Food & Wine Festival. You can find this booth between the Japan and Morocco pavilions. Spanakopita is a flaky, Greek spinach pie with cheese inside that crunches when you bite down on it. Although this is a simple dish, it is tasty and worth trying. The other offerings, such as the griddled cheese and lamb gyro, are also classics. If you tend to like spinach dips, you will enjoy this dish. You can buy the Greek dish for $4.75.
8. Rocky Road Chocolate Cake
This decadent dessert can be found at the Flavors of Fire booth between Test Track and the Creations shop. This cake is for chocolate lovers! Although there are marshmallows and spiced almonds in this dish, the main ingredient is the chocolate ganache. That sweet, savory flavor can be amazing for some but too much for others. This is a great cake to satisfy your sweet tooth and share with a friend. You can purchase this dessert for $4.25.
9. Feijoada
Feijoada is a classic Brazilian dish that has made its way to EPCOT. You can find it at the Brazil pavilion between the Morocco and France pavilions. Feijoada is made up of black beans with crispy pork belly, brazil nut pesto, and Ben's original long grain white rice. These traditionally Latin American ingredients make up many of the dishes I ate growing up, so this kind of dish makes me feel nostalgic. I highly recommend the feijoada, especially for those who don't eat Latin American foods often. You can buy a feijoada for $6.25.
10. 'Le Cellier' Wild Mushroom Beef Filet Mignon
The wild mushroom beef filet mignon is at the Canada booth inside the Canada pavilion. This dish is a beef filet mignon with wild mushrooms and truffle butter sauce. The restaurant, Le Cellier, provides this dish. During my time as a cast member, I would hear from co-workers and guests that Le Cellier served the best steak on Disney property. So, if you're looking to experience a taste of Le Cellier's famous meat without the premium price tag, I suggest going to this booth and buying the beef filet for $9.25.
Final Tips
The EPCOT Food & Wine Festival is all about having fun and exploring the appetizing dishes served around the world. EPCOT is distinctive because, besides enjoying the attractions, parkgoers can experience a little bit of each culture displayed in the world showcase. The Food & Wine Festival brings out even more countries' foods, such as Belgium, Greece, India, and Brazil. These countries are not part of the world showcase, so the festival provides a special opportunity to eat foods inspired by their cultures that you wouldn't get any other time of the year.
If you're traveling to EPCOT during the Food & Wine Festival, my advice is to keep an open mind and try new things. Where else can you try foods from so many different countries and cultures in one place? Don't go for the comfortable, easy option. Try the foods and drinks you've never had before or wouldn't typically have. Great stories and adventures are born outside your comfort zone, and this festival is no different. Have fun and enjoy!
Related Reading: