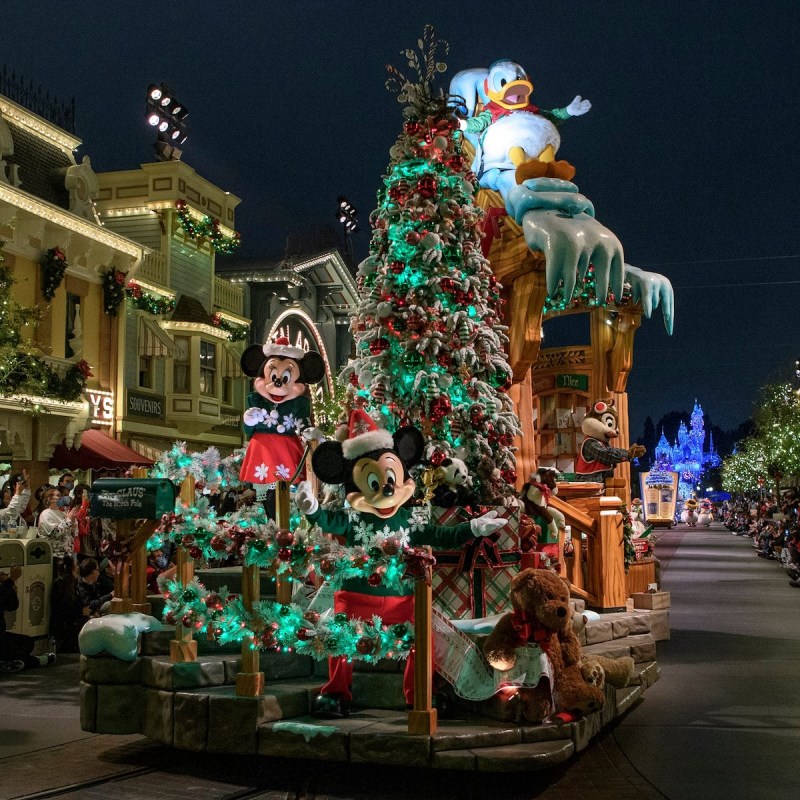 I've long loved Disneyland, but if I have to choose the best time of year to visit, it is most definitely during the holidays. When you add lights, festive music, and seasonal food to the already cheerful park, you have a recipe for lasting memories. And while seeing the park through a child's eyes is special, Disneyland is also the perfect destination for adults.
For over 30 years, I've lived near Disneyland and have had the pleasure of visiting hundreds of times. I worked at the front gate in highschool, took my kids there more times than I can count, and even enjoyed a few date nights in the park with my husband. So if you're considering a Disneyland visit this holiday season, here's everything you need to know for a successful and enjoyable experience.
About The Disneyland Resort
The Disneyland Resort is divided into three main sections: the original Disneyland park, the newer California Adventure park, and the shopping and dining section known as Downtown Disney. Both parks require tickets while the shopping area is free of charge. There are three onsite hotels: Disneyland Hotel, Paradise Pier, and the very upscale Grand Californian.
Through January 7, 2024, every square inch of the resort will be decorated for the holidays and a special calendar of events, parades, and activities is offered. Some experiences are subject to change or cancellation, so be sure to double check the website before visiting.
9 Best Ways To Celebrate Christmas At Disneyland
1. See Mickey And Friends Dressed In Their Holiday Attire
Seeing the Disney characters is always a highlight, especially for children. But during the holidays, the characters are festively dressed in sweaters, scarves, and Santa hats.
They regularly stroll throughout Disneyland and California Adventure and are usually available for photos and autographs. They also have designated photo spots in both parks. For really good photos with either Mickey or Minnie, head to ToonTown in Disneyland and then find the Mickey and Minnie houses. While cast members (Disney speak for "staff") will take professional photos that you can purchase, you are always welcome to use your own camera or phone.
If you're traveling with young children, be sure to make reservations for a character dining experience available in Disneyland or at the Grand Californian and Disneyland Hotels. New this year is a holiday-themed character dining experience at Goofy's Kitchen. Available for breakfast or dinner, all characters will be dressed in seasonal attire.
2. Stroll The Decorated Streets
Strolling down Main Street in Disneyland is always a pleasure, but it's even better during the holidays when a 60-foot-tall Christmas tree graces the Town Square. This tree is covered in 1,800 Victorian-inspired ornaments and 100 faux candles. All the shops are festooned with lights and holiday décor while selling seasonal foods and souvenirs.
California Adventure's version of Main Street is called "Buena Vista Street" and is equally decked out for the Yuletide. Here, you'll find a 50-foot-tall Christmas tree decorated with vintage-styled ornaments. Surrounding shops and restaurants are all perfectly styled for the holidays.
While you can visit Main and Buena Vista Streets anytime of the day, I prefer to be here after dark to best enjoy all the lights. It really is a magical time and makes for amazing photos.
3. Dance Along To Holiday Music
Throughout both parks, you can enjoy live music performances celebrating Christmas, Hanukkah, Diwali, Kwanzaa, and Three Kings Day.
At California Adventure, the band, Mostly Kosher, honors Hanukkah with a combination of jazz and rock. Bollywood fans don't want to miss performances by the Blue13 Dance Company. And The Mistletoes perform music celebrating both Christmas and Kwanzaa.
In Disneyland, several longtime performance groups — including the Dapper Dans, Main Street Piano Player, and the Disneyland Band — perform holiday hits regularly throughout the day.
4. Sample Festive Foods
While I love the seasonal characters, lights, and music at Disneyland, what I get most excited about is the food. Disney does not skimp when it comes to holiday foods throughout both parks and Downtown Disney. Be sure to come hungry.
California Adventure features a Festive Foods Marketplace with pop-up dining stalls selling a wide range of sweet and savory treats. My favorite part of this festival is the holiday beer stand selling unique brews like churro ale and beer slushies.
Throughout both parks, you'll find plenty of seasonal sweets including the chocolate cake snow globe, espresso chip sundae, dulce de leche shake, and mocha peppermint cold brew.
You can't eat all of the delicious holiday food being served, but fortunately, much of it can be taken home to enjoy later or given as gifts. Caramel and candy apple lovers can't miss the specially decorated treats at Marceline's Confectionery in Downtown Disney. At California Adventure, you'll find a new cart, Lady Fortune's, selling exquisitely decorated Christmas cookies and gingerbread houses.
5. Enjoy Seasonal Shows
Parades and shows are a mainstay of Disneyland, but during the holidays, all of these entertainment offerings are reimagined.
At California Adventure's Paradise Gardens Park, you can see the World of Color – Season of Light Holiday Show each night at 9 or 10:30 p.m. Watch your favorite moments from the Disney and Pixar films illuminated on a towering wall of mist while fountains dance in the foreground. As this show is wildly popular, I recommend using the Disney app to reserve your spot in the virtual queue so you are guaranteed a place. Keep in mind, reserved spots are standing room only. Another option is to reserve a World of Color dining package.
In Disneyland, there are two terrific entertainment options during the holidays: the Christmas Fantasy Parade and the Believe in Holiday Magic Fireworks Spectacular. The first takes place everyday at 3:30 and 6:30 p.m., beginning at either Main Street or the It's a Small World ride. You'll want to stake out a place along the route about an hour before it starts; personally, I prefer to find a spot near It's a Small World. Dining packages that include parade seating are available. The fireworks start at 9:30 p.m. and can be seen from many vantage points throughout the park. However, if you're near Sleeping Beauty's Castle or Main Street, you'll be treated to "snow" at the show's conclusion.
6. Don't Miss Holiday-Themed Rides
There are two rides we never miss when visiting Disneyland during the holidays: the Haunted Mansion and It's a Small World. The first becomes Tim Burton's The Nightmare Before Christmas led by the Pumpkin King, Jack Skellington, during the holidays. Even the queue outside the ride is specially decorated.
And when you're ready for a cuteness overload, get in line for the holiday version of It's a Small World. The costumed characters sing their usual tunes combined with seasonal classics. I especially recommend this ride at night when the facade is adorned with thousands of sparkling lights.
At California Adventure, head to Cars Land to spin through Mater's Jingle Jamboree and Luigi's Joy to the World. Both are ideal for young children while also being fun for older ones (and even adults).
7. Tell Santa What You Want For Christmas
Telling Santa Claus what you want for Christmas is a timeless tradition and children of all ages are welcome to share their lists with the white-bearded man at California Adventure. Head to the Redwood Challenge Trail in the Grizzly Peak section of the park. Along the trail, you'll find a holly jolly playground complete with games and activities. To make the most of this adventure, be sure to grab a map at the entrance to help you scout out some hidden surprises.
8. Pop In To Disney's Grand Californian Hotel
When we have guests in town during the holidays that don't want to pay steep prices for theme park tickets, we head to the Grand Californian Hotel instead. This craftsman-inspired hotel is the top-tier accommodation at the Disneyland Resort and is worth a visit anytime of the year. The expansive lobby features an oversized fireplace, comfortable seating areas with kid-sized furniture, and a television playing Disney cartoons. Nearby is a cozy bar, family restaurant, and a fine-dining establishment called Napa Rose.
During the holidays, a 35-foot tree graces the lobby along with an oversized gingerbread house crafted by pastry chefs. Pop-up food stands sell seasonal treats and there are live musical performances in the evenings.
9. Let It Snow In Downtown Disney
New to Downtown Disney is an evening "snowfall." Scheduled to fall every half hour from 6 to 10 p.m. between the Jazz Kitchen and Black Tap Burgers, this addition makes evenings at Downtown Disney extra special. Also in the evenings, enjoy holiday music performances at the Downtown Disney LIVE! Stage.
Between 11 a.m. and 5 p.m. each day, kids are invited to the complimentary craft activities area to make festive decorations.
Some of the Downtown Disney restaurants are featuring special holiday menu items like gingerbread macarons and peppermint hot chocolate churros. Adults will enjoy the seasonal cocktails including the Bah Humbug and the Scrooged.
Tips For Visiting The Disney Resort For The Holidays
Tickets prices are high and crowds are common at both Disneyland and California Adventure during the holidays. So to help you make the most of your time, money, and patience, I'll share a few tips.
First, decide which rides, shows, and parades you most want to experience during your visit and then schedule the rest of your day from there. Be sure to consult with all members of your party. You won't see everything in one trip, so have a plan of action to hit your top sights.
Next, download the Disneyland mobile app. The app provides park maps, wait times for rides, and access to dining reservations. You can even build your daily itinerary in the app.
The holidays are popular at Disneyland for out-of-town visitors and locals alike, so expect crowds and come prepared with plenty of patience. If you're able to visit the parks early on a weekday, you may be able to skip some of the long lines. For those who really struggle with waiting in line, consider purchasing Genie+ Lighting Lane Entrances.
If you're staying at one of the Disneyland Resort Hotels, you will be allowed to enter one of the parks 30 minutes early each day of your stay. This is a really valuable benefit, so be sure to use it to experience some of the most popular rides, possibly without any lines. Alternatively, this can be a great time to get crowd-free photos in front of the best holiday photo opportunities.
To avoid the first line of the day, plan to buy your tickets and any extras online before arriving. This allows you to proceed directly to the entrance gate after clearing security.
Both parks offer several special dining experiences (i.e. character dining and parade packages) along with fine-dining options. You'll want to reserve these online in advance, especially during the peak holiday season. I recommend making these reservations as soon as you've planned the dates for your Disneyland trip.
Disney World
While many of the holiday offerings at Disney World are similar to Disneyland, there are a few differences worth noting. Brand new at Disney World this year is the Frozen Holiday Surprise. Head to Cinderella's Castle and see it illuminated like never before. Elsa, Anna, Olaf, Kristoff, and the Snowgies are all featured in this special show. And returning to Disney World is the Jingle Cruise, better known as the Jungle Cruise. Each year, this iconic ride gets a seasonal makeover. Epcot brings an international flare to the season in its World Showcase where you can sample traditional holiday foods from 11 countries.