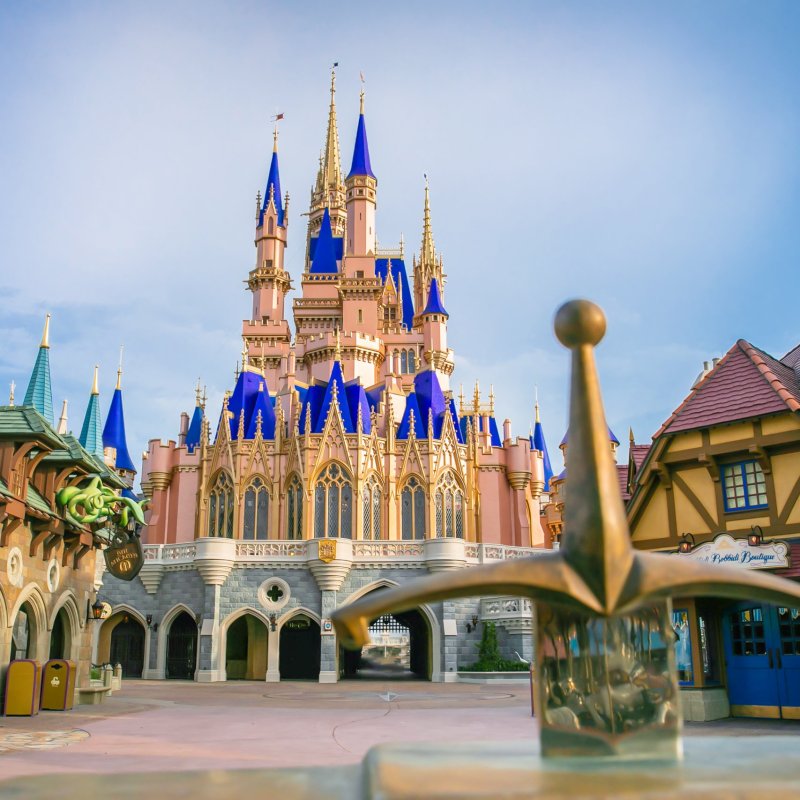 If you know someone who loves Disney princesses, you're in for a special treat. While you can't stay there, you can now take a virtual tour of the famed Cinderella Castle Suite.
You can take the tour on TikTok, Facebook, and Instagram.
The Cinderella Castle Suite in Magic Kingdom is the most exclusive hotel room at Walt Disney World, but it can't be rented. Instead, the only people who stay there are contest winners or guests invited by Walt Disney World, Disney Tourist Blog explains.
The Suite's Origins
The Cinderella Castle Suite didn't have royal origins. It was first planned as a place for Walt Disney and his family to stay when visiting the park, an article on Everything Mouse explains.
However, Walt Disney died in 1966, long before Magic Kingdom opened. According to the article, when Cinderella Castle was built, the space was used for storage — and even was the office for Disney telephone operators at one time.
The transformation from humble office space to a beautiful suite wasn't the work of a fairy godmother, but Walt Disney Imagineering, in 2006. The team decorated and upholstered the space to create a suite fit for a royal princess for the Year of a Million Dreams, Disney Tourist Blog notes.
The Year of a Million Dreams finished in 2008. Since then, Disney World has occasionally chosen families to stay in the Cinderella Suite, which can sleep up to six people. A stay in the suite has also been offered as a prize in a sweepstake.
In fact, the only way to stay there is to win it. Disney occasionally has contests and auctions to raise money for Give Kids the World Village or Make-A-Wish where the prize is a night or two in the Cinderella Suite.
Truly Decorated For A Princess
Since the Disney Cinderella Suite was built for a princess by the Imagineering Team, it looks exactly the way you expect it to look. For example, it's decorated in "rich golds" with "lavish materials," including "dark wood and rich fabrics," Everything Mouse explained.
The style mimics 17th-century French chateaus to match Cinderella Castle's exterior, the article continues.
The only way to get to Cinderella Castle Suite is by an elevator activated using a "Key to the World card," Disney Tourist Blog said. Visitors exit the elevator and, first, step into a small marble-floored foyer, which even features a fairy tale pumpkin coach.
From there, visitors enter the suite itself, which includes a salon, bedchamber, and bathroom, which all look as if they came straight from an actual castle.
In the TikTok video, you can see a "C" above each bed in the royal bed-chamber, a WDW News Today article, which has more pictures, explained. The video points out that the "C" is for Prince Charming because it first was his castle.
The video also shows a portrait of Cinderella hanging above a majestic fireplace, as well as stained glass windows that look out onto the Magic Kingdom. Other details include a "magic mirror" TV playing the original Cinderella animated film.
Even the bathroom is fit for a Disney Princess. WDW News Today notes that the bathroom has chandeliers that resemble crowns and three mosaics — each made of up to 10,000 pieces — surrounding the tub.
It's too bad you can't visit the Cinderella Castle Suite in person, but it's fun to watch the Disney World video from the safety and comfort of your home.
Below the Cinderella Castle Suite
Cinderella Castle serves as the main icon of Walt Disney World Resort in Orlando. However, it's not an elaborate detailed walk-through attraction like Sleeping Beauty Castle in Anaheim, California, or Tokyo Disneyland's own Cinderella Castle which has a walk-through attraction inside their famous icon.
Sometimes you just wish you could explore the details of the castle, its doors, and windows even when you're not allowed to be up there. With that being said, the only other place that is available to the general public is the restaurant that takes up quite a bit of room below the Cinderella's Castle Suite.
There are exquisitely handcrafted glass mosaics that tell the classic story of Cinderella's rise from orphan to princess that will make every moment of the meal at Cinderella's Royal Table unforgettable and enjoyable. Just make sure to reserve in advance for this is indeed a unique Disney World dining experience.
There are no other areas inside the Cinderella Castle intended for public access. Even though the Cinderella Castle offers an array of picture-perfect photo ops, it's just simply not that big inside. Nonetheless, the Cinderella Castle Suite is still a 'can't miss' experience which makes up for everything else.
Can't get enough of Disney World castles? Check out our list of six Disney princess castles inspired by real places! You'll find Cinderella's castle inspo there.
FAQs
Who Is Known To Have Stayed in the Cinderella Castle Suite?
Celebrities like Tom Cruise, Kevin Jonas, Neil Patrick, and Mariah Carey have all been able to stay in the Cinderella Castle Suite. However, there have not been any reported celebrities inside the suite for many years.
How Much Is a Night in the Cinderella Suite?
Unfortunately, you cannot book Cinderella Suite. Disney has supposedly refused bribes of up to $40,000 for just one night in this special suite, so no amount of money will allow you to make Cinderella Castle Suite bookings.
Have There Been Any Sweepstakes for Stays in the Cinderella Castle Suite Recently?
Yes,a couple of recent sweepstakes for stays in the Cinderella Castle Suite have been organized in the past. One was for the general public and another for cast members as part of the "Magic Backstage" program. There have not been regular giveaway programs or any auctions this year or in 2022.
Can Guests Leave the Cinderella Castle Suite When Staying There?
Yes, the guests cannot be "locked" inside. If they want to leave the Suite, they can, but the concierge will always accompany them.
What Is the Most Glamorous Part of the Cinderella Castle Suite?
The most glamorous part of the castle suite is the bathroom, at least according to those who have been lucky to get a rare tour. The bathtub with mosaic paintings of the castle and surrounding forest is the most talked about feature in the entire suite.