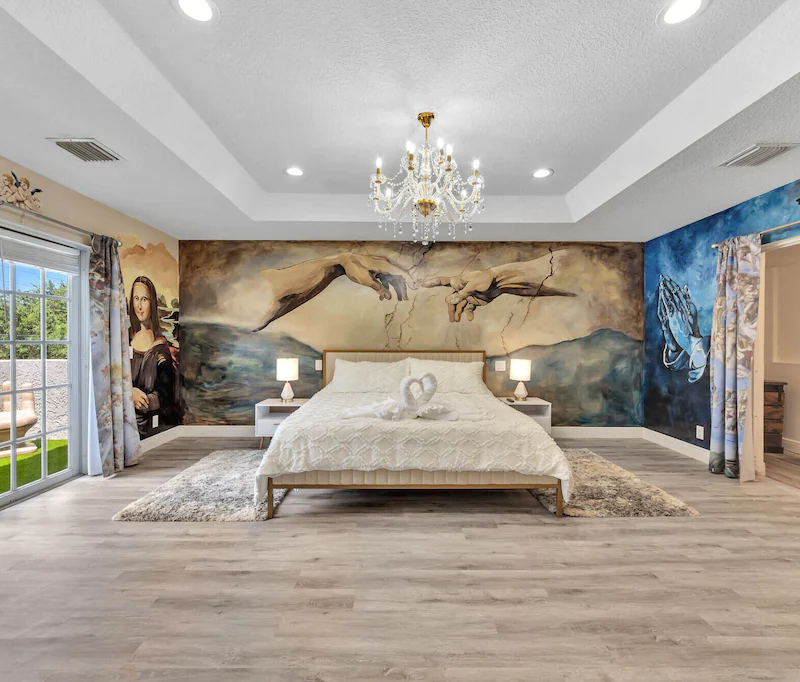 You don't have to be an art history major to appreciate this masterpiece. Located in one of the most sought-after neighborhoods in South Florida, this art-filled vacation home is a sight to behold. Each room's decor is dedicated to a famous artist.
Dubbed Arthouse 851, this five-bedroom, three-and-a-half bath Vrbo makes for a beautiful place to celebrate special occasions. The villa is perfect for bridal and baby showers, family get-togethers, birthdays, and more. Or, just relax and enjoy the Florida sunshine at this state-of-the-art villa.
Arthouse 851 has decor down to an art…literally. With wall-to-wall artwork, it's almost like sleeping in a museum! Let's take a tour, shall we?
Excellent Central Location
Nestled amongst art deco and Mediterranean revival homes in the heart of the upscale Hollywood Lakes neighborhood, Arthouse 851 can be found in Hollywood, Florida, just 10 minutes south of Fort Lauderdale and less than half an hour from Miami. In fact, this vacation rental is less than 5 miles from the Fort Lauderdale-Hollywood International Airport.
This great corner property is within walking distance of several attractions, including the coastal mangrove wetlands of the Anne Kolb Nature Center, which is just about a mile away. Beautiful parks, plus a public golf course, boat ramp, and marina are also nearby. One of the premier beaches and beach boardwalks in the Sunshine State is a mere 16-minute walk.
Hollywood Beach is home to white sand and gorgeous views. Bike, skate, or meander down the boardwalk, which is dotted with bars and restaurants, shops, live music, and other entertainment. Seafood restaurants with sunset views can be found along the Stranahan River. Of course, downtown Hollywood offers shopping, dining, festivals, and more within close proximity.
From the outside, Arthouse 851 appears to be a run-of-the-mill residence in South Florida suburbia. But as we know from Zillow Gone Wild, looks can be deceiving. Here's a look inside the home.
Ballet Bedroom
This bedroom pays tribute to realist Edgar Degas's famous depictions of ballet dancers.
Picasso Bedroom
Various paintings by Pablo Picasso line the walls of this bedroom, including The Old Guitarist from the artist's Blue Period.
Pop Art Game Room
Andy Warhol's famous multi-color screenprints of celebs such as Marilyn Monroe and John Lennon don the walls of this brightly colored game room. Highlights include a bright-blue marbled painted floor, a pool table, and classic arcade games such as Mortal Combat II and Ms. Pac-Man.
The game room also features a bar with neon signs that read "Resting Beach Face" and "15 minutes of fame starts here."
Surrealist Dining And Living Room
Life does not imitate art in the case of Arthouse 851's living and dining room (unless you're on psychedelics!). Surrealism scenes à la Spaniard Salvador Dali surround these spaces.
Starry Night Hallway
Who needs immersive exhibits when your vacation rental is a work of art? Have a bite to eat at the Breakfast at Tiffany's bar with a mural of Vincent Van Gogh's The Starry Night in the background. Bonus points if you put on "Vincent" by Don McLean for a truly immersive experience.
Patio
We leave the fine art inside and head out to the patio, which features a hot tub, ivy-covered wall, and grill where you can master the art of cooking. (Okay, I promise that's the last artsy pun!) There is also a balcony upstairs on the front of the house.
Kick back and relax in these lovely luxurious lounge chairs. LED lights lining the walls add ambiance at night. This place is pet-friendly, but the hosts would probably prefer if you keep Fido from relieving himself on the astroturfed courtyard.
Related Reading: