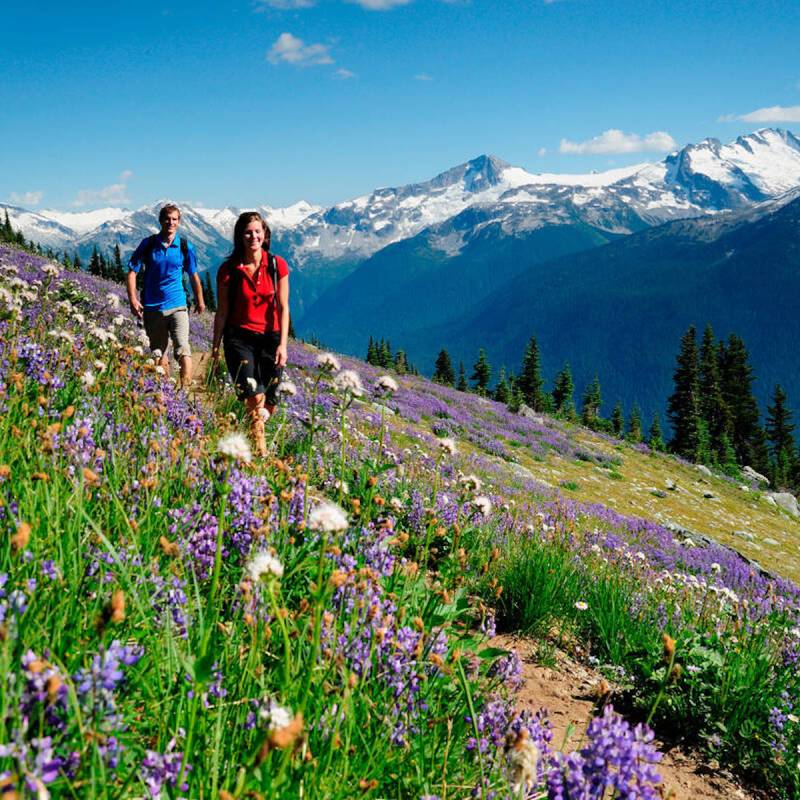 Looking to reset on your own or with friends, kids, and grandkids? Think about Whistler. In the summer, the famous Canadian ski resort is awash with wild alpine flowers, snow-capped mountains, and sunny blue skies.
I knew I'd chosen the perfect place to come back to life when I chose Whistler, on Canada's west coast, for my first real post-lockdown trip. Although Whistler is known as Canada's preeminent ski resort, I was surprised at how much it had to offer as a summer destination for all levels of adventurers.
I was part of a small, multigenerational group of friends and colleagues — seven of us in all — who spent 5 days enjoying the warm weather in Whistler. After meeting up in Vancouver the night before, we took in the late morning on the Sea To Sky Highway along the coast of the Salish Sea, one of the world's great car drives where we enjoyed a host of body- and soul-nourishing activities.
Some portions of the trip were part of a sponsored press trip but all opinions are my own.
Pro Tip: If you don't drive, there's good public transportation to get you up to Whistler from downtown Vancouver and Vancouver Airport.
1. Hang Out In Whistler Village
Whistler is known for its après, French for "after," when the resort's great bars and restaurants are packed with people enjoying post-activity drinks and meals. Our group didn't wait for the après but went for the avant, or "before."
We arrived in Whistler famished and went straight to lunch at the lively Dubh Linn Gate Irish Pub, an authentic Irish pub transported piece by piece across the pond from Blarney. Sitting on the patio overlooking Whistler mountain and the alpine village, we ate pub grub and drank pints of dark Guinness ale as we lapped up the lively atmosphere of the Alpine Village.
Pro Tip: Whistler Village is all pedestrian. It can be slightly confusing to find your way around because it was not built on a grid, but instead, designed to follow the river that runs through it. This makes it more charming, of course, but you can get turned around easily. Ask for directions and you'll typically be told "turn right at the Lululemon" or "left at Creekside Market."
2. Get A Deep Knead Massage
Most of our group had booked massages at the Whistler Day Spa. After 2 years hunched over a computer for almost all of my work, entertainment, socialization, and fitness, I had been craving a deep tissue rub down that would relieve tight, tense muscles around my head, neck, and shoulders. This spa is well known for its excellent massages (a much needed service in a mountain resort). My masseur worked wonders. I actually drifted off on the massage table. But I awoke feeling reborn.
3. Get Lost In An Illuminated Forest
Just before the late summer sunset one evening, our group took a shuttle bus to the forest. We were going to take in the immersive outdoor multimedia Vallea Lumina experience. This enchanting and emotive light show is set on almost a mile-long loop on Cougar Mountain. It really incorporates Whistler's beautiful nature in lovely ways while telling the legend of a hidden valley where stardust falls from the sky. The excursion began with a scratchy and cryptic radio transmission, and then we set off to find the scenic trailhead of two long lost hikers. The show is wonderfully interactive and the holograms fantastic. And at $29 per ticket, it's an affordable and unforgettable evening for the family.
Pro Tip: Bring warm layers. It gets chilly at night even in the summer.
4. Take An Easy Morning Hike
The more adventurous people in my group left early in the morning to go ziplining but I respectfully declined. Truth be told, I did it once a few years before and that was enough. I wasn't looking for high octane but low sensory, so I asked the front desk what they recommended for an easy hike not too far from the hotel. They immediately suggested the Lost Lake Nature Trail.
Starting at the base of Whistler Village, it takes you on over a 3-mile loop to Lost Lake. He mentioned that it was very popular with the locals. The hike took me through forest trails, past emerald green lakes, and to stunning views of Blackcomb and Whistler Mountains. It was flat and manageable. If only every day could start with a coffee and a walk like this!
5. Spend An Afternoon At The Scandinave Spa
Another day we went for another spa treatment. Scandinave Spa, as its name suggests, is based on the Scandinavian wellness circuit of heat treatment, bracing the cold, relaxing, and repeating. A series of Finnish wood-burning saunas, eucalyptus steam rooms, icy plunge pools, nordic waterfalls, and relaxation areas around outdoor fire pits or lounge chairs are spread out over a spruce and cedar forest overlooking Whistler's white-capped mountains. The circuit is designed to soothe tired muscles, eliminate toxins, improve circulation, and relax the mind and body. You'll do the heat treatment first, then take a splash or plunge into the cold and relax.
At the third stage of the first round of the circuit, I sat around a fire pit with the bright sun shining on my face and a light summer sprinkle refreshing me at the same time. It was blissful and I really felt reborn. I could practically hear my white blood cells thanking me. Another thing is the quiet: You basically take a vow of silence at Scandinave. No talking is allowed on the grounds, and no cell phones.
6. Canoe On A Glacial Lake
When in Canada, do as the Canadians do — canoe. On a bright sunny day, we headed out to a 3-hour canoe trip called The River of Golden Dreams. I love canoeing, but having been out of circulation and thus out of shape for so long, I was afraid I couldn't keep up with my group, some of whom were rowers. But the day was glorious, the sun warm but not scorching, and there was just a little breeze to caress us, but not enough to stir the waters.
The trip started at the glacial Alta Lake, with our guide giving a refresher in basic paddling skills. We were taken through wetland, along flowering lilies, and past overhanging greenery — with our guide pointing out the occasional beaver dam. Some of the passages were narrow and more than once we paddled straight into the bush. ("Everyone does it," our guide said encouragingly). We ended at Green Lake and by the end were only focusing on the rhythm of paddling, the sunshine, and the scenery.
Pro Tip: This excursion is not suitable for novice canoers or those with mobility issues as it requires a fair amount of endurance.
7. Ride The PEAK 2 PEAK Gondola
The PEAK 2 PEAK gondola that links Whistler and Blackcomb Mountains has become one of Whistler's calling cards since it opened in 2008. The gondola carries skiers 1,400 feet above the valley floor in the winter, and in the summer, it takes you on the ride of a lifetime, with awe-inspiring vistas. Sailing far above tall pine trees, you'll see 360-degree mountaintop views, ancient glaciers, and unique perspectives of the town from up high.
Pro Tip: Two of the gondolas have glass bottom floors for even more incredible views. These are indicated and many people make a point of waiting for these cars.
8. Take In Art At The Audain Museum
Lest you think Whistler is all about the outdoors, head to the Audain Art Museum. This new museum is really world class and houses the collection of Yoshiko Karasawa and Vancouver developer and philanthropist Michael Audain. The wood-encased architecture by Vancouver-based Patkau Architects was designed to connect the indoors and recede into an evergreen forest of lichen-covered trees and floor-to-ceiling windows that let in light and frame the outdoor settings.
The museum holds a comprehensive permanent collection of top British Columbian art from historic to ultra-contemporary. A feature piece is the monumental Dance Screen (The Scream Too) — an intricately carved cedar wood mural by Haida master carver James Hart. It depicts Haida traditions and the threat of salmon and animal habitats. It's so iconic, it's been called Whistler's Mona Lisa.
Pro Tip: During the COVID-19 pandemic, the Audain's chief curator started a series of Tuesday Night Talks featuring noted artists, critics, and curators. They became a huge hit and are worth checking out even if you don't visit the museum. Links to the TNTs can be found on the museum's Youtube channel.
9. Go Mountain Biking
Come summer, the famous Whistler Mountain Ski Resort turns into one of North America's epic mountain biking locations. Parents, their (surprisingly) very little kids, mature bikers, and everything in between take the chair lift up to bike over and down the resort's more than 125 miles of trails. The best show comes from local teens who seemingly know every inch of the mountain and whose daredevil feats are incredible to watch, perhaps from the safe distance of a restaurant patio. If you want to try it or sign your kids up, you can rent bikes at various locations in town. Want a flatter biking experience? There are several more relaxing lakeside bike paths to cycle around.
Pro Tip: There's a good chance you'll see one of Whistler's 30-odd bears in spring and summer. They are generally harmless and will leave you alone. But if you prefer to see one from the comfort of your hotel balcony? They seem to venture towards the chair lifts at the base of the mountain in summer after bikers have done their last descent of the day.
10. Go To A Concert In The Village
Whistler Olympic Plaza was one of the main venues of the 2010 Winter Olympics. Today, it's a popular place for tourists to pose in front of the iconic five rings. And in the summer, it's the place to go for great outdoor concerts with music ranging from funk to indie rock and jazz to R&B. The concerts are free and the atmosphere is fantastic.
Pro Tip: A free bike valet service is available if you ride your bike to the concerts.
For more incredible British Columbian experiences, check out these articles: