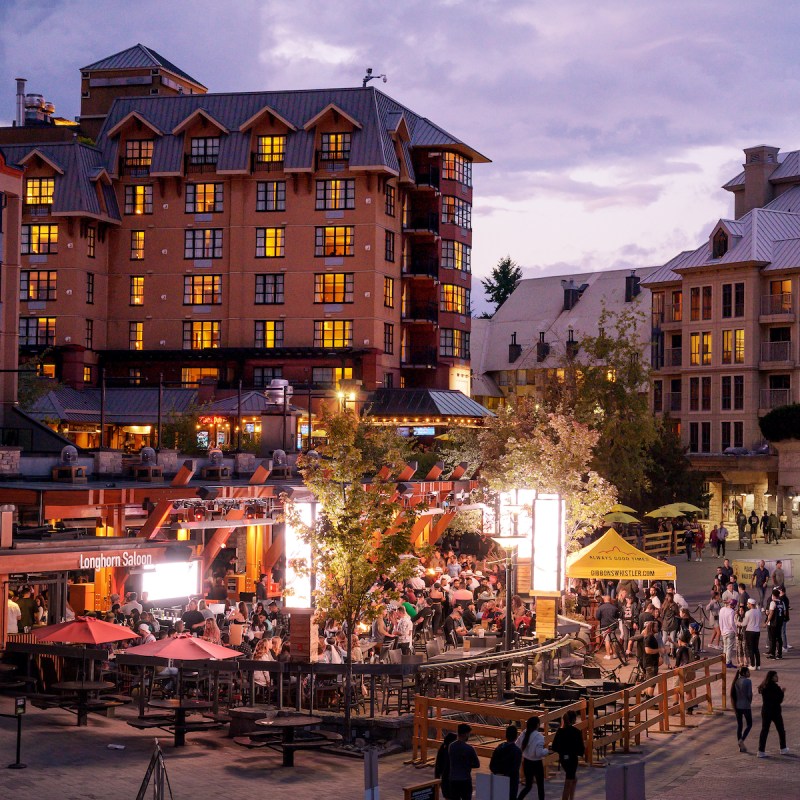 The après ski spots in Whistler, British Columbia, are my favorite of all the ski resorts I have been to. You can ski from Whistler Mountain right into Whistler Villager where you can join in the après ski celebration. It really is a celebration of an awesome day of skiing and a chance to share ski stories while refueling and imbibing your favorite beverage. Many bars and restaurants offer ski storage, especially those right by the Whistler Gondola. The après ski scene is varied and ranges from cheap eats and drinks to upscale experiences. You'll also find live music in some of the venues. The scene varies from raucous parties to upscale elegance. Whatever your vibe, you are sure to find it in Whistler Village.
Après ski is typically from 3 p.m. to 5 p.m. each day. Many venues offer après ski menus or specials so make sure to ask or check websites for options.
Thank you to Tourism Whistler for hosting me on a press trip to this destination.
1. El Furniture Warehouse
This local favorite dive offers cheap eats ranging in price from $5.95–$7.95 CAD (around $4.68–$6.25 USD). El Furniture Warehouse offers classic pub food such as burgers, chicken fingers, and that Canadian favorite poutine. The eclectic menu also has large salads, rice bowls, and pastas. It is super popular for the food and party scene. Wait times can get up to an hour long. Plan to arrive early or get your name on the list and take a walk through the village. I was pleasantly surprised at the variety and how good the food was with a nice presentation.
2. The Longhorn Saloon
The Longhorn Saloon is located right at the base of the Whistler and Blackcomb gondolas. Known for its party atmosphere, this après ski is hopping. You will hear the music pumping as you come off the mountain and may even see one of its famous champagne showers. There are a variety of food options, but its nachos are legendary. A blend of cheddar and Monterey Jack cheese is melted over a layer of tortilla chips topped with fresh diced tomatoes, pickled banana peppers, roasted corn, sour cream, pickled jalapeños, and green onions. You can add spicy bison, chicken, bacon, meat vegan crumble, or guacamole. This is a rowdy, fun, party atmosphere.
3. The Roundhouse
Ride the Whistler Gondola to the Roundhouse for an early après ski at the Umbrella Bar. Perched on a point at 6,000 feet on the summit of Whistler Mountain, it has almost 360-degree views of the mountainous vistas. It really shines for après ski in the spring season when the daylight hours are longer and there are more sunny days. This is nothing fancy with just a basic bar menu but there is nothing like sipping a beer or glass of wine with these jaw-dropping views.
4. Crepe Montagne
Fondue is the ideal apres ski food. Fresh bread dipped in hot, gooey cheese is the perfect comfort food to warm you up after a day on the slopes. Crepe Montagne is an authentic French creperie with outstanding cheese fondues. For a more substantial meal, try a Swiss raclette where you melt cheese at your table and eat with the accompanying meats, breads, and condiments. Add a glass of wine for the complete experience.
5. Dubh Linn Gate Irish Pub
The Dubh Linn Gate Irish Pub keeps the Irish spirit alive with 25 draught taps including Guinness. The pub was designed and crafted in Ireland and then shipped to Canada to the Pan Pacific Mountainside where it was put back together. The menu is heavy on Irish fare including bangers and mash. Make sure to ask about food specials. The last time I was there, I had an incredible turkey pot pie that I lucked out on and got the last one due to its popularity. Located near the Whistler and Blackcomb Gondolas for easy access, you'll enjoy a lively atmosphere especially on the days it has live music.
6. The Bar At Araxi
Araxi can be a pricey place to have dinner so upgrade your après ski with this great menu and enjoy a less expensive option from 3–5 p.m. daily in the bar, lounge, or patio. The Après Ski Fondue is a gourmet version that takes cave-aged gruyere and Emmentaler cheeses swirled with white wine and kirsch (a nice touch) and served with housemade breads, gherkins, and pickled onions. Araxi is known for its fresh seafood and the Daily Oyster Feature is 10 fresh shucked oysters served with raspberry mignonette and, at $19 CAD (around $15 USD), it is truly special. There is also a variety of small plates and two desserts which is a nice surprise and not usually seen on an après ski menu. The bar menu is 29 pages of cocktails, spirits, wines, and beers. It is an amazing selection.
7. Ketel One Ice Room
This is a very cold and exciting way to try some vodka. Your experience begins by donning large Arctic parkas before entering the sub-zero Ketel One Ice Room. Your guide will give you an introduction and explain how the extreme environment enhances the flavor of the vodka and minimizes the alcohol burn. You have the opportunity to try four vodkas of your choice and take some great photos for Instagram. You must make a reservation and due to COVID-19, only private parties of up to eight people are allowed. I found this to be a fun experience and the ice room was so pretty with the blue lighting.
8. Firerock
The lovely Firerock Lounge is located just off the Village Stroll in the Westin Resort & Spa. The interior is warm and cozy and resembles a welcoming ski chalet with a fireplace while the outdoor area offers fire pits. Après skiing here is super chill. Catch up with ski buddies over a glass of wine, BC draught beer, or a craft cocktail. Westin executive chef Bradley Cumming and his team have the perfect pairings of light plates or an artisan cheese board prepared in the Grill & Vine — the Westin's premier restaurant.
The craft cocktails served at Firerock really step up the game. The menu changes to reflect fresh seasonal ingredients used to create flavorful drinks ranging from herbaceous to sweet with something for every palette. The Smoke and Barrels cocktail takes Firerock's own spiced rum, Mezcal, Grand Marnier, lemon, jalapeno orange & cinnamon syrup, an egg white, and walnut bitters, blending it all together. So good. Wine aficionados will love the more than 20 varieties available by the glass. With a resident whiskey connoisseur, you're sure to find something to try among the over 20 handpicked Scotches. Each day of the week also has themed specials.
9. Hunter Gather
At Hunter Gather, you can find a place to gather with friends or family while enjoying locally made food served up with awesome craft beer and wine. It is super casual where you order at the counter and walk-ins are welcome. The Taphouse offers a great selection of beer, wine, and cider. All the beer is from British Columbia with a focus on local brews. Try a tasting flight for four different beers with 5-ounce pours. The food is not pretentious and is made in collaboration with a network of local purveyors.
One thing I love about Hunter Gather is the owners. Grant and Hilarie Cousar are caterers (Hunter Gather was born from Whistler Cooks, their catering company), and there is such a great variety of items to get for takeout. In addition to the menu, they also offer Fridge Full picnic boxes. Their Cheese and Charcuterie box, a variety of gourmet cheeses, meats, antipasto, chutney, and crackers, is the perfect takeaway for après ski in your lodging. You can also get beer, wine, and cider for takeout.
Après ski in Whistler is a blast. It should be part of your ski day or just your day if, like me, you don't ski but love après ski. For those that want a more relaxing experience, check out the amenities at your lodging. Some have amenities normally found in a spa such as eucalyptus steam rooms or heated pools. You can also step it up by visiting the Scandinave Spa for a luxurious outdoor spa experience.
Here are some notes on COVID-19 protocols in Whistler Village. In British Columbia, everyone age 5 and older is required to wear a mask in indoor public settings, regardless of immunization status. In order to access certain events, services, and businesses in BC, everyone aged 12 and older must show proof of vaccination and an ID for both residents of BC and those visiting from outside the area. Also, British Columbia businesses, like many destinations, are experiencing labor shortages. My visit was during the early season, so I didn't experience any issues, but be prepared to experience delays or limited services. Remember to be patient and kind to those who serve you during these trying times.
If you want to squeeze in some actual skiing before your party time, here are a few suggestions: