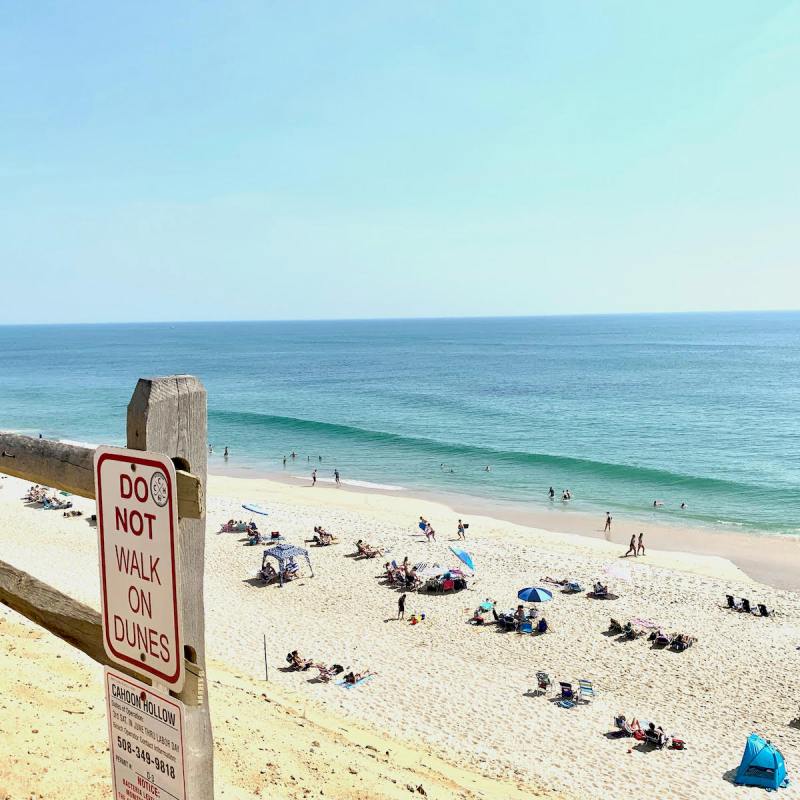 Waterfront restaurant dining on Cape Cod, known simply as "The Cape" to locals, is synonymous with great seafood. A bowl of thick, New England clam chowder, a perfectly prepared lobster roll, or delicately fried seafood grace menus from white linen dining establishments to clam shacks with picnic tables.
Whether you are looking for a basket of fried clams or a glistening raw bar tower, you will enjoy this list of the best waterfront restaurants on Cape Cod. I adore them all and they are listed in no particular order.
1. The Beachcomber
Wellfleet
With views of Cahoon Hollow Beach, The Beachcomber has been a staple for generations of beachgoers. The seasonal shack opens the Thursday before Memorial Day part-time until the Cape's summer season is in full swing through Labor Day. From 11:30 a.m. to 1 a.m., you can enjoy the quintessential toes-in-the-sand summer 'Combers hip vibe.
What To Order At The Beachcomber
When you want to stay local, try Drink The Pink, made with Dry Line Rose Gin from South Hollow Spirits in Truro, mixed with another local favorite — cranberry.
The seafood is perfection on a plate. I order the fried clam strip plate or the fried oyster plate and a cold draft. It is the essence of summer at the beach.
Pro Tip: The Beachcomber parking lot is $30 (9 a.m.-6 p.m.). You will receive a voucher that can be redeemed for food and/or merchandise.
2. Outer Bar & Grill
Harwich
The Outer Bay & Grill at Wequassett Resort And Golf Club offers views of tranquil Pleasant Bay. Open for lunch, this bayside restaurant is a lovely spot to enjoy the casual lux atmosphere of Wequassett.
What To Order At Outer Bar & Grill
If you want to luncheon high-end, opt for the Platinum Caviar with house-made chips — yes, please. A local, and more wallet-friendly option, is the steamed little neck clams with chorizo. Add on a draft Handline Kölsch brewed at the Devil's Purse Brewing Company in neighboring Dennis for a Cape Cod lunch to round out this local feast.
Pro Tip: Wequassett is a popular weekend wedding destination, dining mid-week tends to be less crowded.
3. The Veranda
Chatham
One of the best waterfront views with a sumptuous menu is on the porch at The Veranda, a Chatham Bars Inn dining option. This seasonal restaurant operates on a first come, first served basis, making it accessible to everyone. Keep in mind the porch dining is weather dependent.
What To Order At The Veranda
It is difficult to pass by the local lobster with cognac sauce. Add a glass of prosecco and you will be living la dolce vita. There is nothing like amazing cuisine, chilled bubbly, and a gorgeous view to add some luxury to your getaway.
Pro Tip: Opt for a light lunch so you can enjoy an early dinner and beat the crowds; dinner service begins at 4 p.m.
4. Baxter's Boat Club
Hyannis
With views of busy Hyannis Harbor and the ferry terminal, Baxter's Boat Club has been the local hangout for decades. Locals and tourists alike flock to Baxter's for classic seafood done right.
What To Order At Baxter's Boat Club
The stuffed quahog is one of the best plates on the Cape. I also love their seafood bisque loaded with lobster, scallops, and shrimp — a perfect coastal bite. The whole belly clam plate is waterfront dining perfection for anyone who loves clams. If you are looking for a massive plate of seafood, order the Captain Baxter's Seafood Platter; it's piled with whole clams, scallops, shrimp, and haddock.
Pro Tip: Ask for a seat on the outside deck for the best views.
5. Sesuit Harbor Cafe
Dennis
Open from April to October, Sesuit Harbor Cafe is located in Northside Marina with views of Sesuit Harbor and Cape Cod Bay. The outdoor seating is an arrangement of picnic tables between the clam shack and the waterfront.
This is no-frills dining at its finest. Line up to place your order, grab a table, and wait for the runner to deliver your tasty dinner fresh from the kitchen.
What To Order At Sesuit Harbor Cafe
Everything you order at Sesuit Harbor Cafe is amazing. We pack a cooler with a few brews and some crisp white wine — the cafe is BYOB — and plan our seafood extravaganza as we queue up to order. This is one of our favorite spots to order a lobster roll. The lobster is perfectly cooked and piled high in a classic hotdog roll.
Pro Tip: Sesuit Harbor Cafe is cash only; no credit cards are accepted.
6. Tree House Brewing Company
Sandwich
While not technically a restaurant, Tree House Brewing Company has a beachfront view on First Beach in Sandwich. With the same great beers offered at their original Charlton location, Tree House's signature style and exemplary customer service are clearly evident.
You must reserve your taproom time slot online. Additionally, brew pick-ups require an online reservation. During the weekends, there is typically food truck service available. However, you can bring in your own food to enjoy with a fresh draft or two.
What To Order At Tree House Brewing Company
The King Julius double IPA is one of their signature brews along with the Haze double IPA. My favorite is the dark and rich Tree Of Life Vanilla Bean. The best way to sample a few options is to reserve a taproom spot and share a few tastes, then place your order for pickup.
Pro Tip: Parking is an issue. They have a few spots for guests, and a few more for pickup, otherwise you need to pay and park in the First Beach parking lot. There is free parking at the Sandcatcher Recreation Area near the Cape Cod Canal Visitor Center. It is about a half-mile walk to First Beach and Tree House.
7. Popponesset Inn Restaurant
Mashpee
The Popponesset Inn at New Seabury offers guests views of Nantucket Sound and Martha's Vineyard. The casual dining experience at the Popponesset is a wonderful way to end a blissful beach day. The private New Seabury community is a timeless view into the Cape's exclusive summer residences.
What To Order At Popponesset Inn Restaurant
Open for lunch and dinner, the Popponesset offers expertly crafted coastal cuisine. Classic clam chowder and a loaded lobster roll share the menu with surprises like their prosciutto flatbread with goat cheese and crispy Baja shrimp tacos.
Pro Tip: Reservations are required at this popular spot.
8. Mattakeese Wharf Restaurant
Barnstable
There is nothing more classic on Cape Cod than dining on the catch of the day dockside. Mattakeese Wharf Restaurant delivers a boat dock view and delicious seafood in casual Cape style.
What To Order At Mattakeese Wharf Restaurant
The fried fish has a light and crispy batter encasing perfectly cooked seafood delicacy. I love the Cape Cod Reuben — expertly battered and fried cod on rye bread with all the traditional Reuben fixings. Add a side of potato salad or pickled cukes to round out this terrific luncheon. The clam chowder is outstanding and always a winner. If you are a fish and chips devotee, you will be a very happy customer — you will undoubtedly clean your plate.
Pro Tip: Mattakeese is adjacent to the Hyannis Whale Watcher Cruises, making it the perfect stop after a day out on the high seas looking for whale sightings.
9. Pepe's Wharf Restaurant
Provincetown
Pepe's Wharf Restaurant on Commercial Street in Provincetown (P-town to Cape Codders) is just far enough off the main drag to offer a peaceful repast. Walk to the end of a charming alleyway and you will find the hostess station — just follow the signs.
With a pretty view of Provincetown Harbor from the various porches, Pepe's is a wonderful spot for lunch and dinner. To get great seating, eat off main dining times and arrive before the crowds.
What To Order At Pepe's Wharf Restaurant
The Super Lump Crab Cake served with a zippy remoulade is a wonderful starter. For lunch, it is hard to beat their Crispy Fishwich; the batter-dipped cod is one of the best on Cape Cod Bay. Add a Sam Adams Seasonal Summer Ale for the best waterfront dining combo — fried fish and a brew.
Pro Tip: Pepe's porches are dog-friendly, which can be an important consideration. One note: They allow only one dog per table.
Dining On The Waterfront
Waterfront restaurants on Cape Cod are the perfect way to manage your vacation dining. Cooking perfect seafood is difficult in a vacation home; you will enjoy your seafood feast more when it is expertly prepared and delivered to your table. When you add in the bonus of a waterfront view, it is vacation dining nirvana.
Whether you visit the Cape for a few days or a full week, you will want to explore one of the Cape's best beaches or some Cape experiences in between your dining adventures. If you need somewhere to stay, expore one of these 16 Charming Cape Cod Vacation Rentals From Provincetown To Falmouth.