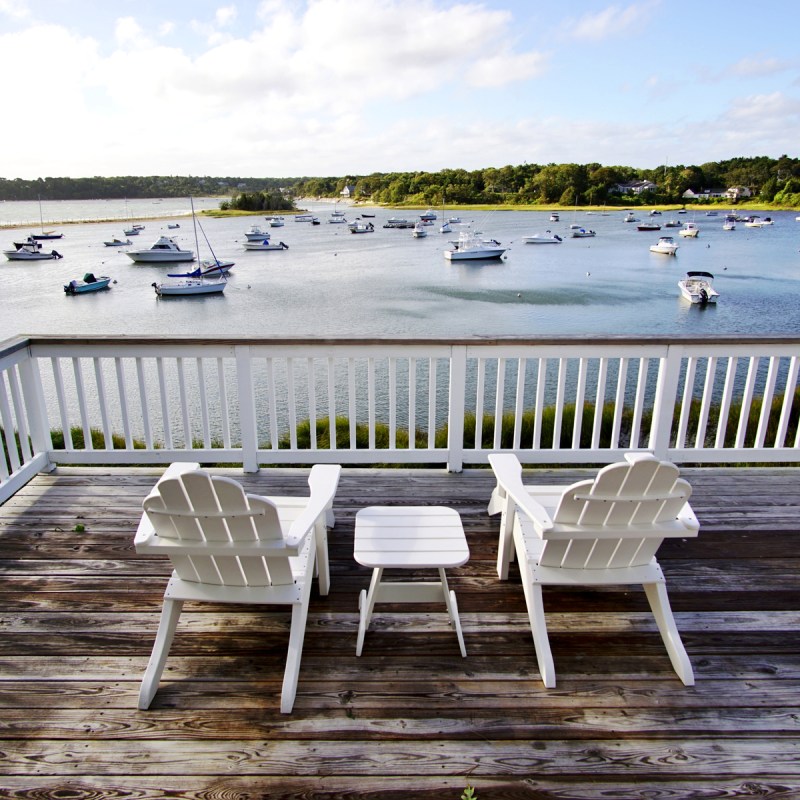 Cape Cod is a spit of land reaching out into the Atlantic Ocean from the Bourne and Sagamore Bridges to Provincetown (P-town to the locals). The Cape is known for her beautiful beaches, quaint little towns and villages, great seafood, and exceptional summer vacation spots.
The Cape is also known for oddities like cheeseburgers served on donuts, hand-crafted rose gin, and ceramic castles in the woods. Here are the best things to see and do there during a weekend.
Cape Cod Dinner Train
Boarding the Cape Cod Dinner Train for a three-hour scenic train ride is like stepping back in time to a bygone era of luxury travel.
The seasonally prepared, five-course dinner menu includes seafood, beef, and poultry options. The train typically leaves from Hyannis, however there are a few departures from the Buzzards Bay and Falmouth stations, too.
Three types of dinner service are available: First Class, which is general seating; Diamond Class, where you are seated in the upper level of a dome car; and Platinum, which includes a private table in a vintage club car and one alcoholic drink per guest.
Dress code for the dinner train is smart casual. T-shirts, tank tops, shorts, and flip flops are not appropriate. Handicapped seating is available for wheelchairs up to 26 inches wide. There are Luncheon and Sunday Brunch trains as well; tickets for these rides and meals are more affordable, making them a great budget-conscious option. Guests for all Cape Cod Dinner Train rides must be 12 and older.
Truro Vineyards And South Hollow Spirits
A tree-shaded lawn of green, dotted with adirondack chairs and picnic tables, guests sipping wine or spirits, and a vineyard providing a bucolic backdrop beckon you to join the party.
You have arrived at Truro Vineyards and South Hollow Spirits, where traditional wine tasting and vineyard touring is paired with onsite distilled rum and gin. You need to taste their Dry Line Cape Cod Rose Gin — a gin of a different color. The hand-crafted, blush-pink gin is perfection over ice.
Truro Vineyards is open 11 a.m to 5 p.m. Monday through Saturday and 12 p.m. to 5 p.m. on Sunday, with wine tastings alternating with spirit tastings every half hour. Tastings start at $10 to sample five wines.
Free seasonal vineyard tours are offered at 1 p.m. and 3 p.m. and free distillery tours are at 12 p.m. and 2 p.m daily.
Cape Cod Craft Beverage Trail
If your pleasure is to taste hand-crafted, local beverages, visit the Cape Cod Craft Beverage Trail. All the hard work mapping out the best craft beverage purveyors on the Cape is done for you. Beginning in Falmouth, winding through Hyannis, Dennis, and Truro, and ending in Provincetown, there are plenty of local crafters ready to wet your whistle. With 11 stops listed on this tour, you may need more than a weekend to sample them all!
Learn To Stand Up Paddleboard Or Kayak
Bass River Kayaking and Paddle Boards' central Cape location in West Dennis on the Bass River is an ideal place to give a new-to-you water sport a try!
Rent a single or double kayak. They will drop it in the water for you, help you climb in, give you a few tips, and send you off into the shallow, usually gentle Bass River. Ever wanted to try a Stand Up Paddle (SUP) board? As will kayaking, you'll receive some key tips, and off you go. Onsite kayak and stand up paddleboard rentals start at $22 for an hour and a half.
You can rent kayaks or stand up paddleboards for your vacation house, too. You can have use of the equipment for two or more days. Rentals begin a $100 per kayak or $110 per SUP board for two days and Bass River Kayaking and Paddle Boards will deliver!
Cape Cod Baseball League
Visiting the Cape between mid-June and mid-August is a must-do for baseball fans. The Cape Cod Baseball League gives you the opportunity to see some amazing college athletes play. Many Major League players showcased in Cape ball.
College players are recruited to fill the rosters of ten teams. Games are played across the Cape from Bourne to Orleans. They are free and played at the local high school fields. Be prepared to sit on metal bleachers — or bring your own folding chairs or a lawn blanket.
Cape Cod League MLB-signed alumni include Boston Red Sox Pitcher Chris Sale, Colorado Rockies Pitcher Chad Bettis, New York Yankees Outfielder Jacoby Ellsbury, and Tampa Bay Rays Designated Hitter Evan Longoria to name a few.
The most interesting Cape treat is served at the Yarmouth-Dennis home game: their famous cheeseburgers on a donut. You need to be in line at the snack shack early because they sell out fast. You can order the "Screamer" — a cheeseburger on a Boston creme donut or the "Hurler" — a cheeseburger on a jelly donut.
Wequassett Resort And Golf Club
Wequassett Resort and Golf Club is a luxurious, five-star resort in Dennis. The spectacular views of Pleasant Bay plus five restaurants, superbly appointed rooms, and coveted wedding venues are accompanied by first-class amenities and service.
The rooms range from suites to three-bedroom residences where you can receive all the pampering you need. During the height of the summer season, rooms start at just under $1,000 a night with a four-night minimum. Off season, rooms start at under $400 per night with no minimum stay.
Wequassett's premier dining room is Twenty-Eight Atlantic, which serves appetizers like lobster carbonara and foie gras torchon, a caviar course, and a New England cheese selection, not to mention the entrees. Expect white-glove service and an impressive wine list. It will be a meal to remember.
Eating In Cape Cod
Down-to-earth eating establishments that offer wonderful food can be found throughout the Cape. Below are a few standouts.
Seafood And Cape Views
Sesuit Harbor Cafe is a shack — literally. Situated on Cape Cod Bay by the Northside Marina in Dennis, the cafe serves the best lobster rolls along with a variety of fresh seafood dishes. Once you arrive, queue up to order. The line moves pretty quickly. The cafe does not serve alcohol, but BYOB is an accepted practice.
Important to note: They do not accept credit cards. This spot is cash only. Seating is outside on picnic tables and the waitstaff will run your order out once it's ready. Plan to have orderers stand in line and table scouters waiting for an empty table. It's a game — finding the perfect table someone is just about to leave and swooping in to secure your seats. The tables are on the inlet to the marina next to a small beach and offer quintessential Cape vistas.
Baxter's Boathouse in Hyannis has on-the-water seating offering a beautiful view. The seafood, rustic atmosphere, and waterfront location add to the ambiance of this quaint old seafood establishment. Two restaurants in one, Baxter's Boathouse Club is for the over-21 crowd and perfect if you are traveling without children. If you have a family in tow, Baxter's Fish and Chips is casual with family-friendly picnic tables.
I Scream, You Scream, We All Scream For Ice Cream!
The Sundae School is the place for a sweet treat. With three strategic locations, they are where you are on the Cape: Dennisport, Harwich Port, and East Orleans. Ginger, Kaluha Chip, Espresso Crunch, and Amaretto Nut are delicious offerings that spice up Sundae School's premium ice cream offerings. Yum!
Shopping In Cape Cod
Scargo Pottery is located in Dennis up the hill from Scargo Beach. An artists' collaborative that houses work from several talented craftspeople at once brings an eclectic mix to the curated pottery. The "castles" — also on the property — are mesmerizing and boast elaborate detail and delicate work. Sculptures, dishes, and wall hangings are displayed in an outdoor gallery where you can wander through the pines and consider taking home a favorite piece.
A fun spot that will have you feeling like a kid again is Dr. Gravity's Kite Shop. It is a landmark institution in Harwich Port, having graced Main Street for the last 42 years! You can find kites, candy, and traditional souvenirs. It's a great place to wander through and will have you reminiscing about your childhood.
Downtown Chatham is a charming seaside town. Stroll down Main Street past galleries, restaurants, candy shops, and the quintessential clothing stores stocked with whale-adorned shorts and nautical-themed polos.
If you are looking for something more artsy and quirky, take a ride to Provincetown at the tip of the Cape. You will find beautiful art galleries, restaurants, and specialty shops. P-town is a haven for artists and LGBTQ+ vacationers. Commercial Street is the perfect place to people watch, snack on a premium ice cream, and enjoy the beautiful day.
If you want to enjoy amazing beaches, wonderful seafood, unique artistic creations, or just find a quiet place to watch the world go by, Cape Cod is the place to visit — even if only for a weekend.
Considering a Massachusetts getaway? Read up on Nantucket vs. Martha's Vineyard (and seven key differences to know).