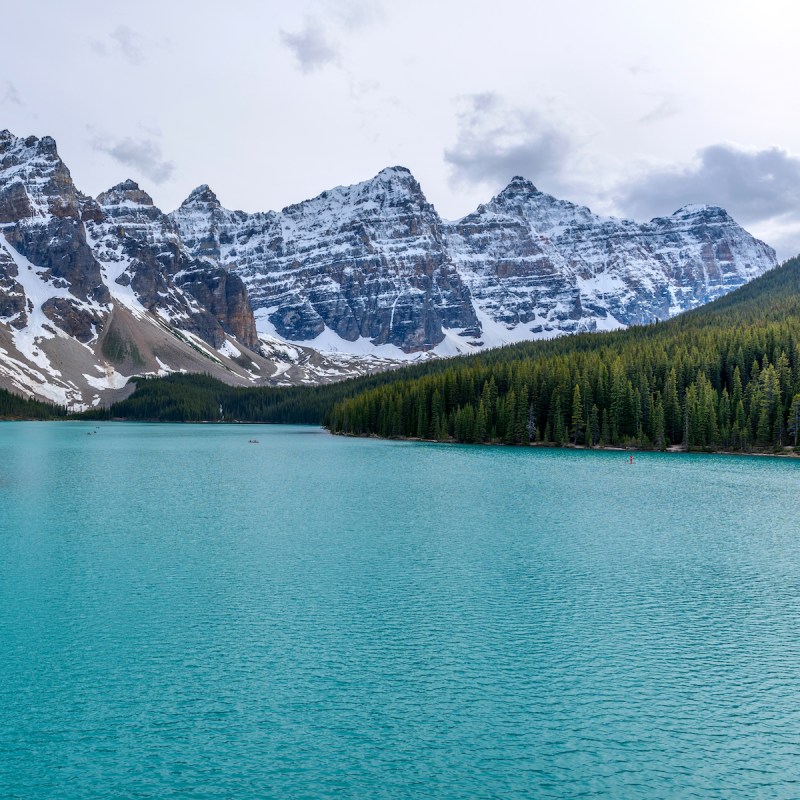 Nothing quite equals the stunning landscape of the Canadian Rockies rising from the plains of Calgary. As our flight from Los Angeles banked for landing, I was intrigued by the distant rim of mountains to the west. The next morning, my family set off in our rented car and recreated the trip I made nearly 50 years ago. We set the GPS for Lake Louise, a little more than 2 hours away — or it would have been if we hadn't stopped multiple times to take in the astounding scenery shifts.
On this trip, I noticed a fence between the forest and freeway. There would be no bear sightings from our speeding car, which is probably best for all concerned. I imagine that the grizzly I saw decades ago is long gone. I was the only one who noticed as he bolted towards the road, muscles rippling, before grinding to a halt and leaping back into the forest shadows. But this trip, I'm here with my new granddaughter, her parents, and my partner and we spent a relaxing morning cruising along as the light shifted, clouds passed, and the wonderful granite peaks of the Rockies embraced us.
Our goal was a wedding at Lake Louise. That wasn't the budget part of the trip but after the initial weekend, we balanced out the luxury by trimming costs over the span of 10 days in the region. Here are some suggestions for doing the same.
1. Budget For Transportation
For those flying into the region, Calgary is the closest airport. Because of our group size and the amount of luggage we brought, renting a car at the airport was best. Not only did it give us the ultimate freedom to pull over should a grizzly or elk appear, but it also meant packing luggage in the back one time and not dragging it on and off shuttles or busses.
That said, you do not need to rent a car to thoroughly enjoy Banff, Lake Louise, and some of the surrounding lakes. Shuttles go from the airport regularly. Any number of tour companies are happy to take you around.
2. Rocky Mountaineer Rail Adventure
I always wanted to take the train between Vancouver and Banff but considered it too expensive. The Rocky Mountaineer, with its striking dome views, takes you through the mountains and you spend at least a night in Banff. Less than 35 miles away is Lake Louise.
If you go north one way and then shuttle to the Calgary Airport for your return home, the cost gets more reasonable. At this time, 3 nights going 1 way is about $2,000. The trip includes breakfast and lunch with complimentary alcoholic beverages as well as non-alcoholic drinks during the day. Signing up for Silverleaf service as opposed to Gold Leaf also saves money.
Pro Tip: Buddy up. Single travelers pay more per person than two people traveling together. Three sharing a room pay even slightly less.
3. Transportation Strategies
Stay close to amenities and destinations to save on car rental costs and parking woes. In the area during the mild months? Rent a bike and scoot around town. Roam Transit runs daily through Banff and travel for children 12 or less is free. Download the App to track bus departures and arrivals. For fare information, check out their FAQ. Roam has several Pass options. For example, the 1 day Super Pass can take you from Canmore to Banff to Lake Louise.
4. Don't Forget Your Park Pass
The pass is good for entrance to Canada's national parks, national marine conservation areas, and national historic sites (close to 100 in all) for a year. It's valid for 12 months from the date of purchase and helps to maintain Canada's National Historic Sites, National Marine Conservation Areas, and National Parks.
A park pass is necessary for a driver and passengers entering a park by vehicle — that includes your own car, a rental car, and even another mode of transportation such as a bus or shuttle.
When driving, you can skip lines and save money with a Canadian Discovery Pass. It's a great bargain for a group of up to seven. Daily breakdowns are about $10 per adult per day and having a Family/Group Pass makes for a substantial discount depending on how many days you need it.
We didn't print our pass out and were fined! It was deleted after visiting the parks office in Banff (twice!) That's not worth the lost time or headache.
Tour companies usually take care to have a pass for each guest. If you are confused (as we were) then check with this site: Banff and Beyond.
5. Mind The Season
Banff is notoriously spendy, but it doesn't have to be. The typical cost of a hotel room in Banff during low season is less than half of what it costs during the peak tourist season. Both spring and fall are wonderful times to visit Banff with a wide variety of outdoor activities to enjoy. Start looking as much in advance as you can and keep checking back for a better rate.
Pro Tip: Visit mid-week for savings. In off-season, you can save up to 20-40 percent on a mid-week Banff hotel room.
6. Widen Your Lodging Options With Airbnb Or Vrbo
By the time our group arrived in Banff we were up to eight adults (the maximum allowed locally at share rentals in town.) We pulled up to the Crosby house which was more than large enough with the option of making our own meals, even doing the laundry. While there are many great restaurants near, making dinner together each evening was a real treat.
Pro Tip: Having laundry facilities means packing less and avoiding exorbitant airline luggage charges.
Our historic home was across the street from the Bow River. We could walk to kayak rentals, coffee shops, and local markets. Main Street was close as well as several museums. With lovely fall weather, we even walked to the waterfall, an easy stroll except for the last section with stairs.
7. Stay Out Of Town
I found a pair of cute and interesting small hotel/motels outside the main hub of Banff.
One is the unique Dorothy Motel inspired by notable women in the Bow Valley. Pioneers like Mary Schaffer and Mary Vaux to 21st-century mavens Dorothy Carleton and Sharon Wood. With homes in the backcountry, each balanced motherhood with wilderness adventure. The small hotel also pays tribute to the First Nations and recognizes that when here we are on the traditional lands of the Stoney Nakoda, Blackfoot, Dene, Ktunaxa, and Metis.
There are two types of rooms at the Dorothy with King beds or two Queens. It's a pet-friendly spot and check-in is off-street.
The Juniper Hotel was built over 60 years ago and had a loving redo. Today, the Modernist bones have been polished and native plants are flourishing here again. The gorgeous patio faces the mountains with a spacious dining room adjacent. Minutes from downtown, the hotel offers a Work In the Wild special with a mid-week rate for a standard or deluxe room. You have to contact the hotel directly to take advantage of the special pricing.
8. Explore
While we drove through the Banff area, stopping at several lake viewpoints, two are at the top of my list.
Moraine Lake is renowned for its amazing, glacial color and setting surrounded by the rugged Valley of the Ten Peaks. It's 8 miles from Lake Louise. While there are several trails around the lake, I recommend climbing up the rock hill adjacent to the parking lot. The views from the top are unbelievably beautiful. It's not a long trail. There's a lodge at Moraine Lake that's being rebuilt for luxury but campsites nearby would be more budget friendly.
Pro Tip: Reserve a seat on one of the shuttles that comes from Banff or Lake Louise to avoid disappointment. The parking lot is far too small to accommodate the number of visitors. The shuttles come and go frequently.
9. Emerald Lake
There's a sweet 3-mile loop trail around this turquoise lake. It will take you past an avalanche site, over bogs on a raised walkway, and through a rooted forest berm with views of the lake and mountains throughout. All that hiking makes one hungry. We looked into lunch in the woodsy, lodge dining room but opted for a casual repast at Cilantro Café while watching the canoes near the lakeside.
Pro Tip: Weather permitting, don't miss paddling a canoe in the region. Lake Louise has a spectacular paddle but is at the top end of the luxury budget. More affordable options include the Bow Lake canoe club in Banff and canoeing at Emerald Lake. I'm sure there are dozens of others. It's a quiet and wonderful way to experience the glacial beauty of the region.
10. Make Time For A Soak
After canoeing or hiking, consider a dip in the Banff Hot Springs and treat your muscles to the waters once prized by the First Peoples. The baths are affordable and family friendly. There are other hot springs further from town, but this is the easiest to reach from the city. It's near the Fairmont Banff and Gondola. We wrapped our trip up with a soak and meditation on the beautiful valley. It was the perfect way to contemplate this rare and graceful place.
To learn more about Banff, check out these articles: