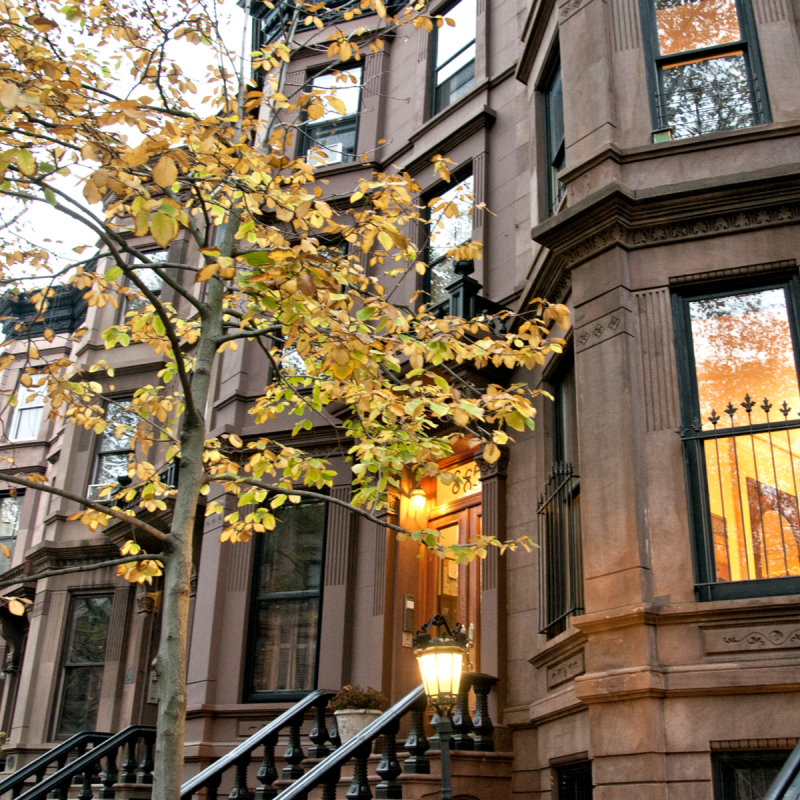 My first vivid memory of Brooklyn is of a brownstone. I remember peering out the backseat window to memorize its staircase, doorway, and the porch light that my babysitter used to guide her way to the entrance. We'd stopped only a few minutes to drop off a package, and as quickly as the image was cemented into my memory, we were back on the road. It would be some time before I saw another brownstone.
My youthful party days brought me back. House parties with a friend's band started in the evening in the City (Manhattan) and ended late in Brooklyn. When the festivities ended and fatigue set in, I crashed on any available couch. If there was not one available, then I went to my brother's house in Flatbush. On the odd occasion with no options, the A or Q Train, which ran through multiple boroughs, would sway me to sleep before the new day began.
During those and later times, I slowly realized that I truly did not know much about the city. Eventually, I decided to rectify this by walking through most of the neighborhoods and learning about their distinctive histories.
When I see a "best of" list of New York, it always emphasizes Manhattan with a mention of one or two places or experiences in Brooklyn and Queens. Yet Brooklyn is a city onto itself with neighborhoods and options that can fill an entire week.
DUMBO (Down Under the Manhattan Bridge Overpass), Brooklyn Heights, and the always popular Williamsburg will always be the main draws, yet there is much more to see and experience.
Please note that these neighborhoods are huge, so plan to spend a day in one area and find what interests you.
Brooklyn: More Than A Borough
Don't think of Brooklyn as a borough; instead, think of it as its own city, which it was until 1898.
Riding the subway is the best way to get around, but be prepared for trains to be rerouted or skip stations, especially in the evenings and on weekends. Pay attention to signs on the platforms that show any temporary changes or track work. Be on the lookout for subway maps or download the MTA app so you can plan around any changes. If you are truly lost, ask a local. They will have no issue guiding you to your destination.
Now head to a fare kiosk and put in at least $20. Please note that the same card can be used for multiple people. You can visit the neighborhoods below in any order.
1. Sunset Park
Throughout the late 19th century, Irish, Polish, and Norwegian immigrants migrated to the area due to the abundant work on the waterfront. As time progressed, the area became industrialized as warehouses began to fill the landscape between the park — where the neighborhood gets its name — and the Bay Ridge Channel.
Nowadays, the area hosts the huge Chinese community that started Brooklyn's Chinatown, while various Hispanic groups can be found along 5th Avenue.
Depending on your preference, you can start your day in two different ways.
Green-Wood Cemetery (R Line, 25th Street Station)
If you enjoy history, cemeteries, and exploration, then visit Greenwood. Start by grabbing a pastry at Baked in Brooklyn and head for the Gothic Archway main entrance. Grab a map to help you navigate and enjoy.
Inside the gates, you will find monuments to the American Revolution, elaborate mausoleums, a statue of Athena that points to the Statue of Liberty, the final resting place of famous Brooklynites, and the hoofprint of the devil who lost a dance battle against an enslaved man.
Bush Terminal Piers Park (D, N, R Lines, 36th Street Station)
Head down the street to Tacos El Bronco for breakfast or a light meal before or after visiting Terminal Park. The park offers hiking, benches, and different views of the Statue of Liberty. Never worry about a crowd since most tourists do not venture this far into Brooklyn. Sit back, relax, and take in the views of Manhattan.
The close proximity of both Asian (8th Avenue) and Hispanic restaurants (4th Avenue) offers a fun self-guided food tour. Chuan Tian Xia offers great pineapple rice, while El Espino's El Salvadoran pupusas are addictive.
After breakfast or brunch, go to Sunset Park to see what, if any, community events are happening or see if the Brooklyn Army Terminal (B.A.T.) is hosting any special events.
Fun Fact: Elvis was deployed from the Terminal in 1958.
2. Red Hook
Originally named Sassian by the indigenous Lenape, the Dutch later re-named the area Roode Hoek due to the color of the soil and the hooked appearance of the landmass.
Red Hook is where I go to reconnect with Brooklyn's past. Disconnected from other neighborhoods due to a lack of subway stations, it is easy to find locals who have either lived in the area for decades or come back frequently.
Editor's Note: Red Hook is also connected to other neighborhoods by bus.
The best time to explore is on the weekends when people are most active.
Use the F Line or G Line stations on Bergen Street, Carroll Street, or Smith 9th Street that let you off at the adjacent neighborhood of Carroll Gardens. From there, take an Uber or Lyft to Red Hook.
Start at the Waterfront Museum Barge before making your way into the main area. From there, your options are limitless. Sunny's Bar is a local hangout that accepts only cash. Van Brunt Stillhouse offers up locally made rum, bourbon, and vodkas, while The Red Hook Winery has a selection of local wines.
If you're hungry, head over to Hoek Pizza whose staff are fun to be around and chat with. Hometown Bar-B-Que offers something a little heavier, or go to Red Hook Lobster Pound for some seafood.
If you love street food, stop by Red Hook Park where various Hispanic food carts set up shop during the local baseball games or football (soccer) matches. Obviously, you should save room for Steve's Authentic Key Lime Pie before watching the sunset at Louis Valentino, Jr. Park and Pier, or stroll down Van Brunt, which is this neighborhood's main throughway.
3. Park Slope And Prospect Park
Park Slope and Prospect Park are two adjacent areas. Prior to the 1980s, both areas were not places you wanted to be in after dark. Today, there are no signs of its pre-gentrified past as both areas are ideal for long weekends and a quick departure from areas such as DUMBO.
Start at Grand Army Plaza (2 Line or 3 Line at Grand Army Plaza Station). Depending on your interests, you have two options.
Brooklyn Museum
Featuring a rotating calendar of local and international art exhibits, the museum and the surrounding area are full of quirky and exciting displays that highlight Brooklyn. Although the inside has more than enough to view, take some time to explore the grounds.
The 34-foot floor replica of the Statue of Liberty is an overlooked local landmark, and the Brooklyn Botanic Garden, located next door, makes for a great pairing. If you are in the mood for a lunch stop, try the Brooklyn Museum Food Truck for something off their menu, and then relax under the shade.
Prospect Park
On weekends, you will usually find events ranging from farmers markets to musical events. For those looking for more active pursuits, the park also hosts group bike and hiking events. Prior to arriving, check the events page of the Prospect Park Alliance to learn what is scheduled.
If wandering and enjoying the scenery is more your speed, then proceed. Within the park, you'll find waterfalls, Revolutionary War markers, a hidden Quaker cemetery, an Italianate mansion, and more. My advice is to follow the main path, and if you see something, go towards it. You never know what you might discover.
When you are ready for more, head over to Park Slope, where you will find old bathhouses, Al Capone's childhood home, and a number of restaurants and venues. Wangs is my go-to place for Asian soul food after a few drinks at the adjoining PDA Pizza (Public Display of Attention) or Threes Brewing a few blocks away.
4. Flatbush, Bushwick, And Coney Island
Although I have described only three neighborhoods, there are still more to experience. Flatbush features a variety of Victorian and Gothic homes behind the commercial corridor going back to the 19th century. Bushwick's mural arts scene revivals Williamsburg with artists such as Vanessa Kreytak, Peach Tao, and the Bushwick Collective.
Lastly, Coney Island is worth the trek for a classic hotdog from Nathan's and the opportunity to practice salsa dancing with the live performers and musicians at the pier as a Chihuahua draped in a Puerto Rican flag wanders around with a tip jar.
With so many options, it is clear why "Brooklyn is where it's at."