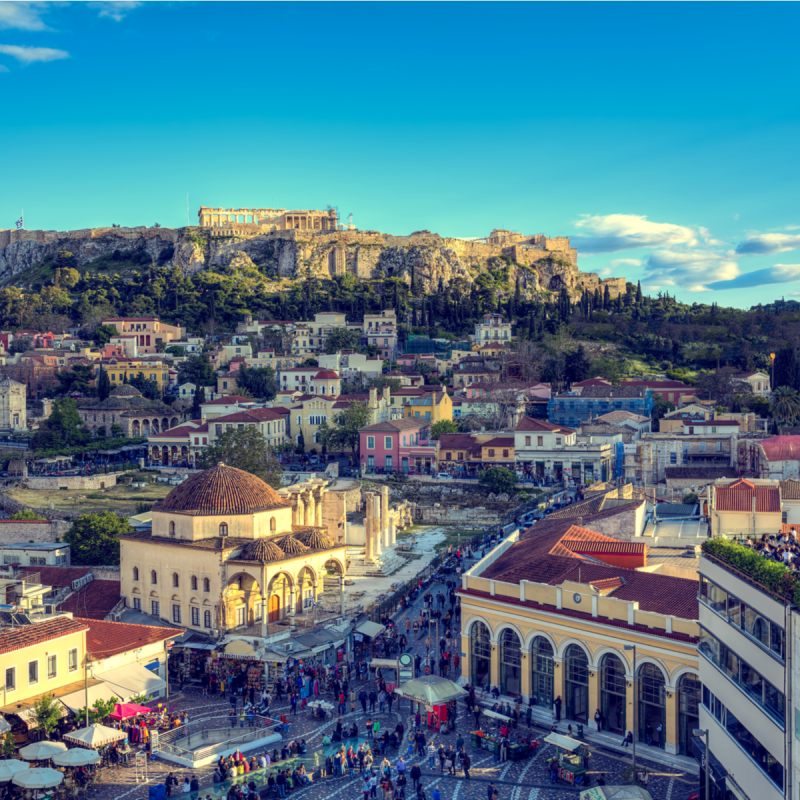 In 2022, there have been nine flights a day from the U.S. to Greece on all three major American carriers, having started from Boston, Chicago, and Atlanta on March 7 and totalling 63 flights a week. It's projected that Greece will expect more than half a million U.S. tourists to visit this summer. Naturally, this is exciting as tourism has long been the sector that drives the economic force of the country.
If it's your first visit, or even if you're a seasoned traveler here, it's always handy to have some tips and important things to know before you visit. As a long-term resident here myself, I'll share with you what I think are some important things to know before your first trip to Greece.
1. Currency And Credit Card Usage
The currency used in Greece is the Euro (€). As currency exchange rates fluctuate daily, double-check them but be aware that the Euro is a strong currency. Always keep some cash handy. You can use your credit or debit card in any ATM machine in Greece. Credit and debit cards are increasingly accepted, including the contactless feature where you do not have to put your PIN in the machine.
I would personally recommend Visa and Mastercard as, whilst Dinars and AMEX can be accepted, it's few and far between. You're much more likely to have better luck with Visa or Mastercard.
On the note of currency, know that sales tax is included in the stated price of an item, so you won't have any nasty surprises when you get to the till.
2. Tipping Is Not Like It Is In The U.S.
This is an important "tip." It's not obligatory to tip in Greece, which to many North Americans is unheard of. If you do decide to tip — entirely at your discretion — then anywhere from 5–15 percent of the final bill is acceptable. Usually, people tip at a taverna, especially places that are run by small Greek families. A good example to follow is, if a bill for two people comes to €35, round up to €40. Always round up to the nearest €5, if you feel like you need a guideline.
If you're eating in a bigger place, then check if the service charge has already been included. And for coffee shops, you will most likely find a tip jar at the till.
One thing's for sure — do not overtip. It can be considered insulting and a little showy.
3. Explore The Nearby Greek Islands
Many visitors to Greece head to the islands of Santorini and/or Mykonos without realizing there are over 227 other inhabited Greek islands to explore. For example, the Saronic Islands are a cluster of smaller and lesser-known islands, easily reached by ferry from the Port of Piraeus in sometimes less than an hour, making a day trip from Athens possible. But it's worth taking some time to island hop or stay on one particular island to relax.
The island of Poros has a beautiful amphitheatrical-built harbor and is surrounded by a lush pine forest. It's only 1 hour by high-speed ferry from Piraues. Or head to the Jewel of the Saronics, Hydra, which has no motorized vehicles and, whilst not so popular for beaches, has a very bohemian vibe with boutique shops, small hotels, and a Venetian harbor.
Certainly, the Saronic Islands give the more popular Greek islands a run for their money due to their aesthetic beauty and lack of distance, making it possible to combine a city break in Athens with an island trip.
4. Spend Some Time In Athens
Athens has some gorgeous sites after you've visited the famous Parthenon and Acropolis Museum. Don't just use the capital as a transit point before going to the islands or onwards in your travels, spend some time exploring alternative things to do in the city. Explore places like Anafiotika, an island village within the city located just under the Acropolis rock; or take in some of the phenomenal street art with an informative street art tour, learning about each piece's background and understanding that street art is more than just graffiti.
With your choice of gorgeous and cozy boutique hotels to stay in, make the most of your time in this eclectic city.
5. Explore The Mainland
Of course, Greece is more than just the many islands, there are some gorgeous mainland destinations to explore too. The Peloponnese, a 13,359-mile peninsula in southern Greece, is surrounded by water and connected to the mainland by the Corinth Canal or Rion-Antirion Bridge, effectively making the region one big island.
Here, you'll find Nafplion, the original capital of Greece, with its cobbled streets, grand mansions, and large squares. At just under 2 hours, it makes for a perfect day trip from Athens.
The town of Monemvasia is at the southernmost tip of the peninsula, a breathtaking ancient castle town carved into the slopes of a huge rock jutting out to sea. It's only accessible by a single causeway from the mainland, or it can be viewed from the sea if out on a boat trip.
And further inland, you have the Oracle of Delphi, the "Navel of the Universe," as scientists confirm it's the absolute central point of earth.
6. Eat Like A Local
With its mix of influences, Greek food is extremely varied, so expect more than just tzatziki and moussaka. As a seafaring nation, you can expect fish to be served around the country and the capital, from Michelin-trained chefs to small family tavernas. In recent times, Greece has embraced not only the traditional street foods, such as souvlaki and gyros, but also its own cuisine, with an international twist, and restaurants are increasingly catering to the growing vegetarian and vegan crowds. Learn how to eat like a local before you come.
7. Beware Of Your Belongings
With only three lines, the Athens Metro system is very easy to use. It's clean and cheap. For example, a 90-minute round-network ticket costs only €1.20 ($1.28). The Metro to or from the airport is only €9 ($9.58) and some of the stations are like museums with ancient artifacts on display, found when the Metro was dug up and constructed.
But it's not without its problems. Pickpockets do operate through the transport network, so just be careful of your belongings. Don't leave anything in your back pocket such as money, a wallet, or a phone — some people use decoy wallets to deter any potential pick pockets.
It's a good idea to spread out your cash over your body and invest in anti-theft travel clothing, or wear a money belt hidden underneath your T-shirt.
Also, never casually leave your phone on a cafe or taverna table, nor hang your bag over the back of a chair.
8. Respect And Sensitivity
The orthodox religion is prevalent in Greece and pervades everyday life. This can be admired through their many beautiful and ostentatious churches. If you're heading to a beach for the day, you're also more than likely to find a small church located there. If you want to explore a little, to show respect, take a shawl to cover up your arms and legs. Skimpy shorts and tops won't be appreciated.
There are also a couple of gestures that are extremely rude in Greek culture — like making the "OK" sign by forming a circle with your index finger and thumb and splaying your hand, palm facing the individual.
9. Manual Cars Are More The Norm
That's not to say automatics can't be found, but manual, stick-shift cars are more likely found on the lesser-known Greek islands and some of the smaller mainland destinations. If you feel this is likely to affect you, I'd recommend renting a car in Athens and planning your trip from there. You can take your car on the ferry journeys to bigger islands, and the bigger islands will have automatics anyway. Don't rely on this though, especially in high season. It's always best to reserve one in advance.
10. Wait Before Crossing The Road
This is a favorite of mine, and an important thing to know. Always wait an extra 5 seconds or more before crossing a busy main road, even though your light may be showing that you're allowed to do so. This is because many cars seem to think it's acceptable to run red lights — and very rarely ever get stopped for it.
11. "Greek Time"
Relax. When in Greece, you're on Greek time. This invariably means that things won't necessarily open up when they should, the taxi driver may be a few minutes late, and the restaurant might open a little later than the stated time on the door, for example. It's not a rigid country — just go with the flow. You'll soon relax into it. Somehow you never end up late.
On the subject of time, shops such as supermarkets and malls will be closed on Sunday to respect the orthodox religion. You will find, however, most tourist shops open.
I hope this has prepared you for your Greek vacation. Greece is a beautiful country to visit and a very laid back one. Follow these things to know and you'll be on your way to being well prepared.
Don't miss out on these incredible things to do in Greece: