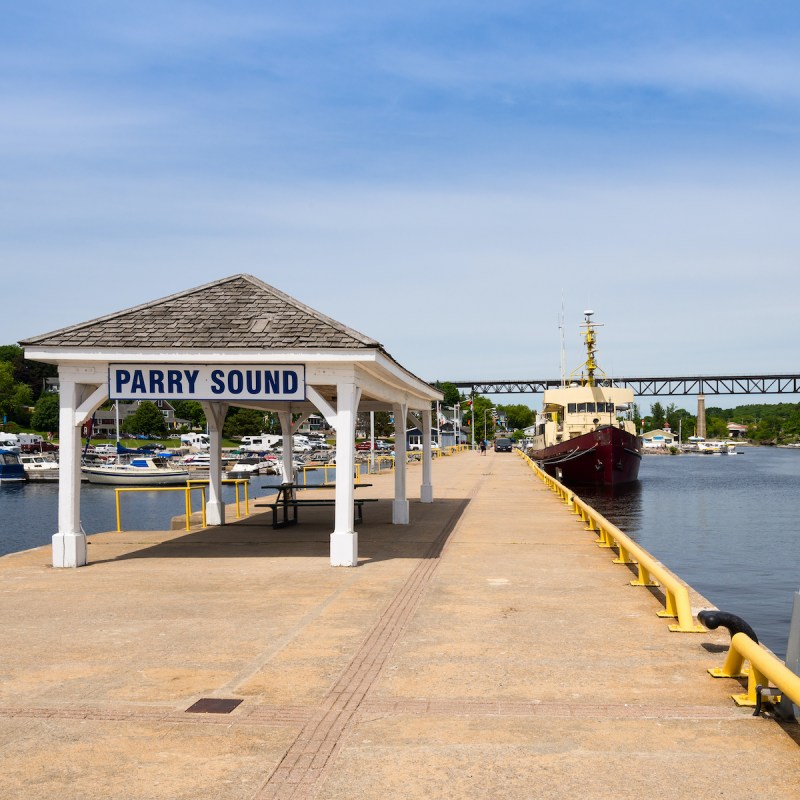 Just over 2 and a half hours north of Toronto, the town of Parry Sound (population 6,500) is more than a gateway to northern Ontario. It's a wonderful place to visit, an ideal base for exploring gorgeous provincial parks, and is at the heart of the Georgian Bay.
Georgian Bay is part of Lake Huron, one of the five Great Lakes. But while Lake Huron and its counterparts often feature wild winds, high waves, and cold temperatures, Georgian Bay is comparatively calm, tranquil, and warm. While nature enthusiasts should of course take all the usual precautions while they're out exploring (this is a powerful body of water all the same), Georgian Bay is a wonderful destination for swimming, kayaking, and canoeing, even for beginners. And being next to a pretty spot like Parry Sound makes this outdoor getaway even better.
I've come to know Parry Sound well. It's been one of my main camping destinations for more than a decade. And as anyone who knows about my dubious claims to camping prowess, I'm always eager to escape the woods and explore anything that boasts modern amenities! Parry Sound has been my saving grace on more than a few camping rainstorms and I look forward to visiting it again and again. Here's what you can expect to see and do on your own trip.
1. Camp And Hike At Killbear Provincial Park
Just north of Parry Sound, Killbear Provincial Park is a superb destination for camping, hiking, and fishing. Yes, bears have occasionally been spotted here (recommendations to secure your food and clean your campsite at night are no joke) but I've never seen one. I have, however, spotted a bobcat! Friends have spied Blanding's turtles, but the most famous resident of the park, the endangered Massasauga rattlesnake, remains elusive to me. Visitors will note there are special little snake tunnels beneath the roads to help the reptiles avoid vehicular encounters. An active discovery program includes concerts, presentations, and guided hikes to help you better appreciate the area's flora and fauna. (I personally recommend the damsel and dragonfly walk).
2. Relax At Oastler Lake Provincial Park
Located just a few minutes south of Parry Sound, Oastler Lake's main attraction is its namesake. This gentle lake is perfect for fishing, swimming, and paddling. This family-friendly camping destination has playground and volleyball areas but light sleepers should note that the railroad tracks are nearby. Expect to hear some train whistles in the middle of the night!
3. Embrace Adventure At Massasauga Provincial Park
This provincial park hasn't made it to my own camping list yet, unlike the other two, and that's because it's a backcountry campground. Wimpy car campers such as myself need not apply! All Massasauga Provincial Park campsites are accessible only by water and only paddle-power is allowed. Hearty campers will be rewarded with excellent hiking, fishing, birding, and maybe a chance to see the endangered Massasauga rattlesnake. (Hopefully at a distance!)
The fact that such a small town has three incredible provincial parks within a short drive really highlights how this is such a superb spot for nature lovers. Plus, there are even more parks within a 2-hour radius. If you love to explore the great outdoors, Parry Sound is where you'll want to establish your base.
4. Tour Georgian Bay's 30,000 Islands
You could live here your whole life and never really know about a fraction of the area's thousands of islands. But cruising on the Island Queen is an excellent start. You'll enjoy gorgeous scenery and a bird's eye view of spectacular wildlife (not to mention some very fancy cottages, as well as some adorable wee ones that capture my heart). The boat was specially designed for these waters and it gets very close to the stone cliffs of the bay. In addition to 2-hour cruises (in the morning) and 3-hour options (in the afternoon), you can also do a 2.5-hour tour of Huckleberry Island which includes a short guided hike with a naturalist and some free time for swimming in a gentle, shallow beach.
Even if you can't set aside the time for a tour, I highly recommend a walk around the docks by Bay Street. It's a pretty area and great for taking photos or getting a drink on the patio with a view.
5. Sail Into The Sunset
If you want to add a little romance to your trip, consider a sunset cruise or a sunset dinner cruise aboard the M.V. Chippewa III. This boat is much smaller than the Island Queen and has an intimate feel, perfect for romantic evenings on the water as the sun goes down.
6. Discover Some Hometown Hockey Pride
Parry Sound is the hometown of hockey legend Bobby Orr. You can learn about his remarkable career and gain insight into what it means for a small town to be the home of a sports hero at the Bobby Orr Hall of Fame. At Orr's request, the Hall of Fame doesn't just celebrate him but all local sports stars and over three dozen people have been inducted. The Hall of Fame is connected to the Charles W. Stockey Centre for the performing arts, which hosts a robust calendar of special events, concerts, book readings, and film screenings. I highly recommend to, if you visit one, take the time to check out the other.
7. Take In The Sounds Of Parry Sound
One of the most remarkable events hosted at the Charles W. Stockey Centre is the Festival Of The Sound. This 2-week annual event in late July celebrates classical music. The festivities attract some of the finest performers and composers in the world and, in 2018, the festival added a folk music weekend and a jazz music weekend to round out its offerings. A highlight of the program is the music-filled cruises aboard the Island Queen.
8. Swing By The Markets
Every Tuesday from the end of June to the end of August, the Parry Sound Farmers' Market offers fresh produce, homemade food, smoked fish and meat, and handicrafts. It's joined by the Carling Market at the Carling Community Centre (just north of Parry Sound) and the MacKellar Market to the northeast, both on Saturdays.
9. Feast On Pizza
Parry Sound is home to several good restaurants and my personal favorite is one that will appeal to foodies and hungry hikers alike. Maurizio's Pizzeria makes scrumptious wood-fired pizzas. My go-to choice is the "Ship Wreck" (with pesto, feta, bacon, tomato, herbs, arugula, and balsamic glaze), while my husband favors the three-meat "Raptor" calzone. Visitors will find lots of veggie, vegan, and dairy-free options, plus gluten-free cauliflower crusts.
I'd be remiss if I didn't also recommend the nearby Twiggs Coffee Roasters. This small northern Ontario chain offers gourmet coffees, light breakfasts and lunches, and baked goods like chocolate cheesecake.
10. Bring On The Beer
Parry Sound is in the heart of camping and cottage country so it's only fitting that there's some great beer nearby. Some breweries to check out include Norse Brewery in the nearby community of Nobel. It offers a dark ale, a red ale, and a golden ale. The Trestle Brewing Company is situated along the Parry Sound waterfront in a building that was once an old rail station and later a fuel storage depot. Check out their cranberry-raspberry sour and their Mexican hot chocolate stout, plus a small gastropub menu stuffed with local ingredients.
11. Stock Up On Books
For a small community, Parry Sound is punching above its weight in the literary scene. It is home to two excellent book stores and literary events are also held at the Charles W. Stockey Centre. Parry Sound Books specializes in new titles and has an excellent selection of children's books, puzzles, and art supplies. A fire in 2020 forced the store to relocate for a year to the owner's home, but they're back in a beautifully renovated space now. The aptly named Bearly Used Books is a high-quality secondhand bookstore. And, yes, you'll see a bear on some of their signs and products! Keep an eye out for Sophie, the bookshop's resident dog.
Pro Tip: This Basic Hotel Really Delivers
Parry Sound has a decent selection of brand-name hotels and assorted inns, but time and time again, I return to the town's Comfort Inn. I know, it's not exactly the most exciting of recommendations! But I've stayed here several times thanks to rainstorms that flooded me out of my tent — my camping misadventures could fill a book. Every visit included clean, comfortable rooms and a very friendly, helpful staff. Plus, the hotel's position next to the highway and a number of chain shops and restaurants made for easy restocking of all our gear (and spirits). Sometimes standards can vary at more modest hotels, but this Comfort Inn is excellent.
If you want to explore more of the Ontario area, check out these experiences: