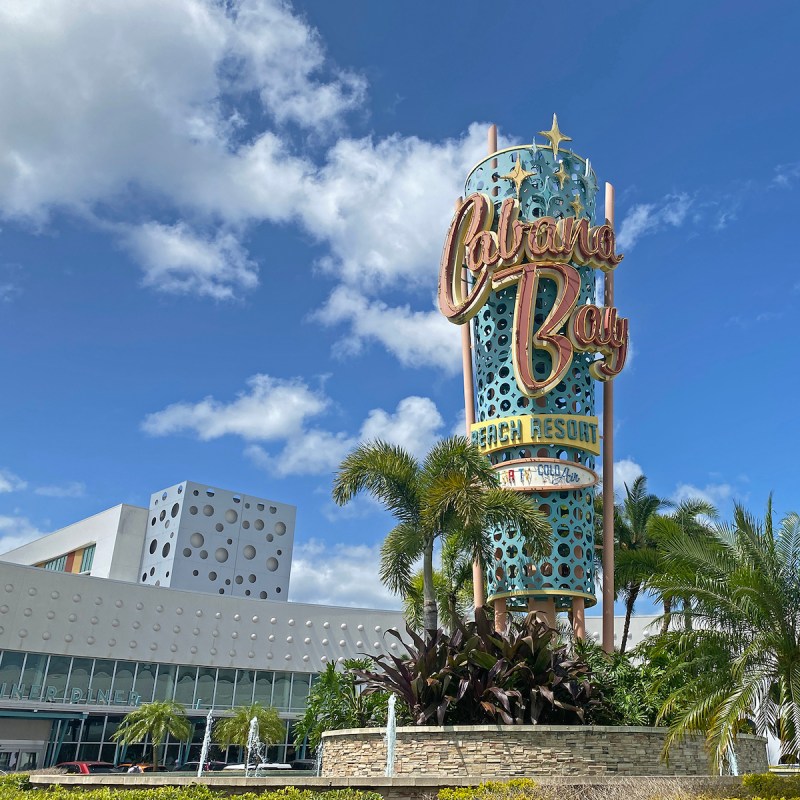 Teeming with families, school choir groups, and tween cheerleading squads, Universal Orlando's Cabana Bay Beach Resort is not the hotel to book if you're looking for a romantic getaway from it all.
Rather, this sprawling, 2,200-room property with two swimming pools, water slide, and lazy river, plus a bowling alley and arcade, is the place to be when you're traveling with kids to central Florida and you want to have plenty of family-friendly amenities just steps away from your hotel room.
I spent three nights at Cabana Bay Beach Resort, part of the larger Universal Orlando Resort, during an April school vacation week. I didn't travel with my own college-age children, but with my brother, his 10-year-old son, and my mom, who treated us all to an action-packed family trip.
I found plenty to enjoy at this family-centric vacation destination — as well as some things to keep in mind if you're planning a stay at this hotel yourself.
Here are five things I loved about Universal Orlando's Cabana Bay Beach Resort:
1. The Vintage 1950s And 1960s Theme Is Fabulous And Carried Throughout The Resort
You might feel as if you've stepped back in time when you enter Cabana Bay Beach Resort. From Frank Sinatra's piped-in tunes in the lobby and the classic cars parked outside, to the Alberto VO5 stocked in the guest bathrooms and the turquoise-and-orange decor in the main restaurant, the throwback to the 1950s and 1960s is everpresent here.
Designers did an excellent job with the vintage beach-themed architecture throughout the property. Especially around the pool areas, with their colorful umbrellas, art-deco accents, and mid-century fonts used in the signage, the resort is reminiscent of a locale where "The Marvelous Mrs. Maisel" might have vacationed.
I sat for a long while staring at the decades-old news clips and commercials that air on big screens in the Bayliner Diner, and I was tickled to see rotary payphones on the walls. Part of the fun of wandering around the large resort is simply noticing all of the vintage references.
2. The Resort's Location Amid All The Theme Park Action Is Great
Cabana Bay Beach Resort is adjacent to Universal's Volcano Bay water park. We could see people entering the park from our 11th-floor guest room in the Bayside Tower. For us, it was about a 7-minute walk from our tower to the special hotel-guests-only entrance to Volcano Bay. Folks staying closer to the main lobby might have a 15-minute walk — Cabana Bay is a big property, remember!
There's also a free shuttle bus to the other Orlando Universal theme parks like Universal Studios and Islands of Adventure, as well as Universal CityWalk with its plethora of dining and shopping options. So if you plan on spending your days enjoying everything the Universal Orlando Resort has to offer, Cabana Bay is a great place to serve as your home base because it's close to everything.
Also, when you stay at any of the Universal Orlando Resort hotels, you get early park admission to Volcano Bay and The Wizarding World of Harry Potter, an amazingly imaginative attraction that spans both Universal Studios and Islands of Adventure.
3. On-Site Dining Is Casual And Mostly Cafeteria-Style
Bayliner Diner is the main dining area at Cabana Bay, and it's a food court of sorts, with various stations serving all different types of food items cafeteria-style for breakfast, lunch, and dinner. You'll place your order at the grill or salad bar, for example, and get your meals plated to take to nearby tables and chairs, or you can get to-go containers to eat your meal elsewhere. The options are quite varied at Bayliner Diner, with something for everyone, and that goes for the available grab-and-go snacks and drinks, too.
Other options for casual dining include two different poolside restaurants serving items like sandwiches, hot dogs, quesadillas, and salads, plus cocktails, beer, and wine. Starbucks is open all day for its specialty coffee drinks, breakfast items, and sandwiches. The restaurant at the Galaxy Bowl bowling alley does offer sit-down table service (you don't have to pay for bowling to eat here), and the menu includes appetizers, burgers, wings, sandwiches, and salads.
Pro Tip: These dining venues get very busy and lines can be long. Be sure to pack your patience if you're dining at peak times. You might find shorter lines when most folks have left for the theme parks, so consider a late breakfast, say at 10:30 a.m., for fewer crowds. Also, if you'd like to eat at a more sophisticated venue, you might take the walking path to the upscale Loews Portofino Bay Hotel, another Universal Orlando Resort property.
4. Guests Have Plenty Of Things To Do Without Leaving The Resort
I spent an entire day at Cabana Bay Beach Resort while the rest of my family hit the rides at Universal Studios, and I was as happy as a clam!
First, I spent time in a huge, nearly empty fitness center. We're talking dozens of stationary bikes, elliptical machines, and treadmills, plus plenty of cardio machines, free weights, and yoga mats all available to guests for free. It's called the Jack LaLanne Physical Fitness Studio and it has a bunch of memorabilia and information displayed about the fitness guru who had his own television show from 1951–1985. As a history and fitness buff, I loved this!
I also enjoyed some chill time by the pool with my paperback and cold draft beer in hand — fully relaxed in a lounge chair under a shady palm tree on a sandy "beach" area. In the late morning and mid-day, when most guests were off property, both pool areas were so quiet. The children who were splashing around had the lazy river and water slide practically to themselves. Once the late afternoon and evening rolled around, both pools were packed with families and groups of schoolchildren (sports teams, musical groups, and competitive cheerleading squads).
The pay-as-you-play arcade room, dubbed Game-O-Rama, is filled with current-day and retro video games, basketball hoops, and electronic carnival games to keep kids entertained. Galaxy Bowl, the 10-lane bowling alley, is open early afternoon to late evening. Evenings also bring "dive-in movies" shown poolside, and you can purchase a s'mores kit at the Bayliner Diner to make dessert around a communal outdoor fire pit.
5. Suites And Adjoining Rooms Accommodate Families Of All Sizes
When we picked up our keys at Cabana Bay Beach Resort, we were delighted to find our two standard rooms were adjoining. My mom hadn't specifically asked for that, but we were conveniently placed next to one another, which we appreciated. Standard rooms come with a flat-screen TV, mini-fridge, and coffeemaker. You can upgrade to a poolside room with a view of the pool courtyard or choose a view of Volcano Bay.
For families that don't mind sharing one big space, the suites can accommodate up to six people with two queen beds and a sleeper sofa. Suites also include a flat-screen TV and kitchenette with a mini-refrigerator, coffeemaker, microwave, and a sink. Choose from an exterior entry with easy outdoor access to the pool courtyard or an interior entry from a hallway.
Pro Tip: Cabana Bay is one of the least expensive places to stay at Universal Orlando Resort, so don't expect luxury amenities here. For example, there's no body lotion in the guest bathrooms, and towels are thin like you'd find at a budget motel. Room service isn't offered, though you can get pizza delivered to your room from the take-away restaurant, Delizioso Pizza. Overall, given the price point, Cabana Bay does offer great value for its price — just don't expect the Ritz!
See what else sunny Orlando has to offer: