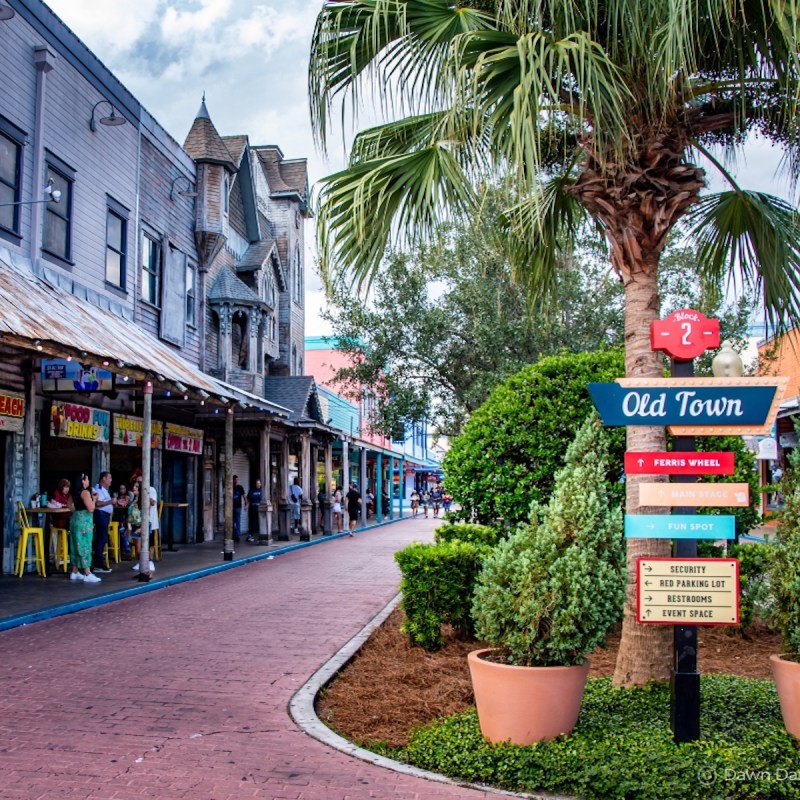 When most people think of Orlando, Florida, they think of bustling theme parks and navigating the cost of tickets and long lines. But did you know there is another side of Orlando? This other side is filled with fun things to do that won't break the bank and natural wonders that make Florida the special place it is. In this article, I'll share budget-friendly things to do in Orlando, including many that are free!
Orlando is more than Disney World. In fact, Walt Disney World Resort is actually outside of Orlando. Metro Orlando is defined as a tri-county region that covers 2,538 square miles. Within that space are cultural, culinary, and outdoor experiences for all travelers to enjoy. No matter what your Florida vacation budget is, you can find something in Orlando that fits the bill. Families on vacation, couples looking for something fun or romantic to do, and friends seeking out memory-making experiences will be happy to find these hidden Orlando treasures.
1. Lake Eola
Home to iconic swan-shaped paddle boats and live swans, Lake Eola is in the heart of downtown Orlando. There are events held throughout the year and a Sunday farmers market. Live music and open-air movies are presented throughout the year at the Walt Disney Amphitheater on the park's west end. You can stroll around the lake (about 1 mile), listen to music played through speakers throughout the park, pack a picnic lunch, or enjoy lunch at a nearby restaurant. For $15, you can rent a pedal-powered swan boat and enjoy up-close views of the Linton E. Allen Memorial Fountain, also known as the Centennial Fountain, which adorns the center of the lake.
Pro Tip: You can see five species of swans at the lake, including black neck swans and black swans. Duck pellet food is available to feed them.
2. Lake Nona
This "smart" planned community with a mission for better, healthier living has events, live music, public art installations, activities, shopping, and dining to enjoy all year round. They also have transportation of the future: Beep Autonomous Shuttles! Those are shuttles you can take that have no drivers. Locals love Boxi Park, a food truck area with a dog park and playground. Practice your golf game at the Drive Shack, then head to Nona Adventure Park, a floating playground with a cable wakeboarding system and tower. For $25, you can play for 50 minutes. At Lake Nona Wave Hotel, art lovers can walk through the Lake Nona Sculpture Garden, a 50,000-square-foot space with curated art from The Lewis Collection.
Fun Tip: Electric flying taxis could be coming soon… Hello, Jetsons!
3. University Of Central Florida Arboretum
The garden started in 1983 with just 12 acres. Today, the boundaries of the UCF Arboretum cover about 82 acres. Guided and self-guided tours are available. The Arboretum Park Tour explores 7 acres of gardens and natural features; the nature trails explore a small section of the 800+ acres of wild land and the Florida Flatwoods ecosystem. Love to get your hands dirty? Take a volunteer shift and then a guided tour of the space. Or, visit the first Bee Campus USA in Florida right here! Tour prices start at $3 up to $15 for the volunteer shift and tour.
Fun Tip: The organic community garden grows food that helps students in need through the Knights Helping Knights Pantry.
4. Orlando Winery Tours And Tastings
Orlando has four wineries and 10 wine bars. Some are located in Main Street Districts, others are around the water, and all of them offer a respite from busy theme parks. Slow down, sip, and enjoy another side of Orlando. Lakeridge Winery and Vineyards offers free tastings and tours throughout the day; Cooper's Hawk Winery and Restaurant gives visitors a Napa-style tasting room, which is free with a wine club membership; and Wine Bar George at Disney Springs was awarded Best Micro Wine List in the World 2019 by the World of Fine Wine. Each has its own list of offerings; stop in during happy hour!
5. Boardwalks And Old Town Kissimmee
A walk in Orlando is unlike any other city walk. Stroll the Disney Boardwalk and experience the magic without a ticket. Universal Citywalk brings the movies to your feet, or head to Old Town in Kissimmee to catch a Saturday Classic Car Show or get a fish pedicure. Experience shopping, dining, and free live entertainment most nights. Some locations have free parking in the evening and no-charge ways to get around (water taxis and ferries). The water taxis and ferries are an adventure all on their own! You can get the energy of the theme parks Orlando is known for without paying for entry to one!
6. West Orange Trail
You can pedal, stroll, or roll. The West Orange Trail runs 34 miles northeast and west through Orange County, Florida. One section takes you down the center of Plant Street in downtown Winter Garden, just west of Orlando. Rent a bike, or bring your own, and enjoy it at your own pace for as long or as little of a distance as you would like! The trail is wide and will soon enjoy the designation of being part of the 250-mile Coast to Coast (C2C) Connector Trial.
7. Wekiwa Springs State Park
Less than 30 minutes from the hustle of downtown Orlando is an Old Florida oasis visitors have enjoyed since the 19th century. At Wekiwa Springs State Park, you can paddle the graceful curves of the river on routes as little as 90 minutes and as long as 8 hours. Your reward is a great workout, tranquility, and scenic beauty that seems untouched compared to the city. The springs are popular, so get there early and during a weekday if possible. You will pay a nominal fee to enter the park. If you have your own kayak, you can launch for free. Or, rent a canoe or kayak at Wekiwa Springs State Park Nature Adventures.
Pro Tip: January and February are prime months to see manatees. You may find fewer crowds in October.
8. Chocolate Museums And Tours
Did you know that Orlando is home to several chocolate museums? At the Chocolate Museum and Cafe, you can tour the museum and find out how chocolate goes from bean to bar. Then, add on a pairing to sample a delightful mix of wine and chocolate. Or, if you prefer, go for a cocktail and chocolate bonbons. Kids may enjoy Chocolate Kingdom's Factory Adventure Tour. They combine a prince and a dragon for an interactive factory tour.
9. Leu Gardens
Enjoy Movie Night or a Concert in the Garden. Leu Gardens is nearly 50 acres of gardens where nature lovers and garden enthusiasts can enjoy the smells and sounds of nature. A stroll in the garden during the day is an excellent start. Then, when the sun goes down, events are scheduled throughout the year, including movie nights and open-air concerts. Check their calendar of events to find out what's going on in the garden.
10. Amway Center
The Amway Center is home to sports and entertainment all year long. Check the lineup of scheduled events to find out when the Orlando Solar Bears hockey team and Orlando Magic basketball team play their games. Ticket prices are reasonable. Taking in a game at Amway could be a great date or family and friends night.
Walt Disney World Resort may have put Orlando on the map and helped it become the most visited city in the nation, with 74 million visitors in 2022; however, the future vision for Orlando, according to their Master Plan, is to "become America's premier future-ready city by staying ahead of our opportunities, ensuring the City Beautiful remains a global destination where everyone can thrive." The city continues to surprise locals and visitors with how many budget-friendly things there are to do in Orlando.