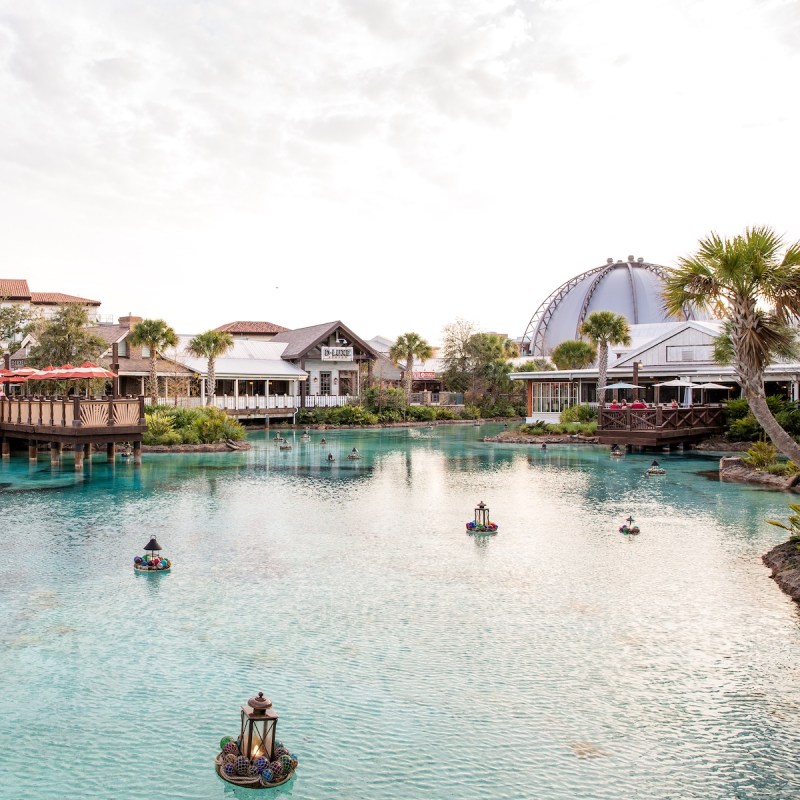 If your travels take you to Orlando, there's a good bet you'll see at least some Disney-themed shops and restaurants, even if you're not trying. One of the biggest Walt Disney World experiences outside of the theme parks is the entertainment district known as Disney Springs.
This free outdoor mega complex in Lake Buena Vista is over 120 acres and houses 150 venues. You'll find a variety of Disney dining options: restaurants, bars, shops, and many entertainment activities, like movies, bowling, and various ride-type activities. We ventured to Disney Springs to see what it was all about and found interesting outdoor music performers — and lots of people! Yes, Disney Springs restaurants, and the entire Disney Springs complex, are usually jam-packed, especially at night, after everyone has had their fill of the parks.
It makes sense. After a day at a Walt Disney World theme park — whether it was Magic Kingdom, Animal Kingdom, EPCOT, or Hollywood Studios — it's nice to step away without stepping fully out of their magic. Disney Springs lets you do that.
The eateries at Disney Springs are a mix of quick-service, order-at-the-window types of places, including food trucks, and very nice table-service restaurants. You'll find just about every type of food possible, too. Just like at EPCOT, dining here is an international affair. We spotted gourmet donuts, sushi, poutine, tapas, Italian, churros, gelato, and everything in between.
I compiled the Disney Springs restaurants that stood out from the rest. But first…
Tips For Dining In Disney Springs
No matter what type of restaurant you choose in Disney Springs, they will most likely be busy. I'd try to go during the week and during the day if possible.
If you have to go at night, I'd avoid the weekends. That is unless you want to venture out and revel in the crowds.
Reservations are highly recommended for all of the table-service restaurants, no matter when you decide to go. You can always try to walk in without a reservation, but be prepared to wait — the lines were long at nearly every restaurant when we visited.
In addition to free admission, parking here is free. We easily found parking in one of the garages, but they can fill up quickly, so it's luck of the draw.
1. The Boathouse Orlando
Would you like to enjoy a top-notch meal in a great atmosphere with an outstanding view? The Boathouse Orlando has you covered in all areas and is one of the best restaurants at Disney Springs!
The Boathouse Orlando has you covered in all areas. Located right on the lake, the Boathouse is a very large restaurant that has both indoor and outdoor dockside seating. If you want to be wowed by the views, this is your place. The menu offers entrees that will please everyone, especially the seafood lover in your group. With specialties like the Gulf of Mexico red grouper, Maine-style lobster roll, and oysters on the half shell, the menu items lean to fish. Yet they do offer plenty of land-lover dishes, like a New York strip.
They even have live music on Friday and Saturday nights to serenade you while watching the breathtaking sunset over the lake. In addition, the Boathouse offers the largest collection of super cool Chris-Craft and other boats from the 1930s–50s that are a boat lover's dream! You're welcome to take a peek at these incredible beauties while enjoying the atmosphere. For even more fun, book a ride on one of their unique Amphicars and enjoy a guided spin around the lake.
2. Paradiso 37
With a vibrant color scheme and the many bottles of tequila on display, Paradiso 37, at first glance, looks like a typical Mexican restaurant. However, the menu here is much more diverse and has specialties from South and Central America in addition to Mexican-inspired cuisine.
Head out to the terrace and grab a spot overlooking the lake, then dig into the inventive food and drinks here. For starters, try the San Juan beef empanadas. Follow up with a main course of Peruvian a la brasa roasted half chicken served with fluffy mashed potatoes and succulent green beans. For a perfect finish, try the light and layered Florida sunshine cake.
3. Wine Bar George
The Wine Bar George is a top spot for any wine lover to check out. The only master sommelier-led wine bar in Florida, it is the creation of master sommelier George Miliotes.
Wine Bar George offers wine not only by the bottle and the glass, but also by the ounce! With small plates, charcuterie boards, entrées, and even family-style plates that serve up to four people, Wine Bar George has lots of different options for cuisine. And, of course, you really should try a glass or bottle of wine from their extensive, master sommelier–curated wine list while you're here. But if you're not in a wine kind of mood, they have you covered with a selection of frozen cocktails and beer. Wine Bar George is open for lunch and dinner as well as for brunch on weekends.
4. Chicken Guy
Celebrity chef Guy Fieri's place, Chicken Guy, is a quick-casual restaurant that serves up, you guessed it — chicken!
The signature sandwiches all begin with crispy fried chicken tenders. From there, create your own sandwich with any of the many specialty signature sauces, or choose one of their delectable sandwich creations like the bourbon brown sugar barbecue or the Southwestern. If you prefer your chicken tenders grilled, you can order those as well. You can even go green with a fresh salad bowl.
And don't forget to save room for one of the decadent Flavortown shakes. How about the Triple Double Mint with mint chocolate soft serve ice cream, crushed Oreos, and mint chocolate topping?
5. The Polite Pig
The Polite Pig is the perfect place to park yourself after a long day at Walt Disney World. This casual sit-down spot is the very first restaurant we spotted after leaving the Lime parking garage, making the location alone a reason to stop. Many people agreed that this place was hopping!
This local joint specializes in barbecue and other smoked goodies as well as craft beer. I like that you can get unique sides here like barbecue cauliflower, roasted beets, and Brussels sprouts. My husband, on the other hand, was happy to see the old favorites of mac and cheese, potato salad, and baked beans as well. All served up with a cold brew, how can you go wrong?
6. Amorette's Patisserie
Everyone who knows me knows that I have a gigantic sweet tooth. If you're anything like me, you'll be delighted to see Amorette's Patisserie at Disney Springs. In fact, I recommend making this French bakery your first stop. Who says dinner has to come before dessert?
This intimate pastry shop pulls out all the stops when it comes to creating their Disney-inspired works of art. You'll have a great time watching the bakers and decorators hard at work in crafting their masterpieces. These are some talented folks as my cookies and pastries looked absolutely as good as they tasted, and that's saying a lot. Even if you aren't hungry for sweets, it's worth a stop here just to see the creations made at this quick-service restaurant
7. The Daily Poutine
Hot fries with ooey-gooey melted cheese, gravy, and more, the super casual Daily Poutine isn't fancy, but it will cure you of your hunger and for less than most places in Disney Springs.
This is a counter-service restaurant; you'll order at the window and then wait for your classic Canadian poutine dish that will stick to your ribs and then some. And, with the global flavors of India, Italy, Korea, and Ireland, your poutine will be anything but boring.
8. Chef Art Smith's Homecomin'
One of the most popular restaurants in all of Disney Springs, Chef Art Smith's Homecomin' is the creation of Oprah Winfrey's favorite chef.
Here, you'll find scrumptious, down-home Southern favorites served in the dining room. Try Momma's Mac and Cheese, Big Haven Bay fried green tomatoes, or the delectable fried chicken. For dessert, try the donuts or the marvelous pecan pie. If you're looking for country cooking at its best, you've come to the right place. Don't forget: This sit-down restaurant also does brunch here on weekends.
9. Raglan Road Irish Pub
If you want to be entertained and have a good time, head to Raglan Road Irish Pub. This very popular Irish pub offers entertaining shows complete with Irish music and dancing every day of the week. Plus, they do their own take on traditional Irish favorites, like the Bangin' Bangers & Mighty Mash, or the Shepherd's To Die For Pie. And it wouldn't be an Irish pub without the traditional fish and chips.
If you haven't been here yet, I'm betting this sit-down restaurant with plenty of outdoor seating will become a favorite spot to unwind at Disney Springs.
10. Jaleo By José Andrés
Check out famed chef José Andrés's Jaleo. With tapas, paellas, and other Spanish-influenced items on the menu along with a bright, vibrant interior, Jaleo has a vibe all its own. Sample the housemade sangria and kick back for a wonderful evening at this popular, stylish sit-down restaurant at Disney Springs.
More Restaurants In Disney Springs
With so many dining options at Disney Springs, there's something here to please everyone!
Other favorite Disney Springs restaurants include D-Luxe Burger, the House of Blues, Enzo's Hideaway, Rainforest Cafe, Planet Hollywood, Earl of Sandwich, The Edison, Frontera Cocina, and Splitsville.
Disney Springs Neighborhoods
Disney Springs has four distinct areas or "neighborhoods."
The Landing
This fun area is super popular and right off the water so you'll get gorgeous waterfront views. You'll find entertainment in this area, along with a lot of restaurants with table service like Raglan Road, Wine Bar George, Paradiso 37, Homecomin', and The Boathouse.
Town Center
For the shopper in your group, head to Town Center. You'll find boutiques as well as high-end designer stores and restaurants like the Polite Pig, the Daily Poutine, and Amorette's Patisserie.
West Side
Here you'll find Chicken Guy as well as entertainment such as the movie theater, Splittsville bowling alley, and the unique Cirque du Soleil.
The Marketplace
The most Disney-themed area with lots of Disney merchandise, this is the neighborhood to go to if you want Disney souvenirs.
Note that admission is free at Disney Springs, with separate admission prices for certain activities.
For more on the surrounding Orlando area, check out these stories: