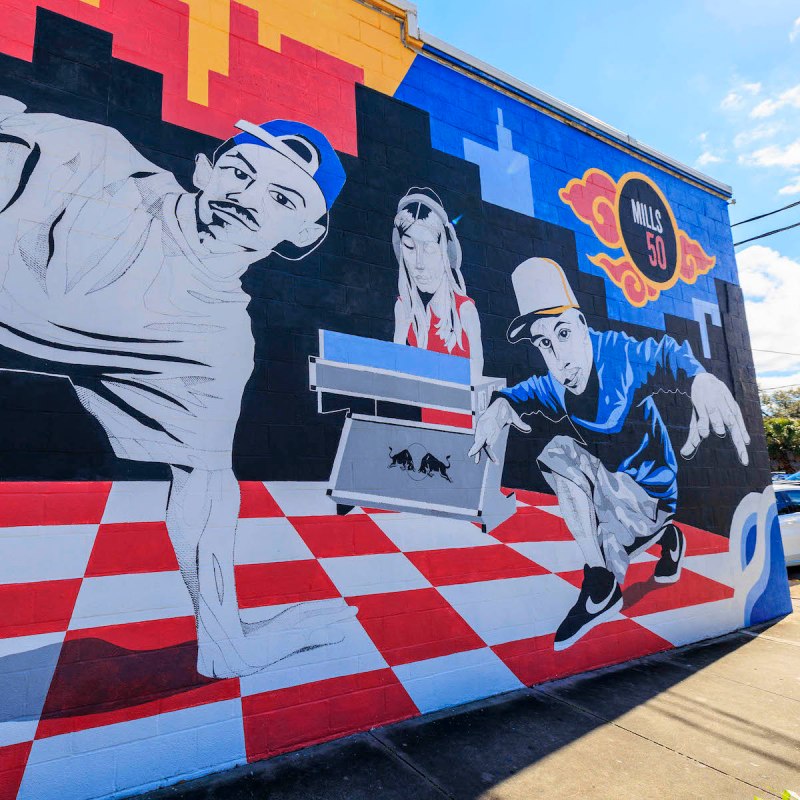 Orlando, Florida's nickname is the "Theme Park Capital of the World." 60 million yearly visitors enjoy over a dozen fantastic theme parks and attractions. Inside the parks, the restaurant venues offer delicious cuisine and signature dishes. But did you know that Orlando has a phenomenal food scene in the eclectic neighborhoods around town?
Orlando is 85 miles northeast of Tampa. At over 110 square miles, it's the third-largest city in Florida. Suppose you aren't there for the attractions, or even if you are, visit the "other" Orlando when there. Play world-class golf, relax in luxury spas, enjoy cultural experiences, or shop in the fantastic malls. When you're hungry, you can sample excellent meals from the United States and worldwide. Here are nine suggestions for some of the best, from fast-casual to five-star dining experiences in this incredible foodie destination.
I was a guest of Visit Orlando for this article, but all opinions are my own.
Best Eastern Cuisine – Mills 50 District
The Mills 50 district is one of Orlando's oldest neighborhoods and part of the Orlando Main Streets program. Its name comes from the intersection of Mills Avenue and State Road 50. Vibrant murals decorate buildings in this neighborhood, and an Asian-American and Pacific Islander culture is proudly represented in various eateries. Most restaurants are casual, so dine in one spot or create a foodie tour eating in several establishments. Either way, the food is some of the most authentic I've tried. Here you can sample dishes from Vietnam, Korea, Laos, China, Japan, and Thailand (among other nationalities).
1. Paris Bánh Mì
Paris Bánh Mì has many locations, but the first shop opened in Orlando. This French-Vietnamese restaurant and bakery prepares the original Saigon sandwich and decadent French patisserie. The French baguette was introduced to Vietnam in the mid-19th century when it was part of French Indochina. During the 1950s, it developed into a unique sandwich known as Bánh mì. The fillings are delicious, and the bread, stuffed with fillings, ranges from grilled pork to cold cuts, pate, vegetarian, or chicken. Each sandwich comes dressed with pickled daikon radish, cilantro, and slices of jalapeños. I selected the grilled pork covered in a sweet barbecue glaze. The pork paired with the crusty bread and toppings was fantastic, plus the portion is large enough to share. There are specialty teas and baked goods such as chocolate croissants and fruit-filled pastries that are so tasty.
2. King Bao
King Bao serves bao, a yeast-leavened-filled bun associated with Chinese cuisine. The buns are puffy and soft and traditionally filled with a pork mixture. You can order a vegan version at King Bao filled with crispy tofu. Or choose other fillings like firecracker shrimp, kimchi fried chicken, a Maryland-style crab cake, or marinated Korean beef. The hand-helds are small, so you should order a few if you're hungry. Don't forget a side-order of tots, crispy potato nuggets you can top with truffle oil (so good) or braised pork, cheddar cheese sauce, jalapeños, and scallions much like smothered nachos. Delicious.
3. Sticky Rice
Sticky Rice is street food from Laos, and it's the first fast-casual restaurant in Orlando. The spot reflects the items the food hawkers sell on the streets — but in a fun and stylish eatery. I chose the crispy rice lettuce wraps filled with nam khao cured pork, peanuts, grated coconut, and scallions. The cold lettuce wrapped around the flavorful pork and made for a tasty bite. I also sampled the lemongrass beef jerky. The skirt steak has a marinade — a mixture of sauces and lemongrass. Then it's flash-fried crispy. It made for a flavor explosion and a completely new taste experience. If you want heartier choices, they also have rice bowls and ramens (noodle soups).
Best Mexican Cuisine
4. Reyes Mezcaleria
Reyes Mezcaleria offers regionally inspired cuisine from Executive Chef Wendy Lopez, a Michoacán native. The food is authentic, and the bar specializes in over 140 types of agave spirits, including mezcals. Try the flautas — chorizo and potatoes rolled in a crispy corn tortilla topped with salsa verde with a side of rice and beans, paired with a margarita infused with one of the signature spirits.
Best Italian Cuisine – The Milk District
The Milk District is anchored by the T. G. Lee dairy that opened in 1925 with twenty acres and a cow. It's another exciting neighborhood to explore for fabulous food. The Milk District is also part of the Main Streets Program. "A hive of creativity and culture in the heart of Orlando."
5. The Milkhouse
The Milkhouse is an Italian "small plates" restaurant, craft beer and cocktail bar, and ice cream parlor. The cicchetti kitchen serves modern Italian bar food, focusing on sharing plates and even bigger "piatti" if you're hungry or want to split. It's all the good things rolled into one dynamic place.
I shared a cicchetti (small plate) of fresh ricotta and marinara on toast that tasted like a creamy cloud. Then onto the piatti (the larger plates) Mozzarella En Carozza, a fried mozzarella sandwich with an incredible marinara dipping sauce that was cheesy and addictive. Other favorites included the Salami Tower. It's an antipasto with a selection of mixed cured Italian salamis, cheeses, olives, and nuts. Or giant beef meatballs in that outrageous marinara sauce. Then, I dug into the best fish sandwich served on crunchy ciabatta toast. The red snapper was lightly coated in blackened spices and cooked to perfection with a side of house-made potato chips. For dessert, try Kelly's Homemade Ice Cream or a craft cocktail or beer from Ravenous Pig Brewing Co. from the bar.
Pro Tip: If you are looking for fresh pasta, try Mia's Italian Kitchen, a traditional Italian restaurant with recipes sourced from the owner's Sicilian Nonna's Cucina.
Best Southern Cuisine – The Milk District
6. Se7en Bites
Se7en Bites serves up Southern comfort foods with a modern twist. Chef-Owner Trina Gregory-Propst and her partner VA conceived this popular breakfast, lunch, and brunch spot (the three best meals of the day). The duo appeared on a recent Food Network episode of Guy Fieri's Diners, Drive-Ins, and Dives. Everything is scratch-made, from the sweet treats to the savory biscuits sourcing the best local ingredients. I felt the Southern love with the "Minnie Pearl." It's two pearl sugar waffles with an enormous buttermilk fried chicken breast splashed with hot buffalo sauce and honey and topped with a fried egg. The vanilla bean butter syrup and the side of cheddar-chive grits took it over the top. Wash it down with their signature orange blossom mimosa, and you're in Southern food heaven.
Best Five Star Dining
7. Four Flamingos
Four Flamingos, a Richard Blais Florida Kitchen, evokes Mid-Century Modern Florida with its décor and style. The food and fruit are fresh from Florida and the Caribbean, including the signature Blais flair of deconstructing cuisine and turning ingredients into big surprises.
I sipped a craft cocktail called "Key Lime In the Coconut" topped with pineapple coconut foam, and it tasted like a boozy, yummy, Key Lime pie. Next, I dined on the tuna tostada with a passion fruit "yolk" that resembled an egg. When punctured, it burst forth with incredible flavor (to my delight) that added a beautiful acid element. For my entrée, I chose the "Neptune Cut" of swordfish covered in black lime, black pepper, and garlic swimming atop a butter sauce. The cut was massive, and I've never tasted swordfish this delicious in my life. The last course was a work of art: a Key Lime Blossom, a mousse over a graham cracker sable with vanilla bean whipped cream that made me swoon. The menu offers a range of proteins, but the seafood and shellfish are complete stars here. I loved every item, and the service was impeccable.
8. Ava MediterrAegean
Ava MediterrAegean is "a celebration of splendor, freedom, escapism, and joy"; I would highly recommend an evening here. The Orlando adjacent city of Winter Park is a short drive but well worth the experience. The restaurant is gorgeous, and the service matches the ambiance. I explored the AVA Discovery Menu with multiple courses. It's one of the most flavorful and surprising meals I've enjoyed.
A mixologist crafted the signature gin and tonic cocktail, which started my journey. The first courses of traditional Greek dips and a tuna tartare were not only stunning and fresh, but the food transported me back to the Cyclades. The second course of Greek salad with barrel-aged feta and grilled Haloumi was delicious. The latter presented with a classic flair. The Haloumi was first doused in ouzo (a Greek spirit) and then lit on fire. A whole Branzino arrived for my entrée course, covered in a salt crust. It's prepared tableside, first flambéed with mastiha (a Greek spirit), and expertly filleted. The dish comes with the crispiest potato millefeuille "french fries" and a delicate ratatouille. Dessert was life-changing with a millefeuille tart and chocolate fondant molten lava cake. It was all astounding.
Pro Tips: I stayed at Walt Disney World Swan and Dolphin to explore the neighborhoods around Orlando, and it's lovely to enjoy the best of both worlds. I tasted a delicious breakfast at the new boutique hotel Walt Disney Swan Reserve, Amare. I dined on Eggs Cheval, eggs with medallions of beef tenderloin, béarnaise sauce, leeks, mushrooms, and potatoes. This Mediterranean-style restaurant was the perfect way to cap off a food-lovers vacation.
For more ideas and inspiration on Orlando, explore these articles: