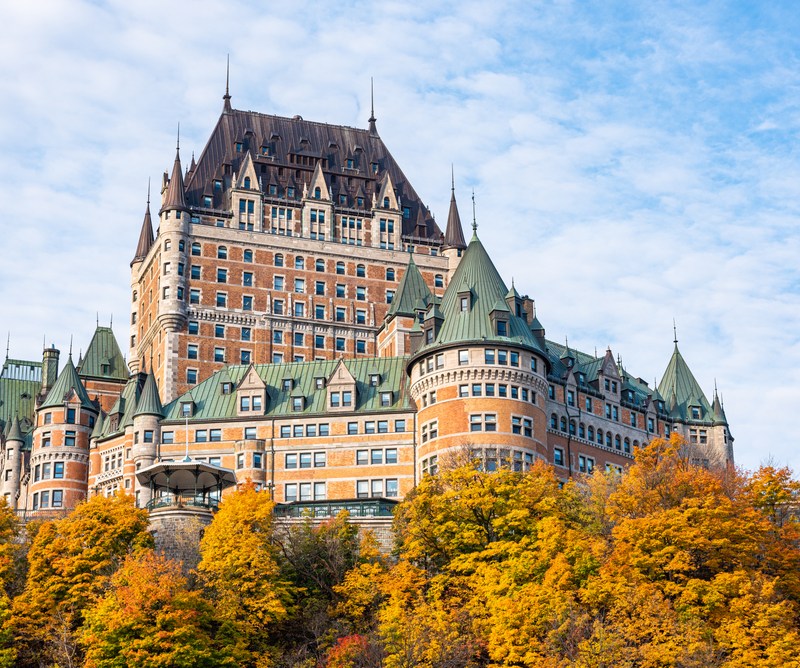 Fully vaccinated travelers are finally allowed to visit our neighbors to the north. To celebrate, we asked TravelAwaits writers to tell us about the best places they've been to in Canada. From the natural beauty of the Canadian Rockies to the European-like streets of Québec City, here are our writers' favorite places in Canada.
1. Vallea Lumina In Whistler, British Columbia
"Vallea Lumina in Whistler, British Columbia, is a magical outdoor immersive experience. The exceptional beauty of the natural landscape is enhanced with integrated multimedia to create the Lumina Night Walk.
The experience begins with a bus ride from Whistler to an isolated area outside town and the ride leaving all the city lights behind really enhances the anticipation. The forest is magical as you begin a self-paced walk through this wonderland. The story is based on local legends and the technology makes the woods come alive.
It is a very emotional experience and one I will never forget. Because it is located out of town it is a great dark sky area and the winter snow just adds a lovely element." —Peggy Cleveland
2. Banff National Park
"A road trip or hike in the Canadian Rockies is one of the most scenic things you can do in Canada. Driving west on the Trans-Canada Highway from Banff to Lake Louise, you get all the magnificent shades of blue and green that nature offers.
Banff National Park has numerous hiking trails, rivers, lakes, and endless photo ops. There is something both inspiring and humbling about seeing ourselves in this vast, dramatic landscape. I never get tired of looking!" — Jill Browne
3. Canadian Rockies
"The spectacular scenery we encountered driving through the Canadian Rockies and the Columbia Mountains from British Columbia to Alberta left my husband and me mostly speechless. The only words uttered were 'wow,' 'wow,' and 'wow'. The drive came at the end of a road trip along the western coast of the United States into Canada. We'd seen so much stunning scenery we'd become blasé to nature's beauty. That indifference vanished just east of Revelstoke, British Columbia. We felt as if we were driving through one postcard after another." — Donna Janke
4. Fairmont Chateau Lake Louise
"At the Fairmont Chateau Lake Louise, my husband and I entered our room on the sixth floor, 633. The room was dark, and the curtains were closed. They must do that on purpose because as I pulled the drapes, I gasped to see the most gloriously majestic iconic view of Lake Louise. The breathtaking view of the soaring Canadian Rocky Mountains whispered with snow, the glistening Victoria Glacier, and the icy cerulean Lake Louise appeared before us in all its iconic glory. We had arrived! I couldn't take enough pictures of that quintessential view.
That evening, dinner at the Fairview was incredibly romantic. Our three-course meals paired with wine were punctuated with that unbelievable view of Lake Louise. I savored the brown butter-basted scallop appetizer, deliciously tender Vulcan rack of lamb, and the fresh fruit plate for dessert. My husband selected the cucumber avocado soup, the melt-in-your-mouth beef tenderloin, and a pecan tart for dessert.
We slept in sweet splendor in the most comfortable bed and linens for the evening. What luxury! The morning we left, we woke to the first blanket of snow of the season. What a winter splendor in late September 2018." — Janie Pace
5. Waterton Lakes National Park
"I've had so many great trips in Canada from coast to coast, that it's hard to choose just one. But for an experience that combined my love of mountains, national parks, and sweeping views, I would have to pick my 2016 visit to Waterton Lakes National Park in southern Alberta.
I had added the Canadian national park as a last-minute overnight detour on my epic stay in Montana's Glacier National Park, and I was trying to fit in as much as I could before heading back to Montana. On the advice of the concierge at the lovely Prince of Wales Hotel, I decided to take the short-but-steep climb up the nearby Bear's Hump Trail. And what a payoff! Not only did the hike feature wonderful views of the Prince of Wales Hotel, but it also offered a stellar vantage point for taking in the blue, blue expanse of the lake — a true jewel in the midst of Alberta's rugged mountains." — Cindy Barks
6. Rideau Canal
"My best Canadian experience was in June 2021, when my husband, daughter, and I, along with our family dog, cruised the magnificent Rideau Canal, a UNESCO heritage site in Ontario, in a luxury houseboat with LeBoat Vacations. How a family of landlubbers ended up captaining our own boat through the historic locks is a mystery to us, but with teamwork and training, we were pros in no time. We would love to go back in the fall for some leaf-peeping and to visit the small quaint towns and islands we saw along the way!" — Judi Cohen
7. Montreal
"I've traveled to many cities in Canada for many different reasons (cruising, a Barbra Streisand concert, vacation, afternoon tea), but none was as special as arriving in Montreal a few days prior to my New England/Canada cruise with Holland America. One of my best friends since sixth grade and I flew to Montreal from West Virginia to take the cruise and explored Montreal on foot for 25 miles prior to boarding the cruise ship.
The architecture and food are second to none, and we learned so much history that really enhanced the visit. I also loved the artisans that had kiosks set up around downtown Montreal and the quality of goods for sale. Plus, Montreal has excellent museums, gardens, churches, and even a fabulous amusement park." — Melody Pittman
8. Old Quebec City
"One of our favorite experiences in Canada is exploring all the wonderful flavors of Quebec City. As you walk down the narrow streets, you will immediately think you've arrived in Europe. When you hear the French language and see the cafés and sidewalks bustling, you'll take a deep breath and want to dive right in.
Filled with exquisite restaurants, shops, and historic places, you'll fill the days wandering and snacking throughout the town.
Be sure to look beyond the expected but delicious poutine, maple syrup, meat pies, and butter tarts and explore other local food specialties, too. The Quebec City Grand Marché features local purveyors and lots of restaurants and shops to fill your baskets and your stomach.
For an even deeper food travel experience get outside of downtown and head to Île d'Orléans. Explore this fertile area, sample locally grown produce and products at gourmet shops and restaurants." — Sue Reddel and Diana Laskaris
9. Aux Anciens Canadiens
"The best experience I have had in Canada was my visit to Quebec City in 2017. I had been on day trips to Montreal and Niagara-on-the-Lake, but this was my first extended trip to the country and it did not disappoint. The flight was a little more than an hour from New York, and upon taking a tour of the city, it was as if I were in a mini-France yet with its own style.
Its quaint, cobblestoned streets, unique architecture, rich history, and its many restaurants with Quebecois and European cuisine offered a very pleasurable travel experience. Everything from trying local fare such as poutine and locally produced wines and maple syrup, to a cruise up the St. Lawrence River and much sightseeing in between, gave me an appreciation for this lovely city that is close in proximity to the United States yet has a culture all its own." — Chris Chagaris
10. Fairmont Le Château Frontenac
"When I arrived in Quebec, it was love at first sight. I got off a cruise ship and went straight to the fabulous Fairmont Le Château Frontenac, a fairytale old-fashioned hotel but with all modern construction conveniently located to explore Petit-Champlain, the quirky old town of Quebec. You would think you were in France, but with a twist.
I loved the funicular. In fact, I went up and down several times just for the fun of it and for the views of the Saint Lawrence River down below. The twist in Petit-Champlain is that you find Inuit art right next door to French chandeliers and chic boutiques.
I was also impressed with Canadian Railway. I continued on to Toronto by train — it was on time, super comfortable, and the service was first-rate. Although I traveled second class, my bags were carried to my carriage and seat and stowed for me." — Inka Piegsa Quischotte
Related Reading: