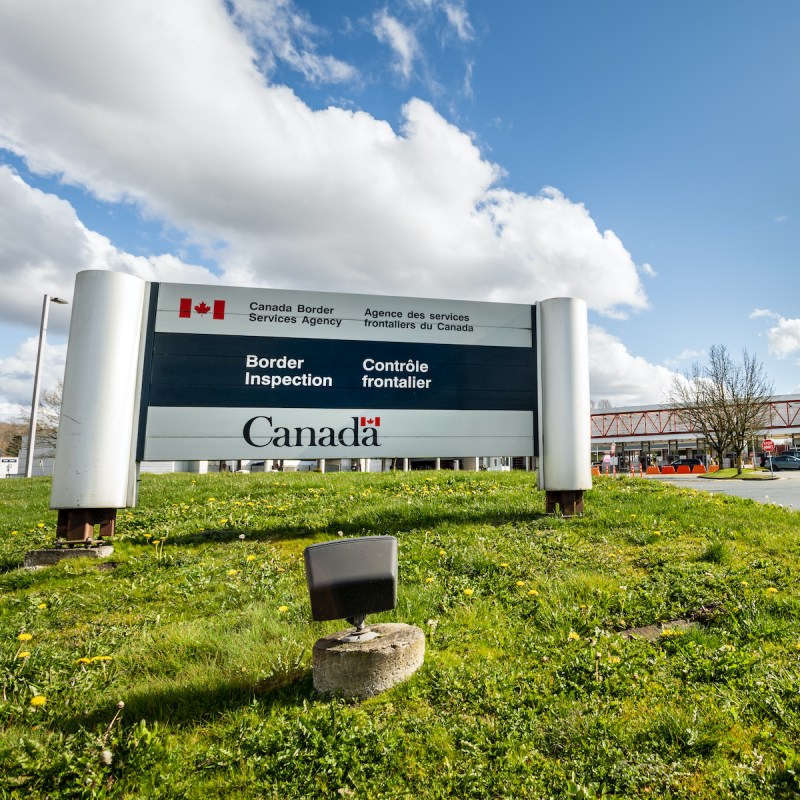 Hooray! It's getting easier to cross the U.S./Canadian border.
Questions still abound and nerves can fray as we navigate changing international requirements. I just returned from 10 days in Canada with my extended family and we all sailed through without problems. That's not to say it was simple.
1. Travel Is A Dance
When you learn new dance steps, there's pressure to remember everything and keep up as the rhythm changes, but with care and practice, muscle memory perseveres. We're travelers at heart. You may be nervous about traveling internationally again, but remember that travel always comes with challenges. Dance through them. It's worth it however you travel between Canada and the US.
From the moment of the engagement notice, my family knew we'd be going to Banff together at some point, but my daughter-in-law's wedding kept getting postponed throughout the last year. While we waited for Canada to open to U.S. visitors, we put our plans in place, re-booked accommodations, and researched COVID testing options.
Once flying into Canada opened, we were ready, and soon after, our small group stood in front of Lake Louise on a picture-perfect afternoon as the bride and groom exchanged vows. They were framed in fall colors and even the extraordinary larch trees signaled approval, waving their golden branches from the glacial tree line. No amount of planning could've predicted we'd be there for one of the most incredible fall phenomenons in the world.
Pro Tip: Stay fluid. Things change. Relax, but check your travel status and track changes on the best Canadian resources for all vaccinated travelers.
2. Travel To And From Canada Is Improving
Driving: When Linda Stewart determined she'd reunite with her grandkids in Canada, she knew it wasn't going to be easy, but even though "It was a kind of a nightmare, I had to see the munchkins." Forced to drive, she rented a car for the trip at the peak of fees, paying $2,500 for a rental car that sat in the driveway and had to be returned to the departure point. She was forced to fly home once she arrived in Seattle, instead of being able to return her car at a separate location than she rented it — another expense.
At the time, Linda had to quarantine, and with careful restrictions, chose her daughter's guest bedroom. She uploaded her vaccination card to the ArriveCan App and filled out a quarantine plan.
Representatives phoned, and emailed, and even sent someone out to check on her status during the 14-day quarantine — although she never had symptoms or tested positive for COVID.
3. Driving Now
Today, rental fees are going down as more cars are becoming available and, depending on the rental company, pre-arranged drop-offs can be contracted. A month later, after Linda's traumas, my family was able to rent an SUV at the Calgary Airport that was big enough to carry four adults plus a baby with all our luggage and not break the bank.
Pro Tip: However you get to Canada, you'll need to report a physical address in case you develop COVID symptoms while there. I registered with a hotel near the airport in Calgary. Canadian officials verified that although I never needed to quarantine.
4. Flying Requirements
New airports have joined the list of those open to international travelers, which will make flying easier but pay attention — different airlines often have different requirements.
Pro Tip: If you don't have a direct flight to your destination, book the intermediary flight with a large window of time before departing on the last leg of your trip. It will save you stress in case your test results are delayed or rules have changed.
5. Testing Takes Patience
Having a son-in-law in biotech helped our family acquire personal tests for getting into Canada and for our return to the U.S. However, anyone can order tests online or through your physician well in advance of departure.
Air Canada is launching a new self-testing program aimed at making it easier for customers to travel. Customers can visit aircanada.com/switchhealth for all the details or order a test kit at switchhealth.ca/aeroplan. Other airlines like West Jet may have different arrangements. Check your airline website for requirements to make sure to have what's acceptable for your flight.
Pro Tip: Before leaving for Canada, make sure you've uploaded the ArriveCAN App and all your documentation to your cell phone, and consider carrying print copies. This will help you sail through airports.
6. In Canada
Once in Canada, I was immensely relieved to see most people wearing masks indoors or happily sharing their vaccine status. We were expected to have masks on at every restaurant entry plus we were asked to show our vaccine card (a readable phone copy is acceptable) and matching ID (I used my driver's license to avoid carrying my passport all the time.) It soon became a part of the dance.
7. Returning To The U.S.
Make sure to purchase an antigen test specifically approved for travel. Abbott makes two different tests, for example. My family arranged for test kits and set up the requirements through emed.com. We needed to submit results from tests taken no more than 72 hours before departure. As new requirements roll out, especially after November 8, check the CDC site for updates. You may save yourself added expenses and avoid fines.
Before boarding a flight to the United States, you are required to show one of the following:
If you are fully vaccinated: Proof of vaccination and a negative COVID-19 test result taken no more than 3 days before travel. Check that you have acceptable vaccinations on the CDC website.
If you are NOT fully vaccinated: A negative COVID-19 test result taken no more than 1 day before travel. The White House recently reported that, "Anyone traveling to the U.S. who can't demonstrate proof of full vaccination will have to produce documentation of a negative test within 1 day of departure," instead of the current 3 days.
Children under 2 years old do not need to take the test. There is also an option for people who have documented recovery from COVID-19 in the past 90 days.
The CDC has a quick quiz to determine generally what is needed to board a flight to the United States. You'll get a personalized response once you select the right option for each traveler in your group, including children. On the website quiz page, at the far right, you can sign up for email updates about COVID-19.
Pro Tip: Make sure at least one adult in your travel group has an international cell phone data plan enabled and that they know how to enable the audio and video. Carry a backup battery with a cord to make sure your cell phone is ready.
8. If You Recovered From COVID-19 Recently
If you recovered from a documented COVID-19 infection within the past 90 days (regardless of vaccination status), you do NOT need to get a test 3-5 days after travel. People can continue to test positive for up to 90 days after diagnosis and not be infectious to others. You also do not need to self-quarantine after travel.
9. After Returning To The U.S.
Take it slow when you return. You may have been exposed to COVID-19 on your travels. Even if you feel well, you can still be infected and spread the virus to others. You and your travel companions (including children) pose a risk to your family, friends, and community for 14 days after you travel. Find travel information for people fully vaccinated with an FDA-authorized vaccine or a vaccine authorized for emergency use by the World Health Organization.
10. U.S. Travelers Won The Lottery
Everyone I encountered in Canada was so kind and patient but at the end of 10 days, I had work piling up and was happy to go home. Our tests were recorded on the eMed.net website and included with our passport records, so we sauntered through airport security and customs easily.
Linda Stewart's return experience echoed mine. "I made sure to get to the airport with plenty of time to spare. It was rather surreal. At the border, the customs agent simply returned my passport and smiled, 'Welcome back.' It was the first time I was happy to enter the U.S. in a long while. I felt kinda sappy as I crossed over with nothing else required. Amazing feeling."
If your travel plans include Canada, these are some items to consider: