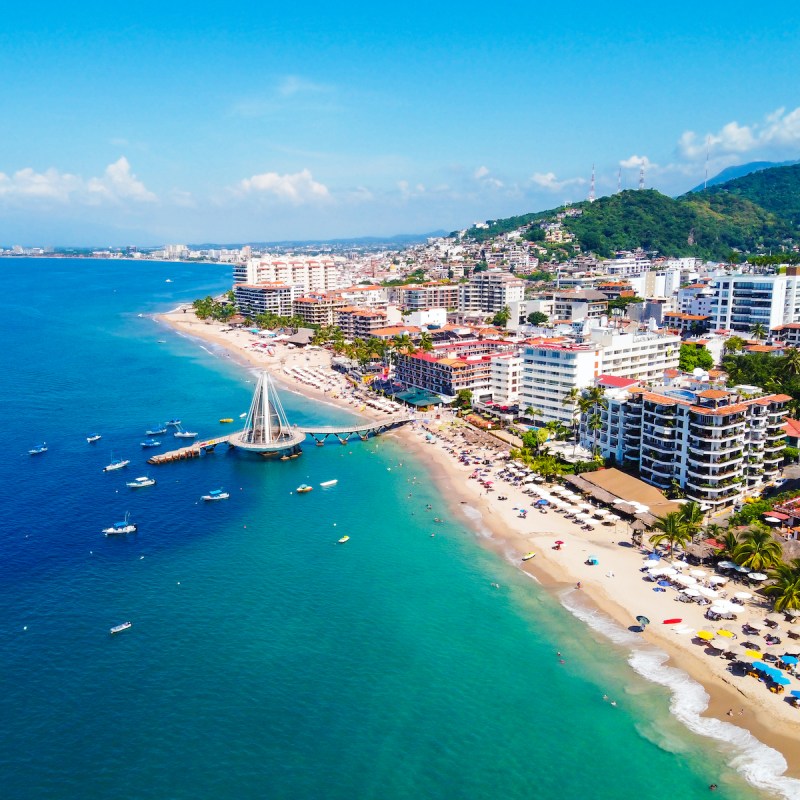 Backed by the Sierra Madre mountain range and tropical jungles hugging the expansive Banderas Bay, Puerto Vallarta has a welcoming, enchanting aura about it. Cobblestone streets evoke old Mexican villages. All-inclusive resorts provide all the amenities modern travelers could want.
Often thought of as a beach vacation spot, and rightly so, there is more to Puerto Vallarta than just sand and sea. PV, as it is frequently called, is one of the two most LGBTQ-friendly destinations in Mexico. The other is Guadalajara. Both are in the Mexican state of Jalisco.
Puerto Vallarta has been a popular place for the LGBTQ community to visit for over half a century. That history can be traced directly back to the filming of the 1964 movie The Night of the Iguana, which was shot in Puerto Vallarta and starred Richard Burton. Though Elizabeth Taylor wasn't in the film, she was Burton's fiancée at the time. (And like today, paparazzi followed them everywhere.) The film crew was cited as being some of the first gay visitors to Puerto Vallarta. The fact that this was a Hollywood production had the effect of putting Puerto Vallarta on the map.
Since then, the lesbian and gay community has been spending more of their vacations in PV. In the 1990s, authorities took note and began to actively promote Puerto Vallarta as a gay-friendly destination. According to 2017 figures from Jalisco's Ministry of Tourism, 20 percent of the visitors to Puerto Vallarta were from the LGBTQ community.
The Romantic Zone (La Zona Romántica), also known as Old Town or Viejo Vallarta, is located just south of downtown PV. It was intentionally designed to keep the feel of old Mexico. Even with its cobblestone streets, this is the busiest section of PV. The Romantic Zone was named Gay Travel's 2016 Gayborhood of the Year. Most of the things listed in this article are found in the Romantic Zone.
Let's take a look at more reasons why Puerto Vallarta is the perfect destination for LGBTQ travelers.
Note: I was hosted on this trip to Puerto Vallarta by Cross Border Xpress (CBX) and the Puerto Vallarta Tourism Board. All opinions are my own. The bar-hopping was also on my own.
1. Vallarta Pride Week
For the LGBTQ traveler, Vallarta Pride Week is a huge event that is not to be missed. The inaugural event was held in 2013 and paid homage to Mexican artist Frida Kahlo. Months in advance of the event, you'll see banners and signs displayed all over the Romantic Zone. Vallarta Pride Week 2022 takes place May 23–30. This year's theme is "Out for Justice."
Between downtown and Los Muertos Beach, you'll find a myriad of places that are celebrating Vallarta Pride Week with special events. If you are staying in the Romantic Zone, there's a very good chance your hotel will be hosting some sort of activity. If not, you won't be far from the action.
2. Playa De Los Muertos
Just past Los Muertos Pier, at the southern end of Los Muertos Beach (Playa del Los Muertos), is a section commonly referred to as Puerto Vallarta's gay beach. Look for the blue chairs and umbrellas arranged along the shoreline.
The area is home to four popular beach clubs: Ritmos, Sapphire, Blue Chairs, and Mantamar Beach Club Bar & Sushi (yep, sushi on the beach). The latter three offer a day pass you can purchase to enjoy amenities such as pools, beach chairs and umbrellas, palapas or cabanas, food and drink, towel service, and showers.
If you're near the Los Muertos Pier after the sun sets, check out the light show.
Pro Tip: Some amenities like chairs and umbrellas are available on a first come, first served basis, so it is a good idea to arrive early, especially during high season or Pride Week.
3. The Nightlife
There are countless bars and clubs in PV to choose from. Each one has its own atmosphere and vibe. We visited three.
It was packed at Mr. Flamingo, even on a Wednesday, with lots more revelers waiting to get in. Music, which you can hear from a couple of blocks away, and constant dancing kept the party going until way after midnight.
CC Slaughters has a bar and nightclub happening in front, which looks out onto Lázaro Cárdenas. A darker and quieter club and bar are in the back.
La Noche is a tri-level club. Performers entertain on the first level's three stages. The second and third (rooftop) levels each have different music and different crowds. Bars are on all levels.
We found them all on Lázaro Cárdenas just off Ignacio L. Vallarta. Check Gay Guide Vallarta and Out & About Puerto Vallarta to discover more hot spots. These clubs have a mix of clientele and amenities — some are even pet friendly — so you're sure to find two or three that suit you.
Pro Tip: Puerto Vallarta is quite safe day or night. Still, common sense should be your constant companion whenever you go to bars or clubs at night. Gay Guide Vallarta has more tips in the welcome section of their guidebook.
4. Shows
The fame of RuPaul's Drag Race is not confined just to the United States. Two of the most popular venues include dozens of variety and musical shows, as well as drag shows.
Act2PV features nearly 30 shows weekly across multiple stages. On tap are acts like It's Raining Men, Hedda Lettuce, Mama Mia!, and Queens of Country.
The Palm Cabaret and Bar has music by Kim Kuzma, comedy by Miss Conception, tribute shows like Tina Turner and I Want it All (a Freddie Mercury tribute), drag shows like Dueling Drag Divas, and one hugely popular show whose name cannot be printed here. The Palm has been entertaining PV audiences for 22 years now.
5. Tours
While staying in your hotel and relaxing by the pool is nice, I believe it is nicer to get out there and see what Puerto Vallarta has to offer. Here are just a few of the many tours that will help you do that:
Diana's Tours has been in PV for 20 years. Her cruise is world famous and frequently sells out in advance.
Vallarta Botanical Gardens is a nature reserve that presents the diversity of Mexico's flora. Spread across some 60-plus acres, it has become a very popular place to view another side of Puerto Vallarta.
Estigo Tours offers a surprising array of land, water, and sight-seeing activities in PV.
Puerto Vallarta Tours provides tours for everyone but also offers a collection of tours specifically catering to the gay community.
Ocean Friendly Whale Watching and Photography offers small-group whale watching tours during whale watching season from December 8–March 23. Outside of these dates, a bay photo safari is offered.
6. Dining
With hundreds of excellent restaurants available in Puerto Vallarta, how do you choose? It is not easy, but here are a few suggestions:
La Cappella Italian and International Cuisine ranks high on many lists. Its famous Bottomless Gay Brunch, currently hosted by Louis Whitaker, is offered on Saturdays.
I visited Hamburger Mary's in Ontario, California, and was surprised to learn there is one in PV. Their motto is "Come for the food, stay for the shows."
Some other alternatives are Archie's Wok, Café Bohemio, Gaby's Restaurant and Bar, Hacienda Alemana, Red Cabbage, River Café, and Salud Super Food.
7. Tailored Accommodations
Places to stay in PV are as numerous and varied as its dining options. The Hotel Zone further north is where you'll find chain hotels and resorts. The following properties are straight-friendly and are located in the Romantic Zone:
Blue Chairs Resort is right on the beach, right behind their popular beach club. When you reach Los Muertos Beach, you will immediately understand why the resort has this name.
Hotel Mercurio is just a couple of blocks from the beach. It is a budget-conscious but comfortable hotel that has been in PV for 18 years. They even have their own line of beachwear.
Casa Cupula is an award-winning resort that has been in PV for 19 years. Casa Cupula is actually nestled in the hills above the Romantic Zone but still close to everything.
Almar Resort opened in January of 2016. The property promises a "luxury LGBT beachfront experience." Staying at Almar includes access to Mantamar Beach Club. In addition to the resort, there is Almar Vacation Club, which has an affiliation with the RCI exchange program.
Getting Around
Most of the Romantic Zone is walkable. But should you want to venture further, there is a public bus system which runs from 6 a.m. until just before midnight. The cost is 10 Pesos MXN (Less than 50 cents USD).
Pro Tip: Your ticket gets you on the bus, but you could end up standing. Gay Guide Vallarta says the drivers don't speak English and don't take USD.
Taxis are available pretty much everywhere. Fares are based on distance traveled instead of a meter. Ask the driver how much your trip will cost before taking off. We took a taxi following our bar-hopping adventure. It worked out well for our group of four.
Uber is also available. Having only been serving PV for little over a year, they are the new kid on the block.
After reading about Puerto Vallarta, check out the rest of TravelAwaits' Mexico content: