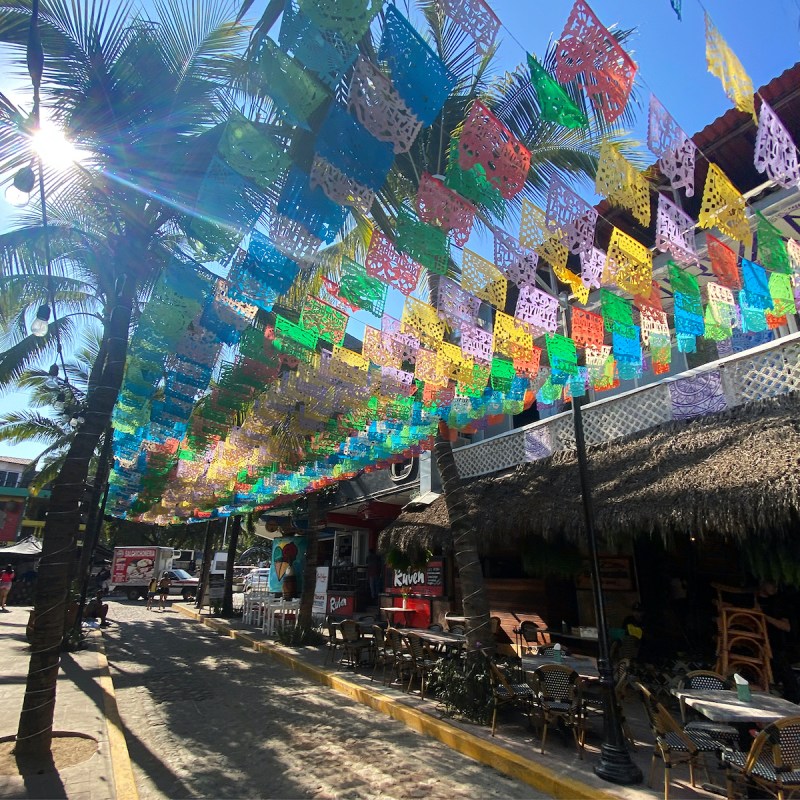 Sayulita and San Pancho are located within a 15-minute drive of one another on the Pacific Coast of Mexico, north of Puerto Vallarta, in an area known as the Riviera Nayarit. San Pancho is actually a nickname; it's proper name is San Francisco. "Pancho" is a common diminutive for the name Francisco in the Spanish language.
These two beachfront towns were quiet, non-touristy fishing villages just a quarter-century ago. Today, they welcome visitors with multiple restaurants, souvenir shops, and varied accommodations, including hotels, hostels, and vacation homes.
Both towns are popular among surfers, boho-chic backpackers, digital nomads, families with young children, and retirees — folks who visit for short vacations and those who might relocate for longer periods of time (or permanently).
My husband and I recently spent 3 weeks in Mexico, splitting our time in Sayulita and San Pancho, and we found things to love about both places. As similar as these lovely Mexican towns are, they do have their differences. If you're choosing between the two for your next vacation, here are some things to consider:
1. San Pancho Is Smaller And Less Crowded Than Sayulita
We spent the first half of our multi-week getaway in Sayulita, where about 5,000 people call it their full-time home, according to the vacation-rental website Sayulita Life. San Pancho is home to about 3,000 full-time residents, says San Pancho Life. Sayulita's core downtown area is bigger and more dense than San Pancho's, and Sayulita generally feels more bustling and crowded, with cars, ATVs, motorbikes, and golf carts maneuvering the streets along with pedestrians.
In fact, when we pulled off Mexico's Federal Highway 200 and drove our rental car down the main drag in San Pancho, I immediately commented on the smaller-town feel and less traffic. That's not to say we didn't see people walking the sidewalks and plenty of vehicles (though fewer ATVs and golf carts) making their way around San Pancho's streets. But I felt like there was a bit more elbow room, all around.
Of course "big" and "crowded" are relative, since neither San Pancho nor Sayulita are characterized as cities. However, I would say that San Pancho felt more village-like, in part because developers seemed to take care of retaining a lot of the greenery — bushes, flowers, trees, and ivy — in the downtown area, whereas Sayulita lacks some of that pretty nature in its town core.
2. Sayulita Has A Bigger, Bustling Beach, But There Are Options
The Beach Scene In San Sayulita
Sayulita's main beach on its prominent bay is crowded in high season (November–May), especially on weekends and close to the entrances where visitors filter in from downtown. You can find fewer crowds on the north end of the main beach, but generally speaking, the town beach is filled with beachgoers who bring their own blankets, chairs, and coolers or rent chaise lounges in front of the palapa restaurants for the day. Vendors selling everything from sunglasses and wood carvings to jewelry and T-shirts make their way among the crowds with their offerings. (We got very good at saying, "No, gracias.")
There are also open-air tents set up on the beach for oceanfront massages, outfitters giving land-based surfing lessons before newbies hit the waves, and, at the south end of the beach, a slew of fishing boats on shore. It's not unusual to hear mariachi bands and other types of musicians traipsing in the sand, playing for tips. It's a busy, entertaining, lively place for sure!
My husband and I actually preferred to spend time at one of Sayulita's smaller beaches that was an 8-minute walk from our vacation rental: Playa de los Muertos (named so because the route to get there is through a cemetery; muerto means dead). This quiet cove was just our speed, with fewer people, especially in the mornings.
The Beach Scene In San Pancho
In San Pancho, we rented a vacation home on a cliff in a residential area that was a good mile-long walk from town. Below our rental was a quiet stretch of beach that saw very few people, save for the folks who were also staying nearby or taking exercise walks from the main San Pancho beach about 20 minutes down the shore.
We did spend one day on San Pancho's busier main beach area. Here, similar to Sayulita, we found chaise lounges for rent, plenty of folks with their own beach gear, a couple of massage tents, roaming musicians, and, yes, more vendors selling their wares. That said, the San Pancho beach is much smaller than Sayulita's, with more room to spread out, even close to town.
Pro Tip: Head to San Pancho's beach at sunset. It's a local custom to applaud when the big ball of fire drops below the horizon, and it's a wonderful way to feel part of the community.
3. Surfing Culture Is More Pronounced In Sayulita
While my husband and I didn't partake in surfing during our stay in Sayulita, we certainly enjoyed watching others do their thing — and that was everyone from experienced 10-year-old locals to older folks taking lessons.
The pros at Surf Atlas note that there are actually multiple surf breaks that can be accessed along Sayulita's main beach, including one mellow spot that's great for beginners and another that's always consistent and great for intermediate longboarders. Sayulita has surf shops and surf schools, and we spotted many barefoot surfers carrying their boards around town.
That's not to say you can't surf in San Pancho (Surf Atlas says the break here is better for intermediate to expert surfers), but we didn't see as many surfers out in the waves, and the town didn't have as much of a hippie surfers' vibe that Sayulita did.
4. There's More Lodging Availability In Sayulita
By nature of its size compared to smaller San Pancho, vacation rental homes and hotels abound in Sayulita. The inventory is vast, and unless you're traveling during Easter week or over Christmas, it's likely you can find Sayulita accommodations in your budget — especially if you book early. Sayulita Life lists hundreds of vacation rentals, all rented by the owners themselves.
In neither town will you find any mega all-inclusive resorts. But there are some larger hotels in Sayulita, including the 52-unit Villa Amor with lodging ranging from studios to five-bedroom villas plus a spa, full-service restaurant, and pool on site. San Pancho's hotels tend to be smaller boutique properties. Check out the nine-room Hotel Cielo Rojo or Agua de Luna Boutique Hotel with 15 suites.
5. Sayulita Has A Livelier Nightlife And Party Scene
While Sayulita doesn't have huge nightclubs that stay open until the wee hours of the morning like you might find in Cancun or Cabo San Lucas, there are a handful of trailers serving up drinks throughout town. There's at least one bar with swings for bar stools, two downtown brewpubs, and late-night events at restaurants and bars that feature DJs or live dance music.
If you want to have a good time in Sayulita, chances are you'll be able to figure out where the party scene is happening. Or, if you're traveling with a group, no one will bat an eye if you make your own fun. We spied a festive bachelorette party whooping it up in a golf-cart caravan through Sayulita's cobblestone streets one early evening.
San Pancho, on the other hand, has a much more laid-back nighttime scene. In San Pancho, we enjoyed some great early evening live music, namely a talented singer with his acoustic guitar serenading us while we ate dinner at a downtown restaurant. The lone brewpub in town regularly hosts musicians outdoors. And another bar/restaurant advertises salsa dancing and DJ music on certain nights of the week. But, overall, I just didn't get the vibe that visitors come to San Pancho solely to party.
I Found Both Sayulita And San Pancho Appealing
I'd happily return to either Sayulita or San Pancho. The array of places to eat in both towns amazed us; my husband and I enjoyed everything from fresh-caught fish in a palapa on the beach and $2 tacos al pastor purchased from a vendor on the street to spaghetti bolognese and wood-fired pizza at upscale Italian eateries.
We enjoyed mingling with the variety of visitors, young and old — as well as the friendly residents who live and work in the area. Shopping at the farmers markets in both towns was a delight, and we appreciated hearing live music constantly, including strumming guitarists, mariachi bands on the beach, and Spanish-language duos singing folk songs in the street.
However, I praise both Sayulita and San Pancho with one important caveat: Neither is ideal for visitors with mobility issues who use wheelchairs, scooters, walkers, or canes to get around.
An Important Note About Accessibility
In both towns, sidewalks are uneven and curbs are high; this is not uncommon in Mexico. Sometimes sidewalks suddenly end, or are blocked, and you have to move down to the street to continue to a destination. Some streets in both San Pancho and Sayulita are cobblestone, pieced together with rocks and cement, or simply packed with dirt.
Also, depending on where you're staying in Sayulita or San Pancho, you may encounter hills or multiple flights of steps to get to your accommodations. In Sayulita, we rented a cute casita on the side of a cliff that was located 78 uneven steps (we counted!) up from the main road. In San Pancho, the road to our house was winding and quite steep; while we had a rental car, we did regularly walk 5 minutes to "our beach" below the house, and that involved a hike back home at the end of the day.
Pro Tip: If you're concerned about your fitness for walking steep slopes, or otherwise use any type of assistive device, be sure to ask the property manager or hotel representative about accessibility before you book accommodations.
For more comparisons of Mexico locations, check out these stories: