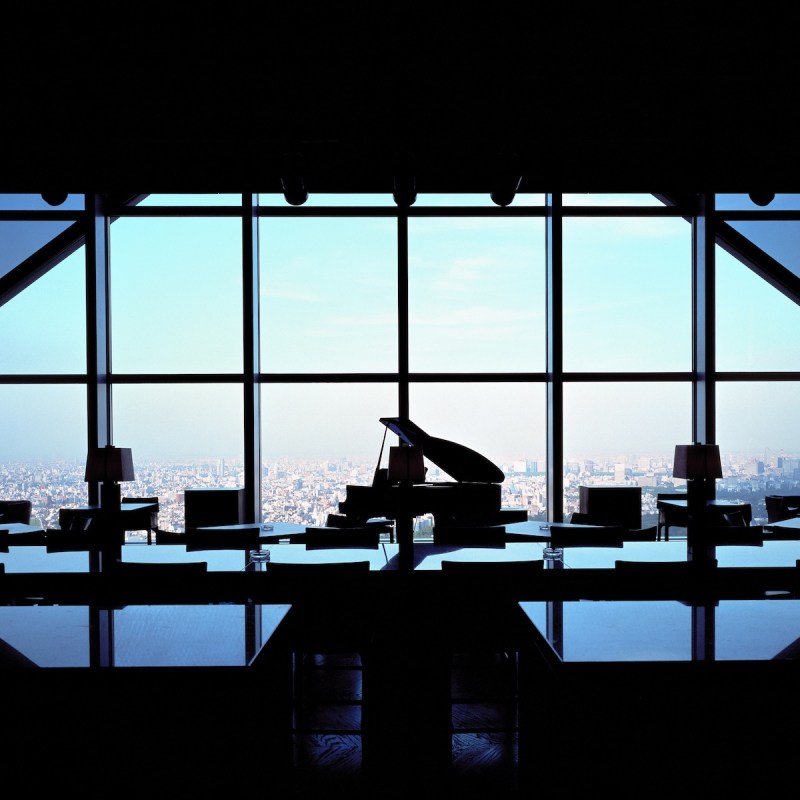 Champagne and I go a long way back. As a child, I remember that every New Year's Eve, I was allowed a glass of champagne with a peach immersed in it. To be fair, there was more peach than anything else, but the sense of celebration and the distinct feeling that this drink was something special was instilled in me at an early age. Over the years, I celebrated all occasions, even if the occasion on occasion was that it was a Tuesday, with a glass or two. I started collecting the capsules — the often prettily decorated metal discs that top champagne corks — and even bought a special album to keep them in.
Fast forward a few years, or (cough) decades, and I found myself living in Paris, a few miles away from the actual Champagne region, and buying champagne became an affordable weekend ritual, and serving it a tradition when I welcomed guests. And, recently, I realized that another tradition had snuck into my life: Whenever I travel and find myself in a new city, I search out a good bar that serves a choice of champagnes, preferably but not necessarily on a rooftop, and sometimes even in an airport or a train station. Any excuse, really, to take a sip of luxurious bubbles to make an ordinary day into a special day.
Here are some of my personal favorites from around the world. Whether they qualify as the world's best or not, they are all waiting for you to go and clink glasses in. Oh, and they are not in order of my favorites — they are all perfect in their own way. À votre santé!
1. St Pancras By Searcys
London, UK
St Pancras International is probably my favorite train station in the world, connecting two of my favorite cities in the world: London and Paris. Not only is the station a beautiful architectural structure, it also features Europe's longest champagne bar, St Pancras by Searcys, on the first floor, with the superb distinction of the tables having a "Press Here for Champagne" button. Press the button, and a waiter will appear with your flute of champagne while you sit back on the banquettes and enjoy watching the hustle and bustle of travelers below you. Is there a better way to start off the journey, or indeed, arrive?
Pro Tip: As luck will have it, my second favorite bar in London is right next door, in the St Pancras Hotel. The Booking Office used to be literally that: the place where you bought your train tickets, but it's now a stylish bar in a great setting.
2. Cafe Du Palais
Reims, France
Reims is the capital of the Champagne region, and as such, it's best situated to serve the world's most prestigious tipple. Walking around Reims at any time of the day you will see people sitting on the terraces, but not with the usual cup of coffee or glass of beer, no. Here everyone, from young to old, male and female, morning or night, is drinking champagne. My favorite place to sit and watch the world go by over a coupe de champagne is the Cafe du Palais, a bistro with good food and an extensive champagne list, serving glasses, half bottles, and bottles. When the waiter found out that I collect capsules, he brought me an entire handful of different ones to keep. Service with a smile.
Pro Tip: Tempting as it is, don't spend your weekend in Reims on that terrace alone. Go for a champagne tasting. My favorite in Reims is Veuve Clicquot with its fun souvenir shop.
3. Tantalo, Casco Viejo
Panama City, Panama
The first night I arrived in Panama City to join my husband already there on a business trip, he took me to Tantalo and ordered a bottle of Ice Moet Chandon. Sipping champagne from large glasses filled with ice cubes while looking out over Casco Viejo, the old town on one side, the twinkling lights along the Cinta Costera viaduct on another, and having the sparkling skyline of new Panama City on the horizon, I fell in love with the city and country immediately. It is, without a doubt, the place to spend your first night — and maybe some others later, in Panama City.
Pro Tip: Tantalo also offers nibbles alongside your drinks, with a Panamanian take on tapas, such as small plates of ceviche, pulled pork tortillas, and truffle potatoes.
4. New York Bar, Park Hyatt Hotel
Tokyo, Japan
Talking about great views, the New York Bar in the Park Hyatt Hotel offers some of the best in the world, espeicially if you like looking out across a twinkling metropolis such as Tokyo. Located on the 52nd floor and famously featured in the 2003 film Lost in Translation by Sofia Coppola, the floor-to-ceiling windows are the star of the show. The list of vintage and non-vintage champagnes is extensive, and the prices reach a mind-boggling $2,000 for a bottle. But fear not, you can also order by the glass.
Pro Tip: From Thursdays through Sunday nights, there are live jazz performances in the bar, and a cover charge applies. A night here is not for those with limited travel budgets, but the views alone are once in a lifetime.
5. Neos Bar, The Address Downtown
Dubai, United Arab Emirates
Sixty-three floors up, right next to the world's tallest building, Neos Bar is not necessarily a dedicated champagne bar, but it certainly can deliver anything from a glass of Veuve Clicquot to a bottle of Louis Roederer Cristal for a four-figure sum. And all while up in the sky above Dubai. This bar used to be my go-to when I lived in Dubai and wanted to blow visitors' minds on their first night. It is no longer the highest bar in Dubai, nor the most exclusive, but it is my personal favorite, with the views, setting, champagne, and snack menu delivering an impression not ever forgotten.
Pro Tip: For a bar in Dubai truly dedicated to champagne, head to the Champagne Lounge in the Habtoor Palace Hotel.
6. Skye, Hotel Unique
Sao Paulo, Brazil
Visiting São Paulo can be overwhelming. The sheer size of this city, with its 12.5-odd million people, is exhausting. So, what better than taking to a roof bar with a glass of champagne in hand after a long day's sightseeing? On top of the quite unique Hotel Unique, sits the Skye bar complete with pool and sun lounges. Nice enough during the day for guests, but at night it comes into its own with the city skyline filling the horizon, making for quite the view. The hotel is next to the Ibirapuera Park, a must-see when in São Paulo, so it lends itself to spending the afternoon exploring the enormous park, and then taking a sundowner or two in the bar.
Pro Tip: Within easy walking distance lies the neighborhood of Itaim Bibi, with good restaurants. For a truly Brazilian, and very meat-heavy food experience, head to the Churrascaria Barbacoa.
7. Champagne Bar
Sydney, Australia
With a name like that, you can't go wrong, can you? To be honest, Sydney has so many great places to drink champagne, it is hard to choose a favorite, but the Champagne Bar is a lovely spot on Darling Harbour and has the distinct advantage of serving a wide selection of champagnes by the glass, unlike many other bars around the world. Together with the setting, views, and selection of nibbles to accompany your glass, this is a good choice to allow the evening to get off to a good start. They even do theme nights, for example, their lovely chocolate nights.
Pro Tip: If you want champagne together with even better and ever-changing views, then hop onto the Mumm Harbour Bar — a harbor cruise with free-flowing Mumm champagne for the duration of the 1.5-hour long tour through the harbor with views of the bridge, opera house, and the wonderful real estate along the coastline.
8. Barefoot Bistro
Whistler, Canada
Whistler is always a good idea, to slightly adjust a famous quote, and the Champagne Lounge, part of the Bearfoot Bistro, is ideally located between the Golf Club for summer and the ski slopes for winter. With what must be one of the most extensive wine and champagne cellars in Western Canada, the atmosphere could be pretentious, but it is not. That said, you can go for a special occasion and have your bottle of champagne sabered open while dining at the Chef's Table. Or you could simply choose a glass of champagne as an après ski treat.
Pro Tip: A great way to sample more than one restaurant at a time is a Whistler Restaurant Tour. Depending on which tour you choose, you can have a four-course meal in four different restaurants, complete with wine pairing and walking and talking in between.
9. Les Bulles Hotel
Paris, France
After so many champagne bars, how about a champagne hotel, right in the Latin Quarter of Paris? The Hotel Les Bulles, which translates as Bubbles Hotel, is a champagne-themed hotel, complete with champagne in the mini bar, a champagne tasting lounge, and wine and champagne courses in the vaulted wine cellar below the hotel, where you can learn all you need to know from a dedicated champagne sommelier. All the rooms, ranging from classic to suites, incorporate the hotel's champagne theme.
Pro Tip: This hotel offers not only rooms for the night but also tasting packages for several hours during the day, often with a treatment in the in-house spa and a taste of champagne included, for those days when you might be passing through Paris or are waiting to catch a late-night flight.