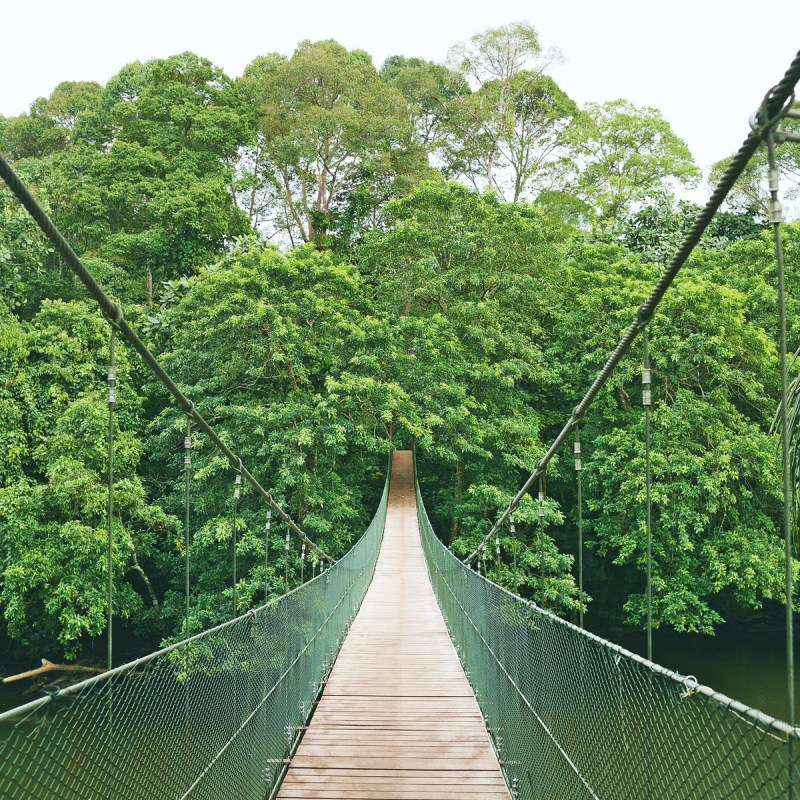 Borneo — known for its rainforests, orangutans, the famous dive site of Sipadan, and the soaring peak at Mount Kinabalu — is a wonder to visit for the curious traveler. Borneo is the third-largest island in the world and is surrounded by the Java Sea to the south, the Celebes Sea to the east, and the South China Sea to the north. It is made up of four political regions: Sabah and Sarawak, two Malaysian states; Kalimantan, which belongs to Indonesia; and the small sultan state of Brunei.
I have been to Borneo twice, visiting three of its four political regions. What drew me to this exotic island was possibility. Would I see pygmy elephants and orangutans in the wild? Would I connect to a land and culture so different from my own?
I wasn't expecting to fall so hard for Borneo, to create unforgettable memories, nor to come away with a solid determination never to use palm oil again.
1. Experience The Natural Wildlife On The Kinabatangan River
Along the Kinabatangan River, in the Malaysian state of Sabah, is a small swath of protected natural rainforest providing an unforgettable opportunity to see orangutans, pygmy elephants, macaques, proboscis monkeys, and crocodiles in the wild. Ornithologists will be in heaven spotting kingfishers, rhinoceros hornbills, and plenty of other exotic bird species.
Taking a boat ride along the Kinabatangan River is the perfect way to soak up the sights and sounds of the Borneo rainforest. The highlight of both my trips to Borneo was seeing a herd of pygmy elephants, the smallest of the Asian elephants, swimming in the Kinabatangan River and silently watching from the boat as they took mud baths and trumpeted. The boat trips up and down the Kinabatangan River introduced me to new bird species and monkeys that I didn't know existed. Watching monkeys leap from one bough to another and listening to their chatter never grows old.
I came away from my trips to the Kinabatangan River with a fierce determination to stop purchasing products that contain palm oil. When exploring the Kinabatangan River, sometimes the protected zone is so narrow that you can see the palm tree plantations. Riding the shuttle from Sandakan to the Kinabatangan River, the views are not as expected of the rainforest, instead, you'll see row upon row of palm trees. This human impact on animal habitat left an indelible mark on me.
Getting To The Kinabatangan River
Fly to Sandakan from Kota Kinabalu. Alternately, take a 7-hour bus trip. A shuttle from your booked accommodation will pick you up in Sandakan for a 2-hour drive to the river.
Where To Stay Near The Kinabatangan River
I stayed at the Nature Lodge Kinabatangan twice. The rooms are simple and the tours are top notch.
2. See Orangutans In Borneo
Orangutans, whose name means "forest man," are only found in the wild on the islands of Borneo and Sumatra. Orangutans are endangered due to the loss of their natural habitat, poachers, and the illegal pet trade.
They should abound in the wild. This land is their natural home where they build nests in soaring trees and the mothers raise their offspring, often staying together for 10 years. But the reality is that most visitors to Borneo will see orangutans in a rehabilitation center.
Sepilok, the orangutan rehabilitation center in Sabah, is situated in a forest reserve where the land is protected. The rehabilitation center, which was started in 1964, protects orangutans in Borneo and teaches young orphans to survive in the wild. Visiting at feeding time is a remarkable experience. The primates swing from the treetops to the feeding station, grab some bananas, and find a spot to sit back and enjoy their meal. Silently watching these creatures interact, feed, and play is unforgettable.
Where To Stay Near Sepilok
At the Sepilok Forest Edge Reserve, return to your paradise in the jungle after a day of seeing orangutans.
3. See The World's Largest Flower In Borneo
Endemic to the rainforests of Borneo and Sumatra, the rafflesia arnoldii lily is a sight to see. Its bloom can grow up to 3 feet across and can weigh up to 15 pounds. This flower is parasitic as it has no visible leaves, roots, or stems and it is the world's stinkiest flower. It is known as the "corpse flower" as it is pollinated by flies attracted to its emanating aroma of rotting flesh.
We heard through the grapevine at our lodging that there was a rafflesia blooming in Gunung Gading National Park, a conservation zone about 53 miles west of Kuching — Sarawak's state capital.
There is no time to waste if you are interested in seeing this unique reddish flower as it only stays in bloom for about 5 days.
Trekking through the heat, back and forth along the rugged jungle trails of Gunung Gading National Park, we finally spied (or smelt) the rafflesia in bloom. What a unique site!
4. Go Diving At Sipadan In Sabah
Situated in the Sulawesi Sea, Sipadan is a world-renowned destination for diving. Personally not a diver, I met plenty of travelers who raved about their dives at Sipadan. There are over 3,000 species of fish, hawksbill and green turtles, barracudas, manta rays, and sharks to be seen. Seeing photos from Sipadan divers is enough to encourage me to get certified to dive.
Starting in December 2020, Sipadan Island is closed to visitors every December to give the coral and marine life a quiet period.
Pro Tip: It is no longer possible to stay on the island of Sipadan. Divers stay on one of the nearby islands and organize a day trip with one of the dive operators.
5. Walk The Canopy Walkway In Ulu Temburong National Park, Brunei
The oil-rich sultan state of Brunei has had a no-cut policy in its rainforests since the 1990s. Today, the vast park of Ulu Temburong has a small area (one percent) that can be visited by the public.
Getting to the park involves two exhilarating boat rides through open bays and mangrove forests. One arrives by longboat at the park's headquarters where you are greeted by a guide who will walk you deep into the virgin rainforest along trails and plankways to reach the canopy walkway. A series of steep stairways leads you to the canopy walkway which hovers at 164 feet over the forest floor. The views over the treetops of the rainforest are incredible.
Pro Tip: If you are afraid of heights, climbing all the stairs up to the top of the walkway is a bit nerve wracking. Even if you opt not to go all the way to the top, the trek through the forest is well worth the trip.
6. Visit Kinabalu Park And Mount Kinabalu In Sabah
Malaysia's first UNESCO World Heritage Site, Kinabalu Park, is one of the most important biological sites in the world. It is a haven for 4,500 species of flora and fauna. Nature lovers will be in heaven. Mount Kinabalu, the superstar of the park, is the highest mountain in Borneo and Malaysia with an elevation of 13,435 feet. Avid hikers apply well in advance for a permit to hike the peak, a 2-day, one-night climb. Other adventurers may wish to explore Mount Kinabalu using the Via Ferrata, an alternative climbing route.
Kinabalu Park has nine hiking trails of various lengths which can be accessed from the park headquarters. Venture off on your own or with a guide. Bird lovers, bring your binoculars!
Where To Stay Near Kinabalu Park
Sutera Sanctuary Lodges is a great place to come back to and relax after spending a day exploring Kinabalu Park.
7. Hike Bako National Park In Sarawak
When visiting Sarawak, spending a day at Bako National Park is a must. Arrive by boat and arrange with your driver for a pick up time and location. The superstar of Bako National Park, Sarawak's oldest national park, is the proboscis monkey. Sitting on tree branches, these strange-looking, long-nosed, and round-bellied monkeys found only in Borneo will be watching you! Other wildlife to look for are macaques and silvered leaf monkeys with their wild grey hair framing their faces. Keep your eyes open for a splash of orange in the jungle. Baby silvered leaf monkeys are orange and may be seen clinging to their mother.
Bako National Park has 16 color-coded jungle hiking trails of various lengths and difficulties. There are steep cliffs, small bays, and sandy beaches for exploring. It is here that I had my first swim in the South China Sea.
Getting To Borneo
Decide where you want to start your explorations in Borneo. Daily direct flights from Kuala Lumpur arrive in Kota Kinabalu, the capital of the Malaysian province of Sabah; Kuching, the capital of Sarawak; and Bandar Seri Begawan, the capital of Brunei. There are also some direct flights to Borneo from Singapore.
Pro Tips
Comfortable and sturdy walking shoes are a must for any trip to Borneo. It's hot and humid here. Make sure to venture out each day with plenty of drinking water. You may want to consider packing a change of clothes in your day pack.
For more adventures in and around Malaysia, check out these stories: