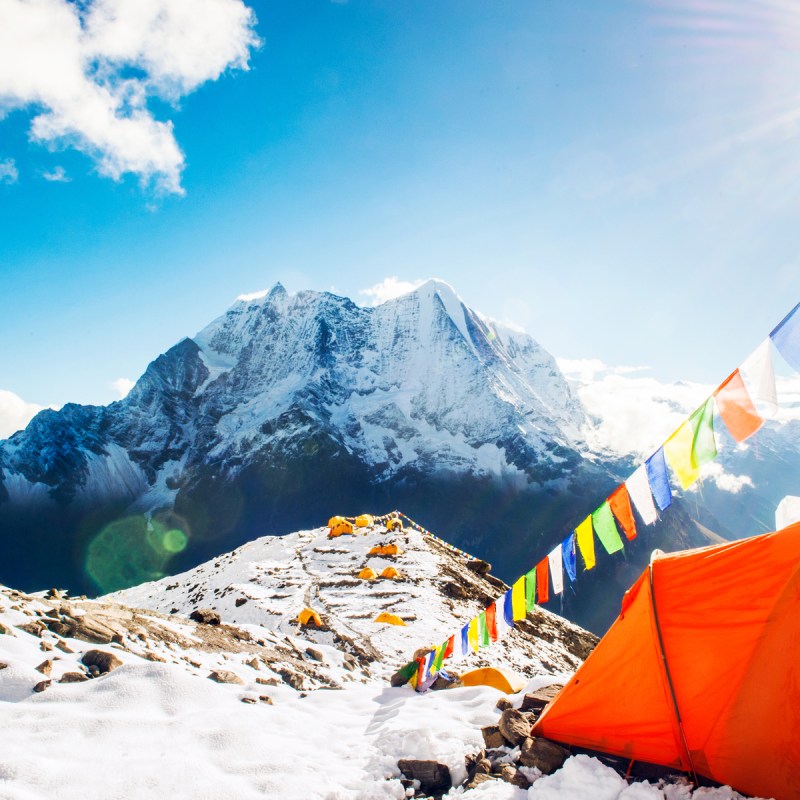 We've traveled widely and sampled the cuisines of all seven continents. If we were making a list of the best culinary adventures in the world, Singapore would be at the top. With 41 Michelin-starred and 69 Bib Gourmand restaurants and hawker stalls, Singapore has everything you could ask for at every price level, including Chinese, Indian, Malaysian, Korean, Japanese, Australian, French, a variety of western foods, and the uniquely fusion Peranakan cuisine.
You can find all of this in five-star restaurants or in one of the ubiquitous hawker centers found on the island. In addition to the variety of menus, there are many unique places to eat in Singapore — floating in a cable car above Sentosa, in a historic Peranakan museum, or even on the largest tall ship in Asia.
Here are seven unique places to enjoy the culinary arts in Singapore (in no particular order).
1. Ocean Restaurant
Imagine dining next to the largest aquarium you've ever seen. Giant manta rays, hammerhead sharks, and colorful fish swim a few feet away from your table while you dine on an exquisitely cooked meal. That's what you'll experience at Ocean Restaurant.
The restaurant is in the Equarius Hotel right next to the S.E.A. Aquarium's largest observation tank. The wall of windows is mesmerizing — we were watching so much that we forgot to eat. On top of that, Ocean only cooks sustainably harvested fish and meat. The dishes that we had were prepared perfectly — the Australian steak and the barramundi (Asain sea bass) were cooked to perfection. Make sure to leave room for dessert. There is a set menu with additional wine pairings if desired.
Pro Tips
Ocean serves lunch and dinner. Reserve in advance and ask for a table right next to the tank. The restaurant is currently undergoing refurbishment and will reopen soon.
Equarius Hotel is located in Sentosa. You can arrive via the Sentosa Express from VivoCity and then a shuttle from Michael's Hotel. Alternatively, you can take a taxi directly to Ocean.
2. The Intan
Peranakan culture is unique to Singapore (as well as to Penang and Malacca). In the 1800s, many men left China to seek their fortunes, migrating through Malaysia to Singapore. On route, some married Malay women and adopted the food and language but not the Muslim religion. What evolved over time is called Peranakan culture. The uniquely and creative blended cuisine is best found in Singapore, Malacca, and Penang.
There is no better way to learn about Peranakan history and food than at The Intan. A tour of the museum with Alvin Yapp is a treasure trove of Peranakan history, artifacts, and culture. Alvin comes from a Peranakan family and is the collector, founder, and curator of the museum. A meal at The Intan will awaken your tastebuds to a new world of spices and aromas.
For the most immersive experience, try the Intan Private Dining Experience (lunch or dinner). Come hungry — it is a seven-course meal, including Ngoh Hiang (meat roll), Otak Otak (a spicy fish cake grilled and wrapped in banana leaf), Ayam Buah Keluak (chicken in a thick tamarind gravy), and Babi Pongteh (pork belly braised in fermented soybean paste). For dessert, you'll have a chance to try our personal favorite: Chendol — shaved ice with Pandan jelly, coconut milk, and gula melaka (palm sugar). If you prefer lighter fare, the Tea Experience includes a variety of Kuehs (mostly rice flour and coconut-based desserts) as well as tea.
Pro Tips
You must make an appointment to visit The Intan. Due to Current COVID restrictions, you'll need to book a private tour to enjoy one of the meals or tea services. The closest MRT to The Intan is the Eunos Station, a 15-minute walk. We recommend taking a taxi instead. There are some lovely Peranakan Houses a few blocks away.
3. Cable Car Sky Dining
We have ridden the cable car from Singapore over to Sentosa many times in the past. Recently, we discovered that you could dine in one of the cable cars while floating along over the city and the bay. The panoramic aerial views are stunning.
Boarding from Mt. Faber Station, you are escorted to your very own cable car which is prepared by the staff of Arbora restaurant. You get a welcome drink and are then served a four-course dinner bento box style (due to COVID). You have a choice of a Japanese destination-themed, Singapore Flavors, Sky High Bento, or even a Champagne Cabin. We had the Singapore Flavors. The serving was large and the meat and fish flavorful and tender. We were delighted when the doors opened at Mt. Faber after the first-round trip and a lovely ice cream and fruit dessert was served.
Pro Tips
Make sure to reserve in advance. You board at the Faber Peak Station. Alternatively, you can take the MRT to Harbourfront. Board the cable car over at Harbourfront Station to Mt. Faber (the transfer is included in your ticket).
4. Royal Albatross
The Royal Albatross is the largest tall ship in Asia. You may have caught a glimpse of it already — it made an appearance as Bruce Wayne's yacht in the Dark Knight movie.
It is now the setting for the perfect romantic sunset cruise — a 2.5-hour dinner cruise. It comes complete with a pre-sail aperitif and a five- or seven-course meal with wine pairing options. You will experience lovely sea breezes while sailing past the southern islands over Singapore's calm waters. For the city cruise, the ship sails past Marina Bay and the city skyline.
There are also breakfast cruises for those preferring to enjoy the experience in the morning. You can even book a "pawfect" dog cruise with your four-legged pal.
The Royal Albatross is a very popular spot for weddings and proposals. We hear that many proposals have been made while couples are climbing up the mast!
Pro Tips
Bookings tend to be sold out a month ahead so check out the website for availability. The Royal Albatross is moored next to SEA Aquarium in Sentosa.
5. Prawn Fishing At ORTO
Singaporean friends of ours are regulars at ORTO. While we'd been there for fishing, we'd never tried prawning until recently. It was a blast. The first prawn we caught, we were so excited that we knocked over our chairs. There were a few amused looks from the other prawners. After that, we waited and waited for another bite. We got a bite and it got away. Then we waited for the next. That's the experience of prawn fishing.
After you've fished for a few hours, it's time to take your catch and cook it. Hopefully you'll have more than the six prawns we caught. We were lucky, our neighbors were expert prawners and they gave their catch to us, so we had enough for a meal. You can grill the prawns on-site (currently suspended due to COVID) or bring them to the nearby restaurant and have them cook for you.
Pro Tip
ORTO is a short walk from the Khatib MRT. Fish@Bugis is another place for prawning.
6. Dorothy's Bar
In the heart of Chinatown, at the junction of Temple and Trengganu Streets, there is a Wizard of Oz-themed bar called Dorothy's — for friends of Dorothy's (LGBTQ+). We were exploring Chinatown and taking a break when we spotted a rainbow flag flying from the second story above a plant shop. We decided to check it out and had cocktails from the Wizard along with some appetizers. The drinks are inventive — we had the Oz Pandan Vodka and the Lychee Martini. You can also order a drink called Ruby Slippers or Glinda Gria. It is a great place to watch the crowds in Chinatown.
Opened in 2015 in one of the oldest gay heritage sites, Dorothy's is a safe place. You can mingle with the locals and find out more about the LGBTQ+ scene in Singapore.
Pro Tip
Dorothy's is located at 13a Trengganu Street; the nearest MRT is Chinatown. There are other LGBTQ+ bars and cafés in the area.
7. Ce La Vi On Top Of Marina Bay Sands
Fancy having a drink with tapas at the rooftop bar 57 floors above sea level? With an expansive view of Marina Bay, central business district, Art Science Museum, and the city of Singapore spread out before you, Marina Bay Sands is a magical experience.
The top floor of the iconic Marina Bay Sands has restaurants, bars, and lounges alongside the world's most Instagrammed infinity pool. You can purchase a ticket to the observation deck, take a sunrise or sunset yoga class, or stay at the hotel. Our favorite way is to have drinks and food at one of the lounges or restaurants to see the sunset and the city lights. The drinks are very good, and the food is excellent.
Pro Tip
Book your table in advance and make sure to say that you want it to be outside. If the weather is bad (Singapore sometimes has torrential rains), your reservation will need to be rescheduled.
There are more unique places to dine in Singapore that we have not had the chance to experience yet. The Smith Marine Floating Kelong, the Singapore Flyer, and Seok Seng Bicycle Café are at the top of our list for our next trip to Singapore.
Check out all of Sue and Regina's Singapore content: