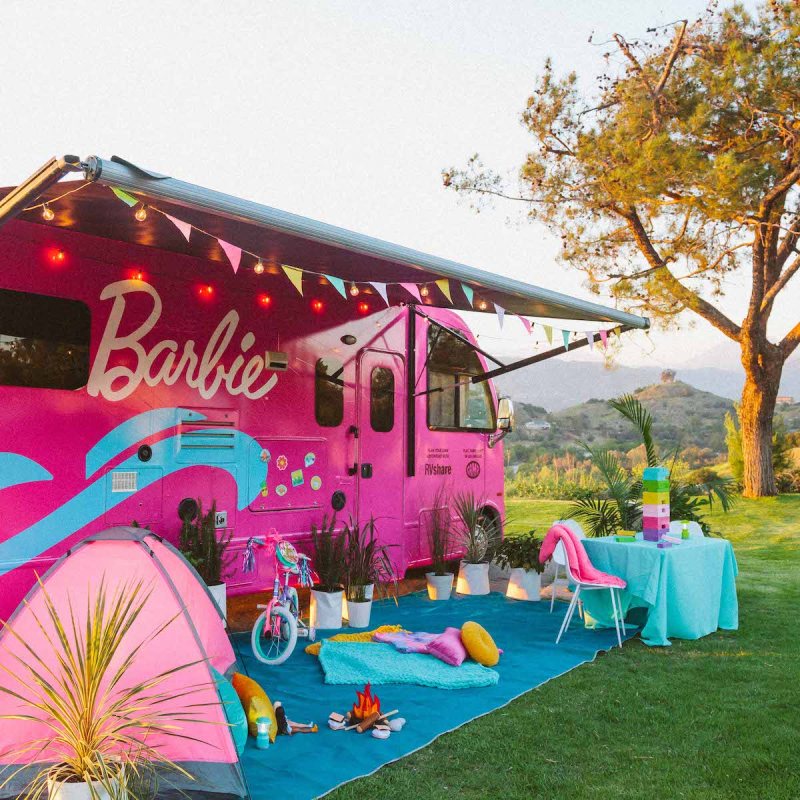 If you grew up playing with Barbie and her tricked-out camping vehicle — or, like me, you coveted your friend's toy Barbie camper and wished for one of your own — now's your chance to actually camp like the famous doll herself with the Barbie Ultimate Dream CAMP Experience sweepstakes.
The grand prize in this sweepstakes, sponsored by Barbie, RVshare (a peer-to-peer RV sharing marketplace), and CAMP (a shop/play experience for families with eight locations across the country), features a 3-day/2-night stay for the winner and up to three guests in a stationary, Barbie-themed RV at Bonelli Bluffs RV Resort and Campground outside of Los Angeles.
Bonelli Bluffs in San Dimas offers some nice family-friendly amenities, including hiking and biking trails, swimming pools, outdoor fire pits, a lake with a fishing beach, and volleyball and basketball courts.
Barbie's Life-Size RV Is Similar To The Toy Version
The 30-foot, custom-outfitted Class A motorhome is bright Barbie pink — a real-life version of the playtime favorite. Barbie's camper comes fully furnished with dinnerware, toiletries, and accessories, as well as an equipped kitchen that includes a stovetop, oven, and refrigerator. (The winner of this sweepstakes will need to bring their own food to prepare in Barbie's camper.)
The life-size Barbie DreamCamper has a pop-open canopy that creates an expanded outdoor living room, ideal for enjoying an al fresco picnic. Or you can eat inside at a dinette table with seating for four. 
The sweepstakes winner also receives Barbie merchandise, a Barbie Camper Pop-up Play Tent, an RVshare prize pack, and a CAMP gift pack that includes a $500 Visa gift card. The total value of the prize is $2,305.
Important Small Print For The DreamCamper Sweepstakes
There are some important things to know about entering to win:
You must live in one of the 48 continental states to enter. Residents of Hawaii and Alaska are not eligible.
You must be an adult who is a parent, responsible party, or legal guardian of at least one child between the ages 3 and 12.
That child between the ages of 3 and 12 must accompany the winner on the 2-night camping adventure in Barbie's DreamCamper.
The DreamCamper stay at Bonelli Bluffs campground must take place April 29 to May 1, 2022.
If you can make these requirements work, and you're interested in entering the online sweepstakes, you'll need to do so by April 23, 2022, at 11:59 p.m. (PDT) on the CAMP website.