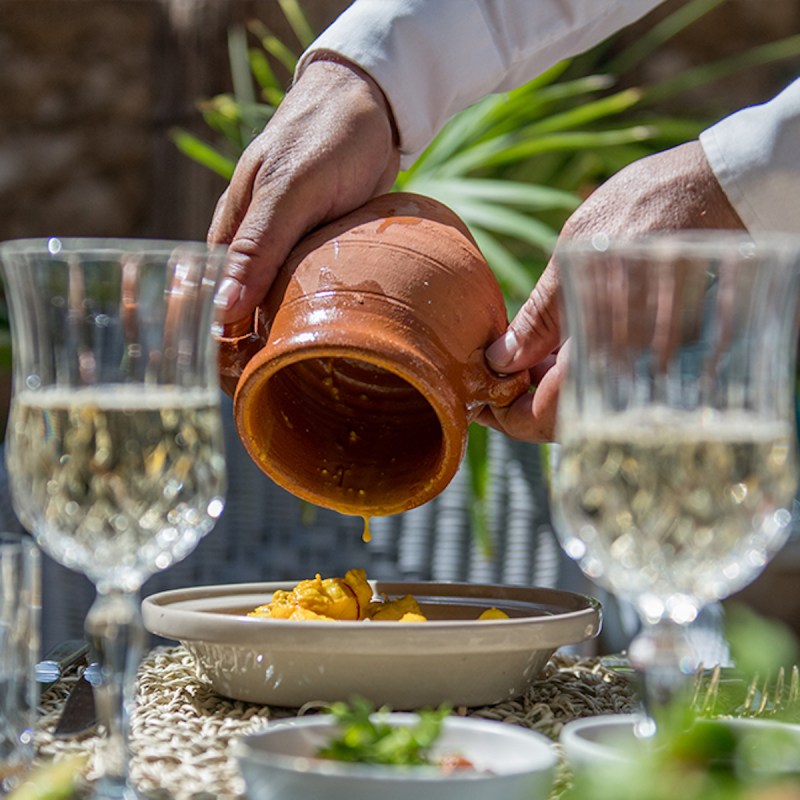 Africa is a definite "go-to" destination. From family safaris to romantic honeymoon trips and everything in between, Africa is the answer. But when planning your travels on the continent, it's quite possible that "dining out" didn't even enter your mind. Well, I'm here to tell you that it definitely should! Africa is experiencing somewhat of a culinary renaissance, with traditional and contemporary flavors combining in a delicious fusion. Africa has a lot to offer to foodies on their travels.
You may well have heard of fine dining in South Africa, or perhaps the rich cuisine of West Africa, or maybe the seafood on the East African Coast, but somehow the rest of the continent gets overlooked when it comes to good food. There are 54 countries in Africa, and in each country you will find extraordinary restaurants serving incredible food. What makes a restaurant great isn't just its culinary merits (Though of course, that's the primary factor!), other factors just as important are location, atmosphere, service, style, architecture, and more. With that in mind, I am going to share with you my favorite places to dine out on the continent. This is not intended to be the definitive list of the "best" restaurants in Africa. This is simply my personal list, in no particular order, of places that for one reason or another are really special dining experiences.
1. Botanica — Lusaka, Zambia
I'm going to start with my newest favorite restaurant, Botanica, right here in my home country of Zambia. This is my newest favorite simply because it's the newest restaurant on my list, having only been open for a few months, though I've been familiar with this innovative chef's food for many years, having first sampled it when he was cooking in Zambia's tourism capital, Livingstone.
Botanica offers a contemporary spin on traditional Zambian cuisine, and with Chef Sungani Phiri at the helm, it is an innovative gastronomic experience of fabulously designed and conceived fine dining tasting menus. Passionate about using indigenous Zambian ingredients, which are all sourced from within a 60-mile radius, Sungani, with his 17 years' experience in 5-star dining, elevates traditional local dishes and ingredients to fine-dining status.
One of the stand-out dishes on the tasting menu is the "Chibwantu Cocktail," made from a traditional Zambian non-alcoholic beverage, becoming alcoholic when the monkoyo root is added and the drink begins to ferment. Sungani's version of the "cocktail" is infused with bourbon, apple liqueur, and lime syrup and then creatively served in a giant snail shell. It's delicious! Another favorite is the dumpling made with the aromatic and flavorsome village-raised chicken that's much more delicious than any supermarket-purchased meat. Finally, let me include a stunningly simple, but sensationally delicious, bean and freshwater crayfish soup, with a garnish of charcoal-infused tuile and a crispy sweet potato leaf. Innovative and delicious, this restaurant is definitely going to be on my list of favorites for a very long time indeed.
2. Al Fassia — Marrakesh, Morocco
If you're looking for traditional Moroccan food, there's no better place than Al Fassia. In business since 1987, the name Al Fassia translates as "the women of Fez," and the restaurant is renowned for its all-female team. Al Fassia is a stalwart of the Marrakesh dining scene and is one of its best.
Famous for its roast lamb, Al Fassia serves an array of delicious and traditional Arab-African dishes and champions the classics of Moroccan cuisine, including lesser-known tajines such as lamb with aubergine and beef with almonds and eggs. Al Fassia's pigeon pastille, a Moroccan classic, is one of the best in Marrakesh. Another highlight is the sliced khobz (Moroccan flatbread, somewhat similar in taste to pitta, but thicker).
Pro Tip: Al Fassia has a sister restaurant called Al Fassia Aguedal a few miles out of town, south of the Kasbah quarter, that offers the same menu and also has a boutique hotel for accommodation in a garden setting.
3. La Table De La Plage — Qualidia, Morocco
La Table de la Plage is found in the La Sultana hotel in Oualidia, a small fishing village in a Natural Reserve, a 2.5-hour drive from Marrakech and also a 2.5-hour drive from Casablanca. Even if you're not staying at La Sultana, seriously consider indulging in a leisurely lunch at the hotel's terrace restaurant on the lagoon's edge. La Table de la Plage specializes in fresh shellfish which is kept in high-tech tanks. The oysters, clams, and spider crabs are delicious, as are the just-caught fish and organic veggies plucked from their own garden. La Sultana's philosophy is of "Terroir Cuisine" and of showcasing the best local and ethically sourced meat, fish, seasonally grown fruit and vegetables from their own organic gardens, and traditional Moroccan products including saffron from Taliouine, salt from Zerradoune, cumin from Alnif, and Argan from Souss. Specialties include sea-perch cooked in a salt crust, lobster, oysters, bouillabaisse, and grilled meats. They have a great wine list too.
Pro Tip: La Sultana Oualidia offers 12 tastefully decorated rooms and suites, with private terraces and jacuzzis, and a cabin suite perched in the trees. If you are not a guest at the hotel early booking is essential for the restaurant.
4. Heaven Restaurant — Kigali, Rwanda
Heaven Restaurant is a definite highlight of the Kigali restaurant scene. The restaurant has a relaxed, open-air deck bistro with views over Kigali and a diverse menu that draws on a variety of international influences. Heaven is hugely popular with expats and travelers, so it's not the place to come if you are looking for a local atmosphere, but do come for the innovative menu with the central theme of combining modern African cuisine with local Rwandan ingredients. The restaurant works with local farmers and also cultivates several organic gardens of its own. They also offer on-site mixology classes and feature a traditional banana wine-making experience for those who want to really immerse themselves in traditional Rwandan food and drink.
Pro Tip: Alissa and Josh Ruxin built Heaven in 2008 as Kigali's first international restaurant and hospitality training center. Since then, they've trained over 1,500 Rwandans and expanded to two hotels and restaurants and a tour company. To read their story look for Josh's book A Thousand Hills to Heaven: Love, Hope and a Restaurant in Rwanda.
5. Four Sisters — Gondar, Ethiopia
Visitors to Ethiopia enthuse about the country: its music, the coffee, and its ancient buildings. But what I find really special about Ethiopia is the food, and if you're a bit "food adventurous" when you visit, you won't be disappointed. From injera (a slightly sour, somewhat spongy textured, fermented flatbread) and kolo (a snack of roasted grains, usually barley, chickpeas, sunflower seeds, and peanuts) to berbere (a traditional spice blend made of chilies, garlic, fenugreek, allspice, and cinnamon), tej (honey wine), and tela (Ethiopia's home-brewed beer), you will find something new to enjoy.
For a really special place to sample Ethiopian food, try Four Sisters restaurant in Gondar. This is one of the best places in northern Ethiopia for both food and atmosphere. The restaurant serves delicious traditional food. (They also serve "European food" if you must!). Owned and operated by four sisters — Helen, Senait, Tena, and Eden — the service is good, as is the coffee and just about everything else on the menu!
Four Sisters also offers guests the opportunity to learn skills that ordinary tourists rarely get to experience. You can sign up to learn how to make tej (honey wine), the Ethiopian staple injera, or perhaps you'd like to learn how to roast and brew traditional Ethiopian-style coffee.
Pro Tip: The road to the restaurant is unlit, so take a taxi or bajaj (three-wheeled motorcycle taxis elsewhere referred to as a tuk-tuk or auto-rickshaw) if coming after dark.
6. Emerson Spice Rooftop Teahouse — Stone Town, Zanzibar
Zanzibar is a jewel in Tanzania's crown. When it comes to good food on the island, you can't really go wrong with the Emerson Spice Rooftop Teahouse, deep in the heart of Stone Town. This is not fine dining; this is a cultural experience combined with delicious flavors.
Perched on top of the Emerson Spice hotel, this open-sided teahouse restaurant offers 360-degree views out over the rooftops of Stone Town and the ocean beyond. Arrive for cocktails at sunset, and by the time dinner commences, you'll be relaxed and ready to enjoy your meal. The evening's dining experience consists of five courses, with each dish marrying Zanzibar cuisine with Persian and Omani influences. The spinach fish cakes with turmeric sauce are delicious, as is the beetroot tahini with Arabian flatbread, or my favorite, the Massaman goat curry. Dinner is accompanied by traditional musical performances and the whole meal is a celebration of the culture and heritage of Stone Town.
Pro Tip: With only one exclusive sitting for dinner each evening, reservations are essential, and a deposit is required for booking confirmation.
7. Mad Zebu — Belo-Sur-Tsiribihina, Madagascar
This famous island off the southeast coast of Africa blends the Southeast Asian, Indian, French, and African flavors of its past, and the resulting Malagasy cuisine is delicious. The Mad Zebu restaurant, a somewhat incongruous find in the dusty village of Belo-sur-Tsiribihina on the west coast of Madagascar, serves some exceptional Malagasy cuisine. The Mad Zebu has been open for more than 10 years, and the menu, in the hands of the talented Chef Onja, includes some real delights like pan-fried shin of zebu, prawn medallions in white butter, and snapper filet with peanuts, risotto, and coconut sauce — all elaborately presented. Vegetarian options are available, and make sure to save room for desserts like the green pepper sorbet or the dried fruits with spices.
Pro Tip: It seems like everyone traveling between Morondava (gateway to the Alley of the Baobabs) and the Parc National Tsingy de Bemaraha stops here for lunch, many of them reserving tables in advance — I'd suggest you do likewise unless you're happy to wait.
8. Palais De Barbizon — Chamarel, Mauritius
A warm welcome is guaranteed at Barbizon. The restaurant might not look like much, but it's a fabulous place. Marie-Ange L'Intelligent runs the kitchen, whipping up traditional Mauritian flavors from her family's cookbook, while husband Rico entertains at the tables. You don't get a menu here; instead, you're offered a feast of rum punch, rice, five vegetables, and fish or chicken: old-time Creole cooking at its best.
The menu is based on fresh, local products, all picked from Marie-Ange's own vegetable garden or those of her neighbors. This is something important to her, as she insists on knowing the source of all her produce. Vegetables feature heavily, with dishes like banana peel and salted fish curry, creamed cassava, octopus and chayote fricassee, or a cassoulet prepared the Mauritian way. Depending on the season, these dishes might be accompanied by curries of homegrown chicken, freshwater langoustine in a red sauce, venison, or fish.
9. La Colombe — Cape Town, South Africa
I couldn't leave this list without including at least one of the many fantastic restaurants found in South Africa's Cape Town, so let me share my favorite with you. La Colombe has been ranked the 81st best restaurant in the world, and with its innovative menu and impeccable service, it certainly deserves this accolade. La Colombe takes its diners on a gastronomic voyage of French-meets-Asian fine dining in an atmospheric, treehouse-like setting atop the Silvermist Wine Estate in Constantia, Cape Town. The gourmet adventure starts as you arrive, with a "welcome amuse-bouche" that's like an explosion of flavor you pop whole in your mouth before you've even reached the table.
Highlights for me include Tuna "La Colombe," a miniature tinned raw yellowfin tuna creation featuring micro herbs, avocado puree, and an umami-rich broth as well as the sublimely and perfectly balanced Karoo lamb. Each of the tasting menus can be ordered with wine pairings, and unless you are driving, this is definitely the way to go. The wine pairings are spot-on accurate, and not the usual suspects; rather expect limited editions and boutique labels, many of which are not available to taste anywhere else in Cape Town. The tough decision on whether to have the full tasting menu or the reduced menu will depend on how much time you have, and how much money you want to spend. But whichever menu you choose, it will be downright delicious!
Pro Tip: La Colombe enjoys iconic status, and a table that must be booked well in advance of your arrival in Cape Town, especially in summer.
There you have it, my personal favorite restaurants in Africa. I hope one day you'll get a chance to eat in some of them.
For more ideas and inspiration on traveling in Africa, explore these articles: