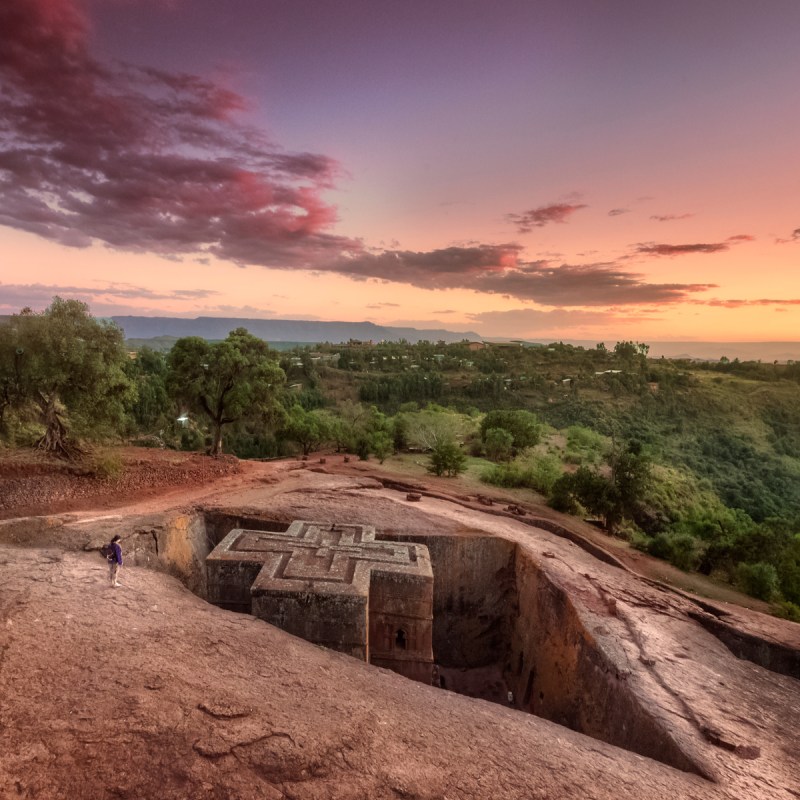 Africa is a wealth of natural, historical, and cultural wonders. Many travelers will know the popular tourist destinations on the continent: South Africa's Kruger National Park, Egypt's Pyramids, Tanzania's Mount Kilimanjaro, Kenya's Masai Mara, and Zambia's Victoria Falls; all of which are of course incredible places to visit. But have you heard of a village built on stilts over a lake in Ghana, or the 12th-century stone-cut churches of Ethiopia, or Malawi's highest mountain?
If you have been drawn to this article, there's a good chance that you've either already visited the continent's most well-known attractions, or you're looking for a trip to Africa that is a little more off the beaten track.
But Africa is a vast continent, and deciding where to go and what to see can be overwhelming, so I've narrowed it down to my pick of the 6 less-traveled African destinations that are worthy of a spot on your bucket list.
1. Draa Valley, Morocco
At 680 miles long, the Draa is Morocco's longest river and lends its name to the Draa Valley. Ancient farming villages and farming communities line this river, and the area is known for its date farming, and production of cereals, vegetables, and henna. The valley is also famous for its ancient kasbahs, fortresses that were used for defense when cities came under attack. These kasbahs also doubled as houses for local leaders and were built with high walls for protection. The Valley stretches from the city of Ouarzazate to the Sahara Desert in the south of Morocco.
The Draa valley peters out near the settlements of Zagora and Tinfou, where a curiously lone sand dune sits, in the middle of a vast gravel plain. Here you will find a sign reading "Tombouctou 51 jours," translating to "Timbuktu fifty-one days" – 51 days by camel that is – a measurement dating back to the days when Morocco controlled all the way across the Sahara Desert and into Mali.
Audley Tours offers an 8-day desert circuit that you can join to visit the Draa Valley.
2. Nzulezo, Ghana
Some 224 miles – about a 7-hour drive – west of Ghana's capital, Accra, lies the village of Nzulezo. Nzulezo is located on Lake Tandane, part of the Amasuri Wetlands, a sensitive ecosystem that is home to an impressive array of flora, fauna, and countless rare birds. The town is nestled in a mangrove forest and is only accessible by canoe from the coastal town of Beyin. Nzulezo's estimated 600 inhabitants are farmers, fishermen, or brewers of the famous, local alcoholic "gin," "akpeteshi." Nzulezo is the only village in Ghana built entirely on stilts and is often referred to as "Ghana's Venice."
According to legend, the ancestors of Nzulezo's modern-day inhabitants were from the ancient Ghana Empire in today's Mali. In the 15th century, after a war fought over fertile land and gold, they were forced to flee. Legend has it that their god appeared as a snail and led them to today's Ghana. Continuously forced to move onwards by other tribes or by slave traders, they followed their god until finally reaching Lake Tandane. Here they remained, feeling the lake would protect them against enemies and also provide them with food.
Nzulezo depends on tourism. One of the highlights of a visit to this town is the actual journey to get here. After driving as far as the unpaved road allows, a short walk takes you to your canoe, and an hour's canoe ride takes you through narrow, lush channels, open plains, and finally into the wide expanse of Amansuri Lake (the ride is safe and lifejackets are available). If you are staying at one of the beaches in the Western Region, such as Busua or Axim, the visit to Nzulezo can easily be done as a day trip. Anyone wanting to "live like the villagers" can stay at the Home Stay guest house, but don't expect modern standards.
Pro Tip: There is a fine line between tourism and invading the local resident's personal space – do ask before you take photos, and check behind you before posing for a selfie, in case some scantily clad person is trying to take a bath in the lake – most of the town does not have indoor running water.
Easy Track Ghana offers an 8-day Water Lover Tour if you are interested in visiting Nzulezo.
3. Mount Mulanje, Malawi
Mt. Mulanje lies to the east of Blantyre, the main city in southern Malawi. Mulanje is an impressive sight to see, and its summit, Sapitwa Peak is the highest point in Malawi at 9,850 feet.
Mt. Mulanje is known locally as the "island in the sky" because it rises almost straight up from the flat plains below. This is a truly magnificent mountain and has to be seen to be appreciated. Unlike some of the world's peaks that are obscured by surrounding ranges, here there is a genuine sense of awe as you draw closer to Mulanje and see it looming over its surroundings. The area boasts a variety of wildlife including small mammals and several bird species including the black eagle and countless white-necked ravens.
Visitors can drive around the foot of the massif in a day, but even better is to walk, trek, hike, and camp on the mountain. There is a large network of paths and trails and choices between quite gentle walking and serious climbing. Visitors can spend a couple of hours taking a walk to some river pools and waterfalls or spend many days exploring the whole massif.
Crafted Africa offers a great 9-night 'Walk Malawi' tour that includes Mount Mulanje and a number of other spots in this beautiful country. Alternatively, Mulanje town, at the base of the mountain, has shops and services, as well as a colonial-era "sports club" (complete with golf course) and a handful of hotels and guest houses, the best of which is Africa Wild Truck Camp & Lodge, who offer a variety of accommodation, in a converted colonial building, and can also organize Mulanje hikes using local guides and porters. A half-hour journey from Mulanje some lovely accommodation is offered at Huntingdon House on the Thyolo Tea Estates.
Pro Tip: Unsurprisingly for a vast, foreboding, and sometimes unforgiving mountain, local myths and legends abound around Mulanje, and visitors are well-advised to keep the mountain's spirits "appeased" in the hope of a successful ascent!
4. Lalibela, Ethiopia
Lalibela in northern Ethiopia is known for its distinctive rock-hewn churches that date back to the 12th and 13th centuries. These churches are ancient pilgrimage sites for Coptic Christians and are still used for services today. Carved out of rock, there are eleven medieval churches, many of which are linked by underground tunnels and trenches and with some containing bas-relief and colored frescos. These unique churches include the majestic Bete Medhane Alem, home to the Lalibela Cross, and the cross-shaped Bete Giyorgis, the last of the 11 churches to be built. This is a UNESCO World Heritage site.
Pro Tip: Lalibela is currently embroiled in the fighting between government and rebel forces from Ethiopia's northern Tigray region; the rebels have taken the city, surrendered the city, retaken it, and re-surrendered it. Whilst this incredible place should definitely be on your list of places to visit, perhaps hold off on planning your trip for a little while.
5. Valley Of Desolation, South Africa
Situated in South Africa's Camdeboo National Park, the Valley of Desolation, sometimes referred to as the "cathedral of the mountains," is a hauntingly beautiful place of gaping chasms flanked by astounding rock formations, precariously balanced giant dolomite rocks, and pillars that drop sharply by 400 feet to the valley floor below. Looking out from the rocky peaks that formed over 100 million years ago by a violent volcanic shift, all one sees seems to be an immense terrain of nothingness, and where even the quietest of whispers echoes in the still Karoo air.
The Valley of Desolation is a haven for campers and hikers, and home to a variety of plant and animal life, including 220 species of birds, 336 plants, and 43 mammals, highlights include the endangered Cape Mountain Zebra, the majestic Black Eagle, and the world's heaviest flying bird, the Kori Bustard.
All this incredible natural wonder is just a 9-mile drive from South Africa's fourth oldest town, Graaff-Reinet, in the Eastern Cape. You have a choice of scenic picnic sites, and for those with a little more energy, there are three hiking trails that range from 1 hour in duration to overnight hikes. Be sure to bring your camera!
Pro Tip: Those who want to maximize their experience can try the Crag Lizard Trail, a well-marked walk beginning in the parking lot that takes approximately 45 minutes to complete.
6. Gorilla Trekking In The Congo
The Republic of the Congo, not to be confused with Democratic Republic of Congo (DRC), which shares a similar name and a border, is safe to travel to. It's definitely not as well-known as other countries in Africa, but its pristine tropical forests make it a one-of-a-kind destination.
The beautiful Odzala-Kokoua National Park sits right in the heart of the Congo Basin and is one of the most remarkable gems in West Africa. Once home to nearly 20,000 gorillas, poaching has sadly reduced their numbers drastically, but Odzala-Kokoua is still home to the largest population of gorillas anywhere on the continent. The park has approximately 100 mammal species and is home to one of the continent's most diverse primate populations. For a 9-day gorilla experience, contact Primate Safari Experiences.
There you have my take on some of the most beautiful, but often overlooked, places to visit in Africa. Time to start planning your visit.