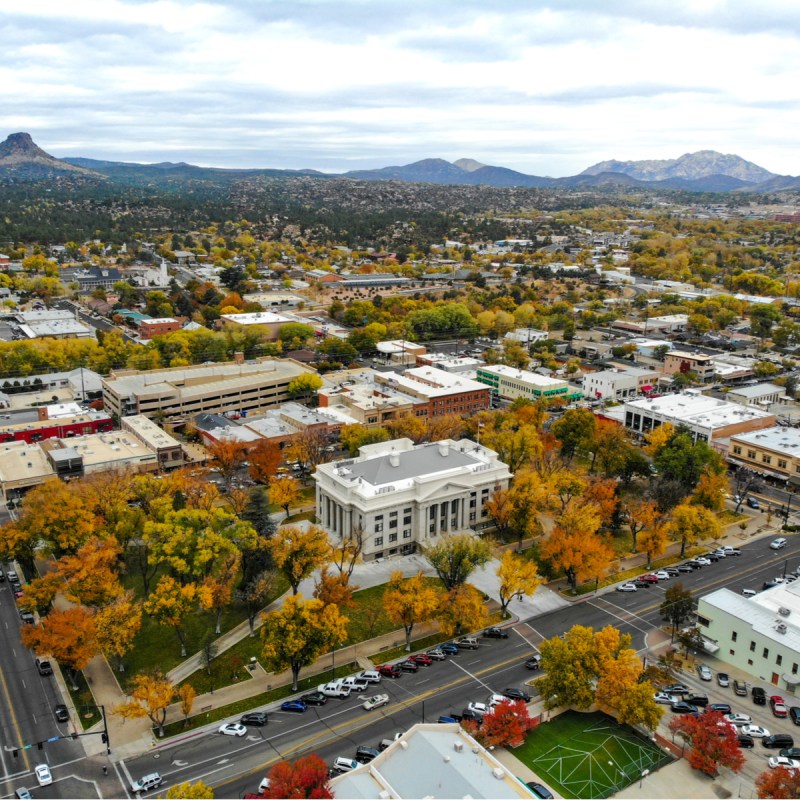 On this little rock that we call home, there are many incredible places you could choose to spend your golden years of retirement, but Prescott, Arizona, should be on the top of your list. Great climate, an active lifestyle, and interesting things to do are just a few of the many prized attributes of this little mountain community.
I grew up in California but had the good fortune to live all over the country and other interesting places around the globe, but when it came time to grow deep roots that would carry me well into retirement, I knew Arizona was calling. Yes, Arizona's been a hot spot for retirees for decades. As a realtor and resident, I get it. Great weather. Beautiful scenery. Golf. Active lifestyle.
Amid the warm and enchanting landscape filled with canyons, lakes, forests, and deserts, there's one little town that is held in high esteem — especially for retirees. When my wife Amy and I are working with retirees relocating to Arizona, we always suggest they consider Prescott. Here's why.
1. Location, Location, Location
In real estate, location is everything, and from my vantage point, Prescott has it all. Located between Phoenix and Flagstaff (and less than 2 hours from either), you can water ski in the morning and snow ski in the afternoon! I can't think of another U.S. city that allows such active lifestyle diversity.
Prescott is also a small but vibrant community with a population of just over 42,000. I like to say it's small but not too small. While the downtown is filled with amazing boutiques, if you go outside of the city core, you'll also find all your major retailers like Costco, Safeway, Target, and Trader Joe's.
That said, you can always drive down the hill to Phoenix if there's something you just can't find. And if you love to travel, the Phoenix airport is an excellent hub to fly out of with lower airfares!
2. Pleasant Climate
When most people think about a retirement lifestyle involving Arizona, they think "snowbird" because of Arizona's notoriously hot summers.
Sitting a mile above sea level, Prescott offers a much milder climate with comfortable living year-round. You may be surprised to learn that residents here enjoy all four seasons.
Summertime highs can climb into the 90s, but a typical summer day is in the 80s. Fall is stunning, and one of my favorite seasons. Prescott is considered one of Arizona's top locations to enjoy the seasonal changing of the guard. You'll especially appreciate the warm days and cool nights. Sleeping with your windows open in the fall is a real Arizona treat!
Chilly, but not harshly cold, December offers just enough of a cold-weather excuse to pull out your favorite ugly Christmas sweater and puffy jacket. Expect a little snow, but nothing that will keep you homebound for days! Prescott's annual average snowfall is 13 inches. Before you know it, it's spring, and those temperatures warm up again — quickly! 
3. Vibrant Community
Prescott's city square is my favorite place to spend a day. There's so much to see and do on that block. Summer concerts, festivals, rodeos, and parades dot the downtown calendar throughout the year. The beautiful Yavapai Courthouse was added to the national register of historic places in 1977. In front of the courthouse sprawls a large grassy area which is the site of countless community events all year. Take a stroll around the square. Shop at inviting boutiques. Sample gourmet cuisine at dozens of local businesses. In the mood for great pizza? Stop by The Grumpy Sicilian for Italian food that won't disappoint! La Planchada is a great downtown option for delicious Mexican food. The list goes on!
Prescott's colorful cowboy past offers history buffs a fascinating look at the wild West and paints a vivid path forward for the community today. Visit the Palace Saloon in the historic "Whiskey Row" for a shot of whiskey and live music as you let your imagination wander to the days when infamous characters like Doc Holliday, Wyatt Earp, and Virgil Earp bellied up to the bar.
If you love the holidays, you are in for a real treat! You won't want to miss the week-long Fourth of July festivities (more on that in a moment), and in December, you'll feel like you're in a Hallmark movie with parades and light festivities that bring home all the magic and romance of the season.
4. Oldest Rodeo
Prescott is home to the oldest rodeo in the country, and they celebrate that fact well with a week-long festival leading up to the 4th of July. The Prescott Frontier Days history stretches back to 1888 when the town hosted the first formalized "Cowboy tournament." Today the event draws an estimated 27,000 spectators and features family-friendly activities like parades, dances, an arts and crafts market, and of course a traditional rodeo! Proceeds from the festival benefit a variety of local scholarships, schools, and charitable organizations.
5. Where The Deer And Antelope Play
When you're out and about in Prescott, it's hard not to hum that old cowboy tune — especially when you spot an entire herd of pronghorn antelope… running! In North America, no land animal is faster than an antelope. Did you know they can run up to 60 miles an hour? Once on the verge of extinction, the pronghorn antelope now flourish in Northern Arizona — especially just outside of Prescott. When you catch a glimpse of these amazing animals, it takes your breath away!
6. The Open Road
Sports car (or Sunday drive) enthusiasts love driving Highway 89A from Prescott to Jerome and back. The first federally funded project in the state of Arizona, commissioned more than 100 years ago, the old road is filled with sharp corners and breath-taking scenery. Jerome, the vertical city, also offers an interesting day trip in and of itself. Sitting on top of a large late 1800s copper mine, it's the largest ghost town in America!
In fact, Prescott positions you perfectly for all kinds of in-state travel, whether you're headed for Arizona wine country to the north, the Janet Fort Indian Ruins (an antiquities site), or the legendary Sedona, you'll never run out of things to do or new places to explore. It's all about location!