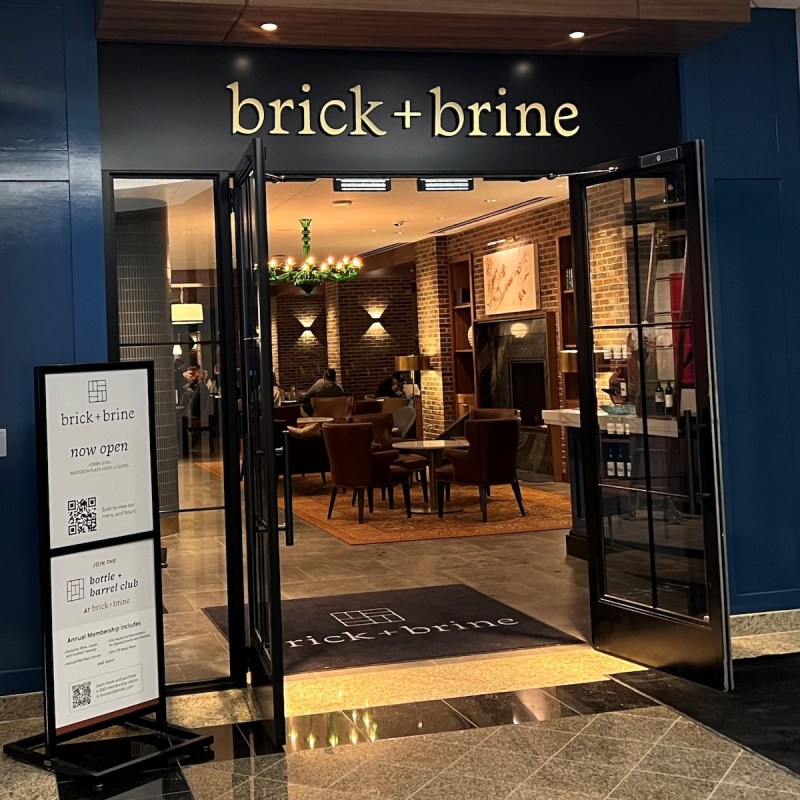 West Michigan's abundant farmland showcases a cornucopia of agricultural products. Kalamazoo, located near the region's bounty, has everything from blueberries and grapes to vegetables available for restaurants that highlight farm-fresh ingredients.
Kalamazoo has so many great restaurants, it was challenging to narrow the selection, so I decided to stick to those near Kalamazoo's downtown area. Here are seven fantastic restaurants to try in downtown Kalamazoo, listed in no particular order.
1. The Grazing Table
Against a white wall, a white neon light declares, "Life is Gouda." After eating a mid-afternoon charcuterie board snack at The Grazing Table, I have to agree. While the menu described it as an individual board, it offered enough sustenance for two snackers anticipating dinner in a couple of hours. Our dish was stunning with a myriad of fruit — strawberries, raspberries, blueberries, blackberries, grapes, dried apricots — combined with salted almonds. They fashioned salami slices into a rose and added two types of cheese — Brie and Manchego. Then they topped it with two pieces of salted chocolate-covered caramels.
The café features counter-style ordering with your meal at the table. In addition to the boards, they have sandwiches and salads if you need a more substantial meal.
Pro Tip: The small shop offers crackers, jams, chocolates, and salami to build a charcuterie board at home. If you want to learn to create one, The Grazing Table has classes to help you master the intricacies of a tasty board.
2. Rose Gold Coffee Company
The cozy atmosphere at Rose Gold Coffee Company makes it the perfect place to warm up with coffee on a winter afternoon. It features exposed brick walls and 1950s-style dining sets with padded and pillowed window seats to sit and people watch while enjoying that cuppa Joe.
Their food menu is entirely plant-based, so you'll find oat milk for your coffee. If you're looking for a vegan lunch, the menu offers soup, burritos, and baked goods. Try the Southwest burrito with tempeh chorizo, potatoes, and house-made cheese sauce. The cheese sauce adds a bit of zip to the burrito.
We were heading out on the road trip home, so we grabbed some baked goods for the road. The treats rotate, so they may not have the same ones, but the chocolate chip cookies are a must-try if they're available.
Pro Tip: Rose Gold Coffee Company stays open until 6 p.m., so in addition to breakfast and lunch, it's an excellent place for an early light (and plant-based) dinner.
Vegan? Check out this plant-based traveler's 5 Favorite Tips For Eating Vegan On The Road.
3. 600 Kitchen & Bar
Situated in Kalamazoo's River's Edge neighborhood, 600 Kitchen & Bar is in the northwest corner of the Foundry, a building that once functioned as a gray-iron foundry. The circa 1905 building is now a restaurant with decor incorporating the original exposed brick, a nod to the building's original industrial use.
While charcuterie boards are the trend now, the 600 Kitchen & Bar brunch menu takes it to a different level. As a brunch starter, you'll find a pancake board featuring Nutella, fresh fruit, thick-cut bacon, and crème fraîche. Another fun board is the breakfast charcuterie offering fresh fruit, pimento cheese, seasonal jam, soppressata, ham, and smoked salmon for a tasty start to your morning.
The menu has a fun take on Elton John songs, featuring an eggs Benedict section titled "Bennies" & the Jets. You'll find several Bennies referencing Elton's songs, including the Island Girl, which is poached eggs and lobster, an English muffin, hollandaise sauce, and pickled onion. Another fun one is Saturday Night's Alright, made from chicken tenders, cheddar cheese, poached eggs, and hollandaise sauce.
While several restaurants downtown use local agricultural products, 600 Kitchen & Bar takes it one step further, serving up its creations on locally made ceramic pottery.
Pro Tip: Take time to call for reservations. On the weekends, the restaurant only serves brunch.
4. Studio Grill
Arriving at Studio Grill around 11 a.m., my husband and I had to decide if we wanted a late breakfast or an early lunch. It wasn't an easy decision, so we didn't choose. Instead, we ordered something from each menu and shared our dishes. And we were so glad we did.
First, they offer pancakes for breakfast, but not just any pancakes. Instead, the owner tweaked his wife's grandmother's pancake recipe to develop his signature ones. So we had the apple pie pancake, with bits of chopped apple mixed in the batter. The pancakes ranked with some of the best I've ever had, and rumors have it the cinnamon roll pancakes are equally delicious. Since we were sampling several dishes, the server suggested ordering just one, though I almost regret not getting the whole stack.
But then, there was the homemade sausage hash and green pepper smothered in sausage gravy and topped off with cheddar cheese. The potatoes in the hash were fresh, not frozen. They served it with toast made from locally sourced bread. The sausage gravy showcased a bit of spice — just enough to make it interesting.
Signs advised us their stuff burgers are ranked southwest Michigan's best burgers, so we also shared a club burger. The burger comes stuffed with ham, turkey, and American cheese. Then they top it with bacon, Swiss cheese, lettuce, tomato, and mayo. They have many different stuffed burger options, including the Free as a Bird burger, which lets you build your version of the stuffed burger. Finally, they serve the burgers with fries.
Pro Tip: While you may find a line, browse the bookstore next door while you wait. Studio Grill is a breakfast and lunch place and is open only until 2:30 p.m.
5. Bell's Eccentric Café
Bell's Eccentric Café, located in the original Bell's Brewery, features meals made from their more than 20 draft options, craft beer, a Beer Garden, and a patio, along with music and entertainment to add to your dining pleasure. But, of course, one reason to visit the café is to sample the beer you'll only find there. Their scratch-made meals are locally sourced, with primarily non-GMO, sustainable ingredients.
When I visit a restaurant within a craft brewery, I love to try the dishes that feature the beer. At Bell's, that means the Bell's Beer-Ria Tacos made from Amber Ale and chili braised pork, onion, cilantro, and consommé served on corn tortillas. Another item featuring Bell's beer is the Porter beer cheese soup crafted from Bell's Porter, cheddar cheese, and green onions.
Their burgers are also a good choice. I tried the Cherry Bomb, a smashed patty with chipotle cherry jam and goat cheese topped with pickles, mustard, and pickled habanero served on a brioche bun. Pair it with the Porter for a tasty lunch.
Pro Tip: Bell's Brewery's 45-minute tours start in the café with a sampling. At the tour's end, you can purchase some supplies to get started as a homebrewer. You can book the tour online before you go.
6. Comensoli's Italian Bistro & Bar
Comensoli's Italian Bistro & Bar has been serving dinner for about 100 years, showcasing everything Italian from pizza to risotto and pasta. Our meal started with warm rustic bread served with herbed olive oil. Then an antipasto big enough to share arrived at our table. It featured sweet pickled red and green peppers, salami, fresh mozzarella, cherry tomatoes, marinated artichokes, salami, pecorino, and peppadew peppers served on a bed of romaine and topped with a house-made Champagne vinaigrette.
The house-made meatballs feature a combination of pork and beef and can be added to a pasta dish or eaten as an appetizer covered with marinara.
The house-made cudigi is a northern Italian sausage that doesn't have the fennel typical in Italian sausage, but rather some sweeter spices like cinnamon, nutmeg, allspice, and clove. Typically you find this sausage in Michigan's Upper Peninsula. The Comensoli family came to Kalamazoo from northern Italy via the Upper Peninsula, so it's no surprise that they've included cudigi on the menu.
I ordered the nightly special, which was the spicy Fontina risotto topped with an 8-ounce sirloin, served medium and garnished with a few microgreens for color. The risotto had Fontina cheese, artichokes, roasted red pepper, and chili puree for a bit of a kick.
I love it when a server brings a dessert tray that shows what I'll be getting when ordering a particular dessert. I had difficulty choosing but decided to forgo my usual tiramisu and chose the flourless chocolate cake. It was almost like a slice of fudge. And it was so rich and creamy — something you'd want to share.
Pro Tip: Check out the weekly specials on Comensoli's Facebook page.
7. Brick + Brine
Located inside the Radisson Plaza Hotel at Kalamazoo Center, you'll find Brick + Brine, an upscale venue new to the Kalamazoo restaurant scene. The brick in Brick + Brine comes from the exposed brick walls and wood-fired brick oven. The brine references the brine used to flavor the proteins.
The restaurant features contemporary American cuisine with hand-cut steaks, fresh seafood, and handcrafted pasta. Our meal started with the meatball appetizer, a combination of beef and pork meatballs placed in a pool of tomato brodo topped with fontina and served with grilled herbed focaccia. Next, we enjoyed some steak house favorites, like the French onion soup and a wedge salad.
The entrée of my partially hosted Brick + Brine meal was the star of the show, with the presentation and flavors both over the top. I had the 10-ounce hanger cut steak, presented with a bulb of soft roasted garlic. The steak, cooked as requested, was tender and flavorful. The Brussels sprouts side was intentionally charred slightly crispy with soy, chilies, bacon, and peanuts for a great accompaniment to the steak.
In warm weather, you'll enjoy Brick + Brine's open-air concept, where sliding windows surround a large part of the space, allowing the outside in.
Pro Tip: Park in the structure across the street and walk through the skywalk to reach the restaurant without worrying about the weather.