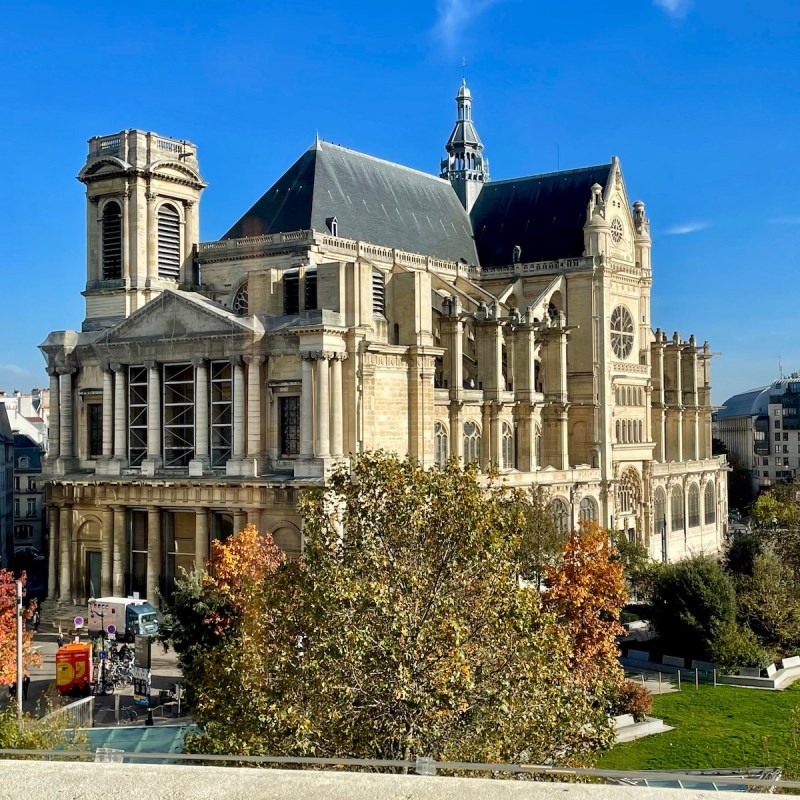 In the last two years, many Paris museums have updated their cafes and restaurants, inviting some of the top French and Parisian chefs to reinvent and invigorate their culinary offerings. The result is that these museums now have a double attraction: great art coupled with great food.
Below is a list of the newest additions.
1. Restaurant Halle Aux Grains At Bourse De Commerce At The Pinault Collection
The Pinault Collection was one of the most anticipated museum openings of 2021. A former stock exchange for wheat, the neoclassical gem built in 1767 has been renovated and newly converted into a museum for the contemporary art collection of billionaire fashion magnate Francois Pinault with over 10,000 paintings, sculptures, and drawings.
Father and son chefs Michel and Sebastien Bras were selected to bring their eclectic cuisine to the museum. Inspired by the original use of the building, seeds and grains from the chefs' global travels are incorporated into restaurant Halle aux grains' dishes, plus the best local food products in France including the highly praised beef from the Aubrac region. An appetizer of celery spaghetti with a touch of pistachio and sunflower sprouts and a main course of a grilled, organic chicken breast with a puree of Treviso and quince are highlights of the appealing menu. The dessert menu updates French classics, such as poached pears in wine, and adds a dash of cardamom, pear sorbet, and a buckwheat tuile, plus the heavenly Paris Brest de la Halle is served for two or more with light cream, crunchy praline bits, and pumpkin seeds.
The restaurant is located on the top floor of the museum, and the series of intimate dining salons with just four or five tables in each are designed with contemporary decor. The almost floor-to-ceiling windows overlook the handsome 16th-century Saint Eustache Church, Les Halles, and Centre Pompidou Museum.
At lunch, Halle aux grains also offers a three-course tasting menu starting at 55 euros, it's 78 euros for five courses, and the 98 euro seven-course menu has four savory dishes, cheese, and two sweet selections. The same menu is offered at dinner with the exception of the three-course menu.
Pro Tip: Halle aux grains serves a sweets and snack menu plus tea and coffee from 3 p.m. to 6 p.m.
2. MIMOSA Restaurant And Cafe Laperouse At Hotel De La Marine
A grand 17th-century building on the historic Place de la Concorde, Hotel de la Marine has recently been transformed into a museum. Hotel de la Marine, the gorgeous, Baroque-style palace was constructed from 1757 to 1774 and was originally named Garde-Meuble, housing the furniture collection of King Louis XV. During the French Revolution, starting in 1790, it became the naval academy of France. In 2017, the naval academy relocated, and the building was renovated and repurposed as a museum, with rooms recreated from the 1700s.
Award-winning chef Jean-François Piège, who gained a multitude of Michelin stars when he was the head chef at Les Ambassadeurs restaurant at the five-star Crillon Hotel and at his namesake restaurant in Paris, dons his chef's hat again to open MIMOSA at Hotel de la Marine.
The menu takes its cue from the hedonistic French Riviera, offering sun-kissed Mediterranean fare with inspiration from Nice to Saint Tropez to the Italian border. Tempting sharing plates to start with include raw, red tuna marinated in mustard and olive oil, a foie gras terrine cooked on a grill, and Niçoise-style vegetable fritters. Wood-grilled main courses include octopus with chickpeas and coriander, blue lobster from Brittany with a tangy aioli sauce, prime Angus beef for two with spicy herb sauce, and a thinly pounded veal cutlet smothered with arugula, tomatoes, and Niçoise olives. Leave room for the luscious desserts such as citrus panettone pudding, wood-baked meringue with clementines and chestnuts, and a Riviera style ice cream cone with vanilla and pistachio.
MIMOSA has a cocktail bar that serves snacks and an outdoor terrace inside the courtyard of the museum.
Across the way from MIMOSA, is Café Laperouse, more of a casual café and tea salon serving croque monsieurs, main-course salads, burgers, lobster rolls, and even American-style frozen yogurt with toppings.
Pro Tip: When it's warm, enjoy the Cafe Laperouse breakfast special: house-made granola, a poached egg, a basket of French breakfast pastries served with hand-churned butter and organic preserves, fresh-squeezed juice, and coffee, tea, or rich hot chocolate for just under 30 euros on the delightful outdoor veranda facing the magnificent Place de la Concorde.
3. Forest At Musée D'Art Moderne De Paris/Modern Museum Of Paris
Forest is a new concept restaurant at the Musée d'Art Moderne de Paris. The young and energetic chef Julien Sebagg has been making his mark on the Paris restaurant scene in recent years by reimagining vegetarian cuisine beyond its normal parameters. In his latest creation, Forest, vegetables are still the star of the show, but Sebagg has broadened the menu with meat and fish dishes. Beyond the menu, Sebagg also has a deep respect for the environment and maintains a commitment that his restaurants are sustainable and eco-conscious.
The menu is a mélange of Mediterranean and Asian flavors. Sharing plates make up the first part of the menu and include roasted root vegetables — turnips, parsnips, and pumpkin — with paprika-scented tahini, sea bass carpaccio with fennel leaves and almonds and sumac spice, a 24-hour, slow-cooked stew of beef and sweet potatoes with red tahini, and a radicchio salad with sun-dried pears, walnuts, goat cheese, and pickled red onions.
Pro Tip: Don't forget to order their special, fresh-baked Challah bread.
Comte cheese, aged for 16 months and served with house-made, miso-flavored butter and quince jam, is a nice way to complement the courses that came before and a gateway to desserts such as apple strudel with pecans and chestnuts, a citrus pavlova with hazelnut praline, or scrumptious, hazelnut and chocolate cookies with a pinch of sea salt.
Inventive cocktails are also served including Venemum with mezcal, eucalyptus, grapefruit, lime, and sparkling water plus Eau, a mixture of vodka, zaatar, yellow lemon, white balsamic, and cherry tomato water.
The expansive, open-air terrace faces the Eiffel Tower and the Seine River, and all the tables have sun umbrellas. The inside dining room is sleek and chic and the walls behind the tables project pleasant scenes of nature.
Pro Tips: If you want to dine on the terrace, make sure to reserve at least two to three weeks in advance.
4. Gerard Mulot Café At The Victor Hugo Museum
Did you know there's a Victor Hugo Museum in the center of Paris? After the enormous success of The Hunchback of Notre Dame, Hugo, France's most celebrated writer, moved to the elegant Place des Vosges, the oldest square in Paris, constructed in 1605. Hugo's apartment, mostly intact with his furniture, decorative objects, artwork, and a few first editions of his books, was turned into a museum in 1902.
It was recently renovated, and they have added a delightful outdoor café in their garden courtyard. Maison Mulot, a beloved bakery, and gourmet food shop located in the Saint Germain area on the Left Bank, has imported its yummy specialties to the Victor Hugo Museum. The light menu has quiches, salads, croques, and focaccia sandwiches, plus the delectable desserts and pastries Maison Mulot is known for. Their signature shortbread cookie; buttery tarts topped with lemon curd, figs, or berries; flavored marshmallows; and classic macarons are just a few of the tempting sweet offerings.
5. Girafe At Cité De L'Architecture
The Cité de L'Architecture, the architecture museum of Paris, is located in the Palais de Challiot complex on the Place Trocadero. Their recently opened Girafe restaurant has been a smashing success. Probably the biggest attraction is the massive, outdoor terrace looking over the Seine River and an incomparable view of the Eiffel Tower that you could almost touch. The nostalgic 1930s-style decor with marble floors, tall potted palms, and streamlined furniture adds to the allure.
Seafood is the focus of the menu, especially locally sourced shellfish. Start with a platter of six fresh oysters from Brittany or Normandy, followed by the iconic raw seafood platters topped with shrimp, langoustines, lobster, and crab, and if you are feeling extravagant, go for caviar sourced from the shores of France. Cooked fish dishes include linguine with blue lobster from Brittany, tuna tataki with grilled avocado and seaweed, sole Meuniere style, and baked codfish with morel mushrooms and seasonal vegetables. Non-seafood dishes are also served, including rack of lamb with thyme, grilled filet mignon, and a roasted vegetable platter.
Pro Tip: You can dine at all the restaurants mentioned above without buying tickets for the museum. Halle aux grains, MIMOSA, Forest, and Girafe serve lunch and dinner. Advance reservations are strongly recommended especially in the warmer months when the outdoor dining areas are open.
Paris bound? Read up on