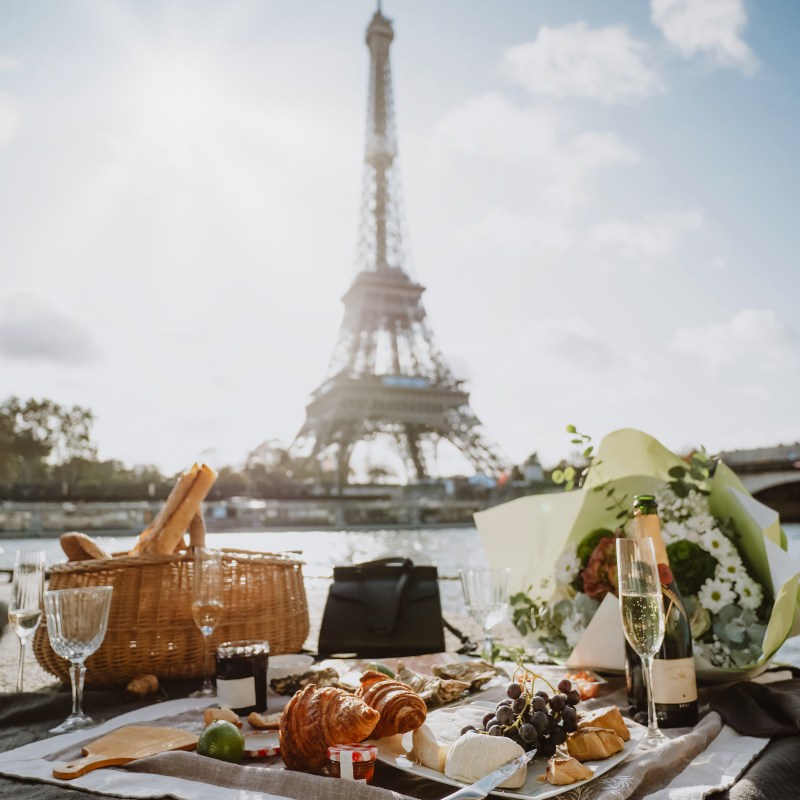 It's a wonder how many places there are in Paris to have a picnic and you could easily find a different spot to picnic every day for weeks on end. Idle in the shade of a giant chestnut tree drinking a glass of rosé, feast on caviar and champagne in an elegant, manicured park, or indulge foie gras on toast while viewing the Seine River.
You can easily select your picnic foods from outdoor markets and individual shops. Most boulangeries in Paris make sandwiches, salads, and quiches fresh daily and they usually offer a pre-fixe which includes a sandwich, soft drink, and dessert for one price, somewhere between 8 to 10 euros. We will list names of nearby bakeries and food shops with each listing below, so you know where to source your picnic food.
Several four- and five-star Paris hotels can arrange to have a pre-packed picnic basket for you.
1. Luxembourg Gardens
One of the most beautiful parks in Paris, the Luxembourg Gardens, is an idyllic place to have a picnic. In the 17th century it was the private garden of Queen Marie de Medici, which was an extension of the grand Luxembourg Palace; Today it is a public garden on 65 acres in the center of Paris close to the Saint Germain neighborhood.
There are many small, enclosed enclaves with lawns and flower beds to have a more intimate picnic. You can also gather some of the classic green metal chairs, which many Parisians do when they come to the gardens to have lunch.
Luxembourg Gardens has lots of fun activities when you are finished with your picnic including a puppet show, carousel with the original 19th century painted horses, art gallery, statuary, petanque, and tennis courts.
Nearby Food Shops
A great place to get all your picnic foods under one roof is the Saint Germain covered food market, which is open every day but Monday. You can purchase deli meats, cheese, prepared foods, roasted chicken, fruit, desserts, and pastries at the various counters.
Gerard Mulot is one of the top bakeries in Paris and offers excellent, high-quality foods.
3. Palace of Versailles
The Palace of Versailles is the largest royal domain in the world, with the palace itself measuring 720,000 square feet and the accompanying gardens and grounds covering over 2,000 acres. There are many options for a picnic in Versailles and some of the recommended places include the Saint Anthony lawn, close to Marie Antoinette's private palace, Le Petit Trianon, and around the serene Swiss Lake.
Versailles Food Shops
There are quite a few food options available for Versailles.
The Versailles food market is one of the best food markets in France. Located in a large square about a 15-minute walk from the palace, the sprawling market has dozens of food stalls offering an unparalleled bounty of food including fresh, seasonal fruits and vegetables, meats and sausages, cheeses, wine, champagne, prepared foods, crepes, Middle Eastern prepared foods, olives, bread, pastries, desserts, and dips. There's also an area of the market with food trucks that make hot foods including hamburgers.
On the grounds of Versailles is a variety of food kiosks that sell sandwiches, sorbets, Angelina hot chocolate, fresh-squeezed orange juice, and baked potatoes.
The Waldorf Astoria Trianon Palace is a five-star hotel a few minutes from the palace and offers two types of picnic service: The freshness picnic for 59 euros per person includes a mozzarella and tomato salad, sandwich and chips, cheese and dried fruit, pastry and fruit salad, and mineral water, and the Country Picnic, for 80 euros per person, has the same menu but also adds a carpaccio and arugula salad, and fruit juices.
Pro Tips
Most days the entrance to the gardens is free of charge but certain days during late spring and summer there's a charge. Check its website for specific days.
Bike About Tours is a company that specializes in bicycle tours in Paris and outside the city. It offers a full-day tour of Versailles from Paris, which includes a ride through the city of Versailles, a stop at the outdoor food market to buy your picnic foods, biking to Marie Antoinette's farm and village, the grounds and gardens of Versailles, the Petit and Grand Trianon palaces, and a fountain show, certain days of the year.
4. On The Banks Of The Seine River
It doesn't get more romantic than having a picnic on the iconic banks of the majestic Seine River.
One of the best places to have a picnic is on a stretch of the Seine River on the Right Bank, between the Pont des Arts and the Pont de Sully. What was once a car highway, this part of the Seine was transformed into a pedestrian walkway about seven years ago. The city has added lots of recreational facilities to enhance the walkway including benches, running paths, exercise machine stations, casual restaurants, bars, and cafes. In the summer, for about a month, from late July to late August, it's converted into the Paris Plage, (the Paris Beach) by the city. Extra attractions are added such as an outdoor lending library, art shows, street art, live music, palm trees, beach chaises, and sun umbrellas.
Spread your blanket overlooking some of the grandest sites of Paris including Notre Dame Cathedral, the Louvre, the Museum d'Orsay, the Pont Neuf bridge, the Ile Saint Louis, and the Conciergerie.
Seine Area Food Shops
There are quite a few food stalls and takeout restaurants, many specializing in seafood, such as fresh shucked oysters and clams.
Aux Petit Versailles du Marais is a bakery and pastry shop that makes sandwiches on its award-winning baguettes (the bakery won the prize for the second-best baguette in Paris in 2014), fluffy quiches, and sumptuous desserts and pastries.
Le Peloton Café makes foamy lattes, iced coffee, and espresso to go.
If you want to fancy up your picnic basket, go to Autour du Saumon and pick up superior quality smoked salmon, herring and eel, caviar, and champagne and wine to go with them.
5. Promenade Plantée
Pre-dating New York's Highline Park by about 20 years, Promenade Plantée is a verdant garden path planted on an abandoned, elevated railroad track. Spanning almost 3 miles, starting west from behind the Bastille Opera House and ending east at the edge of the city, the walkway is lined with lush plants and shrubs. There are benches placed along the pathway to have a picnic on. There are entrance and exit stairways and elevators going up to Promenade Plantee every two or three blocks.
Nearby Food Venues
Aux 2 Anges et Aux 2 Anges Les Gourmandises won the prize for the second-best baguette in Paris in 2019 and prepares delectable sandwiches, quiches, soups, and over-the-top pastries and desserts to go.
Pro Tip: Below part of the promenade is the Viaduc des Arts, a recently built line of 48 artisan workshops including glassmakers, instrument makers, ceramicists, furniture designers, custom shoemakers, and jewelry designers.
6. Place Des Vosges
The first public square of Paris, Place des Vosges, was built between 1605 and 1612 under the reign of King Henri IV. The handsome square with elegant brick and limestone former palaces has a popular park in the middle named after King Louis XIII, who was married there. The square-shaped park has a formal garden style, symmetrical on all four sides, with fountains, and wide patches of grass, perfect for spreading out a blanket and having an outdoor feast. If you prefer to sit on benches and have your picnic in the shade, there's a leafy canopy of trees lining the perimeter of the park.
Rue Saint Antoine, one of the top food shop streets in Paris is just one street from the square, and within a 3-block radius, there are three supermarkets, two cheese stores (one makes salads and sandwiches to go), four fruit and vegetable stands, a butcher shop with sliced meats and roasted chickens, five wine shops, Chinese takeout, sushi, kebabs, crepes, and pizza.
After your picnic, indulge in a cup or cone of creamy Amorino gelato. The gelato on the cone is hand-sculpted to resemble rose petals.
7. Champ De Mars
A massive swath of manicured, green grass extends close to 3,000 feet long, Champ de Mars Park is at the foot of the Eiffel Tower. Practically the backyard of the Eiffel Tower, the treeless land is a perfect spot to take in the mind-blowing details of the tower.
On July 14, Bastille Day, thousands of picnickers line the grass to ensure they have a good spot to see the dazzling fireworks that are set off at 11 p.m. that night.
The park, which is also at the foot of the Ecole Militaire (the French military academy, similar to West Point in the U.S.), was originally used for military parades, fairs, and world exhibitions.
Nearby Food Venues
Rue de Grenelle, Rue Saint Dominique, and Rue Cler are three nearby streets that have a plethora of high-quality food shops, where you can source all your picnic needs.
Pro Tip: Check out the Peace Memorial/Mur de la Paix, a glass partition, and a series of columns at the front of the Champs de Mars, which has the word "peace" written in 32 languages with 18 alphabets.
Paris should be on every traveler's wish list. Romantic, mysterious, playful — there are endless ways to describe this world-class city: